For men, shoes have more meaning rather than their footwear purpose. They are a means of communication, an exciting twist for their outfit, and a way to express their social position and wealth.
If money doesn't matter, which luxury shoes will you get?
This article will review the 10 most expensive men's shoes and the reasons behind their stunning price tags.
11 Most Expensive Men's Shoes In The World
Oxfords by Salvatore Ferragamo ($2,500)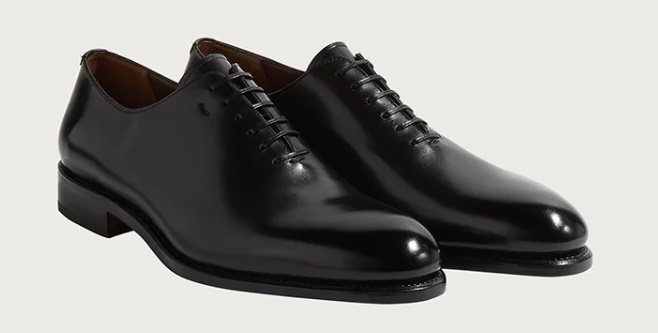 Check out the Oxfords by Salvatore Ferragamo if you look for elegance yet comfort in dress shoes. They are the most affordable options, worth $2,500 in the official Ferragamo stores.
Since the Oxfords come from Ferragamo, they inherit sophistication, elegance, and reliability.
Made of high-quality alligator leather, they help you earn spotlights whenever you wear them.
The shoes are available in dark brown color, which is easy to mix with other clothes, especially light-colored suits (caramel or beige).
Hermes Loafers ($3,000)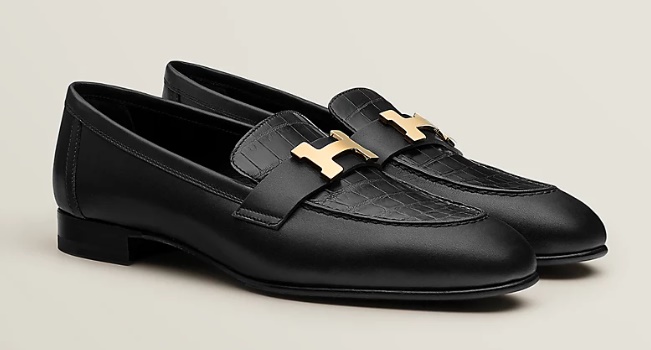 A man's wardrobe cannot be finished without loafers. These classic, $3,000 loafers from Hermes promise to keep you shining on various occasions.
Have a joyful weekend with a casual dress or T-shirt and jeans. You can also mix them with your daily work outfits and other formal situations.
Its materials set the Hermes men's loafers from other designer shoes.
These stylish formal shoes are made of 100% of genuine leather. The apron is made of matte crocodile leather, while the upper is crafted of calfskin.
The shoes also feature a shining metallic "H" detail on their upper, making them look stunning yet simple.
You can get the classic Hermes loafers at the official Hermes website or in any Hermes stores.
Aubercy Diamond-Studded Shoes ($4,500)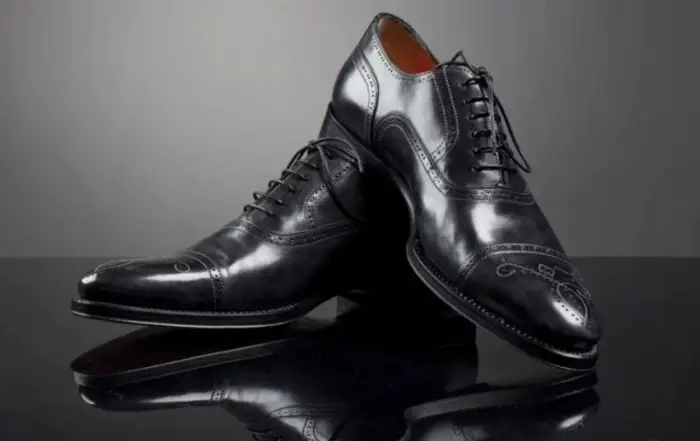 Diamond isn't only a woman's best friend but also can be a fashionable twist to a man's footwear.
These Aubercy diamond-studded men's shoes, or the "Phil," combine the delicate Italian craftsmanship and the sturdiness of England shoemaking.
They promise to give a fresh touch to businessmen's outfits.
Unlike boring ready-made men's shoes, the Aubercy Diamond-Studded is handcrafted by the most skillful hands in the family artisanal workshop.
Every diamond is carefully selected and hand-sewn on the shoes. The number of diamonds can also vary based on customers' requirements and budgets.
Every Aubercy classic leather evening shoe overcomes a strict quality check for its beauty, opulence, and extravagance before being delivered to customers.
There is a limited number of Phils available annually. You must pre-order today, and then you'll be added to the waiting list for this masterpiece.
Louis Vuitton Manhattan Richelieu ($10,000)
The Manhattan Richelieu is in the Spring/Summer 2010 collection of Louis Vuitton. It is among the most expensive men's shoes of 2023.
The price tag of $10,000 is undoubtedly due to the finest waxed alligator leather. The leather covers the entire shoe, giving them a vintage yet fashionable look.
Beyond it, what's noticeable more about these leather shoes?
LV shoe artisans tied the Manhattan Richelieu leather parts using the Blake method. This sewing technique combines a stitching row and glues from the sole to the upper.
This method produces lighter and more durable shoes than those applied to traditional cement (glued) ones.
You can feel the awesomeness of a Blake stitch by sliding your fingers inside this LV.
Aside from the Blake method, the Manhattan Richelieu from Louis Vuitton features unique details. For example, a Ruthenium-finish LV cube is embedded in the heel.
A special "wingtip" is placed on the toe cap, mimicking a bird's wings.
Those details, strong stitching lines, and detailed perforations give this footwear masterpiece a unique position in men's fashion.
Check more: Louis Vuitton Shoe Size Chart
Nike Air Zoom – Kobe 1 ($30,000)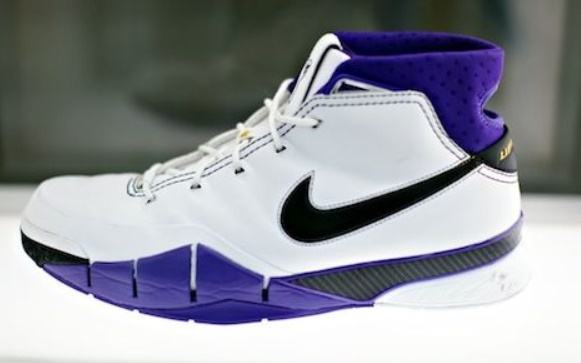 To be a gentleman also means to be active and sporty. The limited Kobe 1 Air Zoom is among the most expensive sneakers for men, with a price tag of $30,000.
These shoes were relaunched in 2013 as a special celebration for the famous basketball star Kobe Bryant. They are designed by Ken Link.
Nike Air Zoom Kobe 1 is a famous descendant of the Nike Huarache basketball shoes, with the 2015 updated technology.
Regarding performance, some people love this old-school sneaker's retro design and sturdy feel.
In contrast, others complained that the shoes are still too bulky for their modern outfits compared to trendy performance sneakers.
Whatever they said, the Nike Air Zoom Kobe 1 is still among the best basketball sneakers ever, thanks to its excellent traction and solid construction.
If you are a fan of Kobe Bryant, you should pay attention to this sneaker!
Testoni Shoes For Men ($38,000)
Testoni dress shoes come from Testoni – a handcraft footwear workshop, and cost you around $38,000.
This dress shoe brand has existed since 1929. It's still a great choice nowadays, thanks to its excellent craftsmanship, water resistance, lightweightness, and durability.
Men's Testoni shoes are expensive for the crowd because of their Norwegian (Italian: Norvegese) construction.
This construction is more complicated than the traditional hand-welting or the Bolognese one. It requires more than 300 stitches for skillful shoe artisans to sew the shoe's parts by hand.
The construction is rooted in Norwegian and is popularly shown on Italian shoes. The Testoni are among a few limited shoes applying it.
Also, the Testoni dress men's shoes are made of the finest, most expensive alligator skin. This leather brings a smooth and solid finish to the shoes. It is also great at water resistance, ideally in leather shoes.
Some other factors contributing to the high price tag of the Testoni shoes include the custom-made line twine, soft goatskin, and a buckle with a diamond and gold.
Nike Air Force Big Boi's Diamond-studded ($50,000)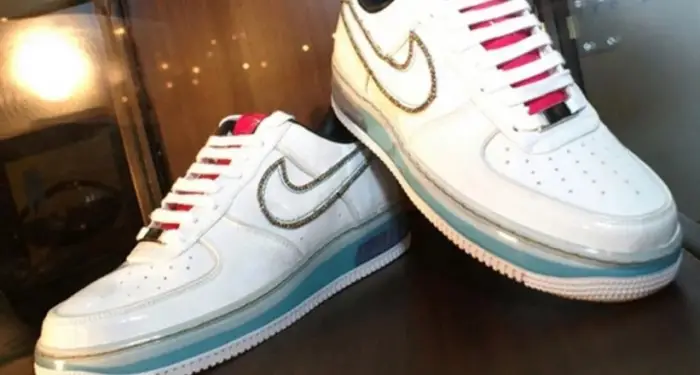 A limited diamond-studded Nike Air Force is ideal for sports shoe addicts.
These athletic shoes were named after Big Boi, a famous American rapper and a member of Outkast. They were listed at $50,000 and got their first sale from Big Boi at the Solitaire Kicks.
Why are the Nike Air Force Big Boi shoes among the most expensive men's shoes?
Because they are entirely encrusted with 13K of champagne diamonds, thanks to a collaboration between P&C Diamond and Laced Up Atlanta.
Besides their footwear meaning, the Big Boi Air Force sneakers also carry social value.
All sales of this sneaker were donated to the Big Kidz Foundation. It's a non-profit foundation founded in 2006 by Big Boi and Jennifer Shephard Lester to help the youth in Atlanta.
Nike Air Jordan Silver ($60,000)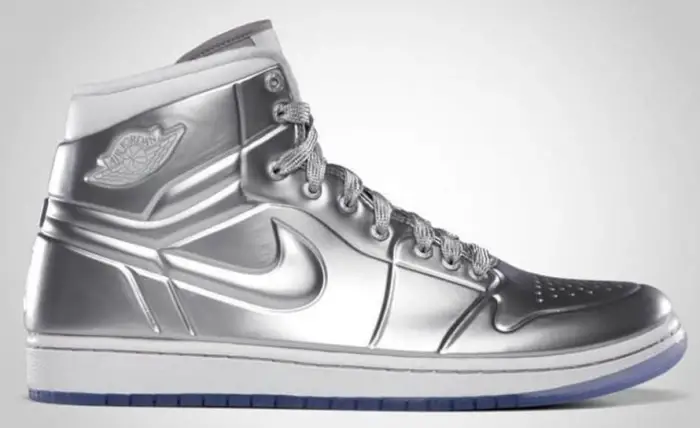 The limited Silver version of Nike Air Jordan has been a dream of sneakerheads and basketball players worldwide since its first day on the market.
The sneakers are hard to reach the mass audience due to their detailed design with exquisite silver decoration, which cost around $60,000.
They are fashionable and ensures maximum comfort and durability as other Air Jordans, thanks to its latest technology.
The Silver Air Jordan is also a special merchandise for fans of Michael Jordan. Micheal Jordan proudly took its first pictures, making it priceless for sneakerheads, basketball addicts, and his fans worldwide.
Nizam Sikandar Jah ($160,000)
The shoes were a favorite footwear choice of Nizam Sikandar Jan, the Nizam of Hyderabad in India, in the 18th century.
Due to this reason, these luxury slippers are named after him. They were valued at $160,000, and only one pair of Nizam is worldwide.
The detailed making of Nizam Sikandar Jah contributes to its value. During Nizam's rule, he requested to make a pair of slippers with diamond and ruby decorations.
His request resulted in a delicate shoe design, a masterpiece you haven't ever seen.
These slippers are made with expensive gemstones, including rubies, emeralds, and diamonds.
Due to its historical value, the Nizam slippers are not for sale to the mass market. They were once stolen but then recovered with minor damage.
Until now, they have been displayed as precious property at the Bata Shoes Museum in Toronto, Canada.
Nike Diamond Studded Mercurial CR7 Rare Gold Boots ($218,000)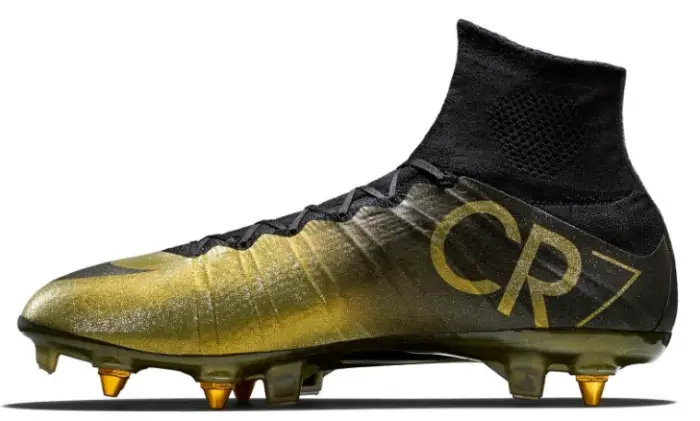 The limited Nike Diamond Studded Mercurial Boots were released to celebrate the third Ballon d'Or of Cristian Ronaldo on January 12th, 2015.
The sneakers release also remembered a year of achievement for this famous football player.
Due to this particular meaning, the Nike sneakers were among the most luxurious sneakers of all time, priced at $218,000.
Gold is the primary color of the Limited Nike Gold Boots. Plus, the shoes are decorated with golden cleats.
This color means an appreciation for all the contributions of CR7 to his football club and the country.
The limited Nike Gold Boots are also decorated with a shining CR7 logo. This logo has encrusted, tiny diamonds with large stones made by world-renowned shoe artisans.
Tom Ford Custom Loafers ($2M) – The Most Expensive Men's Shoes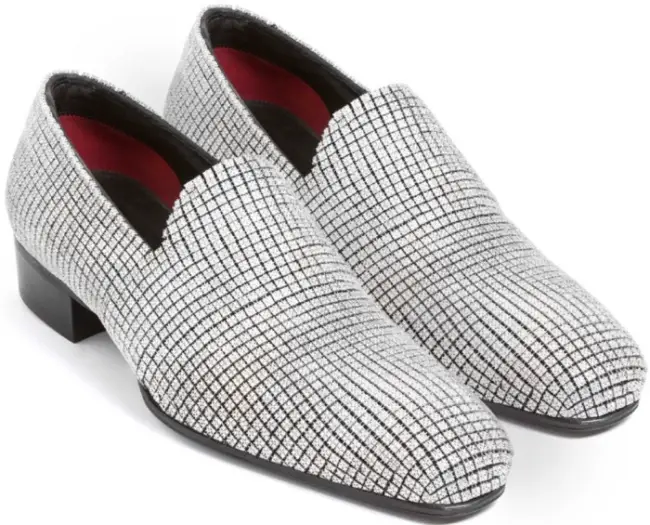 As of 2023, Tom Ford Custom Loafers by Jason Arasheben is the world's most expensive shoe, worth USD 2 million per pair.
These designer loafers are the work of Jason Arasheben – a renowned jewelry designer based in California. They are worn by Nick Cannon, the host of America's Got Talent 2014.
Why are the Tom Ford Custom Loafers so expensive?
These loafers are mainly made of diamonds and white gold. There are 14,000 full-cut round white diamonds with a considerable weight of 340 carats.
The tiny leather parts of the shoes are made from the best alligator skin on Earth.
Besides expensive raw materials, it takes one year of approximately 2,000 hours of labor work to finish this stunning masterpiece.
Due to their high handcraftsmanship and costly material choice, these two-million-dollar shoes broke the Guinness World Record for "The Most Expensive Shoes in the World."
The Average Cost Of Men's Shoes
A pair of shoes for men can cost you from $50 to $1,500, depending on various criteria, such as its brand, design, materials, etc.
Designer sneakers made of real leather are so extravagant. But those from popular, established ones are more reasonable and easier to access.
Shoes from niche collections or markets are also priced higher than mass ones.
Furthermore, the men's version of high-end footwear brands has a higher price tag than women's.
What Affects The Price Of Men's Shoes?
Various factors affect the price tag of men's shoes, including marketing and manufacturing costs, the rarity of the shoes, target markets, raw materials, etc.
Manufacturing Cost
Shoes made by automated machines are cheaper than those made by manual labor.
Hiring skillful shoemakers, especially in the United States or Europe, is much more than it costs to set up shoe machinery or hire workers in Asia.
Marketing Campaign
In some cases, marketing plays a large part in shoes' price.
Shoe endorsements from famous athletes and celebrities can help footwear brands list their products at higher prices than they would.
Plus, some trends on social media can maximize the cost of shoes, especially sneakers.
Shoe Brand
The men's shoe prices also vary brand by brand.
For example, basic sneakers from Vans or Converse are more reasonable, with various styles, colors, construction, and athletic benefits.
Some athletic footwear brands, like Nike, have a higher median price ($80) than ASICS or Adidas ($70).
Mass Market vs Niche Market
Shoes for the mass markets are rated lower than those for niche ones (shoes for a specific purpose, shoes with endorsement, shoes with limited color choices).
For example, Nike running shoes are affordable for general runners. But Nike basketball shoe collections with celebrity endorsements like Kyrie or LeBron have a higher median price.
Men's Shoes Vs Women's Shoes
Shoes for women from some high-end brands are more expensive for men.
Christian Louboutin, the world's #1 expensive shoe brand, has a higher minimum shoe price for men ($1,173) than women ($875).
Materials
Raw materials also play a noticeable role in shoes' prices.
Natural materials like leather typically range from $80 to $300, while sneakers and loafers only cost $30 to $150.
Leather shoes are often for work outfits and formal occasions.
On the other hand, casual shoes are great to mix with street-style clothes for daily purposes. Raw leathers, like alligator leather, are more expensive than cow leather.
Final Words
Tom Ford Custom Loafers by Jason Arasheben is #1 among the most expensive shoes for men in the world, with a price tag of USD 2 million.
Apart from these loafers, you can have more costly choices from famous footwear brands like Louis Vuitton, Hermes, Salvatore Ferragamo, Nike, etc.
Some of them are unreachable, like the Nizam Sikandar Jah.
Do any of these expensive shoes catch your attention? Let us know in the comment box.