Joybees vs Crocs is a competition we never thought we would have because the feedback for Crocs is either love or hate. And it's hard to imagine someone would want to challenge themselves by having a taste of that controversy.
This relationship explains why they look alike, but our article would point out the exact reason they are different.
Crocs Overview

We have to start with Crocs because they were born in 2002, 18 years before Joybees made a name for themselves.
They introduced to the world footwear that resembled the shape of a crocodile and made conservative customers hesitate to accept them.
With a passion for boats, it was like striking gold for George Boedecker and Lyndon Hanson when they learned about a special kind of foam with amazing antimicrobial properties.
200 pair of boat shoes in their first collection was sold out quickly.
Not yet satisfied with the foam they have, Crocs innovated and came up with Crostile, a patented version of the material with various enhancements.
They brought the crocodile resemblance to life when their foam clogs perform excellently on both land and water.
The unique shape of the clogs made Crocs a target of criticism in the beginning. But many brands have the potential and attempted to incorporate bits of the clogs into their products, namely Kanye, Merell, and New Balance.
However, things truly got more interesting when Joybees jumped onto the bandwagon.
Joybees Overview
Joybees was founded by John McCarvel, ex-CEO of Crocs, and his son Kellen McCarvel who was Crocs' merchandise manager.
There was no malice between the duo and their former brand, surprisingly.
In fact, the McCarvels didn't hide the admiration they had for Crocs as well as the inspiration they took from their former job.
Many years after resigning from their positions at Crocs, the father and son duo caught on the revived trend of clogs and started anew at Joybees.
They used a similar EVA foam as the main material, but their eyes were fixed on a different group of customers.
Joybees aim to please children and youngsters with a lot of trendy designs and innovative details. If you take a look at their designs, you will see the essence of Crocs as the foundation of Joybees.
Joybees vs Crocs: Similarities
Material
We will compare them very soon, but not based on the material they use, because they both use the popular EVA foam for their products.
Not only EVA foam, but they also have the same patented Crostile (an enhanced version of EVA).
Unlike plastic and rubber which are most durable and easy to wash, this specialized foam is also comfortable.
Therefore, both Crocs and Joybees are guaranteed to endure harsh conditions while not making the users experience suffer any discomfort or pain.
Appearance
There is no denying that the similarity between Joybees clogs vs Crocs clogs is so in-your-face.
You can find identical detail in the back strap, the rounded toe box, and the ventilation holes.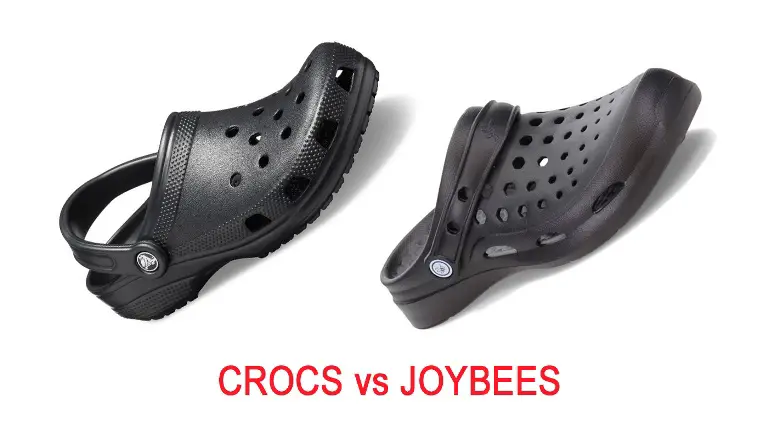 Sole
If you wear Crocs or Joybees and feel the exact equal amount of support and comfort, it doesn't come from the EVA foam only.
The similar design of the insoles is the primary factor for even the lightness and the breathability to be in common.
Their soles also grip onto your feet and provide you with enough traction so you won't ever have to worry about slipping and falling.
As these shoes are originally boat shoes, the ability to perform steadily on wet surfaces remains an essential feature for them.
Crocs described their insoles as message pods, while Joybees called themselves honeycombs – different names, but you can say they are all proud of what they have to offer.
Quality
Quality is the biggest concern of people who care about these two brands. It's a sensitive topic because if two products look the same.
The attention will fall on the less expensive one and if this product doesn't meet the standards, criticism is hard to avoid.
Fortunately, Joybees used the same EVA foam as Crocs and didn't do a sloppy job with the technologies. Joybees active clogs are as good as the original Crocs clogs at keeping the users comfortable all day long.
Nonetheless, if they share so many mutual advantages in terms of appearance and quality, what can help you decide on which to buy?
Check more: Crocs Vs Oofos: Which Is Better?
Differences Between Crocs Shoes and Joybees
Joybees vs Crocs Shape
They are like twins at first sight, though the difference is evident if you look deeper into the shape.
Joybees develops footwear that fits both wide and narrow feet since it is important for their motto of tending to as many customers as possible.
On the other side, Crocs doesn't seem to be bothered with this. There are exceptions, but most of their products are for average foot width.
It means you might want to go up a size if you have wide feet and down a size for narrow feet.
Joybees vs Crocs Variety
Joybees is seen as something heavily inspired by Crocc. However, not every model they released was the same. They also offer a variety of other products like sandals, sneakers, and espadrilles.
Nevertheless, Crocs still win in terms of diversity with various product lines.
You can even find boots and socks at Crocs. This variety might be a determining factor for people to choose their next shopping destination.
Joybees vs Crocs Price
In a competition between two brands, price is another element that can finish the battle.
There's no doubt about Crocs being the expensive one. However, we cannot ignore the fact that Crocs are good at attracting their customers with special collaborations and exclusive designs.
Joybees is not hiding the intention of being a more affordable replacement for fans of foamy footwear. They hold onto the essence of the EVA shoes and keep the price range under control.
Joybees vs Crocs Details
If you must know, Crocs shoes have 8 – 13 holes on their upper, while the average number for Joybees is 40 holes.
Since foamy footwear is mainly for summer and aquatic activities, this breathability is extremely crucial.
When you try both these shoes on, you can find the Crocs soles thicker than Joybees. It's not a problem though, unless you need to walk on a rough terrain for an extended period.
Pros & Cons Of Joybees vs Crocs
The similarities between Joybees and Crocs are very evident, thus they become direct competitors on the market.
For an easygoing person, the most beneficial choice would be Joybees.
From Joybees' everyday sandals to clogs, they are available at such an affordable price while having the same ample comfort and stylish look. Their fit is almost customized!
At first glance, Crocs might not have the upper hand with a higher price and an almost identical look.
But the originality and the value speak for themselves. If you want cool collaborations and various types of footwear to choose from, it has to be Crocs.
So, Which's Better: Joybees or Crocs?
In the battle of Crocs vs Joybees, it's tough to decide when you are not sure what you are in need of.
Should you want to be careful with your budget, Joybees might be the better option for you because they offer the same material and quality at an affordable price.
If finance is not a big deal or you simply value the legacy of Crocs, you will find satisfaction in their rich collection.