Shoes are one of the few things in a man's wardrobe that he should splurge on. Not only do they protect your feet, but they also add a touch of style and sophistication to your overall look.
However, with so many shoe brands for men in the market, deciding which one to choose can be difficult.
No worries!
In this guide, we'll show you several reputable brands you can trust to give you a pair of high-quality shoes in whatever style you want, from casual to formal.
The budget range of the brands on this list will also vary. So, no matter how much you set aside for a pair, you'll find a fitting brand!
15 Top Shoe Brands For Men
Adidas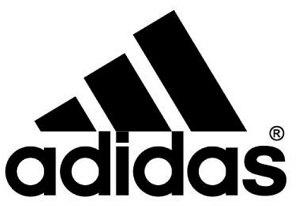 Founded in 1949 in Germany, Adidas has been one of the world's most recognized and best brands of men's shoes for decades.
Show anyone the company's famous three-stripe logo, and even if they're not interested in sports or fashion, there's a huge chance that they'd still recognize the Adidas brand name.
That's how famous and influential the company is!
Adidas offers a wide range of men's footwear, including running, basketball, and soccer shoes. But while they're best known for their sporty footwear, Adidas also has a huge collection of lifestyle shoes for you to wear out on the streets.
By adapting technologies in sports apparel – meant to improve comfort and support for the wearer's feet – Adidas shoes are guaranteed to provide both comfort and style.
Looking for recommendations?
One of Adidas's most popular shoes for men is the Stan Smith, a classic tennis shoe design that has been around since the 1960s. The simple, sleek design looks good on a tennis court and the streets.
Each shoe is adorned with the company's signature perforated three-stripe detail and a comfy, shock-absorbing rubber sole.
If you're looking for something a bit sportier, the Ultraboost is never out of style.
It's a running shoe with exceptional comfort and energy return thanks to its Boost technology. This is a patented cushioning design in the sole that reduces wear and improves comfort.
Combined with its great design, it's unsurprising that the Ultraboost is an enduring hit among runners and fashion enthusiasts.
You'll love: 11 Most Expensive Men's Shoes In The World
Asics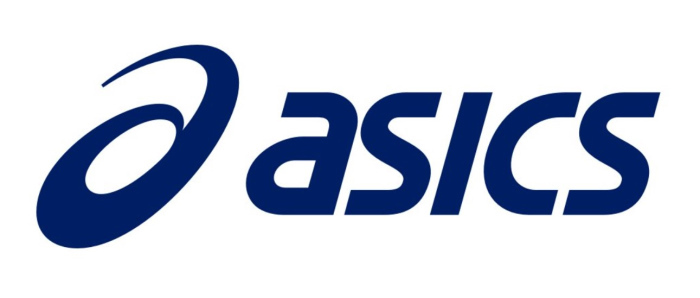 Compared to other sporty brands like Adidas and Nike, Asics is a smaller player in the market. But that doesn't mean their products aren't as good as these big brands!
Asics is a Japanese multinational corporation that specializes in athletic footwear and apparel.
Founded in 1949, the company has become one of the most respected and innovative brands in the sports industry, especially in Asia.
The company offers good-looking shoes with advanced technology to appeal to its target audience: athletes and sporty people.
One of the most popular Asics shoe collections for men is the Gel-Kayano line. These running shoes feature a unique gel cushioning system that absorbs shock and reduces risks of injury.
According to reviews, these shoes also offer excellent support for the foot, making them a perfect choice for runners and for plantar fasciitis sufferers.
Another popular Asics shoe collection for men is the Gel-Resolution line, designed for tennis players.
Besides providing comfort and support, the shoes are engineered to provide maximum traction for the wearers. This allows the player to move quickly on the court.
Despite not being as popular in the US market, Asics is still a trusted and reliable brand offering men high-quality athletic shoes. You definitely won't go wrong if you decide to get a pair for them!
Check more: 10 Best Tennis Shoe Brands In The World
Nike

No list of popular men's shoe brands is complete without mentioning Nike, which is the most popular shoe brand in the world, bar none.
Founded in 1964, Nike has led the industry for decades with their innovative shoe designs. Much like Adidas, Nike's swoosh logo is instantly recognizable.
The company offers a wide range of men's footwear in its portfolio. No matter what activity you do on the regular, be it running, basketball, or soccer, they got it all.
Nike also has a collection of lifestyle shoes perfect for casual wear. With their cutting-edge technology and innovative designs, Nike shoes provide comfort and style.
One of Nike's most enduringly popular shoe designs for men is the Jordan, first introduced in 1985.
Designed in collaboration with basketball legend Michael Jordan, the Air Jordan quickly became a cultural icon and has become one of the most popular shoe lines in history.
Another popular Nike shoe for men is the Air Max, which features a visible air cushioning unit in the heel for added comfort and support.
Although Nike's shoes (especially the popular ones like Air Jordans) can fetch a pretty high price, the company's commitment to quality has always made them an excellent investment.
A decent pair can last you for years!
Vans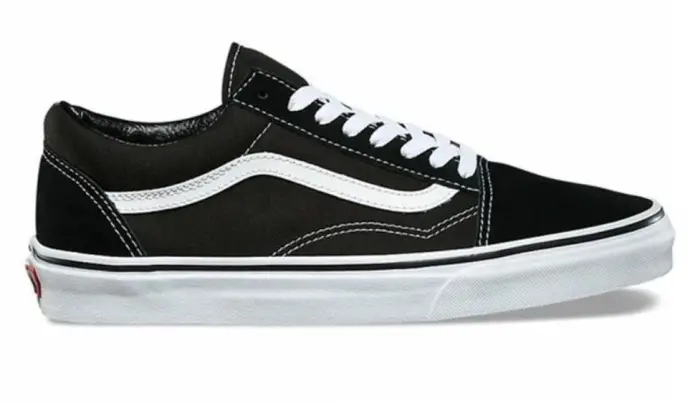 If you're looking for a brand that offers more chic-style shoes or streetwear, Vans is that company.
Vans is based in California and has been around since 1966. The brand is best known for its iconic skate shoes that have become a cultural staple among skateboarders and surfers. Stylish teens also love the chic look of their shoes.
One of Vans' most popular shoe styles for men is the Authentic. It's the first line-up of shoes the company introduced in 1966, yet it's still sold and loved today.
This shoe features a simple canvas upper and a rubber sole, making it a versatile and comfortable choice for everyday wear.
Another popular Vans shoe for men is the Old Skool, which features the brand's signature side stripe detail. Unlike the Authentic, which is a low-collar shoe, the Old Skool comes with a padded collar for added comfort and support.
In addition to their classic skate shoes, Vans offers a range of sneakers, slip-ons, and even sandals for men.
Being the cultural icon it is, Vans is definitely a brand you should put on your watch list.
Considering how affordable they are?
If you do happen to vibe with a pair of Vans, they shouldn't set you back by a lot compared to Adidas or Nike.
That's why it's among our top recommendations for shoppers on a budget!
Clarks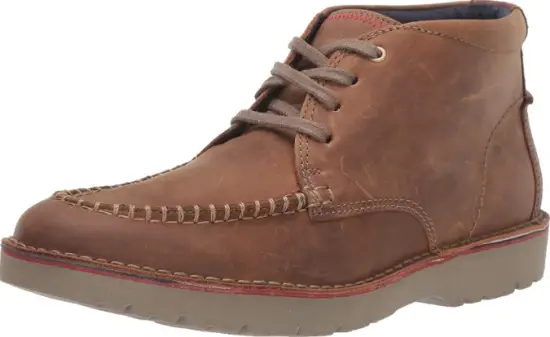 Clarks is a household name in the UK. The brand has been around for literal centuries (they were founded in 1825), and has been making excellent footwear for all that time.
The company is known for its classic and timeless designs that blend classic design and modern comfort.
One of Clarks' most iconic shoe styles for men is the Desert Boot, first introduced in the 1950s. The boot's design is simple but stylish enough to get you compliments when worn.
Depending on the model (dozens in the Desert Boot line-up), the shoes can be made from high-quality suede or leather. The sole's usually made from crepe rubber, which is durable and environmentally friendly.
Another popular Clarks shoe style for men is the Wallabee, which are moccasin-style shoes. These shoes have uppers made from soft suede and a natural crepe sole.
In addition to their classic designs, Clarks offers a range of modern and trendy shoes for men, including sneakers, dress shoes, and sandals.
Timeless and reliable, Clarks is a good brand to pick if you prefer the classic look to the sporty and sleek aesthetic of Adidas, Nike, or Asics.
Puma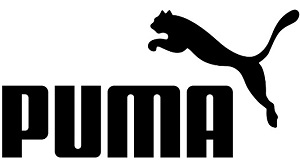 In Germany, besides Adidas, there's another sportswear brand that's become synonymous with comfort and quality over the last few decades: Puma.
Founded in 1948, the leaping puma logo on the side of sports shoes has become a familiar sight at almost every stadium, sports competition, and club worldwide.
Puma's catalog offers men a range of shoes for different purposes and activities, such as running, hiking, tennis, basketball, soccer, and more.
Among their most successful product lines for men is the Puma Suede, first introduced in 1968. This shoe features a simple, timeless design that has remained popular for over five decades.
And if you're a fan of running shoes, the Rider Pack collection can be a great, modern take. Its classical running shoe design is worth adding to your closet.
But Puma isn't just popular among sporty folks.
The company's known for collaborating with famous designers and celebrities, such as Rihanna and The Weeknd. These collabs often result in some truly unique and fashionable pieces that are hunted by sneakerheads everywhere due to their bold colors and innovative designs.
You'll love: 10 German Shoe Brands
New Balance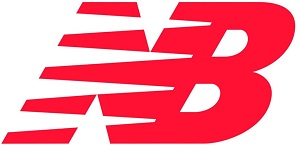 New Balance is a footwear and apparel brand founded in 1906 in Boston, US. Their athletic shoes have enjoyed a great reputation for being affordable yet well-crafted and comfortable for decades.
It'll be a good fit for middle-aged men looking for something understated and affordable. But if you're a young person, you may not like the bland look of New Balance shoes very much.
New Balance offers men a range of shoes, including running, walking, training, and more.
One of New Balance's most popular shoe styles for men is the iconic 990, first introduced in 1982. This shoe features a classic, simple design and is made with high-quality suede and mesh, providing durability and comfort.
Another popular New Balance shoe for men is the Fresh Foam 1080, designed for runners and features a plush and comfortable midsole.
The design is also more modern and "fresher" than the 990, making it more appealing for younger wearers.
In addition to their athletic shoes, New Balance offers a range of lifestyle shoes for men, including sneakers and casual shoes.
Altra
Altra is a relatively new footwear brand founded in 2009 by two running enthusiasts. The company aimed to create a shoe designed for the foot's natural shape, allowing for a more comfortable and efficient running experience.
So, if you're looking for the ultimate pair of sports shoes, Altra is the brand to check out!
Altra shoes are characterized by their wide toe box and zero-drop platform, which provides a more natural foot positioning and encourages a more efficient running gait.
One of Altra's most popular shoe styles for men is the Lone Peak, a trail running shoe designed to provide comfort, support, and high traction even on rugged terrain.
Another popular Altra shoe for men is the Escalante, a lightweight running shoe designed for speed and performance.
The design isn't flashy. But they certainly get the job done by keeping your feet comfortable and painless all throughout your run.
The fittings on these are great, and they're one of the best shoes for wide feet out there right now.
Like most other sports brands on this list, Altra doesn't just offer sports shoes alone. In their catalog are also more casual shoes for day-to-day wear and sneakers.
These shoes often feature their sporty counterpart's same zero-drop platform and wide-toe box. You'll be able to walk in style and comfort all at the same time!
Dunham
Dunham is a footwear brand specializing in making shoes for men who need comfort and foot support. The brand is owned by New Balance, known for its high-quality athletic shoes.
Dunham shoes are designed to provide comfort and support for men who suffer from foot problems such as plantar fasciitis, flat feet, and other foot conditions.
Dunham offers a range of shoes for men, including walking shoes, casual shoes, and boots.
One of Dunham's most popular shoe styles for men is the Cloud, a walking shoe with a removable Ortholite footbed and a padded collar for added comfort.
Another popular Dunham shoe for men is the Lawrence boot. It's a waterproof boot designed to provide support and comfort for men who spend a lot of time on their feet.
Dunham also offers a range of shoes for men with wider feet or who need extra depth, including the Burlington and Windsor shoes. These shoes feature a wider toe box and a deeper footbed to accommodate various foot sizes and shapes.
Overall, Dunham is a reliable and comfortable shoe brand that offers a range of shoes for men with foot problems. With their focus on comfort and support, Dunham shoes are popular among men who value comfort and style in their footwear.
Under Armour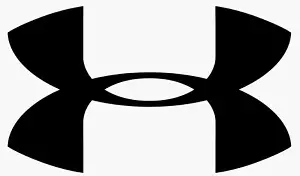 Under Armour is an American sports apparel and footwear brand founded in 1996. The company is known for its high-quality athletic shoes, designed to provide comfort, support, and performance for athletes of all levels.
Under Armour shoes have a very nice balance between stylishness and comfort, thanks to the many patented technologies that go into each pair.
For example, the UA Flow tech allows many of their shoes to be built without a rubber outsole, reducing the weight and improving cushioning and comfort for the wearer.
One of Under Armour's most popular shoe styles for men is the HOVR Phantom. It's a running shoe with a responsive and cushioned midsole for added comfort and support.
The shoes also come with UA's HOVR tech, which "returns energy to your stride" with a springy outsole.
Check more: 12 Best American Shoe Brands From Heels To Athletic Shoes
Church's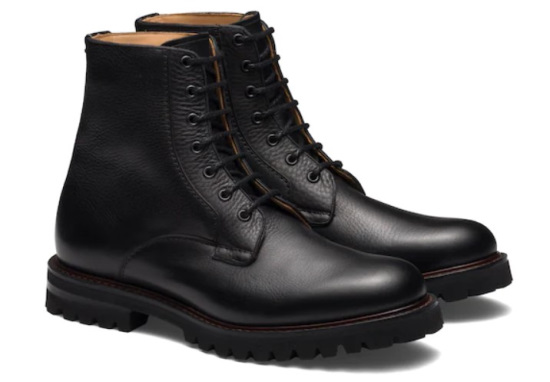 If elegant and formal shoes are what you're after, Church's is one of the best men's dress shoe brands to check out.
The company was started by Thomas Church and his sons in 1873 and has been one of the UK's premier shoemakers for decades.
The company specializes in handmade, tailored shoes made from the finest materials.
Artisans at Church's also use traditional techniques for each pair, which is how they gained the classic and timeless designs and the excellent durability their shoes are famed for.
Church's best offerings are dress shoes. Their Oxfords have been the definition of "British elegance" for as long as they have been around.
But more casual kinds of footwear are also made by Church's. For example, the Ryder III is a stylish Chelsea boot that's far more versatile than the Oxfords.
You can wear them for any occasion, from just a stroll down the block to an office party or a black-tie event no probs!
In addition to their traditional dress shoes and boots, Church's offers a range of casual shoes for men, including loafers and sneakers.
These shoes often feature the same high-quality materials, such as genuine leather and suede. The attention to detail is as good as their mainline dress shoes.
John Lobb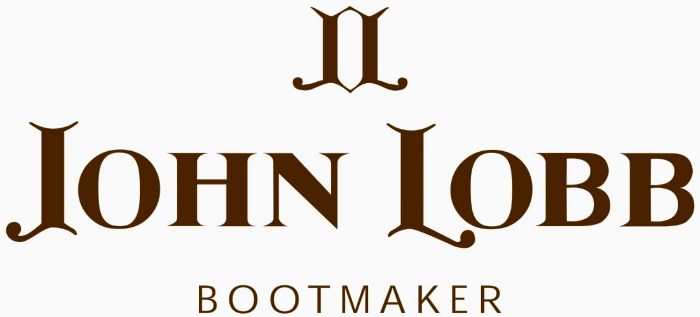 John Lobb is a great alternative to Church's. Their catalog also includes some of the finest, most premium footwear today.
Started in 1866 by John Lobb in the UK, it's considered a luxury shoe brand. Its shoes are known for their exceptional quality and craftsmanship (and sky-high price tags).
With their focus on elegance and sophistication, John Lobb shoes are very popular among men who got a roomy budget to spend on a stylish, high-quality pair of shoes.
Like Church's, John Lobb offers classic footwear styles like dress shoes and boots.
One of John Lobb's most popular shoe styles for men is the William. It's a classic Oxford dress shoe with a sleek and streamlined design and is made with premium leather.
Another popular John Lobb shoe for men is the Lopez. First introduced in 1950, these loafers are perfect for every occasion.
All in all, while they can fetch a pretty high price if you go budget for it, a pair of John Lobb can be the crown jewel of your closet with their stylishness and premium build.
Allen Edmonds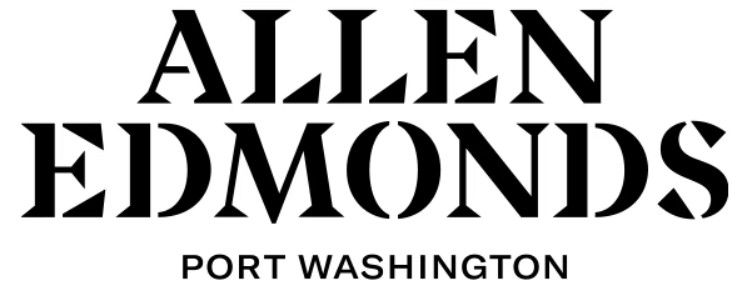 Allen Edmonds is an American upscale footwear brand founded in 1922 by Elbert W. Allen and Bill "Pops" Edmonds.
Allen Edmonds shoes have a very tasteful, classic design. From formal footwear to casual boots, each pair has a distinctly refined feel and look to it.
One of Allen Edmonds' most popular shoe styles for men is the Park Avenue. First debuted in 1982, it's a classic Oxford dress shoe with a refined, elegant design and premium leather.
But that doesn't mean Allen Edmonds' shoes are all about the look. Practical and versatile (but still no less stylish) shoes like the Higgins Mill are in their catalog, too.
Looking for a more casual look? No worries, Allen Edmonds got you covered with their loafers and sneakers line. These are perfect for everyday wear!
Johnston & Murphy
Johnston & Murphy is a classic shoe brand that has been making high-quality shoes for men since 1850. The brand is known for its traditional designs, fine craftsmanship, and attention to detail.
Whether you're looking for lace-up dress shoes or something more casual like a pair of sneakers, Johnston & Murphy will get something in their catalog for you.
Johnston & Murphy shoes use high-quality materials such as leathers and suedes from their sourcing partners.
They also have a great reputation for durability and craftsmanship. All these shoes are stylish and comfortable.
This pair of lace-up called Upton Plain Toe, is made from full-grain leather and water-resistant nubuck. The leather welt is also double-stitched for greater durability.
Another standout feature of Johnston & Murphy shoes is their timeless designs. From classic wingtips to sleek and sporty sneakers, the brand offers a range of styles that are perfect for any occasion.
Their shoes are versatile enough to be dressed up or down, making them a great choice for any wardrobe.
Thursday Boot Company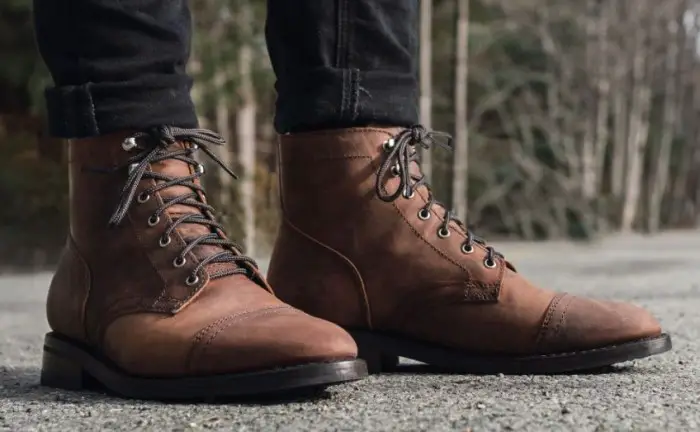 The Thursday Boot Company is the youngest company out of the fifteen brands on this list, having been founded very recently in 2014.
Despite their lack of "market experience," the Thursday Boot Company has quickly gained a loyal following among men who appreciate quality craftsmanship and modern design.
So, what makes them stand out?
Their commitment to the use of premium materials is one. The brand sources its leather from some of the finest tanneries in the world.
Second, each boot is constructed with care and attention to detail. This results in shoes that are not only stylish but also durable and long-lasting.
If you want to see just how good they are, just take a glean at their Captain series of boots. Even with a studio picture, it's obvious that the shoes are extremely well-made.
Another key feature of Thursday Boot Company is its aesthetic, which combines modern and classic.
While many boot brands focus on traditional styles, Thursday Boot Company offers a range of boots that are sleek and contemporary, without sacrificing quality or durability.
Their boots are perfect for men who want to look stylish and on-trend without sacrificing comfort or practicality.
In addition to its commitment to quality and design, Thursday Boot Company is also dedicated to sustainability. The brand uses eco-friendly materials whenever possible and works with factories prioritizing ethical labor practices.
Sure, their boots are pretty pricey, but for all of the benefits above, daresay, you won't get a better deal anywhere else.
Final Words
With these 15 nice shoe brands for guys, whether you're looking for dress, casual, or boots, you're guaranteed to always find something from among the brands here.
Take your time, and browse through each brand's catalog to find the perfect pair for you.
They may cost more than your average shoes and boots from no-name brands on Amazon. But, the quality of these shoes means they can easily last for years, so long that you take care of them properly!
Which brand is your favorite? Tell us in the comments!