Vans Authentic vs Era – do they have any differences and which is better? If the similar appearance shared between them confuses you, this article will discuss facts you should know about these products.
Vans Authentic & Vans Era: An Overview
In the field of shoe-making, Vans is a well-known brand. We remember the name for high-end sneakers with simplicity and minimality in their designs.
On March 3rd, 1966, the two Van Doren brothers – Paul and Jim – started their career on Broadway Street, California. Their team includes Gordon Lee and Serge Deila. Back then, they were the only workshop that made shoes at home and distributed them to customers directly.
Known as Vans 44, the first version of Vans shoes is known nowadays as Vans Authentic. It was released in the 1960s, around the same time as the establishment day of the brand. The first group of customers Vans successfully attracted was skaters, especially in the South of California.
In 1976, the #95 Vans was born with the name Vans Era and quickly became the top choice for skaters. Designed by Stacy Peralta and Tony Alva, the Era shoes had more cushion in their insoles as well as more color options.
Living up to its name, Vans Authentic is the origin of many products of Vans, and Vans Era is not an exception. With several innovations, it has been a rival of Authentics for a long time, thus leading us to compare them.
Check more: Where Are Vans Shoes Made?
Vans Authentic vs Era Shoes: Key Differences
Vans Authentic and Vans Era share a few similarities: low-top shoes, lace-up closure, metal eyelets, and outsole made of Vans' waffle rubber. They both provide excellent comfort and look identical at fight sight, but they still have a lot of differences that can help you tell between them or choose the most suitable pair of shoes.
The easiest difference would come to your sense as soon as you pick up the shoe and feel it with your hand. Era shoes have a sturdy structure and feel heavy due to the extra padding in their heel collars. Meanwhile, Authentics don't have this feeling.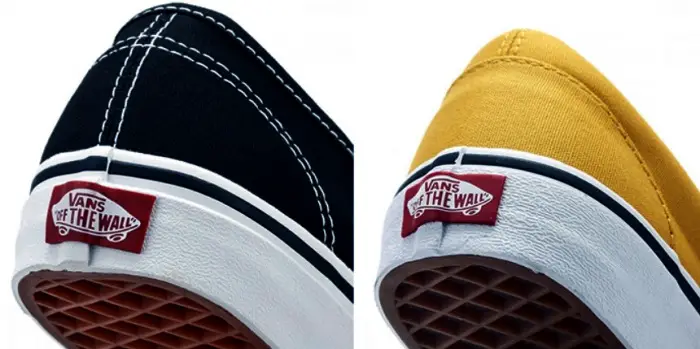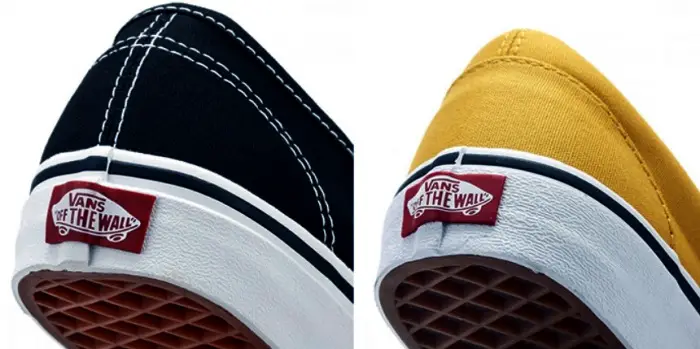 | | | |
| --- | --- | --- |
| | Vans Authentic | Vans Era |
| Material | Synthetic black leather | Canvas |
| Style | Simple and sporty | Unique with 2 attractive tones |
| Size | Moderately precise | A bit tight at first |
| Design | More simple | Chunky and heavy with added cushioning |
| Weight | Lighter | Heavier |
| Comfort | No need break-in | Need a bit break-in |
Material
Suede, leather, and canvas are the primary materials Vans uses for their shoes, and of course Vans Authentic relied on these materials originally. Currently Authentic utilizes denim – a material known to be robust and breathable.
They have two Authentic designs using synthetic black leather for the top. The "work shoe" version is more known than the other with vulcanized outsoles, which result in better friction and reduce slips.
You will see most Era shoes have the upper made of canvas, the design with suede upper is available but in one color only. What makes Vans Era stand out is the advanced technology adding more cushioning to the sole. The upper has a double-sewing, which increases its durability remarkably.
Style
On the official page of Vans, there are above 30 colors and designs in total for the Authentic shoes. They look very simple even when the patterns are extravagant due to little sewing. Whether they feature bold skulls or eye-catching rainbows, the appearance is clean and neat.
As the traditional shoes for skaters, Vans Authentic looks very sporty and thus compatible with various styles of shorts. Unfortunately, the same can't be said about Vans Era.
The double-sewing technique allows Vans Era to blend two attractive tones into a unique design. The uppers of Era shoes are also in bright colors and cover the shoe's length, which Van Authentic doesn't include.
Size
As always, you should try the shoes on if you can, even though most buyers agree that their Vans Authentic is moderately precise when it comes to size. Authentics hug your ankles snugly due to the absence of a thick collar.
Meanwhile, the collar of Vans Era is cushioned, hence it might feel a little tight at first. Either you slowly loosen it up or increase the size.
Design
If we didn't know better, we might be thinking Vans Era is the trendy product and Vans Authentic is the traditional-looking category, but the truth is quite the opposite. The Authentics have stylish designs, and the Eras promote a layout with extra sewing.
The cushioning added to the Era shoes makes them seem chunky and heavy, which is not the most ideal for short people. This group of customers favors the simplicity of Authentics so much more.
Weight
If you compare one shoe of each type (make sure they have the same size), Vans Era will always be a tad heavier than Authentic because of the extra padding. Not only does Era feel heavier but it also looks more chunky.
Support
They both offer comfort in their soles, but the flat bottoms usually provide insufficient arch support. However, they make up for it using the Comfycush styles, in which the Vans shoes receive a new roam-and-rubber sole. When Vans Era vs Authentic fit your feet, this base layer will mold and accommodate the arch of your feet.
Comfort
The battle of Vans Era vs Authentic comfort is probably what buyers are most interested in.
Of course, this legendary name ensures comfort, and they shine during summertime. They feel thinner than Eras, and they are truly thinner too. Hence, break-in time is not necessary for them.
Ankles: With no extra padding for the collar, it's no doubt that your ankles will have to tolerate a tiny ounce of sharpness and rigidness. The discomfort will go away soon, yet if you need a solution for the sensitive ankles, you can wrap a small hammer in soft towels and gently tap the shoe's collar on a solid surface. This method will turn the rough canvas a bit softer.
Sides: All Vans shoes are narrow and snug around the feet. If your feet are large in width, it will take you a few times of use for the shoes to fit without fail.
Toes: Again, apparently Vans' shoes don't feel comfy on the times right away because of the rubber sole. The key to solving this problem is never putting the shoes on your bare feet or using seamless socks.
With padded and cushioned insoles, Vans Era shoes are undeniably the most comfortable for your feet. But you will need to give it a little bit of break-in time for its padded collar to soften.
Ankles: You are not likely to get a burn or even any slight discomfort around your ankles thanks to the cushioned collars, and this advantage is more prominent if you have such skinny ankles. The bones sticking out might end up rubbing your skin against the rough materials and causing annoying blisters.
Sides: The form of the Vans shoe is never considered wide. Therefore, if your feet are not thin, the sides of the shoes will feel tight for you.
Toes: The rubber layer connecting the sole and the canvas sometimes feels uncomfortable on your toes. You can appease this little issue by keeping your toenails in check and putting thick socks on.
Check more: 7 Main Differences Of Vans Ward vs Old Skool
When To Choose Vans Authentic?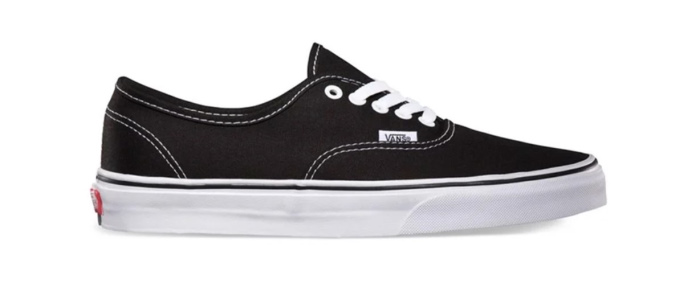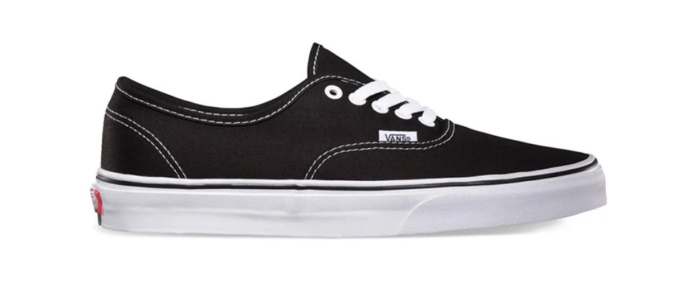 Vans Authentic has been retaining its reputation for decades, and it is not a surprise if you look at the simple and classy designs from then till now. These versatile designs grant you the versatility to wear your favorite sneakers on many occasions and not only for skating.
With high-quality materials, Vans Authentics can endure constant usage and unfavorable weather. Therefore, active and sporty people can still put their faith in the original Vans shoes.
Authentic shoes don't have as much padding and cushioning as Era shoes, though not everyone enjoys padded shoe collars, so it is not too big of a downside for Authentics.
When To Choose Vans Era?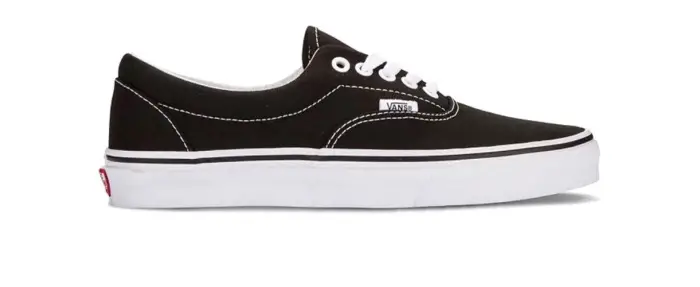 Born after Vans Authentic, Vans Era has found its own path by focusing on durability and comfort. The additional padding in the soles has totally charmed and inspired the skaters. The feedback for Era is positive most of the time.
Vans Era seems to be the perfect fit for your feet, but it can certainly improve, and here are the aspects customers have complained about:
The arch support is not enough, hence the contrast between the lacking and the extra padding feels even more obvious.
The collaborative version keeps it limited.
Final Words
Hopefully, you have made your decision after knowing better about Vans Authentic vs Era differences. If you are a skater or an athlete (amateur or not) and you want the extra comfort when practicing and competing, you will fall in love with Vans Era. But if you want a touch of fashion in your shoes and dislike the padded collar, Vans Authentic should be your pick!