When even the best luxury shoe brands are trying to expand their territory, they become more approachable to all fashion lovers. What are the most noticeable names in the market and what makes them special?
15 Best Luxury Shoe Brands In The World
1. Alexander McQueen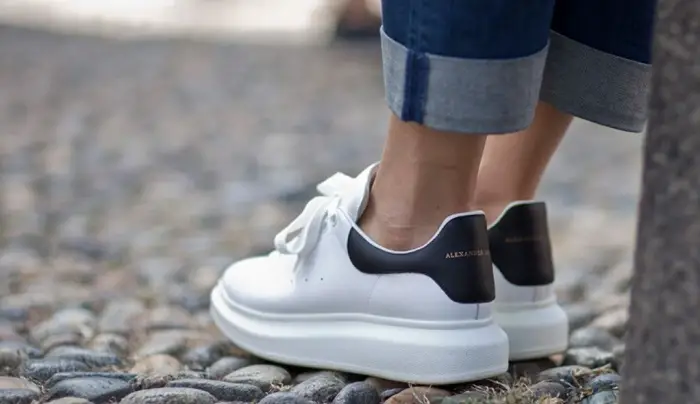 The first brand that appears in our list is from Britain, named after its founder – Alexander McQueen (1969 – 2010). They design and manufacture high-end shoes with the best materials and detailed craftsmanship. Your feet might feel a bit heavy and stiff at first, but it's because the shoes are built to last.
With such talented designers lining up, McQueen never runs out of ideas, whether it is for lace-ups, sneakers, or boots. The form is unique and minimalistic enough for them to be very versatile.
Rather than the weight, McQueen poses a challenge for customers due to its enormous size. You need to either spend time and try the shoes on first or take the risk and order a size smaller.
2. Balenciaga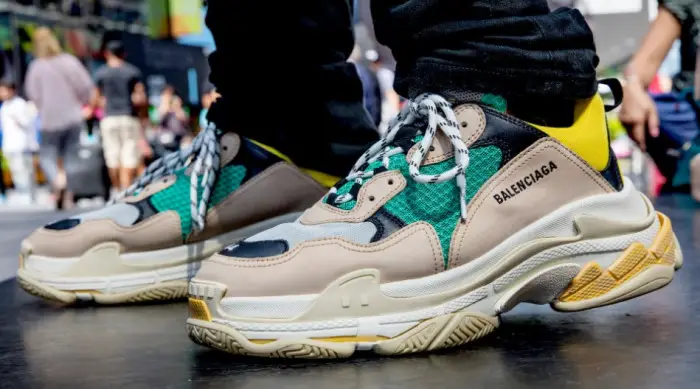 The Spanish powerhouse has been acknowledged long ago for Speed Sock Sneakers. Afterward, they introduce such bombs: Track.2, Triple S, Clear Sole, and more. Their designs are often referred to as a revolution since they go beyond imagination to come up with an idea no one has ever thought of before.
Other than a high-quality shoe brand, long-term users know and trust Balenciaga for the utmost comfort and perfect fit, even if need something for wide feet or narrow feet.
Balenciaga has reached the lows after the highs, but great management and immense creativity have brought it back to the race. Bold cuts, unique shapes, and fine materials are what they assure.
Check more: Balenciaga Shoe Size Chart – Do Balenciaga Run True To Size?
3. Christian Louboutin – Luxury sneaker brand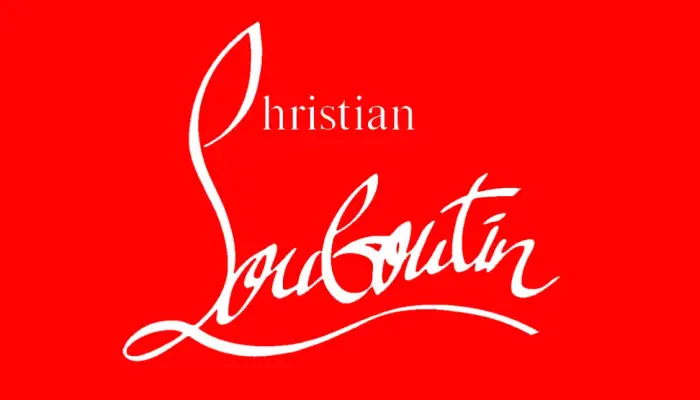 No one can blame you if ladies in red high heels are the first thing that appears on your mind at the mention of Christian Louboutin. However, you would be surprised to know they are also a luxury sneaker brand when it comes to menswear.
Compared to many internationally acclaimed brands, Christian Louboutin is quite young. The first headquarters was in Paris, and it included the creative atelier as well as the boutique.
The signature for their shoes was the red soles. When paired with premium leather or reptile materials, the price can go over the top.
At Christian Louboutin, you can find a variety of footwear. They can tend to your need for a sporty but classy look or get you ready for any type of formal event.
4. Dolce & Gabbana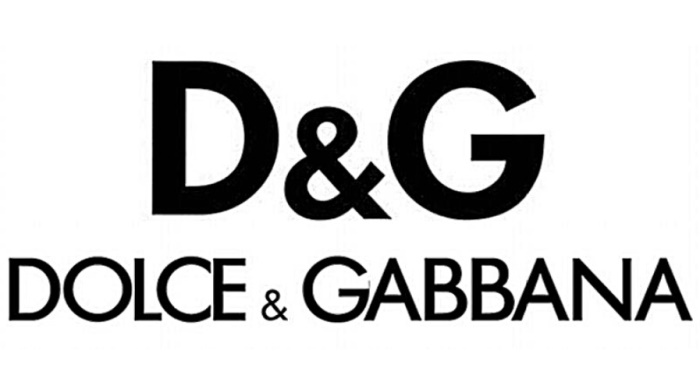 If you are looking to make a statement or simply leave an unforgettable impression, Dolce & Gabbana falls right into the scene. They are so heavily inspired by the successful film industry of Italy, and there is a story behind each product they release.
Occasionally, you will see something more tamed at D&G boutiques, the Portifino for example. But overall, most of their creations are audacious and powerful.
Another signature of D&G that usually goes unnoticed is the rubber soles. They are enough chunky and durable to ensure you will have the most comfortable steps on the most challenging terrains. Yes, without worrying about sore feet or worn-out shoes.
5. Fendi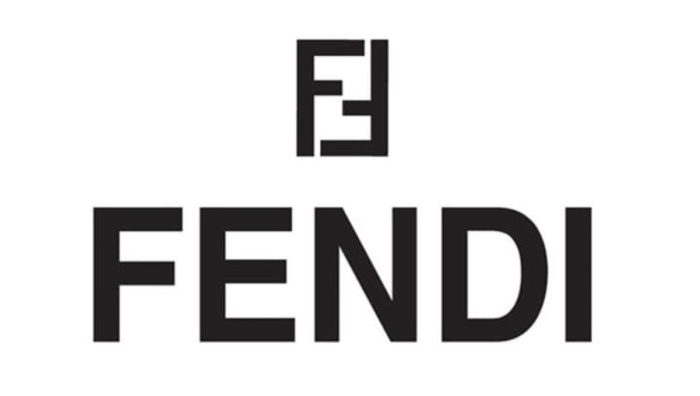 Launched in 1925, Fendi is going to celebrate its 100th anniversary soon. And its founders have every reason to be proud of the journey and the success achieved under the name Fendi.
At Fendi, we find the epitome of elegance. They definitely have bold designs to capture your attention. Though the earthy shades they use neutralize the appearance and prevent it from being too extravagant.
Leather and fur are the cores of Fendi footwear, and they didn't hesitate to invest in over 400 specialists for the materials alone. With the resignation of Karl Lagerfeld, Kim Jones and Silvia Venturini took over in women and men divisions, respectively. A lot of fashion lovers feel like they can expect greatness from this new duo.
6. Gucci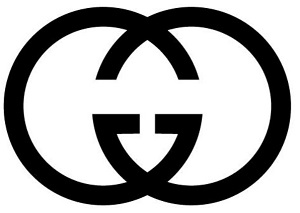 You can be a fashionista with a low-top silhouette or an active hiker with their move functional designs, but the product will never lack the essence of Gucci. It might be one of the materials they monopolize or the pop colors they create, but it's seriously difficult to mistake Gucci for something else.
It took roughly a century for Gucci to be where it is now. In the 80s, they faced a devastating crisis and ended up with the Gucci family being ousted from the company. They recovered with the Porno Chic props and gradually became an icon of the geek-chic style.
Despite inevitable controversies, Gucci remains an empire to the present. They have been paying more attention to the environment lately and started using organic, sustainable materials to reduce unwanted impact.
7. Jimmy Choo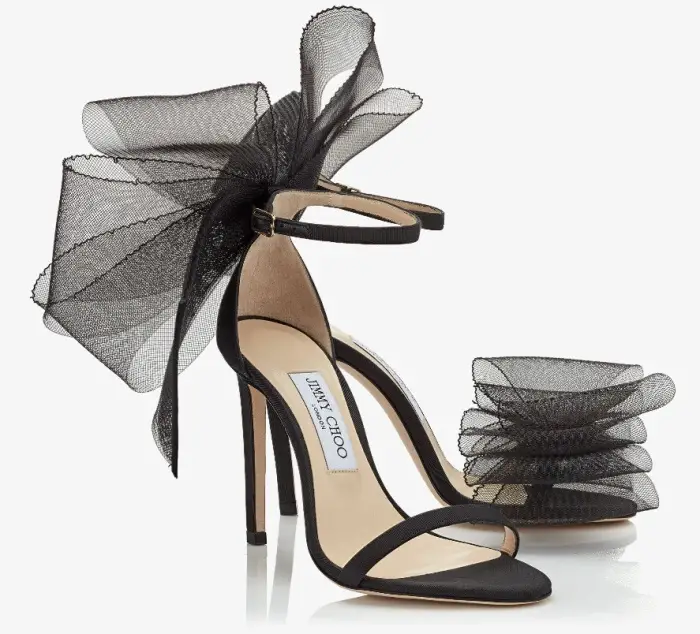 People who want their shoes to be a legacy wouldn't take their eyes off a Jimmy Choo pair. The fashion house only releases a certain number of products due to the limit of handcraftsmanship and premium fabrics. It feels as though the manufacturers aim for nothing less than perfection.
As one of the most expensive shoe brands, the least costly footwear from them still stands at $175 for jelly sandals. For pumps, flats, and common types of shoes, it might go up to $500. The price will skyrocket if you want to own the special designs.
It seems like the biggest obstacle between Jimmy Choo and fashion lovers is availability. However, they are slowly expanding to the casual end of the spectrum. With such a loyal client base, it's no doubt that they know how to take care of customers.
8. Louis Vuitton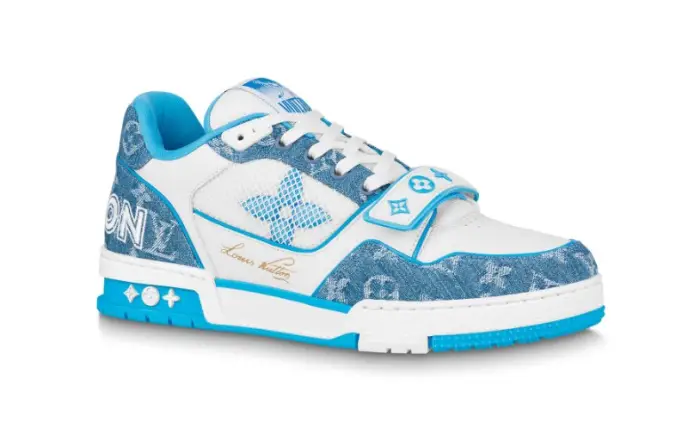 Established in 1854, Louis Vuitton began its endeavors with a sales price of over $10,000. From trunks to flat and round tops, Vuitton ventured into the territory of fine canvas and leather. It was a matter of time before they attempted to design and make shoes.
Like many of its high-end pears, LV has shocked the middle-class many times with its sky-high cost. Nonetheless, the products have enough quality to back up their price tag. Rather than competing in marketing strategies, they provide exceptional craftsmanship and aspirational allure.
Nowadays, Louis Vuitton is known as an empire of fashion, a reliable name for people who enjoy a classic touch in their clothing.
You'll love: 14 Best Men's Boot Brands
9. Manolo Blahnik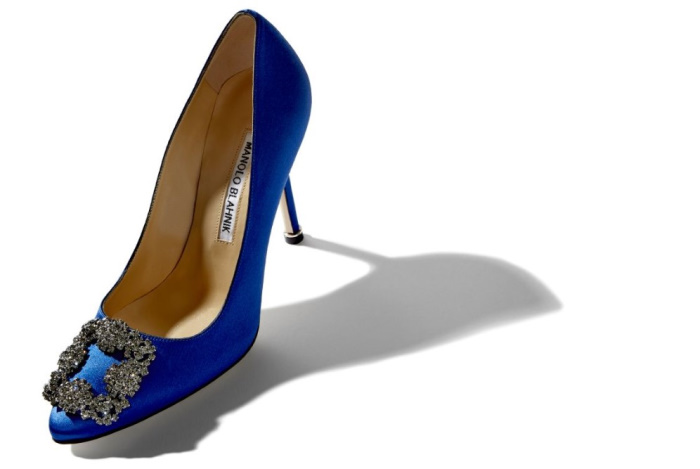 We are getting closer to the top, and Manolo Blahnik is the next name that deserves a mention.
Founded by a person who majored in literature and stage-set designing, it was nearly evident why Manolo Blahnik's designs have such an artistic sense in them.
Aside from fashion awards, the brand earned a token of recognition as it got featured at London's Design Museum, something no other shoemaker has ever accomplished.
Manolo Blahnik is best known for stiletto heels. The shoes are fancy and sexually appealing (no exaggeration), though the light weight also gives them a delicate appearance.
Furthermore, they are not afraid of embellishing the footwear further with rings, grommets, furs, chains, and more. No mass production is allowed in the progress of making a Blahnik shoe.
10. Miu Miu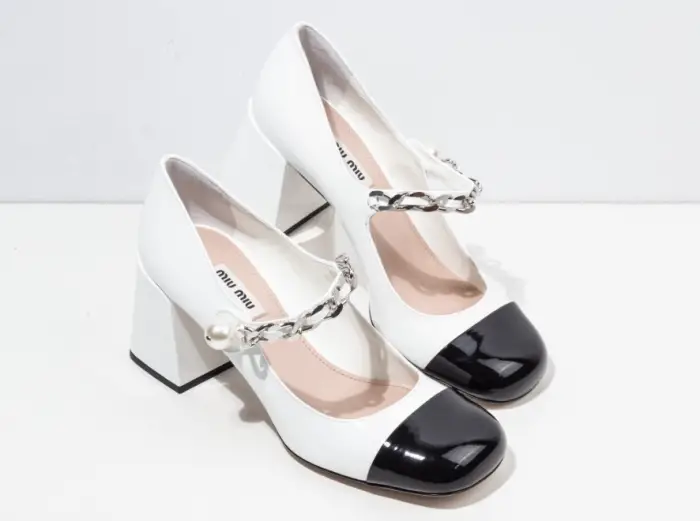 In 1992, under the name of Miuccia Prada, a new branch was born, starting with a collection of skirts and jackets before venturing into the footwear category. Inevitably, as another luxury Italian shoe brand, Miu Miu has various competitions right in their homeland.
Miu Miu maintains and expresses everything that makes a conscious and ambitious woman like Miuccia Prada. The shoes possess a powerful feeling of freedom and creativity, but behind the provocative and fancy design lies the immense attentiveness to quality and details.
With independence laden in her blood, Miuccia Prada moves away from Milan, Prada's headquarters. After countless shows all over the world, Paris was chosen as the destination, from which Miu Miu takes inspiration and incorporates it into new creations.
11. Prada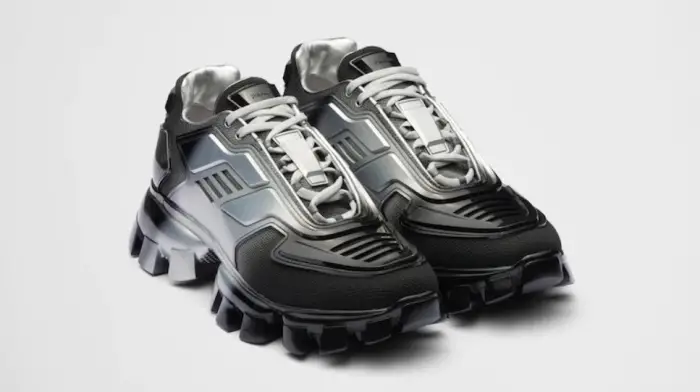 Even if we are discussing fashion brands in general and not only shoemakers, Prada won't be on the list. With a history associated with English royalty and an admirable legacy built over 100 years, they guarantee satisfaction for all customers who have chosen their products.
The price range of Prada starts from $800, which is a remarkably expensive cost even in comparison with the fellow high-end. You will have to spend and invest if you have your eyes set on Prada products. However, in exchange, your wardrobe is about to be enhanced with uniqueness.
Despite being an old brand, Prada aims to please young and devoted clients. They aren't afraid to be eccentric, sporty, formal, or anything. From women's ballet flats to espadrilles, and men's sneakers to lace-up leather shoes, minimalistic and classy.
12. Saint Laurent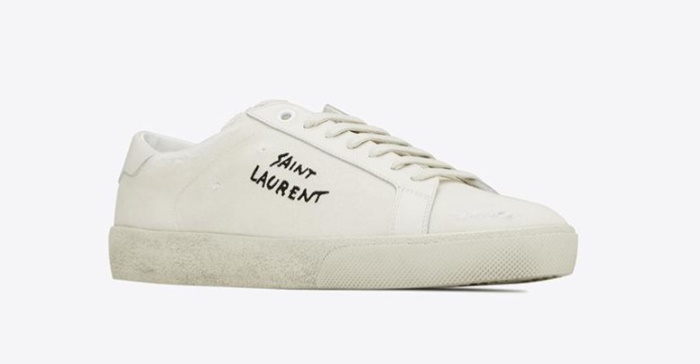 We would never know how much strength Saint Lauren needed to overcome the prejudice forced on him back in his time and launch a legendary name in the fashion world. Success and fame came to him fairly early and took a toll on him eventually, but we can be sure he has too much creativity in him to leave fashion behind.
Other than skinny suits and jeans, Saint Laurent has ultimately given fancy footwear a new definition. They have the perfect shoes for your date night or your office work, but they also make sneakers for weekend fun and outdoor activities.
Although they specialize in elegance, you will still find quirky details such as star canvas and animal prints. A bold statement is not what Saint Lauren is after, but rather an everlasting impression.
13. Stuart Weitzman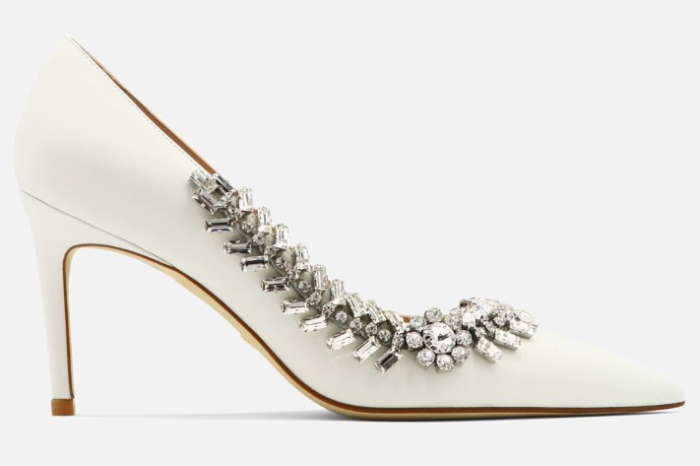 Living up to their motto "Shine with Every Step", Stuart Weitzman shoes excel in both designs and fit. It's indeed a big investment to buy from them, yet you will be in for classic and iconic items, something that will last for years and maintain their value.
Using comfortable and lightweight materials, this powerhouse makes a wide range of products for all seasons. Knee-high boots rise as their most famous and loved designs. You can wear them with just about everything, be it jeans or dresses.
They are one of the leading brands in shoemaking, targeting the group of bold and confident customers, who have been Stuart Weitzman's inspiration from the beginning.
14. Valentino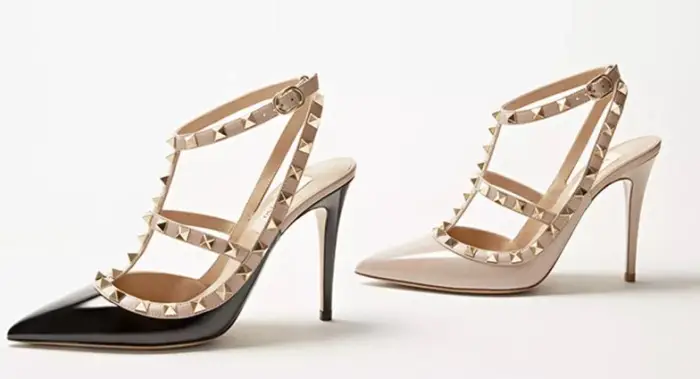 In 1960, at the heart of Rome, Garavani Valentino established a fashion brand with backup from his father's corporation. Known as the protagonist of the fashion world, Valentino has gone through changes and developments to be at the top.
Throughout its history, Valentino introduces us to womenswear and menswear with various product lines aside from shoes, such as bags, ties, fragrances, eyewear, and more. They have appeared in over 100 countries and have 1500 sale points.
Recently, Valentino has put a stop to their usage of alpaca wool and also cut off its partnership with Malkini, a reputed alpaca farm from Peru. With their outstanding craftsmanship, this change wouldn't affect the quality of their products.
15. Versace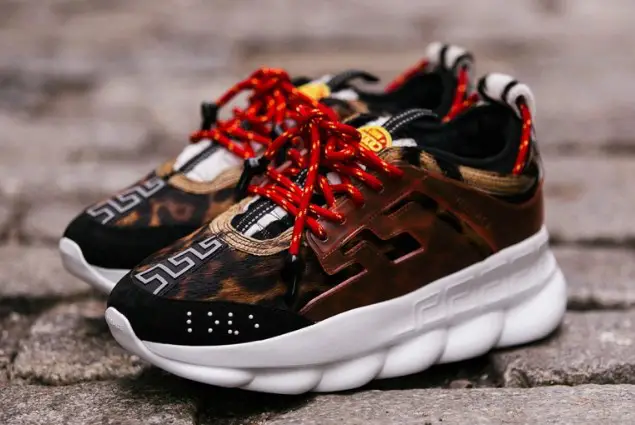 Releasing the first collection in 1972 and officially launching in 1978, Versace expands quite quickly and even branched off. Versace doesn't hesitate to collaborate with celebrities and brands, and it simply boosts their popularity even more.
There is no doubt that Versace worked diligently to fill its creations with elegance. However, you would be in awe of the bold details they toss into their sneakers: chunky shapes, metallic embellishments, and bright colors.
Furthermore, the shoes still provide comfort for any activity you want to participate in.
Lately, Versace considered the environment and restricted the use of fur and kangaroo leather in their products. The awareness of the environment certainly will bring the name Versace to more people.
Final Words
As the best luxury shoe brands, these names might not be unfamiliar to you, but this article should deliver more information on their journey and their motto of them. Did you find a mention for your favorite label, or do you think some adequate names are missing? Tell us in the comment section.