Here comes the list of best dress shoe brands for people who want to follow a more formal style or participate in a special event!
With more and more brands being launched every year, these names remain pure for the value they deliver through fine products.
12 Best Dress Shoe Brands In The World
Beckett Simonon  – Best Affordable Dress Shoe Brand
Compared to the general impression of dress shoes, Beckett Simonon is a fairly young brand. It is founded by Andres Nino and Nicholas Hurtado in 2012.
Their motto of producing sleek footwear at an inexpensive price used to put people in doubt, but they have turned this ambition into an art.
The most frequent material in Beckett Simonon shoes is full-grain leather from Argentinian calfskin. Instead of the Goodyear constructions, they choose Blake stitches to create handcrafted footwear for gentlemen.
If you want to place a quick purchase, they have numerous styles in all sizes for you to pick. Not being custom-made doesn't mean these shoes don't have a unique touch to them.
With a strict policy of making shoes according to orders. Beckett Simonon has little to no unwise consumption or stuck inventory, which contributes a sense of sustainability to its products.
Check more: 12 Best Shoe Brands For Wide Feet
Wolf & Shepherd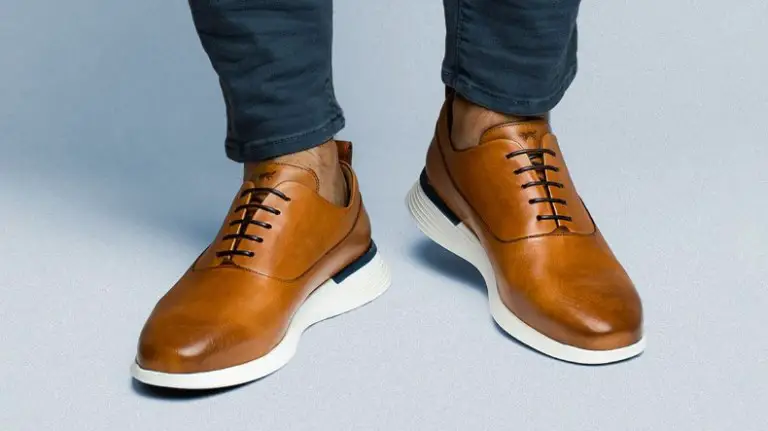 Being a relatively young name in the industry, Wolf & Shepherd wants to bring a fresh breath into the dress shoes we are familiar with.
Founder Justin Schneider was a decathlete who knew what sports footwear could do. He wanted to incorporate that comfort into traditional shoes.
Wolf & Shepherd bravely took inspiration from running shoes and utilized technologies so the user can gain maximum support.
We can name a few patented creations here: soles with high-TPU and high-density, memory foam and sheepskin lines for footbeds, anti-abrasion linings, and outsoles made of thermal rubber.
The artisans of Wolf & Shepherd have treated the finest Italian leather to the point of extreme comfort and endurance. Their shoes don't just look good and feel good in a short period, but a long-term commitment!
Cole Haan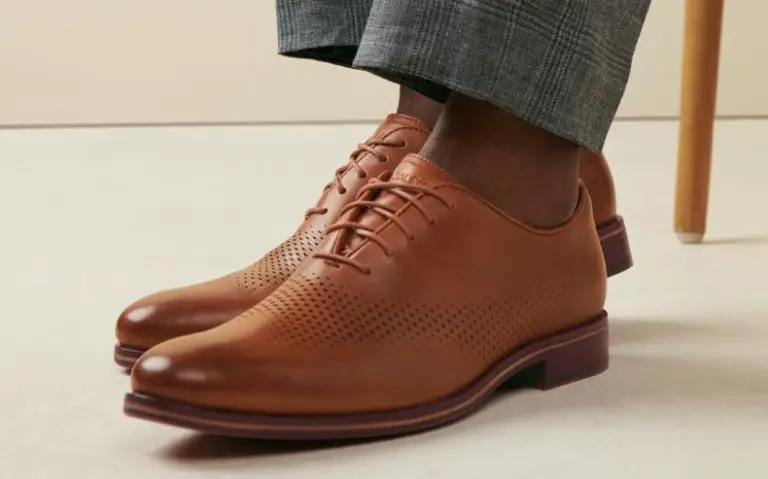 The name Cole Haan came from the two founders of the brand.
From 1928 till now, it has been transferred to different owners multiple times and turned into a renowned label among retailers.
Despite the wide range of products they offer, many customers remember them for elegant dress shoes.
It isn't necessary to point out that Cole Haan uses nothing less than premium materials. They offer various sizes and widths so everyone can find something fitting and enjoy comfort without a long break-in period.
Furthermore, they show us that there can be dress shoes under 200 dollars and not from centuries-old shoemakers.
At Cole Haan, dress shoes might be inspired by sneakers or loyal to the traditional Oxford style. Though they are always a perfect balance of classic value and modern technology.
They assure a lifetime of comfort without sacrificing aesthetics.
Another winning point in Cole Haan is the commitment to the environment. Their latest technology is FlowerFoam, a material made of dandelion rubber for a comfortable outsole.
You'll love: 15 Top Shoe Brands For Men
Allen Edmonds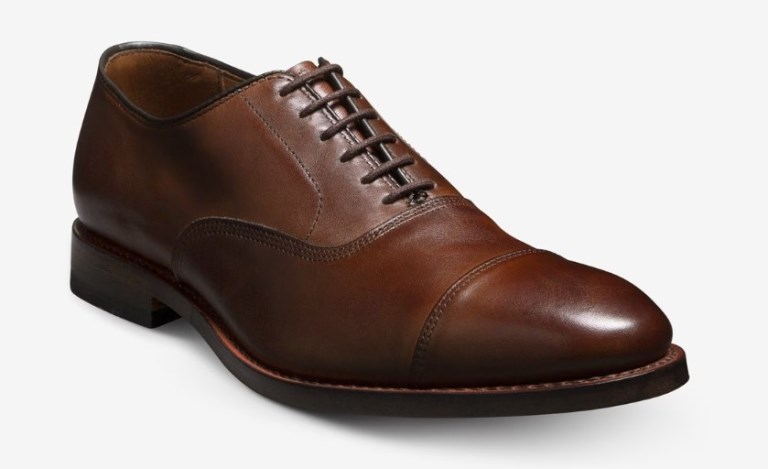 Allen Edmonds is the next brand to join the classic and traditional side of the spectrum.
It was established in 1922 and turned into a notorious name during World War II with high-quality footwear supply for military use.
Even though Allen Edmonds doesn't have customized fits like many shoemakers nowadays, they make up for it with a generous range of sizes and widths.
Hence, everyone is sure to find suitable shoes that cradle and contour to their foot.
To many purists, Allen Edmonds's footwear is a gem hiding from plain sight.
In a world of flashy designs, these shoes feel so tamed with the cap-toe Oxford and minor details, which match and blend with your vibes instead of flattering or boosting them.
Trickers
If you want something of European and English tradition, Trickers is amongst the best options available. Rich in heritage and properly maintained over two centuries, they are the oldest British shoemakers – proudly and unchanged.
They chose to adapt to new technologies, yet the core craftsmanship and intricacy remained through generations of artisans.
Combining cutting-edge tanning methods and innovative manufacturing processes, they can have the most durable materials and make premium-quality shoes out of them.
Furthermore, Trickers was recognized and approved by the Prince of Wales, who granted them a Royal Warrant award in 1989.
This award is an honor for individuals and organizations who supply goods for the British Royal Family.
As you can predict, Trickers also offers amazing customer service, sustainable practices, and ethics.
Idrese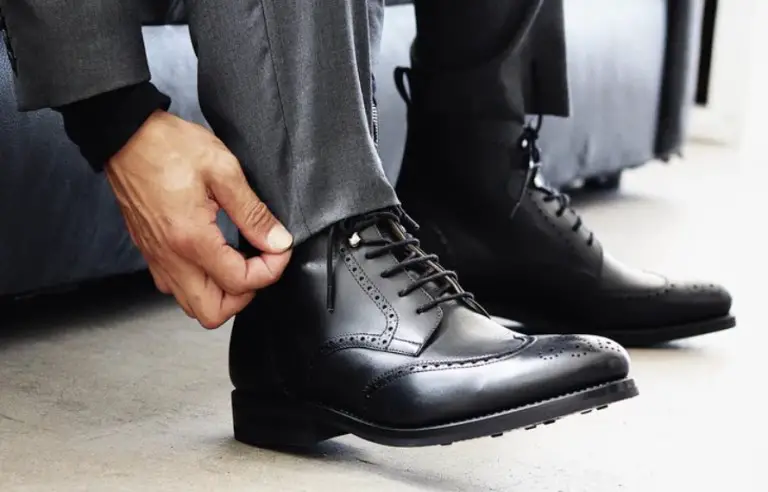 Before becoming a hit, Idrese was no more than an ambitious project of Jawad Malik.
Over 21 years old, Malik wanted to focus on Goodyear footwear and keep the products within the affordable boundary.
Idrese's material by default is full-grain leather from Italy but you can ask for other alternatives if they are more compatible with your needs.
Furthermore, via the 3D designer on the Idrese website, their shoes became made-to-order. Each product is bound to fit your feet perfectly.
With customized sizes ready to serve, it's safe to say Idrese footwear is good for wide feet as well as narrow feet. They might take some time to complete your order, yet the quality is worth the wait!
Jawad Malik looks forward to making his vision more known to the world. He privately spends a good part of his funds on charity activities.
We have no doubt about him achieving his goals with the goods he created!
Bruno Magli
Bruno Magli was merely one of the most popular dress shoe brands for women when it first launched in Italy, until Italian footwear became a symbol in fashion and took up a big part in the country's economy.
After successfully exporting their products and earning a reputation abroad, Bruno Magli was in a great position to expand their product range for men as well as research accessories more deeply.
When it comes to craftsmanship and dedication, Bruno Magli confidently competes with any name on the market. They know how to source the finest calfskin pieces and turn them into the most elegant products.
Even though they mostly create shoes for formal occasions, their durability is sufficient for you to wear them for daily errands.
Purchasing from Bruno Magli means you are in for years of comfort.
Ted Baker London
Since 1988, Ted Baker London has been getting recognition for its creative approach to fashion, characteristics, and minor details.
When someone entrusts Ted Baker London with their next outfit, they'd better be ready to be surprised.
We remember this elegant brand for the Brogue models they have designed and produced. The styles of these shoes vary from formal enough for wedding ceremonies to casual sneakers for a friendly date.
Therefore, despite being made for special occasions, Ted Baker London doesn't sacrifice comfort in their footwear.
You will get enough support and comfort from their lightweight materials to last a whole eventful day. If your favorite song is playing, you can get on the dance floor anytime you want!
Maglieriapelle
A footwear brand with 25 years of experience can't grasp the art of making dress shoes for men and women?
Then, Maglieriapella would prove them wrong with its distinctive Turkish style and a sprinkle of Italian traditions.
Despite being a youngster in the industry, Maglieriapelle takes pride in handcrafting their shoes from A to Z.
However, these products are not too out of reach because they are sold directly to interested customers. Thus, no extra fees.
In the beginning, designers will sketch their ideas on paper and work together for elaboration.
At the same time, assigned members would go out there and source the best full-grain calfskin available from famed tanneries abroad.
It's hard to believe but Maglieriapella's craftsmen team only consists of fifteen members. Each of them is skilled in a certain step of the entire shoemaking process.
Under the roof of an Istanbul factory, they work closely and become family. There is no outsider in the production.
Magnanni
Ever since 1954, Magnanni has been on a courageous path to bring the best of La Mancha to the world.
Generations of artisans have worked on carefully selected materials and refined them to perfection with an intricacy that a shoe lover could never abandon.
After getting high-quality pieces of leather, the craftsmen will handmake shoes according to the Bologna technique. It's also known as the "fully wrapped" method.
It ensures the products are packed with comfort while still looking as fine and delicate as ever.
Instead of the sophisticated and seemingly inaccessible vibes, Magnanni is quite diligent in keeping up with modern touches.
They have the most traditional styles you can think of. Yet they are not afraid to throw several traits of sneakers into their dress shoes.
The feedback suggests that Magnanni shoes are not as soft as sneakers and loafers. Though they offer enough comfort to keep you going for a whole day long.
Brook Brothers
Brook Brothers are one of the American dress shoe brands that have made their names known for their quality. You wouldn't find any material in a state less than phenomenal.
It's unfair to say Brook Brothers only produces expensive stuff! Although some of their shoes are far up there in price, they have also released products at average costs.
What makes Brook Brothers important is their being a dress shoe brand for plantar fasciitis. They don't focus 100% on a fancy design, yet their attentiveness is distributed to the shape and the cushioning.
If you wish to follow a formal style, you need to practice a proper gait, and Brook Brothers can help you. They can deal with various foot conditions, which other brands have forgone.
We wouldn't consider Brook Brothers a label with trendy products. They keep traditional values and make them timeless with unwavering quality and service.
Ace Marks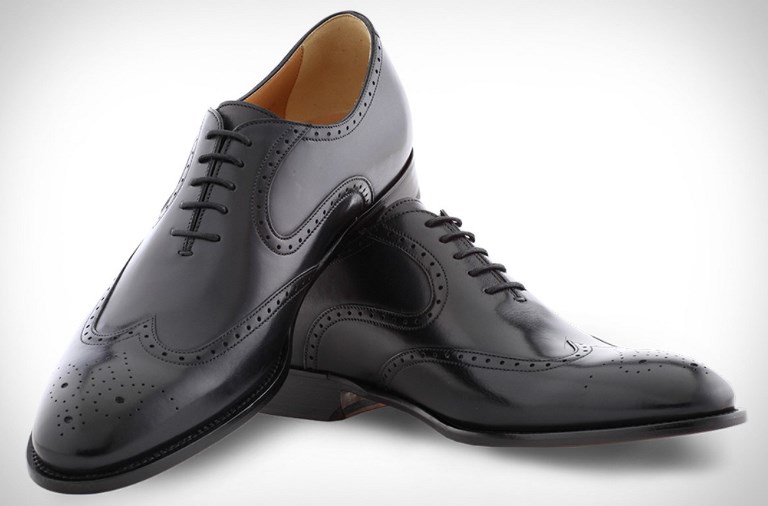 Four generations of artisans have built Ace Marks and witnessed its journey to be an internationally famous shoe brand.
Over the years, they still hand-pick calfskin with full grain for a classy leather upper that won't be mistaken for anything else.
The core of Ace Marks shoes is the Blake Flex technology for construction. With the trademark ACE last, they create footwear that molds to every edge and curve of your natural foot shape.
For careful customers, they have developed a tool to increase the accuracy when finding a suitable size.
Every Ace Marks shoe is burnished and dyed by the hands of masterful craftsmen. Hours of hard work result in rich colors with the artistry and depth of the creator.
Therefore, it becomes a common jest that no Ace Marks pair is the same as another.
Aside from making shoes, Ace Marks is proud to be the first high-end brand that buys their old footwear back and compensates a $50 credit on your next purchase.
These shoes will be donated to Career Gear in hopes of helping men to find a new look.
Final Words
With the best formal shoe brands in the world, you will always have more than something to put on your feet and match your clothes.
These shoes come with a rich heritage, superb craftsmanship, and the spirit of their creators. Aside from improving your style, they also add a layer of sophistication to you and boost your confidence tremendously.