ADIDAS has little to no competition in its footwear market, so the competition between its product lines tends to be much more heated.
Our discussion today revolves around NMD vs Ultraboost, two of the most popular creations from ADIDAS. What are the distinctive features they have? Which is the better option for you?
ADIDAS NMD vs Ultraboost: An Overview
ADIDAS is a German brand of athletic clothing and footwear. Originally founded in 1924, it is currently the largest manufacturer of sportswear in Europe and the second-ranked in the world.
In 2015, ADIDAS releases a new product line called Ultraboost. This footwear has new technologies incorporated into it, from the Primeknit upper and the Boost midsole. They are very famed for the snug fit around your feet and their breathability.
In the same year, NMD was also presented to the public. It quickly became an icon of street style as well as one of the best-sellers.
The technologies applied to NMD are similar to Ultraboost, though this product line has more creative details and thus appears more appealing to the young generation.
A big part of Ultraboost's popularity comes from celebrities who enjoy and promote Ultraboost shoes through their outfits. However, it gives off the impression that Ultraboost is not as accessible.
Meanwhile, NMD sneakers easily reach more customers at an affordable price. If we are talking about streetwear, you will undoubtedly see more NMD shoes around you.
Check more: Are Adidas NMDs Good Running Shoes?
Difference Between NMD and Ultraboost
Both NMD and Ultrboost shoes have a Primeknit version. Primeknit is a machine-based knitting method Adidas uses for creating a tightly woven material from multiple threads and layers.
Therefore, it is both stretchy and durable, enough to retain its shape and provide comfort at the same time.
Aside from the similar materials, these two product lines have many differences. From NMD fit to Ultraboost fit, from performance to price, we need to break them down.
Upper
In the NMD, the upper is made with mesh or Primeknit.
The Primeknit structure doesn't have a solid shape, however, so it would feel loose for narrow feet. And, you won't feel like your feet are locked in the right place.
For Ultraboost, it sticks to Primeknit only.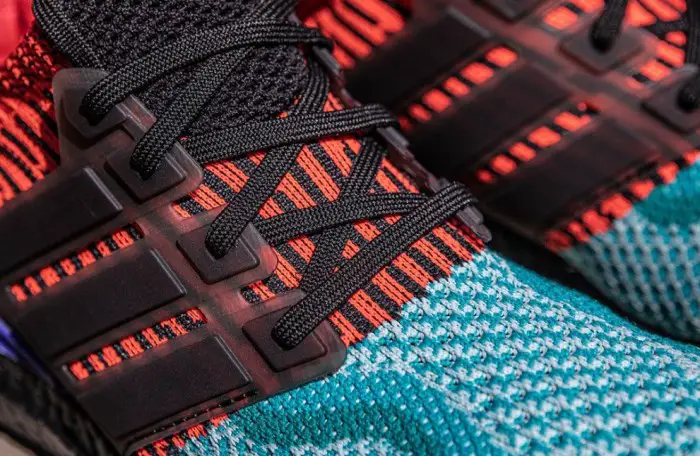 The essence of Primeknit is evident here, and the material's arrangement makes the fit super nice. The cage structure and the heel cup mold to your feet regardless of their width.
Hence, it might be a bit too tight for wide feet and high arches.
Midsole
You can get cutting-edge Boost midsoles from both products, but they are still not the same.
NMD shoes are comfy but still firm at the same time. You won't feel like you are stepping on clouds with these shoes, yet your steps will also be more agile.
When you have no need for speed, the extra cushioning in Ultraboost will become much more preferable. You can stand and walk for the whole day in Ultraboost shoes, and your feet won't be complaining at all.
Outsole
This detail proves that NMD is an everyday shoe. It is a basic flat rubber outsole that will last long despite not having any outstanding features.
With Ultraboost, we will have the special Continental outsole. It is made of rubber as well, but the torsion and the little bumps will give you more fraction.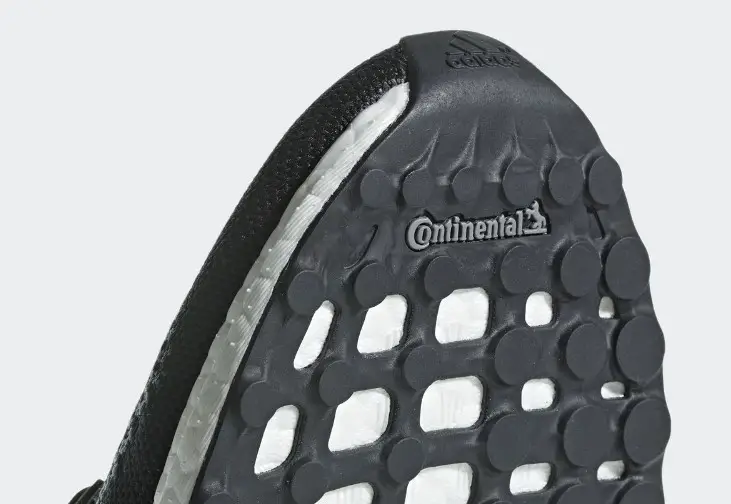 Adidas NMD Vs Ultraboost Comfort
The upper of the Ultraboost is better for you if you want a snug fit from your shoes, though it might not be comfortable when you unbox them for the first time.
For something ready to wear out of the box, NMD would take the cake.
Nonetheless, the insole determines the comfort of a shoe, NMD and Ultraboost both have sufficient padding.
Still, Ultraboost soles are thicker, hence it distributes support more thoroughly. With thick midsoles, users with excess body weight will get enough support without losing the shape of the shoes.
In short, NMD is not more comfortable than Ultraboost, unless you are a fast runner who wants your shoes to catch up with your speed.
Check more: Top 4 Best Ultraboosts Running Shoes
Performance
With footwear from a well-known brand like ADIDAS, it's absolutely normal if you only care about how well they perform. For a starter, the performance has a deep connection with the comfort of the shoes.
Thick padding gives your feet the utmost comfort, but it might be an obstacle when you want to run fast. Usually, racing shoes won't sink under your toes, and you won't need to spend more energy to create momentum again.
According to this aspect, NMD is the better option for runners who want to accelerate in a short distance.
As shoes with more padding, Ultraboost is more suitable for long distances or casual use. It cradles the entirety of the feet and prevents problems such as blister and irritation.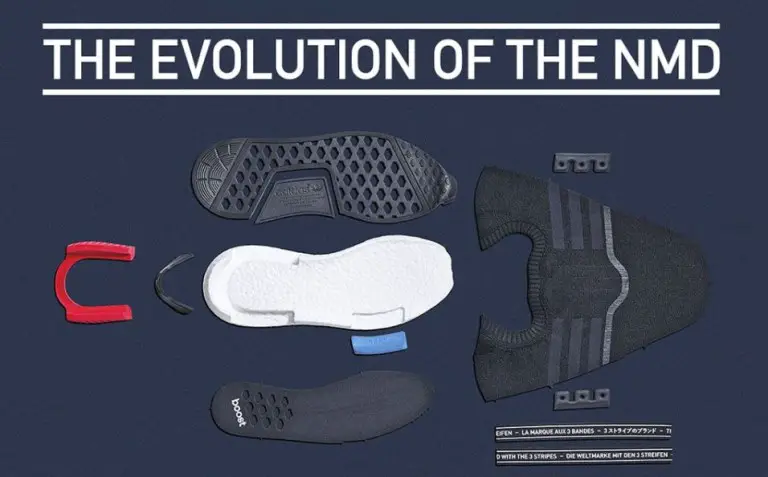 Durability
ADIDAS shoes are durable in general because they use such premium materials with innovative design details. They will maintain the shape and the colors from the inside out, so you won't ever be disappointed!
NMD Vs Ultraboost Sizing
If you think NMD and Ultraboost come from the same brand, you would be surprised to know their sizes fit very differently.
As we have mentioned above, NMD shoes don't hug your feet like a glove, so you might want to size down, especially when you have thin feet.
Meanwhile, Ultraboost has a better fit and consistent structure. Although it is amazing, you might need to go up a size if you have wide feet.
Price
NMD is generally less expensive than Ultraboost, and NMD with mesh is cheaper than NMD with Primeknit. Their price range is between $130 – 170.
On the other hand, Ultraboost also has caged and uncaged versions, yet both of them are on sale at $180.
If you are looking to save some money for your budget, NMD should be your choice without a doubt. NMD restocks also happen frequently, thus you won't have much trouble looking for them.
NMD Pros And Cons
You can expect qualities such as stylish and comfortable from a brand like ADIDAS. But let's not forget that it still carries great value.
The price might be higher than average, yet NMD shoes are quite durable and versatile for their cost.
We can't help but ask ourselves: When will ADIDAS give the outsole more details? If they fix the big fit and the outsole, there won't be anything we can complain about NMD shoes.
Ultraboost Pros And Cons
Ultraboost is more expensive than NMD but not by a lot.
The design is very fashionable and suitable for a casual outfit. The comfort it brings to your feet is surely surreal. If you are going on a long hike, the traction and the support will come in handy.
The thick padding is unfortunately also a setback. It doesn't return energy when you want to pick up the pace. And, it takes a long time to dry if you get it wet.
Which Is Better: NMD or Ultraboost?
It's nothing too shocking if you are stuck between ADIDAS NMD or Ultraboost.
They come from a well-known brand and provide the utmost comfort for the users while retaining breathability thanks to the mesh and Primeknit uppers.
In the end, it is down to your preference and need.
NMD is affordable and lightweight, which makes these shoes suitable for short distances and fast paces. The downside with NMD is the loose fit that can only be solved if you size down.
On the other side, Ultraboost fits true to size or runs bigger with extra comfort. It's slightly costlier, though it also wins in various aspects.