Aside from purchasing shoes from brands' websites, you can also explore the latest shoe models on shoe retail websites like StockX or Flight Club.
So, is Flight Club legit? And if so, how legit is Flight Club?
Let's take a look at this shoe retail company to answer this question
What Is Flight Club?
Flight Club is a popular online and retail store that specializes in selling rare and exclusive sneakers.
The company was founded in 2005, headquartered in New York, and offers a wide selection of both new and pre-owned sneakers from popular brands such as Nike, Adidas, and Jordan.
In addition to its retail store, Flight Club operates an online marketplace where users can buy and sell sneakers, creating a vibrant community of sneaker enthusiasts.
If you're passionate about sneakers and streetwear culture, Flight Club is a must-visit destination for hard-to-find styles and limited edition releases.
Is Flight Club Legit For Sneakers?
Yes, Flight Club is a real company that allows sneakerheads to purchase both new and used sneakers, apparel, and accessories on its website.
Although all shoes on Flight Club are from third-party sellers, they are guaranteed to be of high quality and authentic. All shoes must pass strict authenticity checks before being sent to buyers.
Since there are many new scammers trying to steal your credit card information, make sure you are checking shoes on Flight Club's official website at www.flightclub.com or at its offline store.
How Does Flight Club Work
Established in 2015 and owned by Goat Group, Flight Club is a well-known digital consignment store for shoes, apparel, and fashion accessories.
Flight Club offers a wide variety of shoes, from new collections of top footwear brands to the limited, older names in the sneaker resale market.
Despite having three physical stores in New York, Los Angeles, and Miami, Flight Club customers still prefer online shopping to get their sneakers.
This is because all shoes from third-party sellers must be authenticated by the Flight Club team before being delivered to customers.
Consequently, the price and delivery time of these shoes depend on whether they have been sent to Flight Club before or after the sale.
9 Interesting Facts About Flight Club
1. Flight Club Is Owned By Goat Group
The brick-and-mortar online store Flight Club is owned by Goat Group, a powerful sneaker and streetwear resale business that also owns Goat – a digital marketplace for shoes.
2. Shoes At Flight Club Come From 500+ Brands
There are thousands of shoe models from 500+ third-party brands and sellers on Flight Club. Whether your shoe style is classic, trendy, or limited, you can always find your favorite shoes here.
Limited sneakers on Flight Club (for example, some Nike Jordans) likely have higher price tags than other online stores as a 'small fee' for their high authenticity.
3. Online Shopping Is Preferred Than Store Shopping
Although Flight Club have 3 physical retail stores in Los Angeles, New York, and Miami, customers still prefer online shopping to buy their sneakers.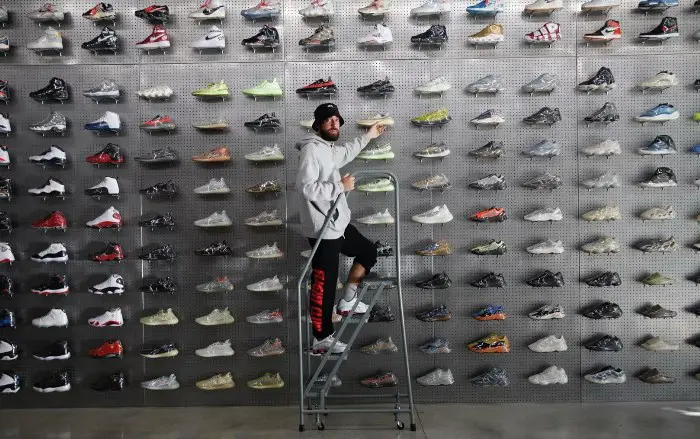 4. Strict Authentication Process At Flight Club
All shoes from third-party sellers must be sent to be authenticated by the Flight Club team before being delivered to customers. Consequently, the price and delivery time of shoes depends on whether they have been sent to Flight Club before the sale or not.
Thanks to this strict authentication process, Flight Club, like GOAT or StockX, is among the greatest marketplaces for buying high-quality new or used sneakers.
Flight Club is also highly recommended on many large-scale shoes review websites, communities, and forums.
Check more: Can You Sell Used Shoes On Stockx?
5. Two Shipping Methods To Choose
All orders on Flight Club often take from 4 to 9 business days for shipping, depending on your chosen shipping method. There are 2 shipping methods on Flight Club – Fastest For You and Lowest Price.
The first method takes you 1-4 business days, while the second one takes you 4-9 business days.
6. The Shipping Fees Of Orders On Flight Club Are Fairly High
Compared to other online retail stores, the shipping fees on Flight Club are fairly high.
The standard shipping option costs a flat rate of $12, while the "Fastest For You" option can charge you a 6.5% fee for fast shipping.
Here are the shipping fees for some regions:
United States (except Alaska and Hawaii): $14.50
Hawaii and Alaska: $15
Canada: $30
Expedited U.S: $27
This sneaker company's higher prices and shipping fees may be due to its consignment business model, where brands and retailers send their sneakers to Flight Club to be sold.
Another reason for the premium price tag could be its promise of authenticity and safety, which customers are willing to pay for.
7. Flight Club.com Offers 7 Payment Methods And More
There are 7 accepted payment methods on Flight Club.
Visa Card
Master Card
JCB
Discover
China Union Pay
American Express
Diners Club
Aside from these 7 payment methods, you can sign up for a monthly payment option through Affirm or Afterpay. This way, you can enjoy flexible payment options for your shoes through price drops.
8. No Returns And Refunds At Flight Club
There are no good returns, exchanges, or refunds at Flight Club. There are a few exceptions, like order loss or wrong shipping items.
Thus, you should be sure about your order before making the final payment.
9. Price Drop Offers Lower Prices Than Flight Club
Price Drop is one of Flight Club's USPs, offering customers the best deals on shoes and related products.
According to this special policy, sneakerheads don't have to pay too much for their favorite pair of shoes. You can get some limited shoe models at a very low price with Price Drop.
Final Words
In sum, Flight Club is legit to order from and is among the most genuine marketplaces for purchasing new or used sneakers of all styles and brands, similar to GOAT or StockX.
Despite the fact that shoes on this marketplace come from third-party sellers, they must pass a strict authentication process before being delivered to you.
Consequently, you can always find your favorite pairs of shoes on Flight Club at a very competitive price.