Due to globalization and cheaper labor costs, footwear production has shifted from America to other countries in the past few recent decades. However, many people still prefer American shoe brands, thanks to the high craftsmanship of "made-in-America" products.
If you are looking for new US-made shoes, you should save this insightful list of the 12 most well-known brands that are based in America.
12 Famous American Shoe Brands
1. Alden – Best American dress shoe brand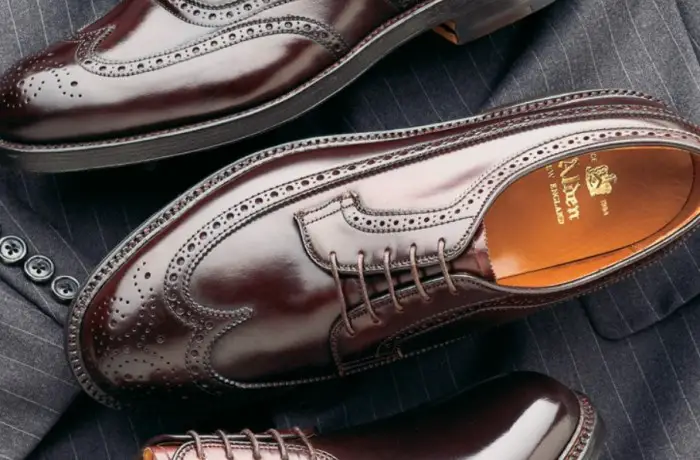 Established year: 1884
Headquarters: Middleborough, Massachusetts
Highlighted product(s): dress shoes
Alden is a family business of 100 workers and was founded by Charles H. Alden in 1884 in Middleborough, Massachusetts, during the prosperity of the New England shoe industry.
The Great Depression, World War II, and the growth of mass overseas shoe production with lower labor and material costs result in the downfall of many US shoemakers.
Still, Alden sets it apart in the shoe industry by focusing on high-quality dress shoes, especially medical and orthopedic shoes made in USA. It became a few of the best remaining New England shoemakers in Massachusetts till today.
Alden makes its dress shoes using the finest leather materials from small tanneries in the U.S. and Europe. Plus, it is also widely known for using shell cordovan from Horween Leather Company, a leather company founded in 1905 in Chicago.
2. Danner
Established year: 1932
Headquarters: Portland, Oregon
Highlighted product(s): The 6490 calked logging boots, Danner Light
Danner is a first-class American shoe factory with its headquarters in Portland, Oregon. It was established in 1932 in Wisconsin by Charles Danner, with the purpose of making leather boots that are built to last for hard-working people and explorers.
In 1936, it relocated its factory to Portland due to the thriving timber trade in the Pacific Northwest.
Danner has nearly a century of making durable work boots and hiking boots for men and women.
Some most highlighted of this American shoe brand are the calked logging boots, 6490 – a mid-weight hiking boot that weighs under 4 pounds (1970), and Danner Light – a full-waterproof hiking boot with Gore-Tex lining (1979).
Most of Danner's boots are made in the USA with a small American flag on them.
3. Esquivel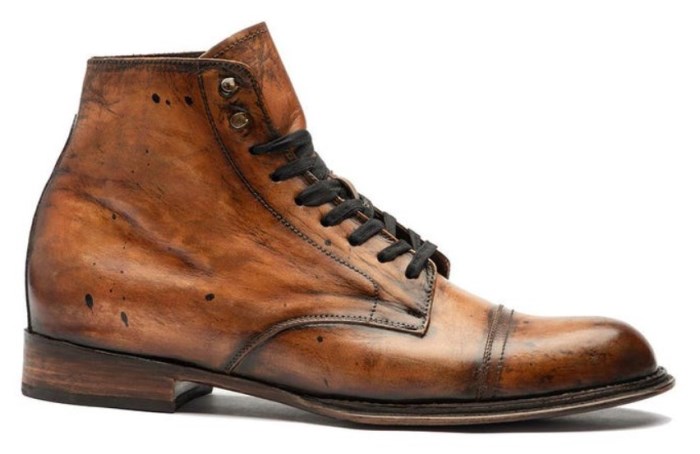 Established year: 2001
Headquarters: Orange County, California
Highlighted product(s): luxury designer shoes
Esquivel is among the top American designer shoe brands in the world. The first Esquivel shoes were made in 1994 in a garage in Southern California by George Esquivel and some artisans.
But not until 2001 did George officially make establishment for this brand under his family name – Esquivel Shoes.
Made-to-order leather shoes are the main products of Esquivel. Besides, it also has ready-made shoe styles at some of its retail stores. Esquivel designer shoes are favored by many celebrities like Madonna, Brad Pitt, Elon Musk, and more.
The first original Esquivel shoes launched in 1994 were inspired by George's trips to places around the world like Italy, Mexico City, and Paris. They are mainly classic oxford shoes for men and ankle boots for women in brocade styles.
Besides, this U.S-based footwear brand also has some art-inspired shoe collections, inspired by the workers who built the Empire State Building, the Austrian painter Egon Schiele, and the Canadian architect Frank Gehry.
4. Keen Utility – best American outdoor footwear brand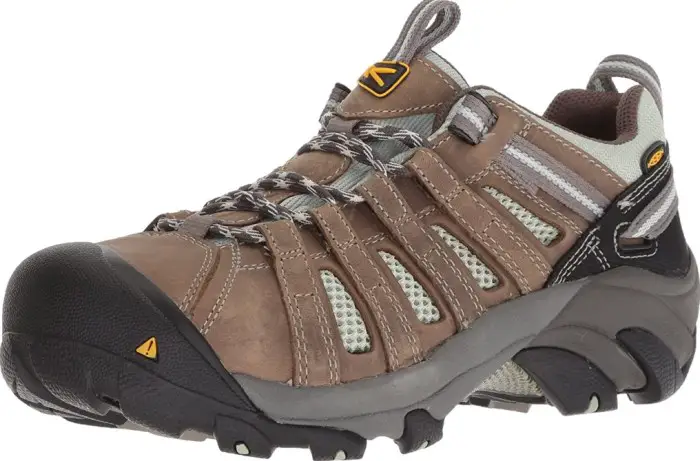 Established year: 2003
Headquarters: Portland, Oregon
Highlighted product(s): Outdoor footwear products
Keen is a fast-growing American footwear company with a strong focus on outdoor footwear products. It debuted in 2003 in Alameda, California, then shifted its production to the new headquarter in Portland, Oregon.
This footwear brand has gained prosperity from its very first day. Its sales volume has risen from $130 – $140 million in 2009 to approximately $240 million in 2011.
Although Keen use materials from overseas sources, its shoes are made by skillful American craftsman, which contributes to the local economic growth.
Keen started with footwear for sailing and outdoor activities, then expanded to various styles, like casual sneaker models for lifestyle purposes and for cold weather.
Plus, this company also produces safety footwear, clothes, bags, and related gear.
4. Maine Mountain Moccasin (MMM) – Best leather shoe brand in USA
Established year: 2017
Headquarters: Maine
Highlighted product(s): moccasin shoes
Maine Mountain Moccasin (MMM) is a well-known moccasin shoe producer in America. It was founded in 2017 in Maine by Dan Heselton, an ex-employee at Timberland and the co-founder of New England Outerwear with Greg Cordeiro.
Dan and Greg signed a contract with Bill Herrick, a skillful hand-sewer at Quoddy and Warren Shoe, to start producing a collection of handmade boots and shoes.
Up till now, MMM has a wide range of moccasin-style footwear, from chukkas, and boots, to boat shoes and oxfords.
MMM earns a lot of reputation for its high craftsmanship and high-quality local materials. This American-based footwear brand makes shoes from local materials, like threads made in Maine and Tasman leather. It uses Blake/McKay welting with Vibram soles and double-vamp mudguards.
5. Mark Albert Boots
Established year: 2016
Headquarters: Somerset, Pennsylvania
Highlighted product(s): leather boots
Mark Albert Boots is a young footwear brand started in 2016 by Mark Albert Barbera, the great-grandson of Joseph Barbera, an Italian immigrant, and a shoemaker. Mark inherits the experiences and techniques from his great-grandfather to create all footwear products of Mark Albert Boots.
Mark Albert Boots has 2 factories, one in Somerset, Pennsylvania (operated since 1948)  and Veneto region, Italy (operated since 1969). These 2 factories include the greatest shoemakers that can manufacture high-quality leather boots and shoes with Italian heritage and a fair price.
You'll love: 15 Best Luxury Shoe Brands In The World
6. Lucchese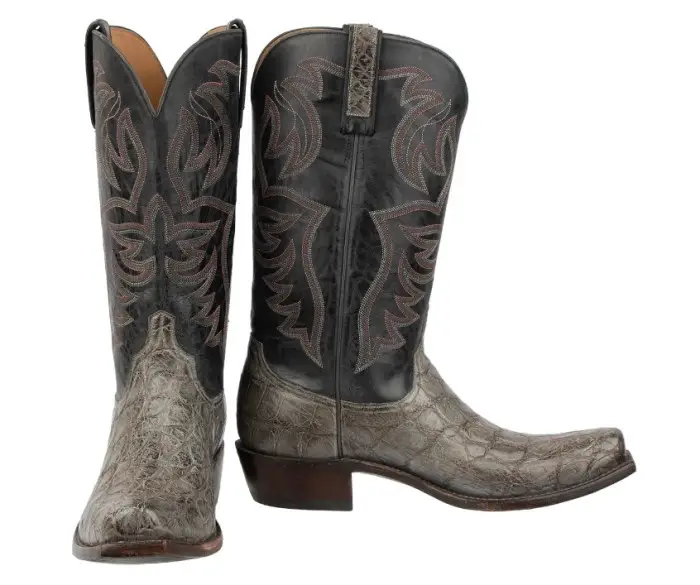 Established year: 1883
Headquarters: El Paso, Texas
Highlighted product(s): luxury leather boots
Lucchese is a famous brand name in the worldwide footwear industry. This American brand was founded in 1883 by Salvatore Lucchese, an Italian immigrant, and the son of a shoemaker.
Salvatore with his brother, Joseph, moved to San Antonio, Texas to open a boot-making workshop in Fort Sam Houston, a Cavalry School in America. Then, they chose El Paso as Luchese's headquarters till now.
All footwear products of Lucchese are a perfect blend between the traditional Italian heritage and the fast-growing American manufacturing process.
This company has received a long list of orders from celebrities like president Lyndon B. Johnson, actress Josephine Hutchinson, entertainer Bing Crosby, Cowboy, singer-songwriter, former British Prime Minister Tony Blair, actor Rex Allen, etc.
Besides the business, these orders are a golden claim for the top-notch quality, design, and durability of classic Lucchese leather boots.
However, not all Lucchese boots are made in the USA. You should check the product details when shopping online or in-store to know whether your chosen shoe model is made in the USA or not.
7. Parkhurst
Established year: 2018
Headquarters: Buffalo, New York
Highlighted product(s): high-quality boots and shoes
Parkhurst is a new shoe brand with the aim to restore domestic shoe production within the U.S. borders. It was started in November 2018 by Andrew Svisco, a stock analyst in Buffalo, New York. The purpose of Parkhurst is simple – to build shoes and boots that balance dress and work.
With this purpose in mind, Parkhurst uses high-quality components and raw materials from local distributors and suppliers in Wisconsin, Massachusetts, Illinois, Ohio, New York, and  Pennsylvania.
For example, it purchases the best leather hides from North American and European free-range cattle. If a raw material or component is not available within the U.S. border, Parkhurst will find it from a local supplier in the U.S. instead of importing it from an overseas one.
The trademark kudu leather of Parkhurst, which is tanned at C.F. Stead tannery in England, is purchased from an American-based supplier. Similarly, the Dainite soles are made in the UK.
With that core value in mind, Parkhurst has successfully overcome the COVID-19 pandemic and the global supply chain/labor crisis.
8. Quoddy
Established year: 1947
Headquarters: Lewiston, Maine
Highlighted product(s): made-to-order casual shoes
Quoddy is widely well-known for its handcrafted moccasins. This company was established in 1947 by Sam and Anne Spiegel as a manufacturer and retailer of moccasins.
It suffered a financial drawback in the 1970s and was resold to Kevin and his wife, Kirsten Shorey in 1995 and came back to the market as Quoddy Footwear, LLC in Lewiston, Maine.
Nowadays, under the management of John Andreliunas as the current CEO,  this group of American craftsmen continues to make shoes using the old methods of the native Passamaquoddy Americans.
Most of Quoddy's products are made-to-order casual wear shoes and are inspired by its iconic moccasin style (for example, boat shoes, penny loafers, chukka boots, blucher shoes, and oxfords).
Yet, you can still find some ready-made ones at leading retailers, like Ships Japan, Mr. Porter, Matches Fashion, and Leffot.
This Main-based company tries to keep most of its production and sourcing in the U.S. However, no shoes of this brand are completely made in America due to a lack of quality sourcing. For instance, the laces are made in Mexico, the soles are outsourced in Italy, and the leather is made in Chicago.
9. Rancourt & Company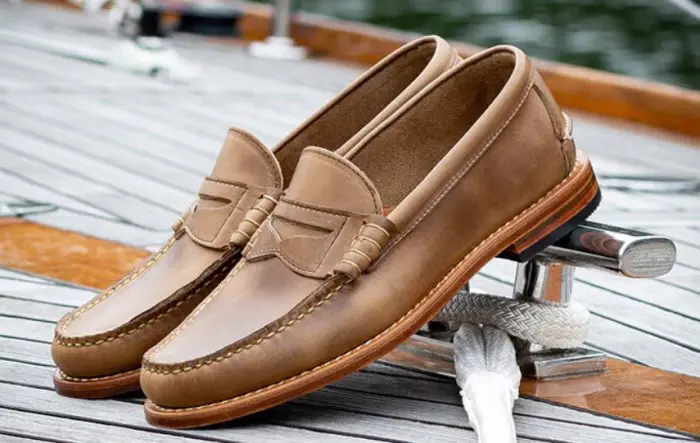 Established year: 1967
Headquarters: Maine
Highlighted product(s): formal shoes for men
Rancourt (Rancourt & Company) is another Maine-based company that makes formal shoes for men.
This family-owned business was opened in 1967 by David Rancourt a Canadian immigrant. He left his hometown for Lewiston, Maine to study the business of shoemaking.
In 1970, his eldest son, Michael, also joined this factory. The family has sold Rancourt & Co to Cole Haan, which was later sold to Nike.
After a few years as president here, Michael left Rancourt & Co to found Maine Shoe Co., then bought and relaunched Rancourt & Co with his son Kyle after Cohaan left its Lewiston plant and shifted its manufacturing overseas.
Up till now, the Rancourt family has been manufacturing handmade moccasins and shoes for three generations. They also produce some great casual wear sneakers. All shoes are made with local materials in Maine and use the Blake Welt Stitch construction.
Besides ready-made shoes, Rancourt also offers its in-house brand and made-to-order products directly to customers since 2010.
10. Red Wing Shoe Co.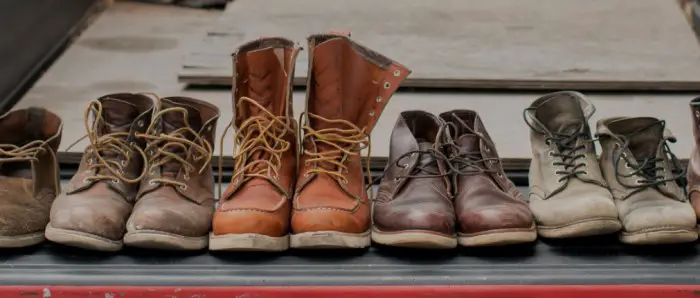 Established year: 1905
Headquarters: Red Wing, Minnesota
Highlighted product(s): workboots
Red Wing Shoe Company (Red Wing Shoe Co.) is among the most well-known American athletic shoe brands of all time.
This brand was started in 1905 by Charles Beckman, with a simple mission – to make workboots that meet the demand of various occupations like farming, mining, and logging with flexible, durable, and comfortable footwear products.
Up till now, Red Wing offers shoes and boots for work and lifestyle purposes and some lifestyle sneakers for women inspired by its original designs. It offers over 990 footwear styles, opens 700+ retail stores, and sells shoes to over 110 countries.
With the purpose of designing safety footwear products in mind, its boots are well-waterproofing and slip-resistant, have great insulation, a safety toe, and are approved by CSA.
Besides work boots, you can find some other products like hiking boots, chukkas, oxfords, logger work boots, or 6-inch and 8-inch work boots.
However, not all of its products are made in the USA. There are several ones made in its manufacturing plants in the U.K., Europe, and Asia. You can find an online map showing its manufacturing plants on its website.
It shows clear information to let customers know whether their boots are entirely "made in the USA", "made in the USA with overseas materials", "assembled in the USA with foreign components", and "made in the USA with imported components".
In the USA, Red Wing has plants in Missouri, Potosi, and Danville (Kentucky). It uses all American raw materials in its plant (or also its headquarters) in Red Wing, Minnesota.
11. San Antonio Shoemakers (SAS)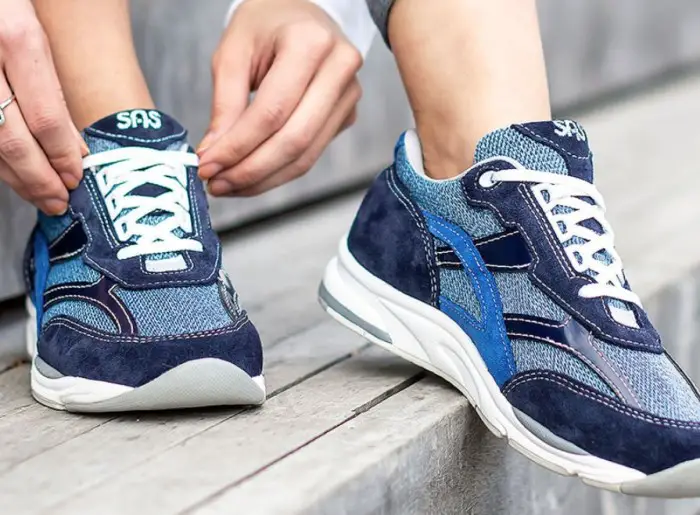 Established year: 1976
Headquarters: San Antonio, Texas
Highlighted product(s): comfort footwear for men and women
San Antonio Shoemakers (or SAS) is a family-owned footwear business founded by Terry Armstrong and Lew Hayden in 1976 in an unused aircraft hangar in Texas and opened its first factory in 1985 in Del Rio, Texas.
Over the years, SAS has specialized in hand-crafted footwear products for men and women, with a wide variety of options like loafers, flip-flops, slides, boots, pumps, and sneakers.
Most of its shoes are manufactured in two factories based in Texas: Del Rio and San Antonio. Up till now, this American shoe brand has over 200 stores and retailers worldwide and still is a family-owned business.
Check more: 10 German Shoe Brands
Why Choose Shoe Manufacturers In USA?
Third-party countries like China, India, and Vietnam have long been the main footwear manufacturing centers of some well-known brands like Reebok, Adidas, New Balance, etc.
However, due to some reasons, like the dependence on overseas supply chains, the COVID-19 pandemic, factory shutdown, and resource storage, more footwear brands choose to be within the U.S. borders.
Shoes made in the USA are still preferred over those made in overseas countries for some reasons.
They believe in American craftsmanship
American-made shoes are more expensive than overseas ones. Yet, they have higher quality, thanks to the high craftsmanship of skilled U.S. workers. In other words, you can get shoes with better durability and comfort by paying more for U.S. workers.
They believe in American materials
American-based shoes are made of American materials with better quality and durability.
For example, China accounts for 25% of total leather production worldwide, while there is only 3% of that is made in the U.S. However, US-made leather is of higher quality from cows reared on U.S. home soil.
America is also a leader in rubber production, with 32 million metric tons of rubber per year. ⅔ of which is synthetic.
Thus, choosing American shoe brands means that you can get shoes of natural rubber, which is a bouncer, and have better endurance against the test of time.
Final Words
Although most shoes manufactured in developing countries like China, Vietnam, or India are quality-assured under the brand's standards, getting shoes from these best American footwear companies is still a hobby for many people.
Besides the nation's pride and supporting the local economy, shoes that are "made in America" means that they meet the strict standards of consumers in the U.S. by using the greatest raw materials and components from local suppliers and providers.
In other words, you can pay a bit more for a pair of shoes in exchange for better durability and comfort.