OOFOs is a brand well-known for aiding in recovery footwear and preventing injuries.
Many people, particularly elite athletes, adore this brand because of its benefits, including comfortable designs, modern technology, excellent running recovery, and compatibility.
Yet, many people still ask "Why do OOFOS hurt my feet?", or "Why do OOFOS hurt my back?"
The following article will answer this question and also provides useful tips on choosing the best OOFOS for your foot shape and condition.
Are OOFOS Shoes Good For Your Feet?
OOFOs footwear is ideal for your feet and is preferred by many people over other footwear brands.
The OOFOS brand applies a new technology in its shoes called OOFoam. This foam limits and relieves 37% more pressure on your feet, ankles, and knees if you go for a walk or run.
Plus, OOFOS is also recommended by many health professionals, like physiotherapists and podiatrists.
This brand has received the American Podiatric Medical Association (APMA), making OOFOs the industry leader in recovery footwear.
Are OOFOs footwears good for flat feet?
Yes, since these shoes provide excellent arch support for foot-related consumers. The arch support given by OOFOS shoes aids in the relief of leg, foot, hip, and back discomfort.
Check more: Crocs Vs Oofos: Which Is Better?
OOFOS Complaints
Some customers complained that the shoes fall apart easily and are not as comfortable as advertised. They even complained that the shoes hurt their feet as well.
Others reported that the customer service is slow and poor. And it's hard to get an order exchange or refund from the company.
These complaints will be made clear in the following content.
Why Do OOFOS Hurt Your Feet? Ways To Fix
As previously stated, OOfos might cause foot pain. These extremely cushioned shoes are the ideal footwear choice for strolling around in, but they also have drawbacks.
To be more specific, here are some of the reasons why OOFOs hurt your feet.
Wearing The Wrong OOFOS Size
Wearing the wrong size is the most common mistake when using OOFOs shoes. Because the shoes and sandals are made to fit snugly but not tightly, wearing the wrong size might be uncomfortable.
Finding suitable shoes for your feet, including all varieties of OOFCs shoes, is necessary.
It will be best if you go to the store, get guidance from the staff and try on different sizes.
OOFOS sizing for wide feet
Choose the shoe size carefully for persons with broader feet.
Using OOriginal Sport Thong, OOriginal, or OOahh Sport Flex flip flops for people with wider feet is better.
Because the OOahh Sport Flex has an adjustable OOfoam strap which is suitable for wide or narrow feet, for high insteps and arches, at that time, users do not have to increase the size because there are two open sides.
So it is pretty comfortable.
However, if you choose OOcloog or OOmg, you should go up one size to be more pleased.
Skip The Break-In Period
The shoe sole is still stiff when you buy OOFOs shoes at first.
This is normal.
So, you must wear shoes that fit your feet and will be comfortable over time.
After receiving your shoes, wear them and go for a short walk. This makes your shoes softer and more flexible.
Incorrect Level Of Cushioning
OOFOS shoes are made to be very cushioned for optimal comfort.
But, if the cushioning is too over to be good for your standard feet, it might be painful and uncomfortable.
For alternative cushioning, consider switching to a different slide type, such as a pair of Hoka recovery sandals.
No Arch Support
Arched-support shoes can aid with foot pain relief and other associated problems. Consider buying shoes with arch support if you pronate or have a high arch.
OOFOS shoes seldom have average arch support.
For your best benefit, ensure you carefully check the product specifications and pros & cons of each option before making your ultimate decision based on OOFOS arch support.
Wear OOFOS All Day Without A Break
Even though OOFOS shoes are designed for comfort, wearing them for extended periods might be unpleasant.
This is because any shoe, no matter how comfortable, can create weariness if worn for an ample time.
If you want to use your OOFOS shoes or sandals for an extended period, consider purchasing a size larger than usual. This will allow your feet to move more freely and reduce soreness.
Wear Old, Broken OOFOs
OOFOS shoes and sandals require regular maintenance to preserve comfort and support, just like any other form of footwear.
Pain can develop as the foam in the shoes degrades and loses its shape over time.
To avoid this, rotate your OOFOS footwear by sometimes wearing different pairs. Your feet will remain comfy, and the foam will last longer.
There are some signs that shoes are damaged and need to be replaced:
OOFOS shoes include traction-enhancing grooves on their soles.
The tracks will become less noticeable when the bottom of the shoes deteriorates.
The foam will lose part of its shock-absorbing capacity. That is a reliable sign to get a new pair.
So, periodically inspecting the soles is crucial to ensure they are holding up.
Foot-Related Problems
In specific situations, your discomfort may be caused by an underlying medical disease in your foot rather than your shoes.
Plantar fasciitis, bunions, knee pain, and hammer toes are all common causes of foot discomfort.
If you have persistent foot discomfort after wearing OOFOS shoes, contact a podiatrist or doctor to rule out any underlying medical issues.
The comfort and cushioning qualities of OOFOS are the main factors in its popularity.
These shoes provide incredibly high stability and support because of their distinctive midsole construction. Yet, they frequently weigh less than a pound or even 500 grams!
While the interior construction of an OOFOS model is naturally soft, that of a regular flat shoe top can be very unyielding.
This implies that for the best comfort for everyone wearing them, there should be little to no touch between your foot and the platform as you step down.
Check more: 12 Best Shoe Brands for Plantar Fasciitis
Choose Your Best OOFOs
You must purchase the proper OOFOS shoes if you do not want them to damage your feet.
Sandals, sneakers, clogs, and slippers are the four most common varieties of OOFOS.
All four types offer men's and women's sizes, but they only have a few width alternatives, such as narrow, broad, or extra wide. So, they must be considered.
Furthermore, except for shoes, the remaining OOFOS may be worn by those with wide feet.
OOFOS Recovery Sandals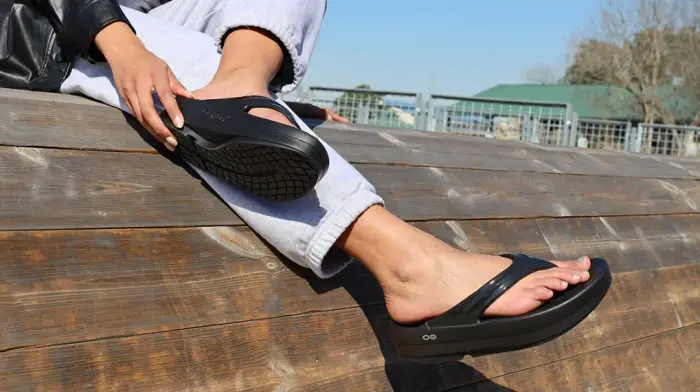 Most people know OOFOS for their recovery sandals. Slides and thongs are the two primary sandal styles offered by the business.
Although both varieties come in various designs, the traditional OOahh Sport Slides and OOriginal (thong) Sandal are the most well-liked.
An excellent choice for people with plantar fasciitis. Sandal with built-in arch support that minimizes pressure on the plantar fascia.
Besides, this is also a shoe model for people with flat feet.
Sandal also has built-in arch support and shock-absorbing foam technology, which decreases the impact on your feet while walking or jogging.
OOFOS Recovery Sneakers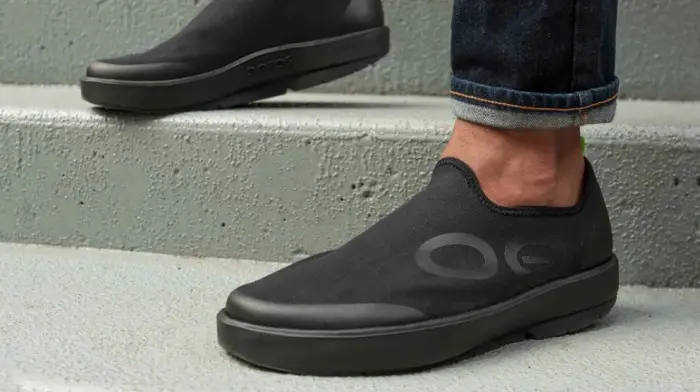 One of the OOFOS brand's top-rated recovery shoes is the OOmg Low Shoe.
It's a perfect shoe to match sportswear or a casual look of jeans and a t-shirt because it comes in black, white, gray, or navy.
The OOmg Low Shoe may even be suitable for work clothing, depending on the dress code at your place of employment. As it is a far superior option to high heels or unsupportive ballerina flats.
The OOcoozie Low Shoe from OOFOS is a more comfortable recovery shoe for relaxing or doing brief errands. Its cozy aesthetic has become my go-to on chilly winter days.
Especially those with absolutely flat feet can use this type of shoe.
OOFOS Recovery Clogs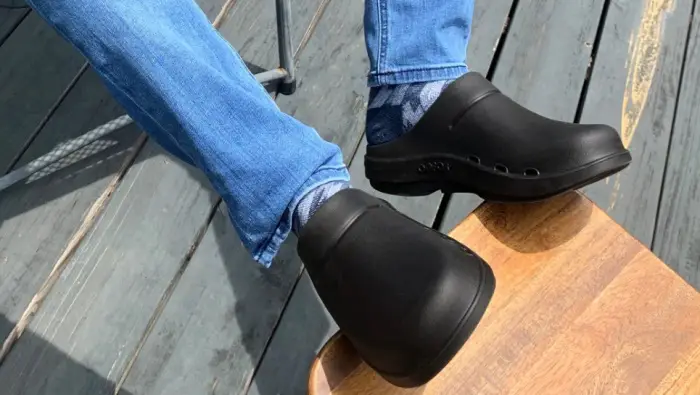 Because of their comfort and design, the OOFOS recovery clog is the one type of OOFOS shoe you should try.
If you like the ease of a slip-on shoe, this is a fantastic alternative.
Similar to the OOFOS recovery sandals, the clogs are offered in men's and women's sizes and come in various colors.
Here are some types of typical recovery clog shoes from OOFOS:
Shoes are made with the same OOfoam technology that supports the foot and makes you feel less uncomfortable.
They are identical to their regular counterparts, except for the distinctive top that sets them out from the standard OOFOS clog shoes.
OOFOS Recovery Slippers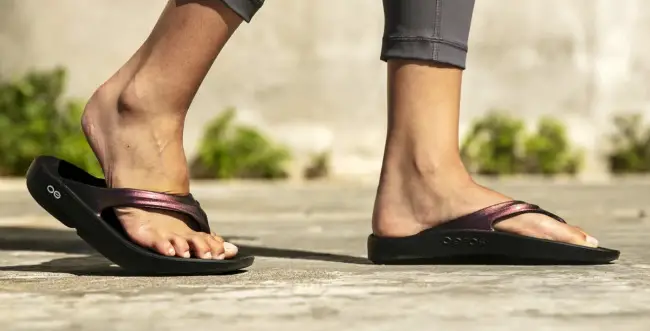 Slippers, a line of simple but luxurious shoes that are convenient to use, have become popular.
Some of the most famous and well-known OOFOS recovery slippers are OOFOS Women's OOcoozie Slipper and OOFOS OOAHH Sport Slipper.
OOFOS OOAHH Sport Slipper
The most well-liked pair of OOFOS sandals, including OOfoam, which provides an additional 37% cushioning over standard foam that offers stability.
OOFOS Women's OOcoozie Slipper
Slippers blend support and comfort with vegan materials. Ideal for taking on quick errands or relaxing at home in comfort while reviving your feet.
Final Words
In short, OOFOS shoes are well-known for their recovery footwear.
However, there are other reasons why OOFOS hurt your feet, such as wearing the wrong OOFOS size, skipping the break-in time, wearing the incorrect degree of cushioning, and so on.
Choose OOFOS shoes suitable for your feet and medical conditions to avoid pain.