Balenciaga is a luxury Spanish shoe manufacturer known for its innovative and creative sports sneaker lines, which may cost up to $2,000.
So, where are Balenciaga shoes made?
The following article will provide insights into where these shoes are produced and how to check the authenticity of your Balenciaga.
Where Are Balenciaga Shoes Made?
Depending on the style, Balenciaga shoes are made in Italy, France, and China.
Before 2018, almost all Balenciaga sneakers were created in Italy, with only a few exceptions made in France. Balenciaga has been outsourcing part of its production to China since 2018.
Both the Balenciaga boots and the shoes from the "Speed" line are still produced in Italy. The Triple S sneakers, Balenciaga's most famous design, are made in China.
Unlike other high-end brands, Balenciaga is very transparent regarding the location of manufacture for its products, including shoes and other items.
China
Many products from the famous Balenciaga brand have been made in China since 2018, from men's to women's wear and accessories.
Due to the low cost of production, the ability of China factories to produce lighter shoes and the wealth growth of the middle class in China.
As a result, this brand can make more profit.
The Balenciaga Tracks, X-Pander, and Triple S are made entirely in China. These shoes created here have lighter soles and are among Balenciaga's best-selling ranges.
Balen shoes made in China have the same quality as those made in other countries.
As China is the world's shoe factory, it can produce designer shoes with the same quality standards as those made in Italy or Germany.
Although Balenciaga quickly said "made in China"  in the product description on its website, the brand still received controversy when it moved the production of the best-selling Balenciaga Triple S shoe from Italy to China.
Despite the mixed reaction, some people still support this transition as a general trend in the luxury fashion industry.
Italy
Some of Balenciaga's items are manufactured in Italy using the best Italian leathers, providing uniqueness and flair thanks to genuine Italian craftsmanship.
Although its production moved to China in 2018, this Italian fashion brand will continue its legend in its hometown.
It constructed a leather products manufacturing and training facility in Cerreto Guidi, Tuscany, in 2021.
In the future, Balenciaga will continue manufacturing most of its leather items in Scandicci, Italy, including its Speed shoes and boots.
Check more: Where Are Hoka Shoes Made?
How To Know If Balenciaga Shoes Is Authentic?
Because Balenciaga shoes are manufactured in several locations, it is vital to check their authenticity.
Buying directly from Balenciaga or an authorized store is the best way to confirm that you purchased authentic Balenciaga shoes.
Here are some tips for identifying whether a pair of Balenciaga shoes is real.
The Shoe's Stitching
Authentic sneakers stand out because of their exceptionally smooth stitching. Unlike fake items, only thick, not pronounced lines may be seen on the surface.
The stitches on genuine shoes are solid and dense. Every word and character are perfectly matched together, without the slightest mistake.
Excess or deficient stitching appears in many imitation Balenciaga shoes. This makes the shoes unaesthetic and easily get damaged.
Check more: What Are Reps In Shoes?
The Original Logo
Looking at the stitching and embossing of the logo is one of the simplest methods to identify imitation Balenciaga footwear.
The Balenciaga emblem is often located on the shoe's side.
But, Fake Balenciaga shoes fall short of this level of refinement. There are still imperfections and industrial lines between the letters on fake shoes.
It's also a fake if the style numbers on the tag's front and back don't match.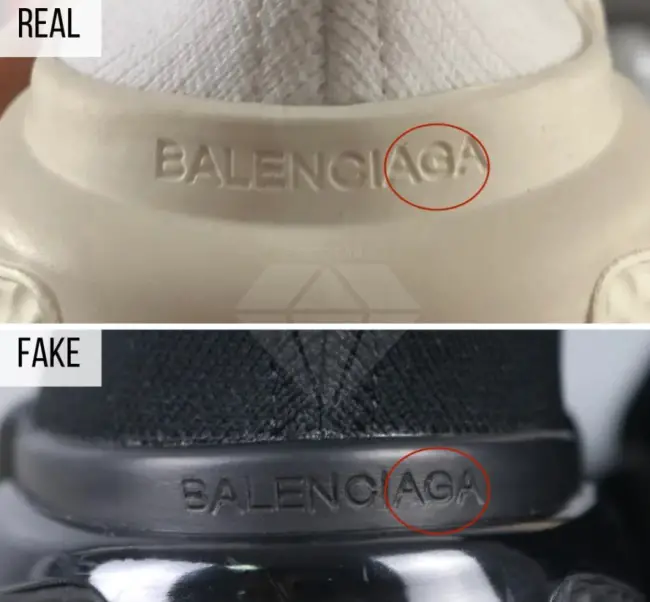 Precision In Component Sizing
Genuine Balenciaga has authentic leather and mesh sections.
There is never an excess or a shortage of material that would make the components in the shoe's body appear less discrete than a fake.
Check more: Balenciaga Shoe Size Chart
Embossing Smoothness
Some genuine Balenciaga shoes feature a very "smooth" embossed portion thanks to contemporary technology.
Authentic shoes do not have rough and imprecise detailing like phony shoes. This demonstrates the gap in production technology and the Balenciaga family's excellence in design compared to popular manufacturers.
Size Tag
One of the best methods to distinguish between fake and authentic Balenciaga sneakers is the size tag inside the shoe's tongue. The location of the boots' manufacture should be stated on the label.
It's important to note that many Balenciaga shoes are produced in China. On Balenciaga's website, you may double-check the location of the manufacturer.
Toe Box
There shouldn't be any visible mistakes in the stitching of the toebox. Check the toe box's mesh density to see if the size should be displayed there.
The European size should be printed on the toe box of several designs, including the Triple S Sneakers. This number needs to match both the TV and the internal label.
EAN Number
Look for the EAN number under the tongue to identify fake Balenciaga products.
The information will be front and center if you Google the EAN number. This is the quickest way to recognize imitation Balenciaga footwear.
FAQs
1. Who Owns Balenciaga?
Kering Corporation, a French fashion corporation, currently owns Balenciaga.
Before Kering, Cristobal Balenciaga, a Spanish fashion designer, initially popularized Balenciaga. The company has a lot of expertise in making luxurious fashion goods.
Then, Kering acquired the ownership of Balenciaga and managed the production, distribution, and development of all Balenciaga products.
Until now, more than 1,325 employees have been working for Kering Corporation.
2. How Much Do Balenciaga Shoes Cost?
Balenciaga sneakers typically cost between $565 and $2,150.
Retail prices for the most well-liked Balenciaga sneakers range from $995 to $1,150. On the website of Balenciaga, you can now use cryptocurrency to pay for some of their shoes.
Balenciaga shoes can range in price on the secondary market depending on the style and condition.
Modern trends, especially the Triple S, are worthier than most designer footwear. Pre-owned Balenciaga sneakers should still cost at least 75% less than the new ones.
3. Why Are Balenciaga Shoes So Expensive?
There are some reasons why Balenciaga shoes are so pricey.
Premium Materials
Most of the leather and fabric used to produce Balenciaga shoes are full-grain, purchased from renowned European tanneries side by side.
Balenciaga is recognized for its inventive designs and use of premium materials, assuring the best possible level of shoemaking.
Modern And Unique Design
Quality materials and skilled artisans give each shoe their undivided attention. Each stage of this protracted process results in an ultimate, advanced product.
Master Artisans
Each pair of shoes is made by highly skilled at Balenciaga using time-honored methods, guaranteeing that each item satisfies the brand's strict criteria for comfort,   style, and artistry.
Before leaving the studio, a craftsman meticulously examines each piece, giving customers confidence that they are wearing a genuine, one-of-a-kind piece.
Strict Quality Control Standards
A quality control system oversees each production stage, from selecting materials to testing for laterality and comfort.
Hand-sewed each item with care to fit and finish after the leathers were chosen from the tanneries to guarantee they met strict requirements demanding elasticity and uniformity in color, weight, and thickness.
Investments in R&D Research
These investments are a significant factor in these luxury products' high costs. This R&D involves the protracted design process that each shoe undergoes.
Final Words
Balenciaga shoes are made in Italy, France, and China.
From high craftsmanship in Italy, the company expands its model of manufacturing industrial shoes in China thanks to the low cost of production and the factory's ability to make lighter shoes.
As there are fake Balenciaga products on the market, apply the above tips to differentiate real Balenciaga shoes from fake ones.