Different in appearance and material, Crocs vs OOFOS is still a thing, because customers from all over the world claim to feel better after trying their shoes.
When you look deeper into the design, nonetheless, you will find a lot of details they don't share.
What could determine the winner between them? You can find out the answer after a quick read!
Crocs Origins & History

The founders of Crocs were a group of friends who share a mutual passion for sailing boats.
After trying out boating clogs made of the Crostile material, they immediately tried and found a way to earn the exclusiveness of this fascinating material.
Although the first product they released was still heavily inspired by boating shoes, people find it comfortable to wear during their casual time, and the sales skyrocketed.
Taking it as a signal to move forwards, Crocs soon introduced more product lines with a distinctively feminine look and reached a larger group of customers.
Even these days, Crocs still receives backlash for the original design of their footwear, but it apparently doesn't affect the brand and its supporters.
Crocs continues to thrive and expand!
Oofos Origins & History

OOFOS was born from the need of producing beneficial footwear for athletic people who face the risk of injuries in their daily life. For that purpose, the shoes must minimize the impact your feet undergo while providing generous support.
The brand's researchers have diligently studied and eventually come up with OOfoam. It's a special material with 37% shock absorption, surpassing all traditional foam materials.
After spending a long time testing and contemplating, the research team established their company in 2010 and produced recovery footwear with the OOfoam they have.
Combining knowledge of materials and marketing, the founders committed to making the best footwear for users' health.
Gone were the days when you suffer fatigue and pain from practicing too hard. Instead, you can feel your feet free from the usual pressure and your posture is improved.
Aside from the support for the feet, OOFOS also lifts them and adds some bounce to every step. So, you can feel your entire body genuinely getting better.
In short, OOFOS is not the same as Crocs, from the original purpose to how they elaborate and carry out their idea.
Crocs vs OOFOS Differences
The shape of Crocs footwear is unique enough that you can tell it from other brands right away, though most people still consider Crocs ugly or not made for everyone.
Simultaneously, the athletic and aesthetic appearance of OOFOS is more appreciated.
Crocs vs OOFOS Purpose
Crocs took inspiration from crocodiles and were originally boating shoes only, hence the non-slip feature and the width.
As time goes by, Crocs has undoubtedly given its products a boost in colors and designs. All is to reach more customers and make them love the distinctive Crocs clogs.
In terms of variety, OOFOS is not afraid of Crocs at all with the range of colors and patterns they have incorporated in their footwear.
Customers can ponder upon slides and thongs. But slides are more versatile because you can wear them with socks on cold days.
Check more: Are Crocs Good For Plantar Fasciitis?
Crocs vs OOFOS Material
Instead of rubber and plastic, Crocs uses a closed-cell resin named Croslite as the primary material for their products. This enables them to perform decently on both dry and wet terrains.
In 2018, Crostile had an innovation and became LiteRide. The new material is 40% softer and 20% lighter than Crostile, with additional shock absorption properties.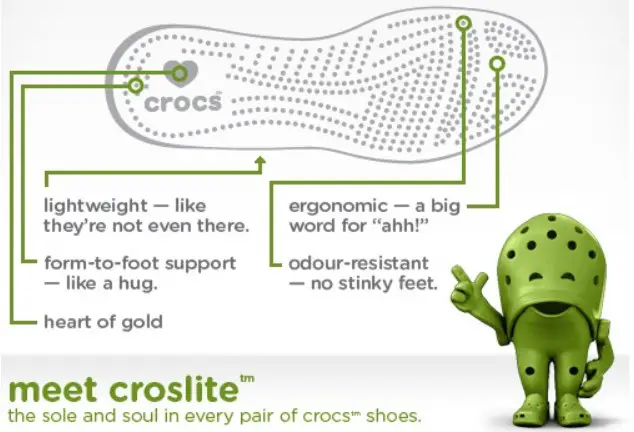 Nowadays, Podiatrists and health experts acknowledge the new invention and recommend Crocs footwear for daily use. Both athletic and injured users can benefit from Crocs shoes.
Unlike Crocs, OOFOS prioritized athletes and active users right from the beginning.
OOFOS want to give their customers something that can protect their feet from unfavorable terrains and ruthless exertion and tear. Therefore, they came up with OOfoam.
OOfoam can reduce 37% of the impact on our feet alone. Combined with the exclusive footbed contouring the arch, this effect can go up to 47%.
No traditional foam could do the same without sacrificing some cushion or steadiness.
Crocs vs OOFOS Upper
There is an ankle strap you can use to secure the Crocs footwear. The strap is designed quite fashionably, hence it can match your casual or semi-casual attires.
OOFOS is missing out on that customized fit.
As compensation, OOFOS upper is full coverage with more intricate details. It has triple perforations on the side for air circulation, which slightly surpasses the upper perforations in Crocs.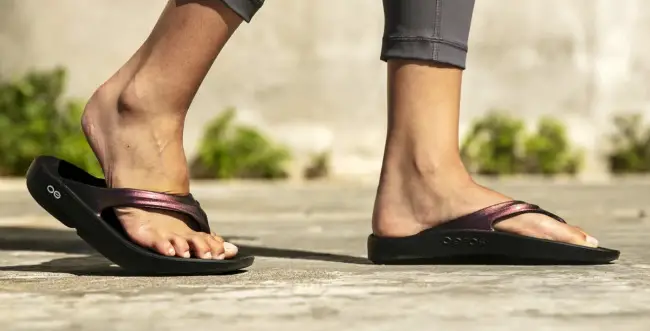 Crocs vs OOFOS Arch
OOFOS certainly gives more attention to the arch so they can provide ample support.
The shape of OOFOS footwear puts your feet in an appropriate position: slightly pushed up with the toes given momentum to lift. As a result, the toes didn't have to experience too much pressure.
Crocs is kind of comfortable on the foot arch too, yet it's not enough to keep you going for a whole day.
Crocs vs OOFOS Midsole
OOFOS midsole is the famous OOfoam, while Crocs stays loyal to their patented Crostile.
OOfoam offers a remarkable reduction of the shock your feet have to endure and Crostile values ample support.
With the shock out of the way, OOfoam gives you a very generous bounce at every step. But if you are looking for a feeling of firmness, Crostile would be the right choice.
Crocs vs OOFOS Benefits
Despite not having enough bounce for running, Crocs is well-known as footwear for aquatic activities due to its formidable resistance and anti-slip properties.
The support they provide is sufficient to contribute to your treatment of injuries and contractures. You will find so much alleviation in the spacious toe box, especially if you have wide feet, which fit the width of Crocs perfectly.
With a shock reduction of up to 37%, OOFOS is an exceptional assistant for people who are recovering from foot conditions and injuries. These shoes help to align pressure points in our body and improve our posture.
Both the special foam and the innovative design work in tandem to hold your feet in a proper position.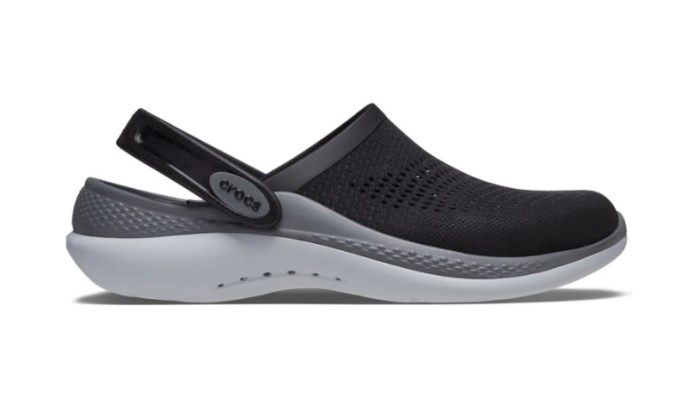 Crocs vs OOFOS Price
OOFOS is significantly more expensive than Crocs.
You can own a pair of Crocs slides at $20 and $60 at most, $50 – 60 for sandals, $40 – 90 for clogs, and $20 – 50 for kid products.
With OOFOS, you can hardly find any product under $40. Also, their slippers can go up to $120.
Check more: Oofos Vs Hoka Shoes
How Podiatrists Compare Crocs to OOFOS
The secret behind OOFOS is the OOfoam with extremely amazing absorption of shock and impact.
The support and the stability OOFOS provides are the biggest reasons podiatrists recommend these shoes. Furthermore, these shoes don't force you to forsake your arch support.
Besides the patented material, OOFOS also focused on the details of the design.
They have two primary goals. First, cradle the shape of your feet, including the arch. Second, relieve pressure from your joints.
With the tension out of the way, your body will easily achieve that healthy alignment: spine, hips, thighs, knees, and heels.
On the other hand, Crocs has a proprietary material called closed-cell resin.
The cushion and comfort it brings to your feet are undeniable, aside from great properties such as lightness, non-marking, waterproofness, and easy maintenance.
However, the doctors didn't forget to point out that Crocs shoes are not the solution to every problem you have.
First of all, they are not made for heavy duties. Also, you should never wear them if you plan to stand and walk for a long time.
The generally wide form is lacking in terms of secureness.
You can imagine the strain your feet will have to endure when the shoes don't hug your feet in a perfect fit.
Your toes will constantly curl to grip onto the soles. And even your toenails will be affected negatively.
How Real Customers Compare Crocs to OOFOS
Most customers are satisfied enough to give OOFOS completely positive feedback. Some of them even describe OOFOS shoes as "ridiculously comfortable".
From hard-working nurses to recovering patients, OOFOS managed to help them through daily routines.
Medical experts also accepted that using OOFOS footwear improves the conditions of their patients.
These sandals and shoes live up to the title of "recovery footwear" by taking the pressure away from the users who suffer pain in their back and hips.
However, customers who need a pair of shoes for running errands and daily wear will find more benefits in Crocs and its lightweight products.
They can also be switched between shoes and slippers. And both forms are fashionable.
Crocs footwear never had any issues with arch support. But we can't say the same about the heel and the side, for their footwear is more on the wide side.
You will feel your feet sliding forward while your toes are always in an unnatural position for a grip. In the long run, you will face a lot of problems.
Final Verdict: Crocs or OOFOS?
To decide between Crocs vs OOFOS, you should do a quick run on the upsides and downsides of each brand.
Crocs are not good orthopedic shoes compared to OOFOS. As they lack so much support and comfort if you are planning to use them for long sessions and exercise purposes.
Conversely, OOFOS might struggle with wet terrains. Yet they look stylish and feel comfortable enough to accompany you for daily routines.
Among OOFOS shoes vs Crocs shoes, OOFOS undeniably wins in many aspects. But if you have a limited budget and enjoy what Crocs can offer, you know which is the better choice for you!