Looking up reliable shoe brands for plantar fasciitis is a much wiser choice than enduring the pain and exhausting your feet for hours.
You don't need to adapt to the discomfort when there are various ways to alleviate and even completely get rid of it!
Plantar Fasciitis Quick Explanation
To help you understand this issue better, we need to go over the structure of the foot first.
There is a ligament running from the base of your toes to the far end of your heel bone, and it gives your foot's arch support when you move. It is the plantar fascia.
When this ligament constantly suffers from pressure, it will take damage and tear. Thus, you will feel a sharp pain on the bottom of your foot, close to the heel.
When you have let your feet rest for a while, the pain will come back ten folds worse, so the morning often feels like a nightmare.
The quickest way to worsen your plantar fasciitis conditions is to leave your feet with no support.
Aside from footwear with insufficient cushioning, standing for hours on surfaces like concrete and pebble also aggravates the pain.
12 Best Shoe Brands for Plantar Fasciitis
Vionic – Best Walking Shoes for Plantar Fasciitis
Vionic is not the oldest brand but it was created by a podiatrist who knows PF very well and wants to help people who are suffering.
Aside from the necessary comfort, they are also determined to come up with fashionable designs to boost the user's confidence.
Every Vionic shoe is incorporated with VIO MOTION, an optimized combination of stability and dynamic movement that aims to achieve balance for your entire body.
They also stand out with the contoured sandals providing similar benefits to alleviating insoles. It puts your feet in a natural position and thus lessens the strain you have to endure during daily errands.
Furthermore, Vionic is very popular among buyers with dropped arches because they give enough support to fix the issue. According to them, Vionic can accompany them through everything except for climbing rocks.
Orthofeet
Ever since its official launch, Orthofeet has always been known for staying in touch with the latest technologies and applying them to the production of orthotic footwear.
Orthofeet considers insoles the core of their products. The company invests in designing the best construction for an anatomically perfect fit.
The comfort distributed along your feet will relieve pressure from your crucial points, including your knees and lower back.
In Orthofeet, you get to experience the most cutting-edge inventions:
Ortho-Cushion System offers cushioning and support in a high level of anatomy. The sole has a rocker design for more propulsion.
Biomechanical Insole tends to every detail anatomically whether your feet are flat or thick. It alleviates the pain and makes your steps smoother.
Arch Booster is an additional system for the ball and the heel of your feet to be free from pressure.
Interior Lining makes pressure points disappear by padding them with high-quality foam and adding protection.
Innovative Features such as padded leather and more depth for the toe. The materials they use are also flexible enough for a customized fit.
Tie-Less Lacing allows us to forget about fastening lace and giving our pained feet a tough time.
HOKA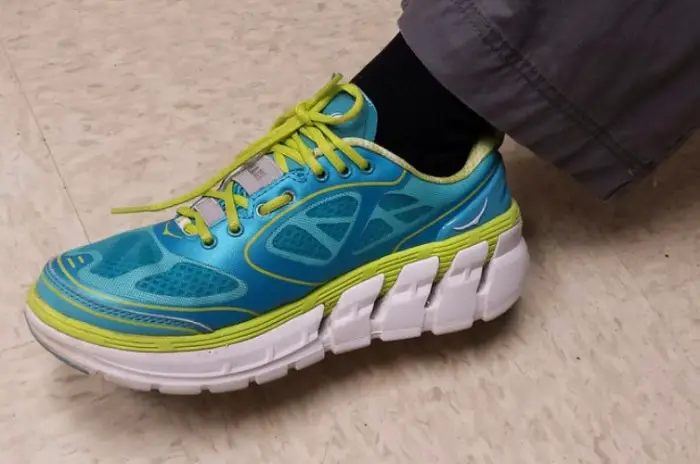 HOKA stepped into the footwear market with a very clear intention: approach the design techniques differently and create a revolution for running shoes.
Their targeted customers are individuals who are dealing with Morton's neuroma, Bunions, Metatarsalgia, and of course Plantar Fasciitis.
HOKA's footbeds and outsoles are praised for extremely high energy return and impact absorption. This means you can stand and run for hours without losing the comfort or putting your feet at risk of injuries.
Besides having decent slip resistance and arch support, these polyurethane soles are also removable so you can adjust them however you like.
Your running experience is completely up to you, which might encourage you to practice even harder.
Some noteworthy products from HOKA that you can try are HOKA Recovery Slides, HOKA Clifton, and HOKA Bondi.
Check more: 7 Best HOKA Shoes for Plantar Fasciitis
New Balance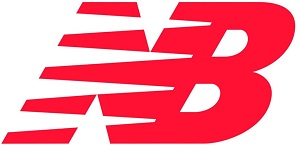 You don't have to be troubled by foot conditions to indulge yourself in the premium quality of New Balance shoes. They have men's and women's footwear with ample arch support and cushioning without sacrificing style.
With the ambition of becoming a leader in athletic footwear, New Balance takes foot conditions very seriously and researches them thoroughly. Their shoes have distinctive features to adjust to different issues that your feet might encounter.
As soon as you put New Balance shoes on, you will get to experience the utmost comfort and fine design that soothe your foot pain and improve your conditions. Whether you are going for a marathon or simply taking a walk.
One of the most popular products from New Balance is the 940 V4, for it performs excellently as both walking shoes and running shoes without putting your feet through torment.
Check more: 7 Best New Balance Shoes for Plantar Fasciitis
Sovella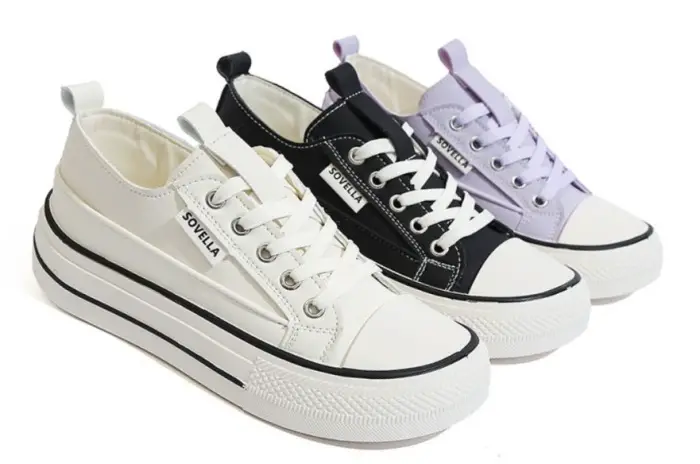 With outstanding arch support and ample comfort, Sovella has gained more and more popularity as a brand of recovery shoes, including shoes for plantar fasciitis.
Sovella is most well known for the alleviation of soreness and pressure they offer, even in sandals or slip-on shoes. The shape of their footwear usually cradles your feet's anatomy and keeps them secure for an entire day.
Aside from adapting to your conditions and improving your current state, Sovella footwear can also help you avoid unwanted problems by reducing the stress on pressure points to a minimum and preventing your feet from going flat.
In Sovella, you will find everything you need for PF, from meticulously crafted shoes to high-quality orthotics.
The price range varies, hence you don't have to worry about a product being too expensive.
Clarks – Best Women's Dress Shoe Brands for Plantar Fasciitis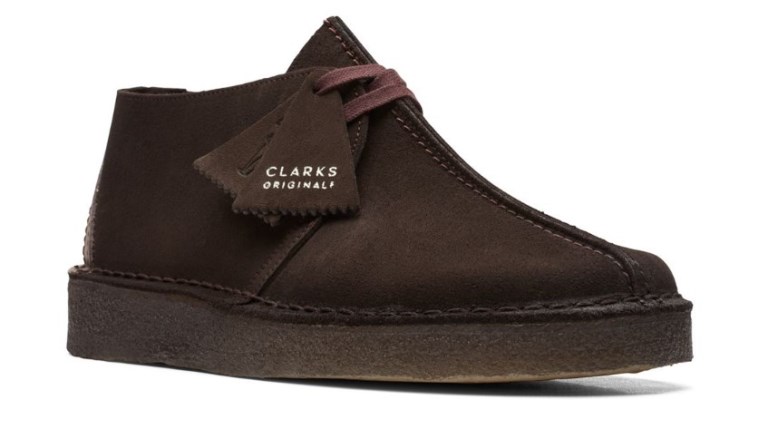 For plantar fasciitis, footwear with the right amount of cushioning is more important than anything, and it's what you get from Clarks. They also offer customization to give customers the best fit possible.
The highlight of Clarks is OrthoLite, a cushioning technology that allows their shoes to absorb shock effectively and back your feet up with extra support.
The fashionable design is also attractive for buyers, as they can wear such comfy but not-at-all chunky shoes.
Not all brands design wide toe-box for their PF shoes, yet Clarks never forget to include this feature in their products.
With enough room to wiggle and flex your toes, your feet will be in proper alignment without being compressed and facing the risk of bunions.
Furthermore, each Clarks shoe has a synthetic outsole for grip and a removable footpad that you can replace anytime and retain the prime performance given to you.
Birkenstock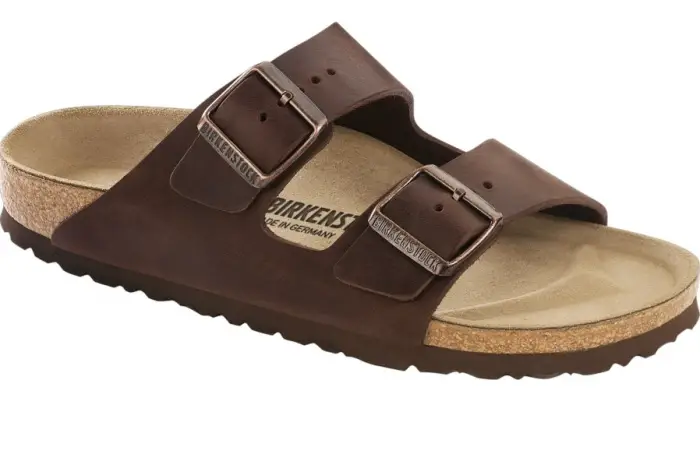 Recovery and orthotic footwear has only become important in a few recent decades but for Birkenstock, their journey has officially begun since 1774.
In those early days, their main merchandise was footbed insoles in numerous models.
Since 1932, Birkenstock started organizing educational courses with the lead of reverent podiatrists and physicians.
After venturing into this field, they are finally ready to introduce their fitness sandal to the world. The flexible and deep footbed never ceased to be the heart of their products.
They apply the most well-received features to different styles such as clogs, wedges, boots, and sandals. Therefore, you usually don't need to contemplate too much about which to get.
Another bonus point for Birkenstock is the natural materials they source and utilize so efficiently. From things like natural cork, jute, and latex, they have managed to amaze us all with such innovative designs.
Check more: 7 Best Birkenstock Shoes for Plantar Fasciitis
Brooks – Best Running Shoe Brand for Plantar Fasciitis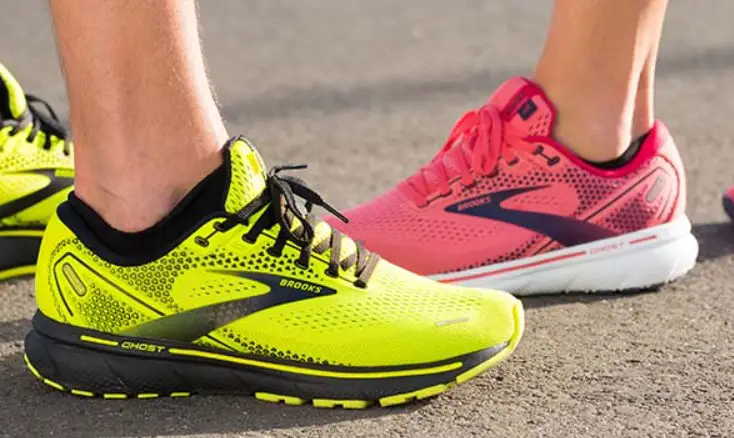 According to Brooks, the first initial step is the beginning of every journey, no matter how simple it might sound. And their motto is to give customers a fresh and enjoyable first step for every chosen route.
Being a veteran of athletic footwear, Brooks shoes come with not only cushioning and support but also specific and customized features for different types of walkers or runners.
Engineered features such as responsive outsoles and extra-cushioned midsoles are what Brooks concentrates on, as they prioritize comfort and promote foot alignment simultaneously.
You might want to check out Brooks Ghost and Adrenaline product lines because they are made for runners.
With every step taken in Brooks footwear, you will find yourself in a better place and closer to your goal.
Aetrex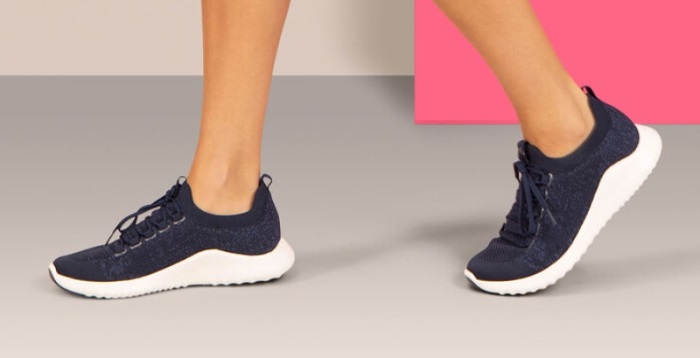 Since 1946, Aetrex has been studying therapeutic footwear for both genders and all the methods that they can use to improve various styles and present them in accessible widths & sizes.
Aetrex is known for designing and producing dressy footwear for women, specifically wedges and sandals. Through these stylish designs, they incorporate beneficial features and focus on easing the pain from plantar fasciitis.
If you want athletic footwear, Aetrex can tend to that need as well. With these products, you get extra support and alleviation while maintaining a fairly fashionable look.
In contrast with the simple appearance, Aetrex features innovative technologies in their production: 3D Measurements, AI Recommendations, Pressure Analysis, and more!
OOFOs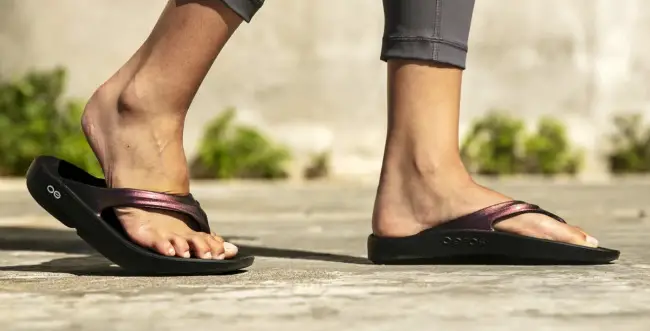 OOFOS understands very well that when you exercise, most of the pressure is on your ankles and your feet. Pressure will become fatigue, pain, soreness, and finally foot conditions if you don't take good care of it.
It's where OOFOS steps in.
Aside from having their distinctive design, OOFOS shoes are made of proprietary OOfoam. Compared to traditional foam, OOfoam can absorb over 37% impact and provide more stability as well.
The cutting-edge OOfoam is then paired with yOO, OOFOS's patented footbed that fits the anatomy of your feet and supports the arch. This combination lessens 47% of the exertion your ankles have to endure.
According to satisfied customers, OOFOS truly awakened their feet and subsequently their bodies. With less energy wasted and less pressure to deal with, OOFOS is a good solution for what kind of shoes for plantar fasciitis.
Dansko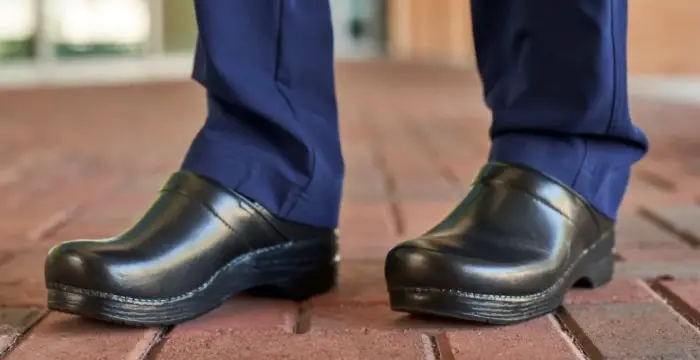 Shoe enthusiasts know of Dansko since 1990 for the wide range of footwear styles they offer casual shoes like flats and sandals, dress shoes like heels, clogs, and more. Gentlemen can find some nice semi-casual shoes at Dansko too.
All Dansko products include an anatomically contouring footbed for a perfect fit and high-quality materials.
They blend functionality with sleek designs without any difficulty, so you can look good in your shoes for long hours and still feel as comfortable as ever.
Another thing we love about Dansko is the light weight. Less weight means less pressure, and your PF feet would be grateful to you for saving them from being distraught!
When your shoes are not too heavy, you will also need to exert less to get the momentum going.
ASICS  – Best Men's Shoe Brands for Plantar Fasciitis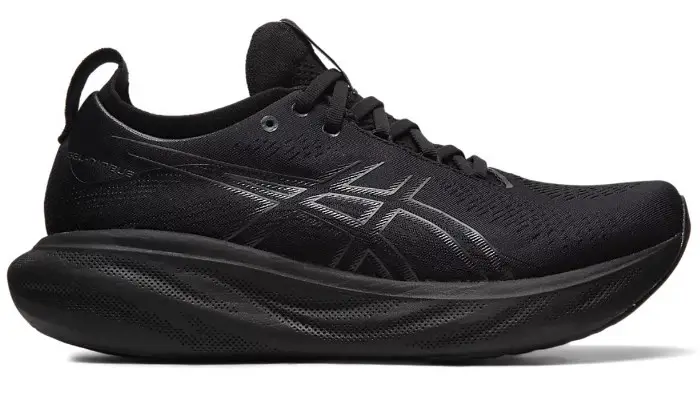 Despite more and more brands striving for the top, ASICS originally from Asia is still in the lead with innovative footwear that can practically save users from PF pain.
Over the past 50 years, ASICS has been working with athletes in their research center to know about the problems they face and then find a solution.
The way they take care of the feet has given birth to many products for PF patients.
ASICS core technology is the GEL cushion and the Flytefoam, which enable ample comfort and enhancement for overall performance. We highly recommend trying GEL products when you are shopping at ASICS!
Fun Fact: ASICS stands for "Anima Sana In Corpore Sano", a Latin phrase meaning "A Sound Mind in A Sound Body". Through care for your body, they want to help you achieve the peace of your mind.
Tips for Choosing Shoes for Plantar Fasciitis
What You Should Get
When you are suffering from plantar fasciitis, you need to make sure your feet always get ample support, especially on the arch. The sole also needs generous cushioning and flexibility so it can distribute your weight evenly.
Sandals with ample arch support and removable insoles that you can replace easily.
Hiking shoes, ankle boots, or wedges with low but cushioned heels.
Sneakers with a thick and supportive footbed that don't feel too heavy on your feet.
Footwear stores often customize orthotics and insoles to optimize their customers' experience. You can try and see if you can find something that fits your shoes.
High-quality appendages might be pricey but the benefits they bring are certainly worth the investment.
What You Should Avoid
Anything flat without ample support would be the bane of your foot condition.
Cute flip-flops or affordable sneakers might be very tempting at times but they won't lessen the pressure your feet have to endure and eventually worsen the pain.
You wouldn't want to put on high heels and stilettos either, no matter how comfortable the sellers say they are. The shape of these shoes puts your feet in a very unfavorable position, which provides little to no support to your ligaments.
Sneakers without proper support should be out of your list as well as footwear that grips your toe too tight, even if they are among the types of acceptable footwear.
Sometimes, people think barefoot is a simple solution for all the troublesome restrictions. Unfortunately, this assumption might cause even more problems for your feet, for they won't get any support at all.
Where to Buy Shoes for Plantar Fasciitis?
For the location, you can shop your favorite shoes at the store of the brand or their official website!
When you do online shopping, the best part about it is you don't need to go a long way and spend hours trying out different shoes. However, this method only works well if you have known what you want to buy.
At the authentic stores, you get to experience their full service, including measuring and analyzing your feet and relevant conditions, as well as the expert's advice.
It's the best kind of shopping when you are not familiar with the brand's products yet and you want to try all possible options.
Besides the authorized products, buying from resellers is also a choice, as long as you make sure their offers are authentic!
Final Words
Foot pain can easily ruin your day or slow your pace down if you leave them be.
Fortunately, these shoe brands recommended for plantar fasciitis are here to eliminate the discomfort you shouldn't tolerate and put your feet in a much better state.
They will also be your most reliable friends when you undergo treatment and need to recover!