Salomon has now burgeoned into one of the world's top sports equipment and footwear manufacturers.
Starting as a modest metal workshop in the late 1940s, it quickly became the market leader with significant exposure during the 1966 Olympic Games.
Where are Salomon shoes made? This article encompasses an overview of Salomon, its production locations, and its process.
Salomon Shoes Overview
Salomon was established in 1947 by Francois Salomon. This famous ski boot brand has its roots in the French city of Annecy, where Salomon's headquarters is now located.
The company was initially recognized for its breakthrough in ski bindings.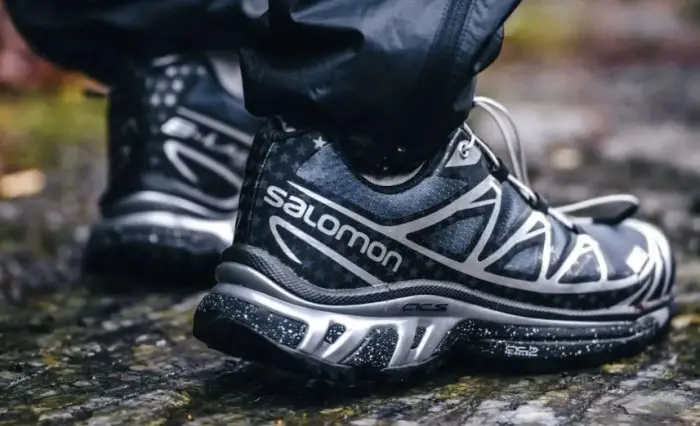 Then, it broadened its horizon to encompass a variety of sports equipment, like skis and ski boots, and later hiking boots and shoes in 1992.
Salomon's footprint spans more than 40 countries worldwide, solidifying its position as a globally renowned brand.
While its product offerings now include equipment for an array of outdoor activities like running, hiking, skiing, mountaineering, and adventure racing, the company's heart lies in its impressive lineup of footwear and skis.
Salomon's reputation is cemented by its popular Quest 4D and X-Ultra boot lines, which have found favor among outdoor aficionados.
Beyond boots, the brand's legacy continues to shine through its exceptional skiing accessories and outerwear.
Where Are Salomon Shoes Made?
Salomon is currently manufacturing its shoes in France, China, and Vietnam. After seven decades of strategic planning, the France-based footwear and equipment manufacturer has achieved a major milestone.
The company introduced its new Advanced Shoe Factory 4.0. This new factory, established in partnership with local textile firm Chematex, enables Salomon to fully localize its production.
Currently, Salomon is on the cusp of introducing a line of boots and shoes that will be 100% Made In France.
France
Salomon has maintained its headquarters and substantial portions of its research and development department in Annecy, France, despite its production being largely based in Asia.
The company houses all the necessary production machinery and develops all its prototypes in this French city.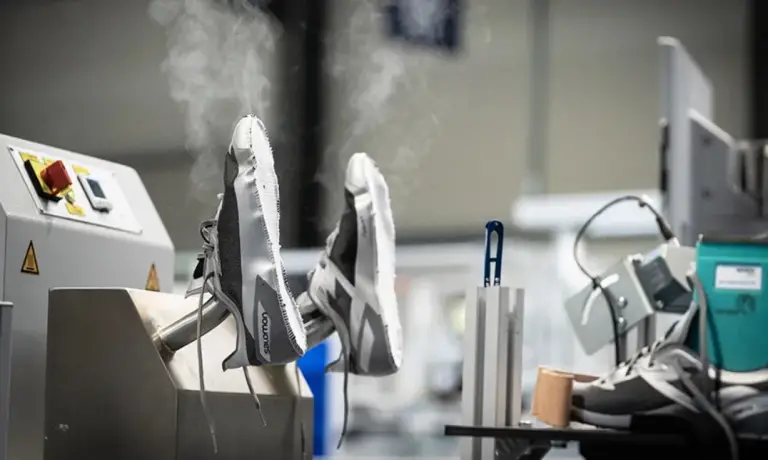 As a testament to its French heritage, Salomon rolled out a limited edition, Made in France shoe collection in 2017. The collection consisted of 10,000 pairs of shoes and customized products, all manufactured in Annecy.
A significant shift in Salomon's production strategy occurred in 2021 when, after 70 years of outsourcing, the company inaugurated an automated factory in Ardoix, France.
The production facility was fully equipped with digital controls and robots. This unique factory can maintain the same production volume with 50 employees instead of 500 in Asia facilities.
It can churn out a million pairs of shoes annually with just 15 employees per shift, a workforce size substantially smaller than that of a traditional Asian factory.
Salomon's Ardoix factory is conveniently located 200 kilometers from the company headquarters.
Salomon oversees the entire shoe manufacturing process, from the initial stages to the final packaging in this facility.
The factory is a result of a collaboration between Salomon and Chamatex, with both entities becoming shareholders of ASF 4.0.
The facility began operations in the summer of 2021, with the first products hitting the market in 2022.
The facility anticipates a production capacity of 500,000 pairs of sports shoes per year with four automated production lines by 2025.
The ambitious ten-million-euro project aims to shift production from Asia back home to Europe, thus reducing response times and enhancing manufacturing flexibility.
China
China serves as the primary Asian manufacturing hub for Salomon, producing renowned models like the Speedcross 6 and Forces Quests.
Many international footwear companies, including Salomon, have leveraged China's lower production and labor costs and shoe manufacturing expertise.
However, in line with recent trends, Salomon is gradually shifting its production volume from China to Vietnam.
Check more: Where Are Hey Dude Shoes Made?
Vietnam
In addition to China, Vietnam has emerged as a major producer of Salomon shoes. This aligns with the global shift in manufacturing from China to Vietnam, a trend that Salomon is following.
Who Owns Salomon Shoes Now?
Salomon is a part of the Amer Sports portfolio, now owned by the Chinese conglomerate ANTA Sports, alongside other notable brands such as Wilson, Atomic, Precor, and Arc'teryx.
Adidas acquired Salomon in 1997 and sold it to Amer Sports in 2005, a Chinese sports apparel giant. The divestment followed Adidas's strategy to shift away from ski gear and clothing.
How Salomon Shoes Are Made
The Salomon's Ardoix factory revolutionized the manufacturing scale and process.
Current trail running shoes, originally consisting of up to 80 parts, can be compressed to a meager ten, thanks to advancements in material and adhesive technologies.
The emergence of knitting technologies has enabled the creation of sophisticated performance features using a single material, signifying a new direction for the footwear industry.
Salomon's transition to 4.0 technology enables the simultaneous production of diverse styles. Traditional production processes necessitated a single style and color in large volumes.
Still, automation now allows for variety in style and color in concurrent production.
Salomon prioritizes Corporate Social Responsibility (CSR) and ethical production. As evidence, all Salomon shoes will be free from PFC starting from FW20 and launching its first circular shoe, the Index 01, in the upcoming summer.
The company strongly believes local production enhances supply chain transparency and consumer trust. The consumer thus becomes a significant change agent.
Integrating local production, circular products, and new material developments will formulate a new manufacturing system.
FAQs
1. Where Are Salomon Running Shoes Made?
The initial footwear manufactured at ASF 4.0 was the Salomon trail running and hiking shoes from the spring 2022 collection, which hit the market in early 2022. Salomon running shoes are now being produced locally.
2. Where Are Salomon Hiking Shoes Made?
Salomon's automated sports footwear manufacturing facility was set to commence trail running and hiking footwear production in time for the spring 2022 season.
The Captiv ASF 4.0 hiking shoe was among the initial footwear rolling off the production line at the factory.
Final Words
Salomon shoes are manufactured in France, China, and Vietnam. The move to bring the production back to France is the brand's milestone.
This move signifies the realization of a localization dream and a strengthened commitment from the brand toward sustainable development and carbon footprint reduction.