New Balance is the 5th largest footwear giant in the United States in sales, accounting for 3.4% of the market share.
While most footwear companies focus on manufacturing their products in Asian countries, does the same story apply to New Balance?
In other words, where are New Balance shoes made? Is there any interesting story behind these shoes?
New Balance Shoe Overview
New Balance Athletics. Inc (New Balance Inc or NB) is a multinational sports corporation. This firm was founded in 1906 by William J. Riley with its first name, New Balance Arch Support Company.
Nowadays, it is headquartered in Boston, Massachusetts.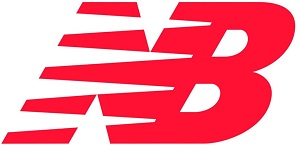 New Balance is a famous sports provider focusing on apparel, accessories, equipment, and footwear.
It is widely known in its home country – the United States, the United Kingdom, and the European market. This sports giant had a gigantic revenue of $5.3 billion in 2022.
Besides sports goods manufacturing, New Balance is known for sponsorships for the New York Road Runners, the National Basketball Association (NBA), Team Ireland at the Rio Olympics 2016, etc.
It also sponsored football and club teams in the U.S. and European countries.
Where Are New Balance Shoes Made?
Most New Balance shoes are made in China, Vietnam, the United States, and the United Kingdom. The remaining ones are in India, South Korea, Indonesia, Japan, and Taiwan.
As reported in 2021, 7,000 associates are working for the global supply chain of New Balance.
New Balance doesn't clearly state the origin of its shoes on its website. You can only check its origin by visiting the nearest retail store.
United States
From 1982 until now, New Balance has produced 25% of its sneakers and limited shoe models in its hometown of the United States.
From its first date, this footwear giant has more than 75 years of making shoes in the U.S. There are 6 factories of this brand in the U.S. as of 2022: 4 of them are Tier-1, and the rest are Tier-2.
Up till now, there are 4 million shoes made in the U.S. annually.
New Balance proudly presents its American-made shoe collection with the statement, "Where the domestic value is at least 70%, we label our shoes Made in the USA."
More specifically, New Balance has 5 New England factories in Maine and Massachusetts as of 2023.
There are over 1,600 workers in these manufacturing facilities, producing sneakers for the American and worldwide markets. These shoes are mainly athletic (walking and running) and casual lifestyle ones. They are ready to purchase in the "Made in USA Collection."
The 5th factory of New Balance in Methuen, Maine, is planned to run in 2024. This facility was owned by New Balance in 1981. It has 120,000 square feet and an estimated renovation cost of $65 million.
The expansion of this factory has shown the long-term plan of this Boston-based footwear firm in prioritizing its manufacturing in the U.S.
However, an American-made New Balance shoe has only 70% of its components made in the U.S. and 30% from overseas providers (for example, the outsoles are mainly imported from China).
In the 1990s, New Balance faced a legal dispute with the FTC over this vague statement. According to the "all or virtually all" standard, New Balance violated this standard for labeling the origin of its shoes.
The dispute on the American origin of New Balance shoes hasn't ended since footwear production entirely in the U.S. is complicated.
To make a pair of shoes, the company has to use imported components from third-party suppliers, etc. Plus, the domestic supply chain hasn't been ready for large-scale production.
There are 3 critical reasons New Balance chose the United States as one of its production centers.
First, New Balance commits to supporting American footwear labor. This Boston-based footwear giant made its first sneakers in the USA in 1982.
Plus, it has a 75-year history of maintaining shoe manufacture in this country. Renovating its factory in Methuen will add 200 new jobs for American shoemakers at its 5 facilities in Massachusetts and Maine.
Moreover, this footwear giant always takes as many raw materials from American suppliers as possible.
Second, New Balance wants to deliver American craftsmanship in its footwear products.
And the best way to do that is to have its shoes made domestically by skillful American shoe artisans with strict American standards.
Few shoes are made in the US nowadays due to high production and labor costs. And New Balance is among the few producers to continue that fantastic journey.
Until now, more than 90 American associates have been working on the MADE 990V5 running shoes.
US-made New Balance sneakers have their name beginning with "made in USA" as a pride for their origin. Some of the latest sneaker models in this collection are:
New Balance 990v2
New Balance 990v3
New Balance 990v5 Core
New Balance 993 Core
American-made New Balance shoes are only available in some places. You can only get them on its official website or at some specialty footwear stores.
Check more: Where Are Salomon Shoes Made?
United Kingdom
Like the United States, New Balance has a small number of sneakers made in the United Kingdom since 1982.
These shoes are available in the "Made in UK" collection, with their name beginning with "Made in UK." There is only one Tier-1 New Balance factory in the UK as of 2022.
Some of the latest UK-made sneakers are Made in UK 576 (unisex, lifestyle) and Made in UK 991v1 (men's and women's).
China
Besides America and England, some New Balance shoes have been made in China since the early 1990s.
Among 36 factories in China, its latest one is Yue Yuen in Dongguan, China. According to China Labor Watch, this factory has produced millions of shoes for this firm in the last 10 years.
China has some advantages for shoemaking, like low production cost, raw material supplies, and a skillful footwear workforce with decades of experience in this field.
However, New Balance plans to shift its production out of China, according to its annual report 2020. Some reasons for this renewal are the COVID-19 pandemic, the footwear production trend, and the US-China tariff war.
Vietnam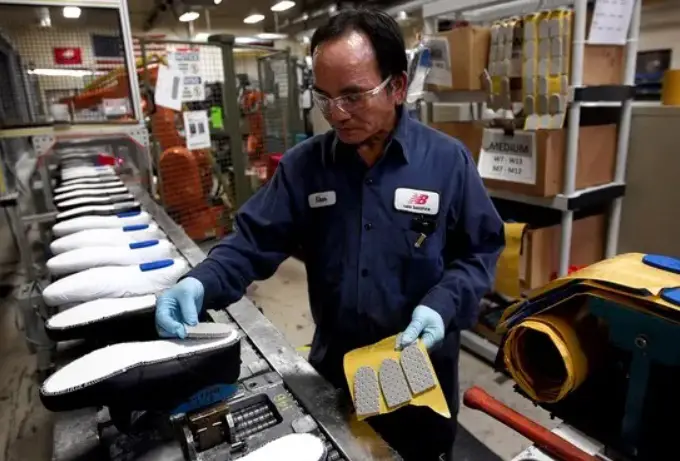 From 2020 till now, Vietnam has been the new destination for New Balance and other American brands like Nike and Crocs. New Balance 574, 576, and 1700 are assembled in Vietnam.
There are 55 New Balance factories in Vietnam (14 Tier-1 and 41 Tier-2). Most of them are in Ho Chi Minh City and Dong Nai. These factories are under the management of the Pou Chen Corporation.
Other Countries
New Balance also spread its footwear manufacturing in the following countries:
Indonesia: 18 factories (7 Tier-1 and 11 Tier-2).
South Korea: 9 Tier-2 factories.
India: 6 factories (2 Tier-1 and 4 Tier-2).
Taiwan: 5 Tier-2 factories.
Japan: 1 Tier-1 factory.
Who Owns New Balance Now?
From 1972 till now, New Balance Inc. is now under the ownership of Jim Davis – the chairman of this footwear firm. Jim and his wife, Anna, have been the vice-chairman of New Balance since 1977.
Jim Davis and the Davis family own nearly 95% of the private company. Jim acquired New Balance Arch Support Company – a small Boston shoe workshop, in 1972 and turned it into a giant sports brand like now.
How New Balances Shoes Are Made?
Meticulously Made In Every Step
Although New Balance is not a handmade footwear brand, each shoe is carefully made at every step, just like a handmade shoe.
It takes a lot of 22.5-second blocks to get a shoe done with a lot of precision.
Carefully Picked Materials
Each material of New Balance shoes is carefully picked and prepared by specified machines.
Leather, often used for the shoe's insole, is cut by a numerical control cutting machine from Comelz – an Italian manufacturer.
Moreover, the leather part of the New Balance 990v5 comprises various pieces of pigskin hide. An NC cutter calculates and determines the highest quality parts of the hide (like the belly) using great cutting patterns.
Every angle of this cutting process is checked by 10 cameras to make perfect leather parts.
Made With The Latest Technologies
New Balance also applies the latest technologies to its sneakers.
Some of them are like heel counters and blended GEL shoe inserts. It also offers a wide selection of sizes and widths for your foot's shape and size.
Ethical Rating
New Balance has a high Ethical Rating on environmental waste, carbon emissions, and renewable electricity.
More specifically, it reduced carbon emissions with a 1.5oC pathway by 2022. And by 2025, it will be switched to 100% renewable electricity for its operations.
Also, this year, it won't use or discharge hazardous chemicals into the environment.
This American brand also has a strict Code of Conduct to maintain a balanced working environment for its workers at all stages of its global supply chain.
However, New Balance still uses unsustainable materials in its sneakers. Most of its shoes contain non-recycled materials.
Besides vegan shoes, it still uses animal leather (kangaroo leather) in its training boots and sneakers. Shortly, it will release more vegan-friendly shoes.
FAQs
1. Where Are New Balance Golf Shoes Made?
There is no exact detail on the origin of New Balance golf shoes. These shoes can be made in New Balance factories worldwide.
2. Which New Balance Shoes Are Made In The USA?
More than 4 million New Balance shoes are made annually in the USA. Some best renowned New Balance series of American origin are:
New Balance 500: New Balance 530, New Balance 550, New Balance 574
New Balance 600s: New Balance 650
New Balance 990: New Balance Made in USA 990v3, New Balance Made in USA 990v5, New Balance 992, New Balance Made in US 993
Final Words
Most New Balance shoes are manufactured in the USA and some Asian countries like China, Vietnam, and Indonesia.
The remaining ones are made in the United Kingdom, India, Japan, Taiwan, and South Korea.
A notable fact is that some people complained that the soles of Asian-made sneakers are less durable than the American version. Thus, many consumers still prefer the "made in the USA" sneakers.