Hey Dude is rapidly gaining a dominant position in the footwear market, with $986.2 million in revenue in 2022 and over $1 billion expected for 2023.
While this brand is riding high on the trend wave, one pressing question may confuse customers – where are Hey Dude shoes made?
This article will examine where and how they are produced.
Hey Dude Shoes Overview
In 2008, Italy witnessed the birth of Hey Dude shoes, a brainchild of Alessandro Rosano.
The brand was founded with a clear vision – to blend fashion with comfort. The California surf scene's laid-back, free-spirited vibe inspired Hey Dude's unique shoe designs.
While Hey Dude is an Italian shoe brand, its headquarter is in California, the US.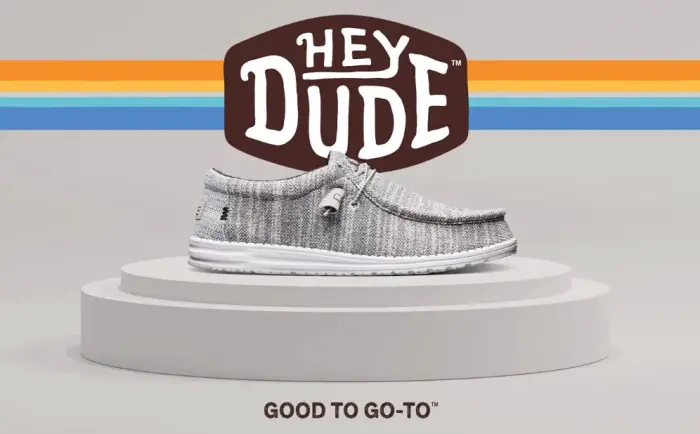 The first Hey Dude shoe hit the US market in February 2009, a year after the company's inception.
By June 2010, the brand had a global presence. It distributes shoes to massive markets across Europe, Eastern Asia, and South America.
Today, its footwear reaches over 85 countries spanning the Americas, EMEA, and Asia-Pacific through direct distribution and wholesale channels.
Where Are Hey Dude Shoes Made?
Hey Dude shoes are primarily produced in China, Indonesia, and Vietnam. Before the brand's acquisition by Crocs, Inc. (2021), most of Hey Dude's manufacturing was in China.
Crocs, Inc. began diversifying the supply chain after the acquisition to mitigate risks linked to third-party suppliers and manufacturers.
Notably, Crocs established a supply chain in Vietnam and plans to leverage this infrastructure to facilitate Hey Dude's growth.
The strategy resulted in increased quantities of shoes manufactured in Vietnam and later in Indonesia.
China
China dominates the global manufacturing landscape for Hey Dude shoes, with most of the brand's production facilities situated there.
Choosing China as the production hub for Hey Dude shoes had distinct economic advantages.
As the proverbial 'Factory of the World', China offers several benefits, including:
Economic wage structures, although the past issues surrounding sweatshops and child labor are less prevalent today.
Proficient production processes, including the supply of all the materials used in the making of Hey Dude shoes.
A well-integrated logistics network.
More lenient regulations.
Timely production and shipment of bulk orders.
Access to local heavy machinery for easier maintenance and shorter downtime periods.
Before Crocs acquires Hey Dude, China manufactures Hey Dude shoes for the US market.
Recognizing the risky dependence, Crocs, Inc. started diversifying the supply chain post-acquisition to mitigate third-party suppliers' and manufacturers' risks.
This move has led to a downside in Hey Dude production in the country.
Check more: 10 Best Shoes Like Hey Dudes
Indonesia
Indonesia was added as a manufacturing base for Hey Dude when Vietnamese facilities closed during the COVID-19 pandemic.
Hey Dude's production post-acquisition in China was cut down for Vietnam. However, the COVID-19 pandemic introduced unforeseen challenges and delays to this arrangement. This situation catalyzed Hey Dude's manufacturing to reach Indonesia.
Indonesia has bolstered its capacity for shoe production in recent years. The country is the fourth largest producer in global production quantity.
Even though labor costs in Indonesia aren't the lowest, the vast workforce compensates by allowing larger-scale production and reducing the time from manufacturing to distribution centers.
Check more: Where Are Cole Haan Shoes Made?
Vietnam
After its acquisition by Crocs, Hey Dude's manufacturing shifted to Vietnam to diversify the supply chain.
The Covid pandemic presented challenges, leading to production delays and issues in Vietnam.
As of 2022, finding Hey Dude shoes made in Vietnam may be difficult.
However, Crocs will increase Vietnamese-made shoes in the next two years to take advantage of local shoe production.
Crocs intends to utilize its robust supply and distribution channels to foster the growth of Hey Dude.
USA
Despite housing its headquarters in California, Hey Dude shoes are not "Made in the USA."
While more than 95% of Hey Dude's revenue comes from the American market, its manufacturing facilities are overseas.
The global manufacturing approach of the company utilizes the cost-effectiveness of overseas production.
The country is the brand's distribution center with a 73,000-square-foot warehouse in North Las Vegas.
Who Owns Hey Dude Shoe Company?
In December 2021, the trendy footwear brand "Crocs" secured ownership of the Hey Dude shoe brand. The acquisition was valued at $2.5 billion.
This investment paid off significantly, with Crocs raking in a revenue of $1 billion from Hey Dude within a year of the deal.
Hey Dude now operates as a privately owned entity under the management of Crocs.
How Hey Dude Shoes Are Made
Hey Dude shoes are made of recycled fiber, once deemed "environmental waste", and sourced from former plastic water bottles.
These reusable PET fibers offer softness while maintaining the firmness expected from their product line.
The Hey Dude shoe production encompasses various stages, including material procurement and final quality assurance.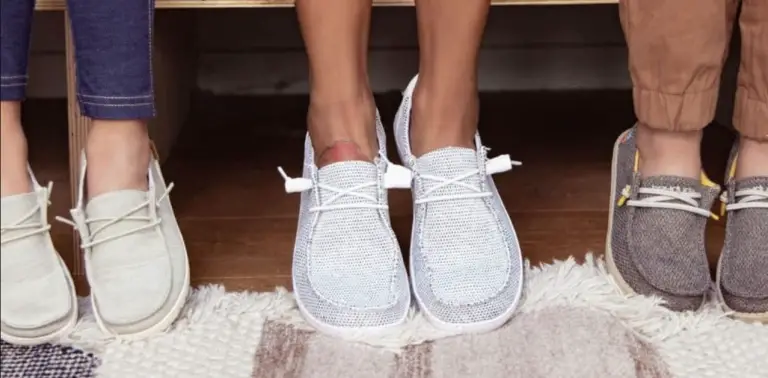 The brand's patented Flex & Fold Technology is a notable feature, integrating a light and malleable sole, promoting natural motion and comfort in every step.
Sustainability and green practices form the bedrock of Hey Dude's manufacturing protocol. The brand prioritizes recycled and organic fibers, reinforcing its commitment to environmental preservation.
Simultaneously, its strategy to minimize waste and energy use reflects its eco-conscious manufacturing approach.
Each Hey Dude shoe pair is subjected to rigorous quality control measures throughout production.
This meticulousness, combined with pioneering design methodologies, guarantees Hey Dude delivers a superior customer experience.
Are Hey Dude Shoes Sold In Stores?
Hey Dude shoes are available online and in stores. Customers can find attractive deals and the latest designs on its official website and through numerous online retailers, with plenty of options.
Hey Dude shoes can also be found in stores like Rack Room Shoes, DSW Warehouse, Shoe Carnival, Dick's Sporting Goods, and Journeys.
Final Words
Hey Dude shoes are manufactured predominantly in China, Vietnam, and Indonesia. While the manufacturing capacities in China and Indonesia are robust, these locations have production downsides.
As a response, there's an increase in the production volume from Vietnam. This strategy is influenced by Crocs to leverage its well-established supply chain in Vietnam to bolster the growth of Hey Dude.