Converse, a leading sports brand globally, is renowned for its skating and lifestyle shoes. Its footwear is ubiquitous, with the brand boasting 172 retail stores worldwide.
You can buy a pair of Converse everywhere, but where are Converse shoes made? And does the quality remain consistent regardless of the country of manufacture or the store where you bought it?
Where Are Converse Shoes Made?
Nowadays, most Converse shoes are made in Asian countries, including China and Vietnam. It also has factories across Mexico, Indonesia, Taiwan, India, Thailand, Malaysia, and Pakistan.
Converse used to operate the local production. However, American production for the mass market closed in 2001 when the company went bankrupt.
In 2003, Nike acquired Converse and shifted its production to Asia. Today, any 'Made in America' Converse is of high collection value.
Whenever Converse shoes are made, their design process still occurs in the US. Regardless of the production location, Converse ensures the quality remains consistent and up to its high standards across all sneakers.
United States
Converse shoes were domestically manufactured until 2001. Domestic production began in 1921 with the establishment of the first factory.
In the US, Converse had a manufacturing facility in Winston-Salem, North Carolina, and a design and development center in Wausau, Wisconsin.
Converse currently doesn't operate any mass-production facilities within the US. However, they oversee a specialized Malden, Massachusetts factory devoted to personalizing footwear.
This establishment is where unique customer-specific requests come to life, like creating one-of-a-kind Chuck Taylors featuring distinctive designs.
Converse remains headquartered in Massachusetts, where it was founded. It has a warehouse in North Andover, Massachusetts, roughly 30 miles from Boston.
Since Converse declared bankruptcy in 2001, its shoes have been manufactured overseas instead of in America. This transition was Nike's strategic decision to leverage low wages in developing countries.
The relocation of manufacturing operations has contributed to rising unemployment rates in the US and the exploitation of low-wage American workers.
Check more: Where Are Puma Shoes Made?
China
Converse began its production in China in 2001. This American footwear brand operates official factories in this country. However, not all Converse shoes are manufactured in China as Nike.
Converse was attracted to Chinese manufacturing for the local inexpensive labor, affordable materials, and cost-effective factories.
Global brands like Converse use these advantages to cut expenses and boost profit margins.
Vietnam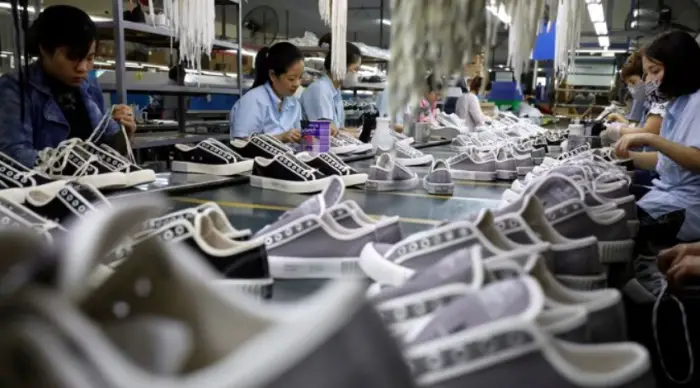 Most Converse shoes are manufactured in Vietnam. After the acquisition by Nike in 2003, the manufacturing activities expanded into several Asian countries, particularly Vietnam.
Vietnam has emerged as a favored manufacturing hub for many footwear companies, overtaking China in terms of cost and stability.
Labor and material costs in Vietnam are significantly cheaper than in China, and the political climate is more stable.
If any issues arise in China, Converse can shift its focus to production in Vietnam to avoid disruptions.
Check more: PF Flyers vs Converse Comparison
Other Countries
Converse also puts its manufacturing plants in other countries like Mexico, Indonesia, Taiwan, India, Thailand, Malaysia, and Pakistan.
In Mexico, Converse has produced its shoes since the mid-90s. This footwear brand operates 3 factories in Jalisco, Guanajuato, and Chihuahua. These factories produce various Converse styles, ranging from traditional classics to innovative new designs.
Two prominent shoe facilities of Converse in Indonesia are based in Jakarta and Bandung. These facilities have been crafting Converse shoes since the late 20th century.
These plants churn out various styles, from the timeless classics to the latest designs.
Who Owns Converse Now?
Converse is owned by Nike, Inc., a multinational corporation famous for its wide athletic wear and equipment range.
This sports giant acquired Converse in 2003 after the latter had declared bankruptcy in 2001 and ceased all production of its products, including the iconic Chuck Taylor shoes, in North America.
How Converse Shoes Are Made?
High-quality material
Converse shoes are characterized by their high-quality construction, durable materials, high technology, and sustainability orientation.
Converse utilizes durable components such as rubber soles and a robust canvas upper, all bound together by sturdy metal eyelets.
Innovative process
Converse invented an innovative process known as vulcanization. The process is employed to fuse the soles with the shoe body.
This technique involves heating the rubber soles at 170˚C/300˚F to toughen the rubber and establish a firm bond with the canvas.
Consequently, the soles remain intact with the body of the sneakers, offering longevity.
The production of Converse shoes differentiates the selection contingent on the unique style and design.
For instance, the company uses canvas and rubber to make the iconic Chuck Taylor All-Star range, integrating synthetic materials with leather in the Chuck Taylor All-Star II range.
Sustainability in manufacturing
Converse is dedicated to sustainability in its manufacturing processes.
As a certified member of the Sustainable Apparel Coalition, Converse incorporates eco-friendly materials such as organic cotton, recycled rubber, and sustainable leather in its shoes.
Additionally, it has implemented various initiatives to lessen its environmental footprint, including measures for water recycling and enhancing energy efficiency.
More About Converse Shoes
Converse started its first retail store in Malden, Massachusetts, in 1908. The Converse Rubber Company moved its global headquarters to the North End in 2015.
This headquarters relocation provided Converse with a 214,000-square-foot workspace to foster creative collaboration and self-expression.
Converse became popular during the 1950s and 1960s. The brand was outpaced by emerging competitors such as Nike, Puma, and Adidas in the following years.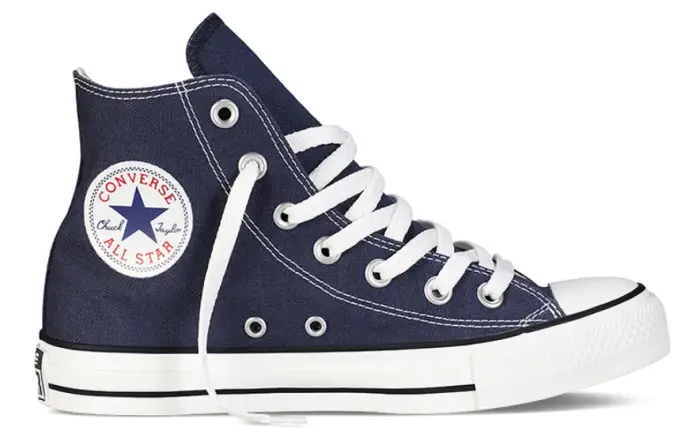 By the 1990s, Converse was struggling, eventually declaring bankruptcy in 2001. However, it found a new life in 2003 when Nike took over.
This acquisition and the revival of 1980s fashion trends in the 2010s propelled Converse to become a multi-billion-dollar brand by 2015.
Converse shoes are available in over 160 countries through diverse channels, including brand-owned stores, independent retailers, and online platforms.
The enduring popularity of Converse guarantees robust sales. The company estimates daily sales of 270,000 Chuck Taylors, resulting in an impressive annual turnover of 100 million pairs of shoes.
Whether you're looking to infuse some classic style into your wardrobe or searching for a new pair of sneakers, Converse remains a go-to choice.
FAQs
1. Are Converse Made In Sweatshops?
Converse is a subsidiary of Nike, a company facing allegations and criticism in the past regarding its labor practices.
However, Converse shoes are not made in sweatshops. Current information about their production methods suggests that their shoes are only made in cruelty-free facilities.
2. Are Converse Shoes Ethically Made?
Committed to ethical manufacturing, Converse has established a conduct code that clearly articulates the expectations for its suppliers.
This code encompasses equitable remuneration, safe work environments, and adherence to local legislation.
The company also reviews factory operations frequently, confirming the enforcement of its ethical guidelines.
3. Where Are Converse All-Star Shoes Made?
Converse All Stars are manufactured in China, Vietnam, and India.
4. Where Are Converse Jack Purcell Shoes Made?
Most Converse shoes, including the Jack Purcell line, are produced in China, Vietnam, and Indonesia Converse factories.
Final Words
Most Converse shoes are manufactured in Asian countries, mainly Vietnam, China, and Indonesia. Meanwhile, some custom Chuck remains produced in the U.S.
Converse shoes maintain a consistent quality across all manufacturing locations due to the brand's stringent standards.
Purchasing a pair of Converse from a trusted retailer guarantees you'll obtain a fashion piece that is recognized globally for its quality and availability.