PF Flyers vs Converse is a fair comparison with how similar they are at first sight. So, what about the structure and the value they can provide?
In this article, you will find everything you need for more thorough knowledge about both of these brands.
Overview Of PF Flyers Shoes
Posture Foundation a.k.a PF was founded in 1933 by a canvas shoe manufacturer and an insole innovator. Under this name, they focus on insoles with generous support for the foot's arch and not proper shoes.
PF became PF Flyers in the 1940s and introduced a shoe line with extra cushioning.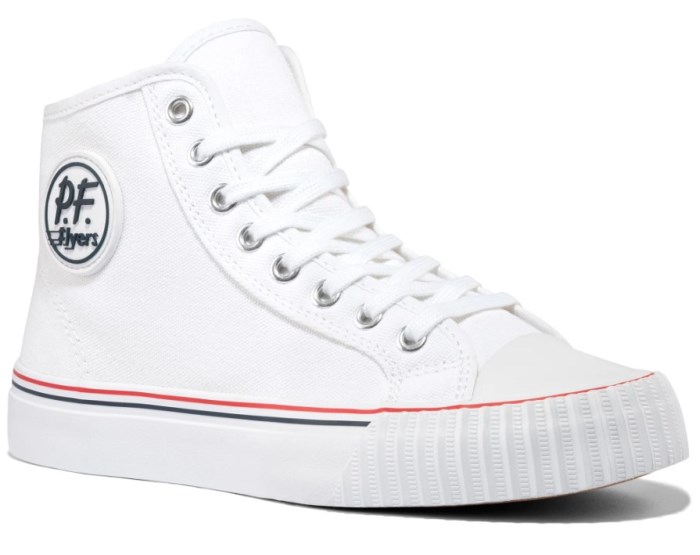 During the 70s, they were fair competitors with Converse and Keds until the drastic change in the industry finally took over at the end of the decade. The brand was in a frozen state until 1993.
New Balance successfully bought the rights to relaunch PF Flyers and send its timelessness back to the market. They optimized and re-introduced the most well-known models to target customers of all sizes and ages, men and women are all included.
Nowadays, PF Flyers is settled for a new journey. Maybe they don't change much compared to the outside, though the enhanced qualities are certainly enough to have a stable foothold in the footwear industry.
Overview Of Converse Shoes
Converse started in Massachusetts in 1908 as a company using rubber to produce various items, from car tires to hunter's boots and eventually sports shoes.
However, the Converse All-Stars that we all know and adore were only officially launched in 1917.
During that time, basketball was getting more and more popular, hence Converse couldn't stay out of the expansion.
Like many other brands who wanted to benefit from this sport, Converse designed their basketball shoes and established a team to compete in tournaments and advertise the merchandise.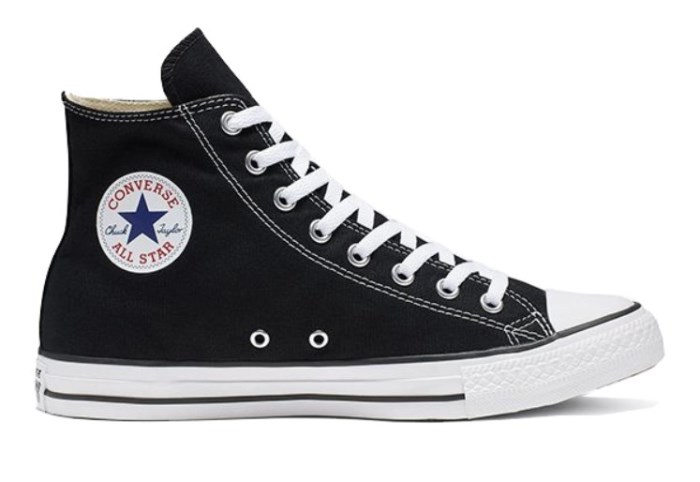 Charles "Chuck" Taylor was the coach and salesman of this team.
He had a great impact on other coaches and players, thus getting his name branded on the heel of Converse shoes despite never participating in designing or improving them.
The sleek and slender shape of Converse raised suspicion about its safety for athletes, though baseless doubts couldn't affect the brand's popularity.
After they released the low-top sneakers for commoners and ventured into the lifestyle territory, the fame truly skyrocketed.
Converse paved another route and introduced colored canvas in 1971.
In the next decades, the creative details they added to the shoes constantly kept them ahead in the fashion industry. Despite consumerism taking over this era, Converse has never let its price go over the top.
Today's Converse is still one of the most popular footwear brands in the whole world. Whether you want something simple or audacious, you surely can find something fitting every occasion.
Check more: Is Flight Club Legit?
Differences Between PF Flyers And Converse
If you take a quick look at these shoes, the slender form and the high-top design look extremely similar. However, their differences lie inside and we can only see them if we break every aspect down.
PF Flyers Vs Converse Sizing
PF Flyers sizing:
Kids: 1 – 13.5
Men: 4 – 13.5
Women: 5.5 – 15
Converse sizing:
Kids: 1C – 13.5C & 1Y – 6Y (standards are on the official website)
Men: 3 – 18
Women: 4.5 – 20
As you can see, Converse offers a wider range of sizes, which means they can tend to more customers compared to PF Flyers.
Pf Flyers Vs Converse Variety
After the reboot, PF Flyers have only released 9 products so far, and these products are for all customer groups. The most influential design they have is 'The 1993', followed up by the Hi & Lo versions of the Unisex Center.
The Hi is often known as basketball shoes because its main purpose is to serve basketball lovers. PF Flyers added a wedge for comfort and a toe bumper to give the wearers extra support.
The Lo is not too different from the Hi, though its design is neater and more suitable for casual styles. If you are not a sporty person but still want to own a pair of cool sneakers, you will be satisfied with PF Flyers' choices.
In terms of variety, Converse is among the leading brands. They produce footwear for people who do sports as well as those who simply like sporty clothing.
These two categories are divided into various product lines for all genders and ages. Technically, their variety has no limit, from colors to forms.
In Converse's official stores, you will find a segment for limited designs.
They are often sold out very quickly without any restock coming soon. Hence, you should act instantly if you are into collecting shoes.
But the coolest thing about Converse is that buyers can customize their shoes. They can use their creativity on a blank shoe and draw any pattern they like on it.
Furthermore, Converse plans to enable even more customizations in the near future.
Pf Flyers Vs Converse Comfort
Although PF Flyers couldn't compete with Converse when it comes to variety, they might have more advantages in comfort. They are tight enough to hug your feet snugly and loose enough to not suffocate them after a long time in use.
The arch support and the soles of PF Flyers are top-notch as well because they want to provide the best cushioning for their customers.
You can even add orthotics or change the insoles for practicing experience without sacrificing comfort.
Nonetheless, Converse doesn't sit and let other brands surpass them. Their shoes are comfortable right after the unboxing.
They have enough cushioning to not hurt your feet, though the soles are thin enough to be stable for things such as weight-lifting.
Pf Flyers Vs Converse Price
The price range for PF Flyers is $58 – 88, while Converse is $30 – 170.
A regular customer would find it much simpler to purchase from PF Flyers, for the products are not too expensive or cheap compared to one another.
But here is the thing: the costliest products from Converse are usually limited editions. Buyers don't usually spend on them unless they are shoe collectors.
Therefore, you will most likely stick to the affordable merchandise of Converse.
Pros & Cons of PF Flyers
The advantage that PF Flyers clearly has is the utmost comfort from ample cushioning. They assist in treating feet problems and offer removable soles so you can make sure the support is the best you can get.
PF Flyers shoes belong to the affordable side of the spectrum. There is not much difference between the lowest and the highest prices, hence you won't have to contemplate too much.
However, at PF Flyers, you won't find designs specified for men or women. Their products are mostly unisex as well.
Check PF Flyers Shoes on Amazon.com
Pros & Cons of Converse
Converse is comfortable enough for short walks. If you don't plan to use your shoes for heavy duties, you will enjoy the breathable materials and the extremely short break-in period.
They also have few opponents if we are discussing the variety.
They indeed have limited editions that customers can't always snatch, yet the generous offer for customized designs is attractive enough for many buyers.
They are slightly more pricey than average, yet you should be able to find relatively cheaper models under the Converse brand as well.
Check Converse Shoes on Amazon.com
You'll love: Why Do White Shoes Turn Yellow?
Final Verdict: Are PF Flyers and Converse The Same?
Whether PF Flyers are better than Converse or not depends on what you are looking for.
If you enjoy something simple and comfortable to use for long hours, you might be able to overlook the lack of designs and go for a PF Flyers pair.
However, Converse would be a better choice for you when you want more options in designs and customizations.
Don't forget to consider your budget, because their price ranges are a bit different.