Nike is the world's top provider of sportswear, especially shoes. If you are about to get Nike shoes, you might ask questions like "Where are Nike shoes made?" or "Who manufactures Nike shoes"?
Let's learn about the origin of Nike shoes and how Nike distributes its manufacturing sites across the globe.
Nike Shoes Overview
Nike is an American sportswear company. It started in 1964 as Blue Ribbons Sport by Bill Bowerman and Phil Knight.
This company was founded as Blue Ribbons Sport (BRS) and was renamed Nike Inc. in 1978. Nike has its current headquarters in Beaverton, Oregon.
From its first retail store in 1966, Nike quickly expanded its business by entering China – the largest market for footwear in Asia.
Furthermore, it also had various acquisitions with renowned brands like Converse Inc (2003), Cole Han (2012), Canstar Sports Inc or Bauer (2008), and Umbro (2012).

Up till now, this sportswear brand has outlets and distributors in over 170 countries worldwide.
Nike has created and distributed thousands of sportswear products, especially shoes. Most Nike shoes are for workouts, including extreme mountain climbing and snowboarding.
Besides, Nike also has lifestyle shoes for daily outfits. Nike shoes are worn by famous athletes like Mia Hamm, Roger Federer, Michael Jordan, Tiger Wood, etc.
Where Are Nike Shoes Made?
Despite its U.S. origin, Nike shoes are mainly made in 41 countries outside the U.S. as of 2021.
Until now, there are 187 out of 785 factories with over 1 million workers worldwide to produce over 500.000 Nike footwear products.
Most Nike shoes are made in China and Vietnam – two world's top shoe exporters. These two countries share 36% of total manufactured shoes worldwide.
The remaining shoes of this brand are made in various countries, including Indonesia (22%), Thailand (6%), Japan, Brazil, Taiwan, South Korea, India, Sri Lanka, etc.
These factories make raw materials, components for finished goods, or finished goods for Nike shoe styles.
Nike Factories In China
China is the #2 sneaker manufacturing country of Nike. Until now, there have been 47 Nike shoe factories in China, mainly in the Pearl River Delta region and the southern part of this country.
Finished goods: 19
Components for finished goods: 9
Raw materials: 19
Nike factories in China are mainly located in 3 cities – Putian, Dongguan, and Suzhou.
Approximately 8 million pairs of authentic Nike shoes are made annually in Qingdao Taekwang Shoes Co., Laixi – China's largest Nike manufacturing company.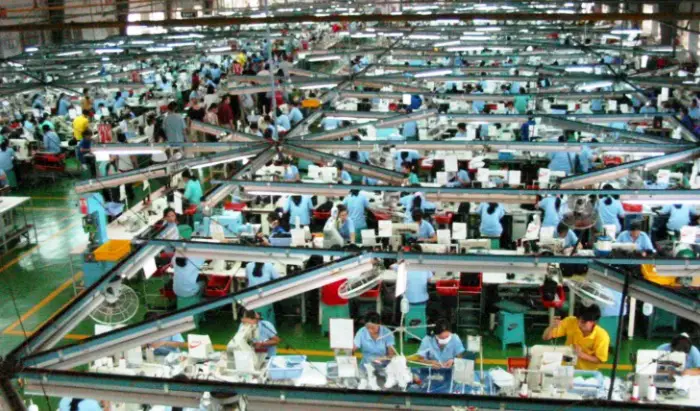 The story of Nike in China started in 1981, resulting from The Swoosh Index – a production policy to maximize its profitability and lower its production cost.
According to this policy, Nike must find a manufacturing country with affordable labor, better raw materials, and a high-skilled workforce.
And China was the perfect destination for new Nike factories. Its vast network of footwear suppliers and manufacturers. Shoemakers in this Asian country could make high-quality shoes in a shorter time with cheaper costs.
Nike entered the Chinese market indirectly via sports sponsorships and athletic events. It sponsored shoes for many sports clubs and events, including the 2008 Beijing Olympics.
In this Olympic event, the footwear sales volume of Nike grew by 53%.
Through those initial activities, Nike gradually imported the American streetball culture into China, making further steps to produce and sell its sneakers. Nike has maintained its customer loyalty via community events.
Nike Run Club, which shut down in 2022, is one of its most noticeable community applications for Chinese people.
Alongside sports sponsorships, Nike started its production by making affordable shoes and shoe models specialized for the Chinese market. Shoes made in China are sold to Chinese people and nearby Asian countries.
According to an interview with Philip Knight – co-founder of Nike, China is the golden land for the business development of Nike and other footwear brands.
China has an ideal digital environment for the business growth of this multi-national brand, including the modern 5G technology infrastructure, artificial intelligence, machine learning, e-commerce growth, and fast connection with digital platforms.
Since its first days in China, Nike has built a solid Direct-to-Customer (D2C) retail framework on its offline and online networks.
Nowadays, Nike sells its sneakers on online channels like Tmall (from 2012), web stores (from 2014), SNKRS app (from 2017), Nike WeChat Store (from 2018), and Nike app (from 2019). It still maintains its offline via 7,975 retail stores in China.
The story of Nike in China received great success. Its footwear revenue has grown from 10.2 billion RMB in 2012 to 38.5 billion RMB in 2021.
However, Nike faced much criticism in recent years, just like other foreign firms like Apple, H&M, and Adidas AG.
The Swoosh was accused of bad manufacturing conditions, like low wages and child labor. It was reported for forcing Uyghur labor workers from rural Xinjiang to work in its factories.
Yet, Nike denied any connection with such forced labor and has no supporting action for those campaigns.
After the COVID-19 pandemic and the US-China tariff war, the production trend has shifted from China to other countries. Yet, China still plays a vital part in the global manufacturing chain of Nike.
Check more: Where Are ASICS Shoes Made?
Nike Factories In Vietnam
Vietnam is the #1 country for Nike footwear production and among the critical components in its global supply chain.
According to Nike's financial report 2021, 51% of Nike shoes are made in Vietnam.
As of May 2023, there are 58 footwear factories of Nike with over 530,000 shoe artisans in Vietnam, mainly in the South. More particularly:
Finished goods: 27
Components for finished goods: 5
Raw materials: 26
There are two reasons for this condition.
First, Vietnam has an inexpensive yet high-quality workforce. This workforce has been trained under the strict standards of many global brands like Adidas, H&M, Uniqlo, etc. Therefore, it can cope with the demanding production rate of Nike.
Second, the strong business relationship between Vietnam and Nike made it a way to maintain its factories in Vietnam.
Nike has provided intensive training and experience in footwear production for Vietnamese workers. In exchange, it can lower its production costs while enhancing value to its customer base.
The two-decade relationship between Nike and Vietnam, along with the production trend towards Vietnam after COVID-19 and the US-China tariff war, has set Vietnam as the new production center for the world.
Nike Factories In Indonesia
After Vietnam and China, Indonesia is Nike's #3 key player in South East Asia. As of May 2023, there are 31 Nike footwear factories in Indonesia:
Finished goods: 19
Components for finished goods: 2
Raw materials: 10
Over the past 15 years, Nike's footwear share increased from 21% to 26%. This rise in the production of Nike and its German rival Adidas AG results from the production shift from China toward Asian countries.
Nike Factories In Thailand
There are 2 footwear factories of Nike in Thailand with 978 employees for manufacturing raw materials. Although there aren't many shoes made in Thailand, this country has a long history with Nike, dating back to 1981.
2005 Nike opened NikeGo Community Sports Center in Nakhon Ratchasima (Korat) Province, Bangkok. This sports center is a remembrance of the 25-year relationship between Nike and Thailand.
Furthermore, this contribution of Nike also creates more chances for rural villagers here to experience a modern, sporty lifestyle that they haven't had before.
Nike Factories In Other Regions
Alongside China, Vietnam, Indonesia, and Thailand, Nike also has footwear factories in other parts of the world, including South Korea (18), Taiwan (11 factories), Brazil (7), India (5), Japan (3), Italy (3), Argentina (1), etc.
Why The Factory Distribution?
There are some reasons why Nike chooses to distribute its production worldwide.
First, Nike wants to maximize its profit and minimize production costs. Like other firms (Adidas or Puma), Nike focuses its footwear production in Asian countries where wage costs are much lower than in North America.
Thus, this American firm can enhance its profit margins compared to its first days in America and Japan.
Second, Nike targets the middle class in countries with high populations, like China and Vietnam. This new young class is interested in purchasing high-end products to enhance their daily life's quality.
Thanks to its factory distribution strategy, Nike can optimize its products' features, designs, and prices for local targeted markets.
The diversity in the factory distribution of Nike allows it to have more freedom in its production activities. In other words, Nike can distribute its sneakers worldwide instead of depending on one nation.
How Nike Shoes Are Made?
Each pair of Nike shoes uses high-tech production lines and manual labor.
First, Nike defines leather types and raw materials for shoes. Then these garments are then cut, stitched, and glued together with adhesives.
These shoe parts are inspected for finished products, packed, and shipped to Nike retail stores worldwide.
FAQs
1. Where Are Original Nike Shoes Made?
Original Nike shoes are mainly made in Nike factories in Asia, including China, Vietnam, and Indonesia.
2. Where Are Nike Custom Shoes Made?
Besides default Nike sneakers, you can get your customized Nike shoes through Nike By You (previously NikeID).
You can experience this service on Nike's official website or one of 102 Nike By You studios worldwide in  Canada, France, South Korea, England, Main Land Europe, China, and the USA.
3. Where Are Nike Basketball Shoes Made?
Some famous Nike basketball shoes, like Nike Dunk, Air Force 1, and Air Jordans, are made in Vietnam. Others are made in other countries like China or Indonesia.
4. Are Nike Shoes Made Ethically?
Like other fashion giants, Nike has faced some controversy surrounding its footwear products. Undeniable in shoemaking, Nike is working hard to make its shoes more ethical.
There have been some accusations of Nike for having lousy work conditions in China, like low wages and child labor.
These accusations date back to the 1970s and were raised highly in the 1990s. This American brand answered the crowd by focusing more on factory monitoring.
According to Fox Business, Nike stopped using kangaroo skin for its football shoes in 2023, similar to Puma – its German rival.
It used a proprietary synthetic material in replacement for kangaroo skin. This material appeared on Tiempo Legend Elite – a new Tiempo football shoe model.
Final Words
Despite their American origin, Nike shoes are manufactured in other parts of the world. Its production focuses on Asia, with Vietnam, China, and Indonesia as the three top manufacturing centers. These countries account for making some renowned Nike sneakers like Nike Dunk and Nike Blazer.