If you can only pick one between Red Wing Blacksmith vs Iron Ranger, you might end up in a difficult situation. They both live up to the reputation of the brand with some advantages only they can provide.
To determine which is the better choice for you, a detailed comparison is essential.
An Overview of Red Wing
Red Wing was established in 1905. Their original purpose was to produce leather boots that can handle heavy duties and harsh conditions. During the two World Wars, they switch to making boots for soldiers.
When talking about Red Wing, people almost always associate the brand with premium materials and tough-looking builds.
Of all the designs they have released, Blacksmith and Iron Ranger are undoubtedly two of the most well-known collections.
Red Wing Blacksmith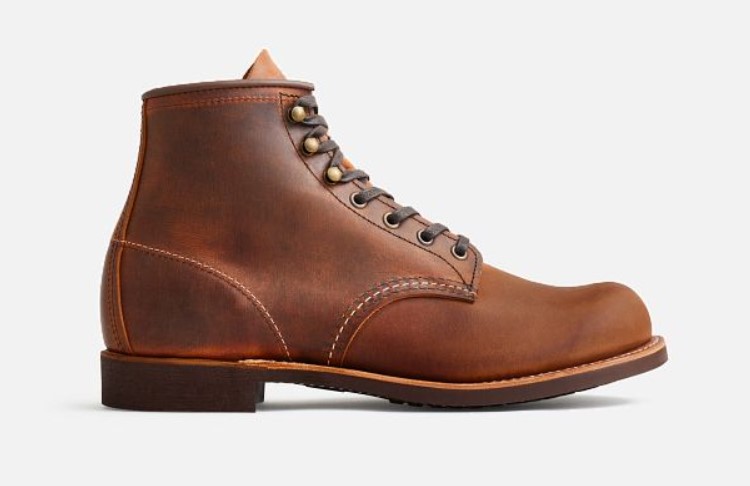 Between Red Wing Boots Iron Ranger and Blacksmith, the latter is the newer product line.
Its special toe cap spares more room for your feet and contributes to the sleek style. The leather in use matches the brass hardware very well.
One of the traits that Blacksmith is famous for is the immediate comfort as soon as they are out of the box. The arch support is pretty decent, though they can't absorb much impact.
Red Wing Iron Ranger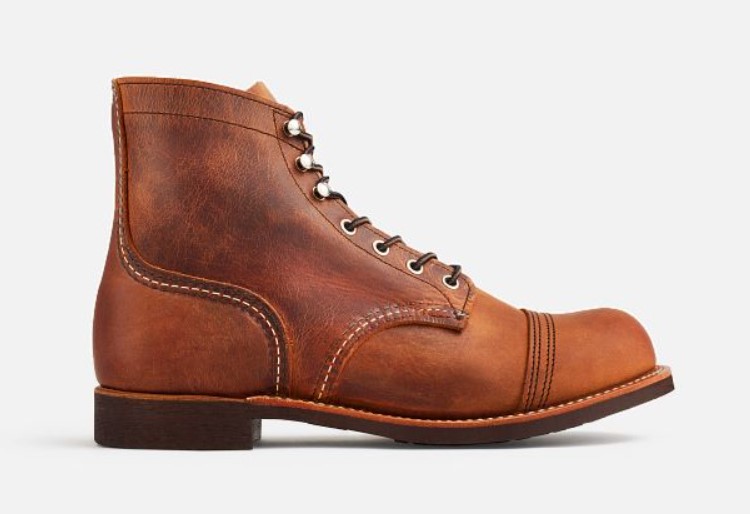 There are many iconic details that make these boots extremely easy to recognize. And, the toe cap and the Goodyear welt are some of them.
Unlike the Blacksmith boots, these toe caps don't have any steel, but they make up for it with an additional leather layer and rows of stitches.
The Goodyear welts used for Iron Ranger don't have the same finish as the Blacksmith. This leather is full-grain and thick, hence the durability and the maintenance are both enhanced tremendously.
However, the break-in period might last for a while!
Check more: Red Wing vs Irish Setter Boots: Which Is Better For You?
Red Wing Blacksmith vs Iron Ranger Comparison
For some people, Red Wing Iron Rangers are worth it because they come with a toe cap and thus look more casual than the dressy Blacksmith boots.
Another sign for you to recognize the Blacksmith line is its brass hardware. This hardware seems much more suitable for leather compared to Iron Ranger's nickel hardware.
Material
Red Wing uses high-quality leather for their products, hence the material is not exactly your concern.
Blacksmith's leather is tanned with oil, thus it has resistance against water and stain. The insole is also leather while the midsole is cork, which corporates with the steel shank and creates a sturdy structure.
Iron Ranger has another finish for the leather. Aside from the oil-tanning process, this leather is full-grain, hence it is very durable and easy to maintain.
Design
On the outside, Blacksmith looks very stylish with the generous toe room and the brass hardware. The sleekness also shows in the slim rubber sole. Furthermore, leather and rubber are the ideal formula for durable footwear.
You can somehow customize the fit of your Blacksmith boots by adjusting the flat waxed cotton laces. It can be a hassle to deal with, yet it's unlikely to loosen once you have tied it right.
The collar of Iron Ranger boots is a little higher than Blacksmith's and curving down, exposing raw edges and stitches that secure the fit around your ankles.
Their soles provide excellent traction for better performance on wet terrains.
The laces on Iron Ranger are parachute cords made of nylon. You can tell how durable they are going to be. No stretching and tearing will happen anytime soon.
Sizing
There isn't much of a difference in Red Wing Blacksmith vs Iron Ranger sizing. They are both high-quality footwear that has a strict size chart to follow.
However, due to the roomy toe box, Blacksmith might feel bigger than necessary. Hence, you should go down half a size.
Fit
The fit is about the same for both product lines. However, Blacksmith has a roomier toe box with only one width available.
If you have narrow or wide feet and want to make sure the boots fit perfectly, Iron Ranger is a sure winner.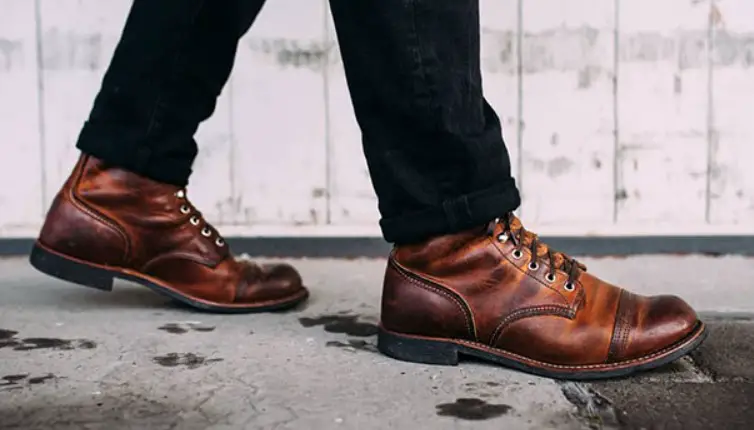 Comfort
With the material and the structure from a famous brand like Red Wing, Iron Ranger, and Blacksmith boots are all very comfortable.
During the manufacturing of the welt, they fill the midsole with cork, which contributes so much to the comfort.
Nonetheless, it's important to note that you can enjoy the fullest of Blacksmith's comfort as soon as you unbox it. But, the break-in period lasts longer with Iron Ranger.
Price
Quality comes at a cost. Both of these boots are more pricey than average products, and Iron Ranger usually costs you an extra $30.
If you don't need multiple colors and widths for options, you would be happy with what the Blacksmith can offer.
You'll love: How To Restore Timberland Boots Color?
Pros & Cons of Blacksmith
The first thing you can receive from Blacksmith is high-quality leather tanned with oil. It ensures a great structure and longevity, not to mention how these boots look good on the outside due to the brass hardware. The inside is just as comfortable with the roomy round toe.
Furthermore, after the outer soles are worn out, you can replace them by yourself without much struggle. It is a necessary feature because harsh weather conditions can be detrimental to unlined boots.
However, Blacksmith might not be as versatile as you wish.
They only have one width, and the limited options for leather don't help either. If you are new to Blacksmith, you might find them a bit heavy.
Pros & Cons of Iron Ranger
With Iron Ranger, you have more colors and leather types to pick from. There are several widths to give you the best fit possible as well.
They might take a while to break in, yet it's cloud nine for your feet afterward. Besides the support, the traction from the Vibram sole surely enhances safety.
They have a regular toe cap, enough to maintain safety and durability. The Goodyear welt further enhances endurance. You can confidently use these boots for heavy duties, especially when they don't require extra care.
Without the toe cap made of steel and the intricate hardware, Iron Ranger looks much simpler, almost too plain compared to the dressy style of Blacksmith.
Final Verdict: Red Wing Blacksmith or Iron Ranger?
In the battle of Red Wing Iron Ranger vs Blacksmith boots, you are sure to get some of the toughest boots ever at reasonable prices.
Blacksmith allows us to be more flexible with our outfits because its overall design is quite intricate, but the toe cap adds more to the dressiness.
Meanwhile, Iron Ranger fixes the Blacksmith's problem when it comes to color choices. Despite it being more expensive, the traction and the comfort are definitely worth the investment.