Red Wing vs Irish Setter is a competition you have to face eventually if you are searching for American-based boots.
Do you want a functional pair of work boots that sustain and withstand the harshest trials? Or does heritage footwear matter the most to you?
Once again, we will have to dive into the little differences between them and see what they can bring.
Red Wing Overview
The early years of the 20th century witnessed big steps in the industrial world. It didn't escape the eyes of an American shoe merchant, Charles Beckman, and he knew he couldn't let this opportunity slip.
Taking the name of his home city, Red Wing launched in 1905.
Hikers and hunters were their main customers. Their popularity continuously grew due to how they consisted of such fine leather and performed excellently with heavy duties.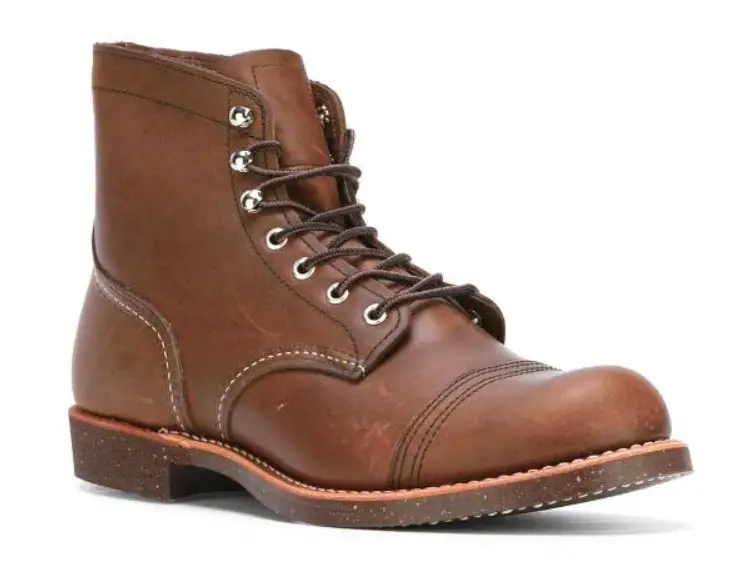 Nowadays, Red Wing still focuses on premium materials and techniques instead of chasing new technologies. It's a treasure for people who appreciate genuine and raw quality.
Red Wing boots include two main categories: heritage boots made in America and Irish Setter made in foreign countries.
Hopefully, this piece of information clears up your confusion about the similarity between Red Wings and Irish Setters.
Irish Setter Overview
Irish Setter boots were introduced in 1950, made of Red Russet leather, and aimed to become the next best hunting boots in the market.
Over the past decades, they have always been a reliable name with what they can give to customers who trust them.
In Irish Setter, you can find work boots and hunting boots. Using them alternatively is okay, though it's recommended to stay true to the purpose of each line.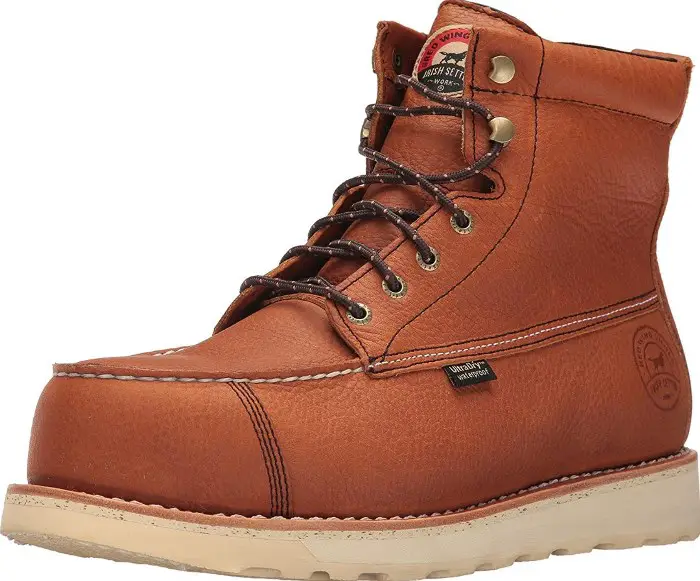 For example, the insulated version is great for cold weather. If you work in a furnace-like environment, boots with heat resistance are your best bet.
Other than that, they also have non-conductive, waterproof, or extra cushioned boots.
Are Irish Setters Made By Red Wing?
Irish Setter is a product line branched from Red Wing. While they hold onto the leather legacy, they also don't hesitate to incorporate new technologies into their footwear.
Comparison of Red Wing vs Irish Setter
The biggest difference between Red Wing and Irish Setter is Red Wing maintains a fully American product line while Irish Setter manufactures their boots abroad.
Materials
The materials used by both these brands are quite the same.
Their uppers are S.S. Foot Training leather, a full-grain hide mostly known for its durability. It explains why Irish Setter vs Red Wing work boots can withstand the test of intense conditions.
However, Irish Setter differentiates from Red Wing with a PU footbed. You can remove and customize this footbed for your desired amount of support.
But be aware that removable footbeds are usually not durable, hence you will need replacements once in a while.
Meanwhile, Red Wing prefers a 100% leather structure and uses leather for their footbed. It raises the overall price of the product, yet a leather footbed means endurance and comfort.
Design
The construction of Red Wing and Irish Setter footwear is extremely similar because they have the same origins. Nonetheless, the leather paneling in each product line is very distinctive.
Red Wing is loyal to the simple paneling with robust and plain stitches. It's how heritage boots are, even though they might not be to everyone's liking. If they prefer more intricate paneling and stitching.
Unlike Red Wing which relies on traditional techniques only, Irish Setter doesn't hesitate to include cutting-edge methods such as UltraDry. It controls moisture and regulates air, ensuring a dry and cool environment for your feet.
Comfort
A lot of customers said their Red Wing boots feel a little tough and rough out of the box.
But you don't have to worry about it since Red Wing has leather upper and footbeds. Leather is well-known for not being comfy at first.
With that said, you can expect Red Wings to mold to your feet like a perfect glove eventually. For an even better fit, the manufacturer recommends going down a size with heritage boots, which are usually larger than standard sizes.
Based on the design and the material, Irish Setter footwear can give us immediate comfort with its padded footbed and wedge outsoles. At least, the break-in period would be remarkably shorter.
You can use your common shoe size when purchasing Irish Setters. If you have wide feet, you might need to add half a size so the boots won't be too tight.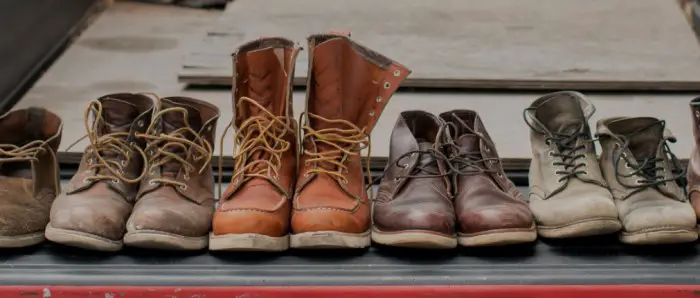 Properties
With Red Wing, you have boots with water resistance. It means you can keep your feet dry even if you remain in wet terrains for a short time. And it's usually enough for most users.
Without the waterproof membrane, it is much more breathable than Irish Setter.
On the opposite side, Irish Setter boots have 'ST' in their names, which stands for 'safety toe'. In the unwanted case that something heavy drops onto your toes, at least you will be safe from severe injuries.
Safety Standards
Although Red Wing and Irish Setter feature rubber wedge soles that can reduce the hassle of debris and mud while providing traction, they still have differences.
The heritage line of Red Wing has every safety detail you can imagine, which means it meets all standard safety rules. If general safety standards are your primary concern, you might want to go for a Red Wing pair.
Otherwise, work conditions are the priority for Irish Setter. You can find a pair of Irish Setter boots that have resistance against heat, abrasion, oil, and slip.
They also use special features to enhance the durability of their productivity.
Break-in Period
The break-in is much easier with Irish Setter. It begins with thinner leather for the upper, hence it is more comfortable than materials like leather, cork, or rubber.
While it is not as high-quality as Red Wing's leather, it takes less time to break out of the original stiffness.
The EVA footbed is also worth talking about. You usually see this foam in sporty sneakers because it is the best for shock reduction.
It's a modern material that Red Wing stays away from, yet Irish Setter embraces it wholeheartedly.
On the contrary, Red Wing is notorious for its painfully long break-in period. The thick leather upper, the cork, and the steel shank – they all need some time before they can hug your feet like it was meant to.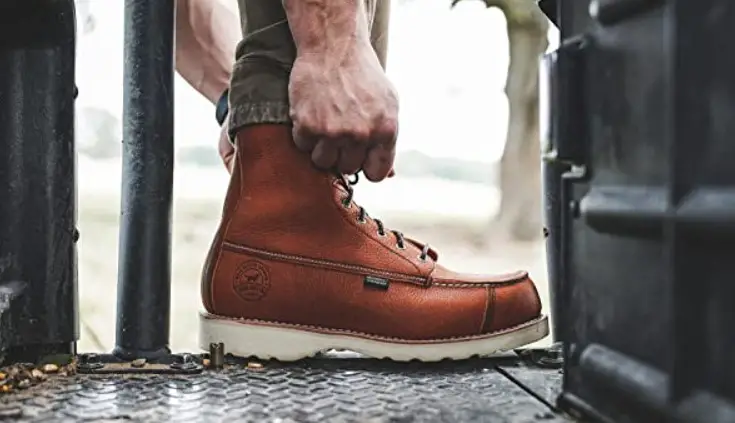 Red Wing vs Irish Setter Price
Irish Setter usually costs you from $90 compared to Red Wing heritage boots. The difference might go up if you venture into the expensive zone of Red Wing.
Additionally, you can find Irish Setter more easily, for Red Wing is mainly sold at their stores online and offline with not many retailers.
Check more: Danner Vs Thorogood Boots Comparison: Which Is The Winner?
Is Irish Setter or Red Wing Better?
Red Wing is better for you if:
You simply want American boots.
Leather is your favorite material since Red Wing is 100% leather.
You want to re-sole your boots sometimes.
The budget is not a problem for you.
On the other hand, Irish Setter will be your choice if:
You want work boots that can endure harsh conditions and breathability is something you are ready to let go.
You are on a tight budget.
Your boots have to meet safety standards.
As they are both high-quality brands, what they can provide is surely satisfying. Your requirements make the difference.
So, Red Wing And Irish Setter Aren't The Same, Which To Choose?
Between Red Wing vs Irish Setter boots, the determining factor for your decision would be your purpose.
If you are looking for a pair of stylish boots with top-tier material and are willing to spend, Red Wing is your go-to guy.
But if you need a specific property such as heat resistance or waterproofness, or simply a robust footwear that can protect your feet at work, Irish Setter is undoubtedly a better option.