Pumps vs Stilettos proved to be such an intense battle, for they are both so trendy right now. What similarities do they share? How do they differ? The best way to answer all your questions is through a detailed comparison!
Pumps vs Stilettos: History Overview
Pumps
Pumps might surprise you with their centuries-long history. They were present in European royal courts and worn by men, hence the name "court shoes".
In terms of design, pumps are one of the simplest heels with no ties, buckles, straps, or seams. It covers your toes entirely but exposes the rest gracefully. As time passes by, the peep toe version also appears and earns its reputation.
For creative purposes, small details like ankle straps or minimal changes in the heels are also added to the pumps, yet they don't go as far as to change the traditional form completely, and it means to remain seamless and simple.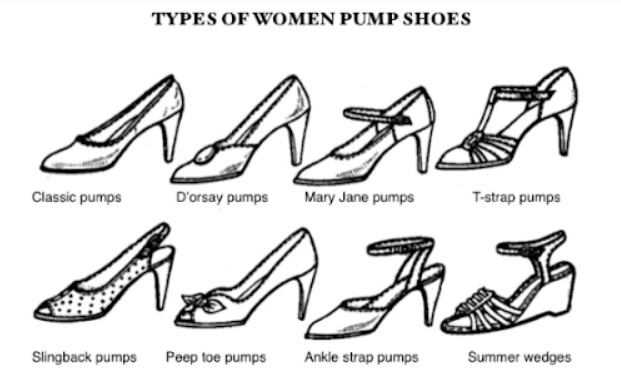 Stilettos
The name has an Italian root, specifically "stilus". In the old time, "stilus" was a common tool that engraved materials. It resembled a short, tapered blade, and the heels of stilettos share this signature shape.
Stilettos have always been a symbol of femininity and sophistication, and it looks beautiful enough for users to sacrifice their comfort. They make your legs longer and your figure more slender.
Nowadays, they are available in modified shapes and sizes, but they will still be considered stilettos if the measurements fit the criteria.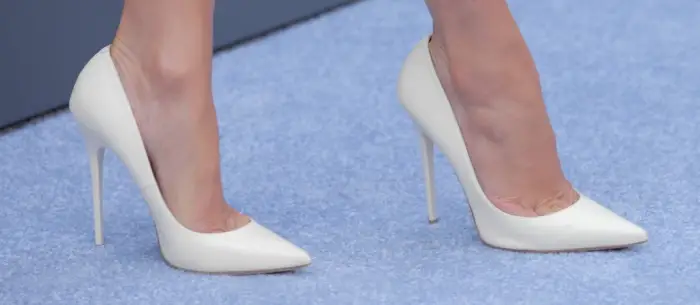 Pumps vs Stillettos: 5 Main Differences
These two terms are often used with no distinction when someone talks about heels. However, it's important to know they are completely different from each other.
The difference that everyone can spot between pumps vs stilettos is the height of the heel. For stilettos, this height is usually above 5 inches, with the highest heels going over 12 inches! Meanwhile, pump heels are low and even flat.
| | | |
| --- | --- | --- |
| | Pumps | Stilettos |
| Heel height | Lower, can be flat | Higher |
| Heel shape | Chunky, short | Slender, thin |
| Shoe body | Less embellished | Narrower on the tip |
| Comfort | More comfortable | More pressure on feet |
| Style | More formal | More glamorous |
| Price | Less expensive | More expensive |
Pumps vs Stilettos Materials
Pumps are quite good for dancing as well and when used as dance shoes, satin is the most suitable material. Otherwise, leather is more popular – cut as a whole and lined with cloth.
Stiletto heels are made with various materials too, but leather is also the top choice that suits the sleek and glamorous look perfectly.
Due to being made of fine materials, both pumps and stilettos should have similar price ranges. The cost of stilettos, however, is remarkably raised for their embellishments.
Pumps vs Stilettos Appearance
Other than the height, the shape and the size of the heels will also tell you a lot about the difference between pumps and stilettos.
Stiletto heels resemble a dagger, slighter bigger on top, and narrower on the tip. The overall impression of them is slender and thin, of course with an impressive height too.
Pump heels, however, look chunky and short compared to stiletto heels. It promises comfort and easiness with each step you take.
Even in the body of the shoe, pumps are far less embellished than stilettos, which contributes to the reason why pumps suit formal attires more.
Pumps vs Stilettos Comfort
Most people would say pumps provide more comfort than stilettos because the bigger and shorter heels don't give your feet too much pressure.
No matter how often you wear stilettos, you are bound to feel discomfort and pain if you keep them on for too long.
Pumps vs Stilettos Style
Pumps are evidently more convenient than stilettos with low heels, and they also bring a formal vibe to your attire. You would feel confident wearing pumps for a suit & tie look.
On festive occasions, stilettos will seem more appropriate. It can give you that glamorous vibe instead of casual. In a sense, it is more versatile than pumps.
Pros & Cons Of Pumps
Pros:
No one can deny how easy and comfortable it is to walk with pumps. Even a beginner can get accustomed quickly.
Low heels mean a lower risk of muscular pain.
Great coverage is more favorable during winter.
Cons:
Not glamorous enough for attires such as long, flowy dresses or embellished skirts.
Although their heels are not too high, pumps can still cause muscular and skeletal problems if overused.
Pros & Cons Of Stilettos

Pros:
Very elegant and feminine, both genders have a hard time resisting stilettos.
Stilettos add generous height to your height and enhance your overall figure. If you put on something with short hems, you will see this effect more clearly.
They are the perfect fit for wedding ceremonies, parties, or similar festive events with a not-too-casual vibe. With that being said, stilettos might be more flexible than pumps in terms of applications.
Cons:
The high and thin heels are not something suitable for someone unfamiliar with high heels. Aside from getting the right size, you might need some practice.
Even if you are a professional with stilettos, the stress they cause to your legs is still there.
In most cases, stilettos will look too extravagant for an office, even more so if they are intricately designed.
What To Wear With Pumps?
Pumps are most compatible with work attires, but their minimalistic design might allow them to do more!
Black pumps and business suits are such a classic combo. For hot days, a blouse would do the trick as well. Besides black and white, neutral colors like nude and cream are amazing choices too.
Intricate, maxi dresses might not be the best partner for pumps, but a chic dress with clean and nice cuts can change the game. For a night event, you can stick to a black set with glittery jewelry.
Furthermore, colorful pumps exist for a reason, and red pumps are one of the sexiest heels ever. Red – black, brown – beige, or even blue – yellow is some non-picky combinations that everyone can try!
Fashion continuously develops, and we have reached a point where we can wear pumps with skinny jeans or straight-leg jeans. A jacket will make your clothes more elegant than funky and fits pumps with pointed toes. On the other hand, round-toe pumps are more suitable for cardigans.
What To Wear With Stilettos?
Stiletto heels can combine with many other types of footwear such as strappy sandals, ankle boots, and high heels, and the shoe body can partially determine the vibe it gives off.
Denim skirts or shorts and funky T-shirts easily come to mind when we are styling a comfortable set. With the additional glamour from stilettos, you are ready for a walk to the café or a shopping trip with friends.
Colors are absolutely not a crucial requirement here, you can have your shoes matching your shirt or the patterns and prints.
They are glamorous for sure, but it doesn't mean they are not appropriate for classic looks. Both brides and wedding guests can't go wrong when they pick a pair of stilettos with metallic finishes for their sheer dresses.
For a more formal look, you can pick neutral colors like black and burgundy.
They are classy but not boring at all. You can adorn a statement look with bold colors and embellishments. Don't be shy with your accessories and makeup.
Glitters and sparkles are other ways to enhance your outfit if you are not into bright colors.
FAQs
1. What is the difference between pumps and high heels?
Back in the day, both men and women wear low-heeled pump shoes, which makes the first distinction. Meanwhile, high heels were made for women.
Whether they have heels or not, pumps emphasize comfort, unlike high heels which focus more on an ornate look. The muscular problems caused by high heels would be more evident.
2. What's the difference between stilettos and high heels?
Even though it's "high" heels, the height is far from as high as stiletto shoes, only around 3 inches with an average thickness. High heels lift your feet significantly without making you stand on your toes the whole time.
By definition, high heels range from 3 to 7 inches, hence they are remarkably taller than low-heeled shoes such as pumps and kitten heels.
3. Which heel height should you wear?
In most cases, you should pick something that makes you comfortable. The healthy limit for high heels is 3 inches at most, which is likely to suffice if you only want to appear taller.
Nonetheless, sometimes you will need to reach a certain height, especially with dresses that are too long for your form. The heel height of your shoes should be enough to make up for the excess, but you shouldn't wear shoes that give you pain and discomfort.
4. Are pump shoes good high heels for beginners?
Yes, beginners will have little difficulty with pumps. First of all, they are slip-on type, with no need for strapping or buckling. Besides, they are quite easy to style, whether you need a casual or formal set of clothes.
And last but not least, their height is not a challenge. As a newbie to heels, you wouldn't want to take the risk with stilettos.
Final Words
You have known quite a lot about Pumps vs Stilettos difference, does it change your view on these gorgeous shoes or heels in general?
Pumps are low heels or no heels, while stilettos are fair or very high heels. If you want more support and comfort, pumps are your best bet; but stilettos win when it comes to classiness.