What kind of shoes to wear with skinny jeans? If you love skinny jeans, you would know so many styles and designs for them are still coming to us every month, every year. People pair these jeans up with all types of shoes, but some of them have fallen out of trend, and our mission is to find the au courant footwear.
Best Shoes To Wear With Skinny Jeans
Skinny jeans have always been a hot catch in the fashion industry, and they are unlikely to lose their popularity anytime soon. Pulling off numerous looks with skinny jeans is much easier of a task compared to mom jeans or baggy jeans because their form commends the length and the slimness of the legs.
Summer Shoes To Wear With Skinny Jeans
Skinny jeans can stay in your wardrobe all year long but, unfortunately, only a few styles of shoes are good for aesthetics and summer weather at the same time.
Ballet flats

Flat shoes are fairly beautiful if paired with skinny jeans, yet ballet flats are on another level. The pointed toe gives you an elegant touch aside from utmost comfort. Whether you go on a walk or run errands, you will feel like you are stepping on a soft mat.
Our experience says dark-colored skinny jeans that fall right over your ankles are better than shorter or longer hems. There are only two details that can make this exquisite set less than perfect: scrunchy fabrics and round-toe styles.
Lace-up flat sandals


Not all types of sandals can match skinny jeans, yet you can rely on these flat sandals with laces!
They have a texture that gives your outfit a bit more attitude. Try black skinny jeans and tops with white sandals for a lovely contrast, although they can pull off a smart casual costume too.
Loafers


These interesting, slightly boyish shoes became a hit and the heat is not cooling down anytime soon. Because loafers embrace the entirety of your feet and expose the ankles, it's better if your skinny jeans are slightly cropped.
What are the best loafers for skinnies though? You will see many recommendations for the trendy pointed-toe, but chunky and lug-sole are not far behind. Loafers can be so beautiful regardless of the materials.
The most noticeable downside of flat loafers is the pointed toe style favors small or medium feet size. It can enlarge an already big foot and cause an unpleasant disproportion against the tight jeans.
Sneakers & Athletic shoes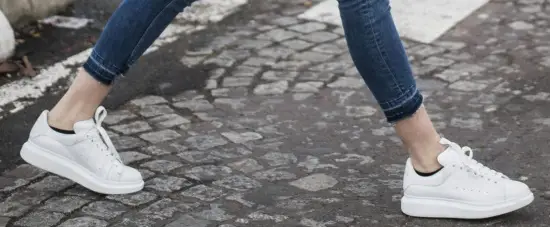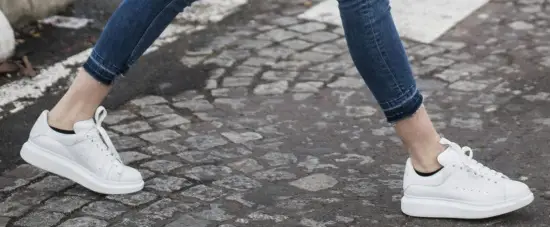 When it comes to athletic shoes and sneakers, more is less. Nevertheless, as a fashion enthusiast, you should follow a few rules to make the most out of your footwear.
Firstly, the soles should not be too bold in color or too thick.
Secondly, slip-on shoes will be more comfortable and effortless than laces and eyelets.
The hems of your jeans should end an inch above the ankles for the best optical effect. If you have a petite form, you can cuff or roll them up some more. For an energetic look, try tennis shoes with skinny jeans and a comfortable shirt.
Pumps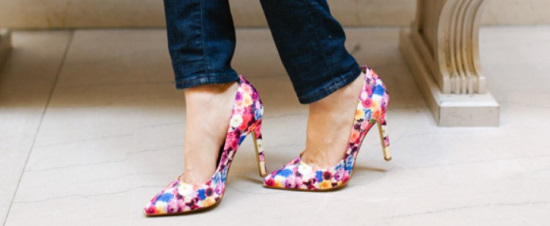 Pumps with pointed toes and skinny jeans are a classic combo for a streamlined silhouette because the narrow toes and the slender heels mingle with your legs without trying too hard! Whether you choose to keep your jeans the way they are or cuff the hems, you will look like a boss.
Remember to always pick minimal platforms and nude colors if you want to be free from concerns. Of course, you can play with the trendy colors and wear a bold pair of pumps.
Pointed toe Oxford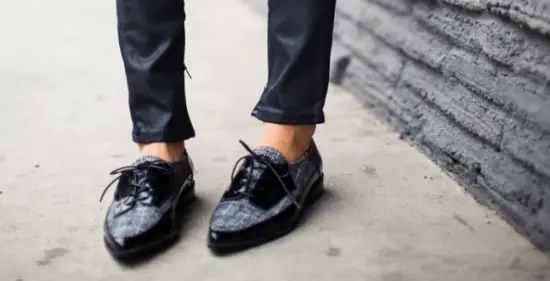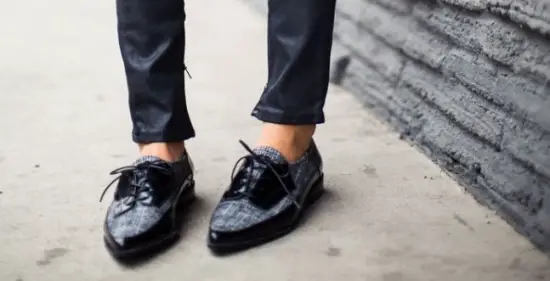 When you put classic Oxfords next to skinny jeans, you will be blown away by the modern vibes exuding from it, especially the designs with rubber outsoles or metallic finishes. It's difficult to stop looking at them!
Same as pumps, these Oxford shoes are not for the big feet because the pointed toe will be the bane of your figure. An alternative is the almond shape.
Wedges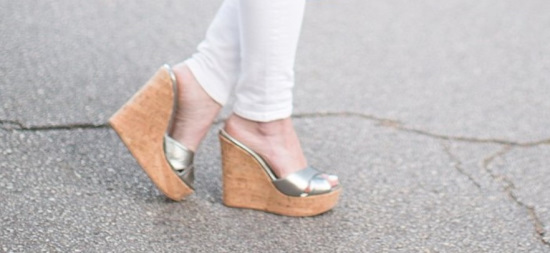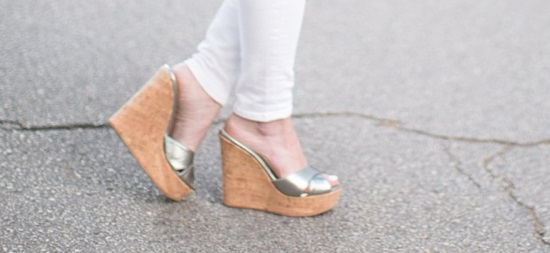 They are a bit tricky to pair with skinny jeans, but they look incredible when you do it right. For wedges, you would want to keep the platform from average to low. Since the platform is often chunky, a heel with inward curving is much preferable.
If your feet are bigger than the average size, keep wedges away from your skinny jeans!
Strappy High Heel Sandals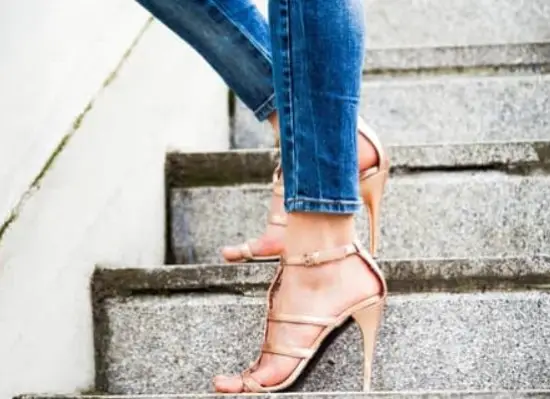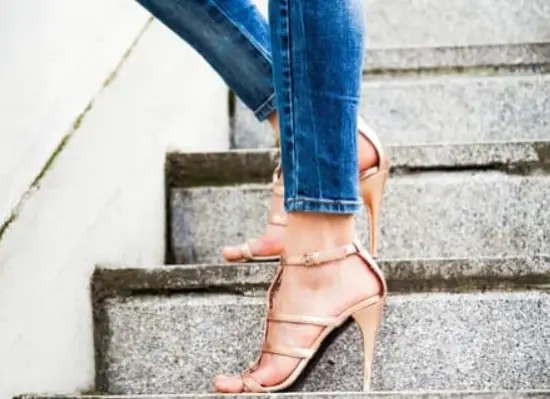 Despite the minimal details, these high-heel sandals can be an explosion! The dainty straps and the proud heels allow us to play the color block game. Lately, chunky heels have made quite an impact in the fashion world.
Since the strap is an important feature of the shoes, make sure your jeans are cropped or cuffed high enough to expose the ankles.
Clear shoes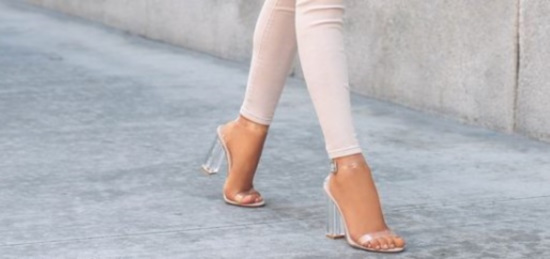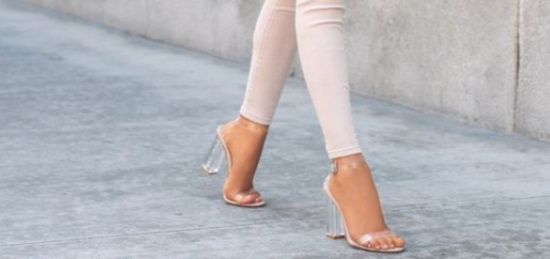 Not as bold as high heels but still magical, clear heels can be the perfect addition to your skinny jeans look. Whether the jeans are long or cropped, dark or light colors, they will match well with clear heels.
Furthermore, what makes clear heels so likable is the way it increases your height without making your feet look chunky.
Minimal Slides


When you have black, metallic, or white kitten-heeled slides, you are already ready for a chill lunch or an evening date. Depending on the occasion, you can mix your fitting jeans with a chic blouse or a sporty tee.
Meanwhile, flat slides are the MVP when you are looking for comfort. They blend well with skinny jeans and oversized T-shirts.
Check more: Best Shoes with Straight Leg Jeans
Winter Shoes To Wear With Skinny Jeans
Hugging the legs and keeping warmth fairly well, skinny jeans are always one of the choices for winter outfits, when you want to stay true to the weather and still show your great taste off. Undoubtedly, boots are the best shoes to wear with skinny jeans in winter.
Ankle Boots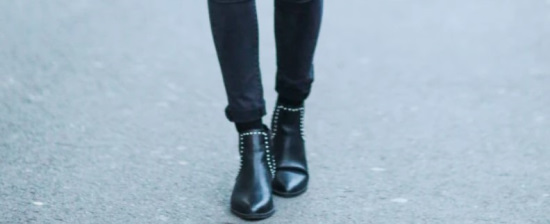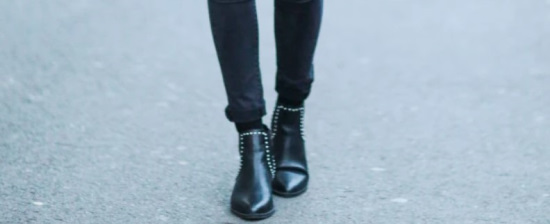 You can keep your outfit casual or level it up for a flashy vibe with the right pair of ankle boots. A plain T-shirt is a minimum effort and maximum result, while a cute tank-top and matching accessories will provide a chic look.
Black ankle boots are the safest choice, always. But if you feel like having all eyes on you, go for white boots and a sweater with the traditional blue jeans. The secret here is to ensure the hem of your jeans and the top of the boot are close enough for that dreamy streamlined silhouette.
Knee-high Boots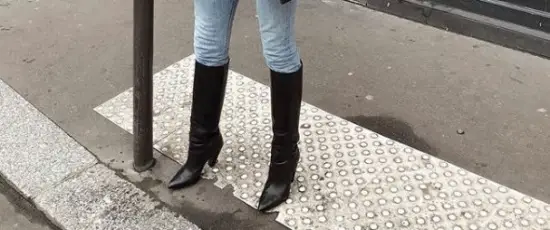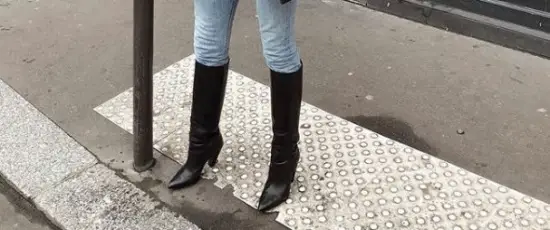 From mid-calf boots to knee-high boots, this kind of footwear is something your skinny jeans couldn't resist if they had a voice of their own! The only requirement they have is the tightest, most fitting jeans you have since we don't want to see fabrics folding and peeking out of our boots.
Dark blue skinny jeans are nonpareil for people who are in need of a few more inches optically added to their height. This shade of jeans also suits black boots effortlessly and effectively makes your legs appear slender.
Thigh-high Boots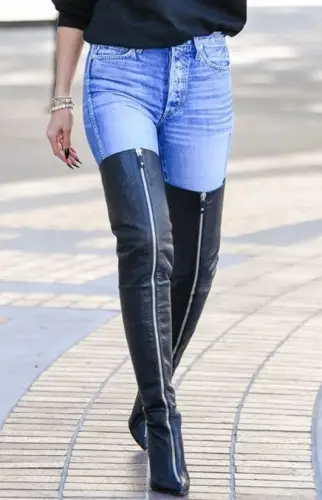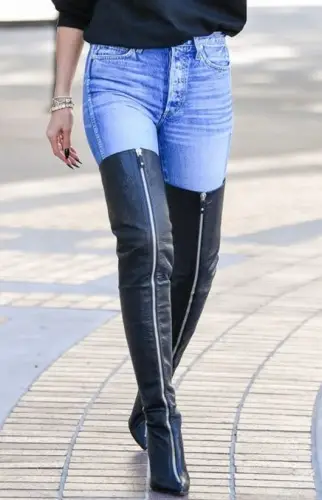 Now, if you are proud of your slim legs, you can take knee boots to a higher level – specifically the middle of your thighs. They are better at keeping you warm during the coldest days as well.
Despite looking fancy, these tall boots don't have a hard time adjusting to various styles. They will look casual and comfortable with a sweater or a turtle-neck of suitable colors, though as soon as you slip in a gorgeous coat, you will look presentable enough for a date.
Combat Boots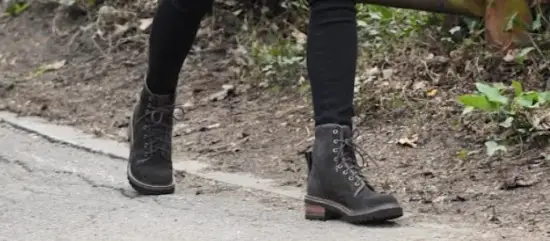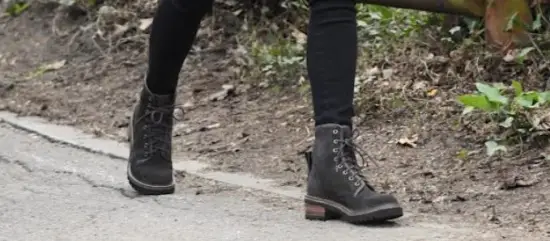 Did these edgy boots with laces and studs captivate your mind? They will stay on top trending for years on end and, fortunately, they look amazing with your skinny jeans. Moreover, if the hems fall over your ankles, you can simply tuck them into the boots and even reveal a bit of the sock for an impressive look.
Black combat boots and leather jackets or blazers are irresistible, though they might come off too strong for a casual occasion. For a hangout, you might want to consider a softer color, such as brown and white. Otherwise, you can play with fluffy sweaters instead.
Cowboy Boots


The cowboy look is such a traditional combination of jeans and boots. You would love the sporty and modern vibe when you tuck a fine pair of skinnies into cowboy boots.
You will look quite chic with a tank top and a simple tee, though if you're after that western flare, you can enhance your outfit with a dainty belt.
What Shoes Not To Wear With Skinny Jeans
Skinny jeans are flattering and not overly picky with shoes, but your footwear choice can still turn the whole outfit into a hit or a miss. Shoes that give you a streamlined silhouette are the most preferred, and shoes that make your feet chunky are absolutely nope. So, what shoes not to wear with skinny jeans?
Flip flops: They are one of the most casual footwear, but they belong to the beach most of the time. The lazy look they have doesn't get along with skinnies.
Platforms: Flat slippers don't work, and neither do platforms. There are a few exceptions that you can check for from the list above, though we don't recommend taking the risk!
Flatforms: These blocks are dangerous for your figure. The bigger they are, the more problem you face.
Pumps with platforms and round toe: They might look good with jeans once upon a time. However, your skinny jeans will hold grudges against you for pairing them with these guys.
Creepers: Funny, cute, and definitely not for skinny jeans, how unfortunate. They look so chunky around your ankles and so off if combined with these tapered legs.
Extra Tips When Choosing Shoes To Pair With Skinny Jeans
In general, we need to avoid any sort of conflicts between the colors and the forms. If you want to get into the details for better fashion awareness, here are some tips you would want to keep in mind.
Height
When it comes to skinny jeans, the height of your shoes is exceptionally important, specifically the balance between the ankle and the heel.
Skinny jeans embrace your legs and taper down to the ankles, hence the shoes should commend this part. A few types of shoes compatible with the task are pumps, flats, knee-high boots, or even thigh-high. However, those platforms should be kept away if you go for high heels.
Occasion
Another important factor to consider is the occasion or the event you are attending. These jeans can be quite casual depending on their colors, thus your choice of shoes will have a massive impact.
If your work environment doesn't have a solemn and serious atmosphere, a casual look with combat boots or sneakers would be appropriate. Moreover, a formal occasion will call for something with a professional vibe such as heels, pumps, or Mary Janes.
Color
The color or the wash of your jeans plays a significant role in determining the most suitable kind of shoes for you.
In most cases, black denim won't disappoint, since you can pair them with pretty much everything and anything. But other blue shades of denim are still a great temptation for everyone, even though they are more selective and only truly fitting for neutral or black footwear.
The Bottom Line
In general, when choosing shoes to wear with skinny jeans, you want to make sure it commends the form of your legs instead of being a chunky bunch on your feet, so stay away from double-soled and gigantic platforms! Now, you're more than ready to shine!