What kind of shoes with straight leg jeans will be a game changer for you? Can you wear these relaxed pants all year long? You will be ready to rock them with the fashion tips below!
The Best Shoes with Straight Leg Jeans
If the top and the bottom of your jeans remain the same width, you've got a pair of straight leg jeans in your assets. They can be fitting, but they are never tapered.
No matter what your body type is, straight leg jeans will look good on you. Furthermore, these pants know no gender boundary either. They make your legs seem remarkably longer and give you such a chill vibe.
Summer shoes to wear with straight leg jeans
Sneakers with straight leg jeans are the most commonly seen combo, but summer is way too joyful for us to stick to one type of footwear only!
Sneakers
Classic white sneakers can never go wrong. When paired with high-waisted straight leg jeans, they look extremely neat and sporty. You can complete the set with a crop top and flaunt the slim waist!
For a chic and comfortable set, high-top sneakers might be a worthy option for you. The shirt can be tight or oversized, tucked into the pants to elongate your legs, and cleverly hidden under a luxurious blazer.
With a sporty set, tennis shoes don't have many rivals. The low top and the usual white color are incredibly sleek as well.
Most of these shoes look crispy and not chunky, which is why they are so compatible with denim.
Flats
Looking relaxed but not sloppy, ballet flats have earned more recognition from people who favor a laid-back look. It's best to keep your attire in a completely loose fit. Plain T-shirts for summer and thin long-sleeved shirts for autumn are the way to go!
Flats are also ready to serve in sandal forms, should you need less casual footwear.
Sandals
Flip-flops belong to the sandal category, though they are remarkably more casual than other sandals you usually see. If you style your shirt in a French tuck, for example, it will be quite flattering for your legs.
Here is a small tip: As sandals focus on comfort, you should always take advantage of them and pick the ones with padded and thick footbeds. The straps should also be adjustable and fitting in case you need to walk a long distance.
On the other hand, you can dress up instead of down with a button-down and a pair of leather sandals. If you want to appear taller, there are various sandals with heels.
Mules
Mules suit many types of jeans, but our straight leg jeans are exceptionally adorable with mules. So yes, pick mules if you want your outfit to be feminine and youthful at the same time.
You can wear them at work or home, on a date, or when running errands, but don't forget that they are not that suitable for intense activities.
Slides
Sporty and sleek slides are always available in your local stores, thus it's a matter of your preference.
Sleek slides usually feature only one strap, so they seem much more convenient and simplistic than strappy sandals with the same level of comfort.
Meanwhile, sporty slides offer comfort-driven details such as cushioned footbeds and spongy soles. They can handle long hours of walking without causing your feet pain.
Flatforms
As the perfect combination of flats, platforms, and sandals, these shoes are amazing at increasing your height without giving your feet any pressure.
You can match it up with any color of straight leg jeans without concerns! However, white or washed jeans are often more elegant if you pair them with neutral-colored shoes.
Clogs
They have been around ever since the 70s and recently made a comeback. All colors and patterns will only make your clogs more impressive.
As clogs lean more to the funky side, your jeans can have frayed hems or funny prints. There is no rule in this combination!
Wedges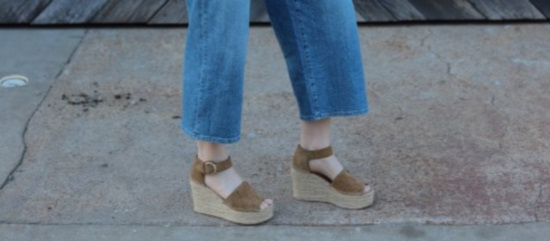 The chunky heel shape is surprisingly suitable for the relaxed hems of our jeans. Its funny but feminine appearance is an encouragement for us to go wild with the colors.
If you are having a beach trip, you can rely on the wedges for both comfort and beauty.
Heels
What's better than heels when it comes to adding elegance and height to your petite figure? It works even in cool autumn, you will be all ready to go out with a trenchcoat.
The height of the heels depends greatly on your style and the event you are participating in. Casual outfits and occasions call for lower and chunkier heels, while high and thin heels will be better for a glamorous look.
Pumps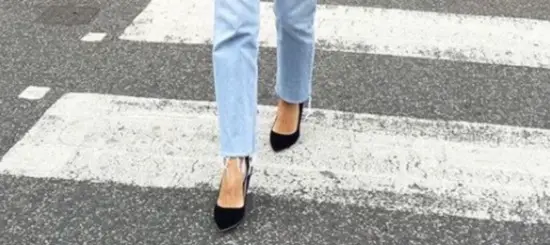 Also known as court shoes, pumps have a very elegant appearance by nature. Therefore, you can pair this footwear with cropped straight leg jeans and loose button-ups for your office outfit. It is a sure win for comfort!
Nowadays, pumps come with new designs that are meant to stand out rather than blend in. You can try a sleek pair of suede pumps with a matching jacket for a date night, wherein you might want to be a little bold.
Loafers
Straight leg jeans and loafers are the ultimate pair for a relaxed look, for they both look so casual (and still fashionable!). The way loafers expose our ankles is very sophisticated and dress, hence they can go with a blouse for semi-casual occasions.
Oxfords
Oxford shoes should always come to our mind when we are heading to classes or going to work. They look extremely sophisticated and smart. However, putting them next to straight leg jeans can change their vibes entirely.
You have black Oxfords for the classic elegant looks or metallic shades for something more eye-catching. Doc Martens also came up with thick outsoles that appear super chic and youthful.
Espadrilles

Look at the strappy espadrilles, aren't they utterly beautiful? The good news is they are very compatible with a lot of summer outfits, especially the dressy looks with designed blouses and accessories.
If you plan to wear these espadrilles for a more active occasion, the platform version will feel significantly comfier.
Winter shoes to wear with straight leg jeans
You will find a lot of combinations between straight leg jeans and boots when it turns cold, for boots are gorgeous in many ways and also amazing at preserving warmth.
Ankle boots
There should always be a connection between your top and your footwear if you choose ankle boots, preferably the same colors or the same prints. You're also very encouraged to wear your accessories and bold makeup looks.
The difference between materials – leather boots vs denim pants – is also a nice contrast that allows us to be creative.
Chelsea boots
Don't forget to give Chelsea boots a chance if you're thinking of what shoes to wear with straight leg jeans in winter. Something about the fit tops of these boots suits the loose hems of our jeans so well and commends your silhouette.
We recommend tucking your shirt to elongate your legs, so you won't look shorter than you actually are even with a long coat on top.
Combat boots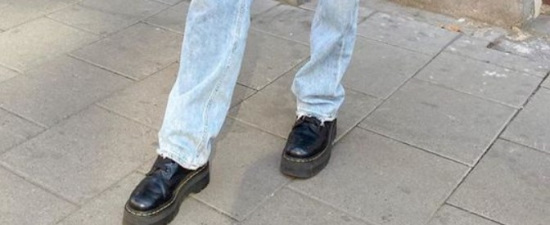 They certainly look rugged (in a good way), but there's no denial in terms of warmth and comfort. You need to pay attention to the top of the boots and make sure they don't clash with the hem of your jeans.
Black boots with a grey outfit in different shades offer you coverage and aesthetics at the same time.
Sock boots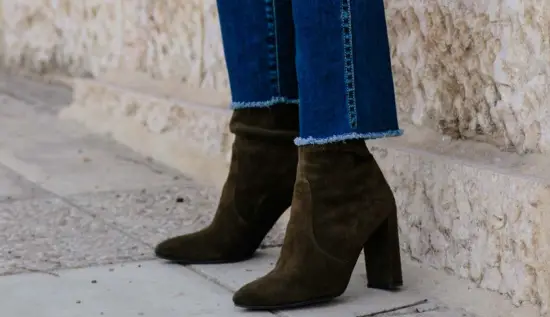 The name says it all. You will be wearing and walking in your socks. From the pleasant materials to the sleek design, your feet will feel like they are on clouds while people see your shoes as elegant.
If not velvety black, sock boots with metallic shines will be an interesting choice for your cozy winter outfit.
Western ankle boots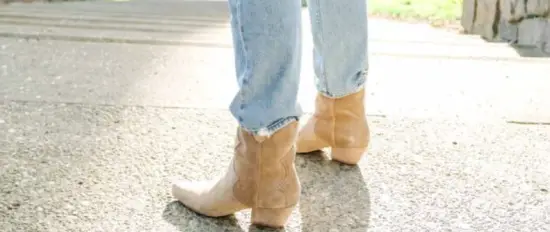 Straight leg jeans have very few competitors when it comes down to Western boots. They are always sought-after and chic, especially if you are aiming for a slightly tomboyish and energetic look with your bomber jacket or trend coat.
These boots often come with a pattern that you should never hesitate to flaunt. Your outfit might be so much more unique with those little surprises.
Check more: What Shoes To Wear With Bootcut Jeans?
Tips For Choosing Shoes With Straight Leg Jeans
The list of shoe types for straight leg jeans is still a rough draft. It can get you confused with how many choices you have. To have a better picture of your dream shoes, you can refer to a few tips:
Prioritize your style when choosing your shoes. Do you want to appear casual or formal?
For affordability, there are many sneakers and sandals available at an average price. They usually serve the purpose of comfort and convenience, hence you can use them daily without worrying about wearing them out.
For glamor, don't hesitate to invest in a high-quality pair of heels. From pumps to stilettos and everything in between, you can indulge in something you prefer.
What Shoes To Avoid With Straight Leg Jeans
We have got a wide range of best shoes with straight leg jeans, from sneakers to high heels. These jeans are undeniably versatile, but there are certain things you should be aware of.
Straight leg jeans aren't meant to be tucked in knee-high boots because they will look sloppy and clunky. Of course, thigh-high boots are also out of the list.
Even ankle boots should fit snugly around your ankles and stay under or around the hems. It assures a streamlined silhouette and a neat look for you.
Chunky footwear wouldn't be compatible with the comfortable and loose fit of these pants.
Don't follow the norms like sneakers for the day and heels for the night! You're encouraged to play with your outfits and be creative with them.
Final Words
They are the best shoes for straight leg jeans right now. There are few limits when you style these jeans, hence you can stay in your favorite styles and still have some creativity sprinkled in.