Finding the best shoes to wear with a white dress always seems like a challenge because white is kind of an intimidating color to play with, even though you don't have to worry too much about keeping white clothes clean anymore. But fret not, for we will be sharing everything we know with you!
Best Color Shoes to Wear with White Dress
First of all, be informed that white dresses have different shades, and each of them will require a respective approach. The shades of white can also set the mood and the vibe for your outfit: bold, casual, or glamorous.
Furthermore, this color can represent so many occasions: work, party, graduation ceremony, date, and of course, marriage. Therefore, the right shoes will complete your look and take you to places.
Aside from the shoe colors, knowing the event you are attending is important too. Sometimes, you might have a keen eye for aesthetics, though your outfit will still be off if it is not suitable for the occasion.
White Shoes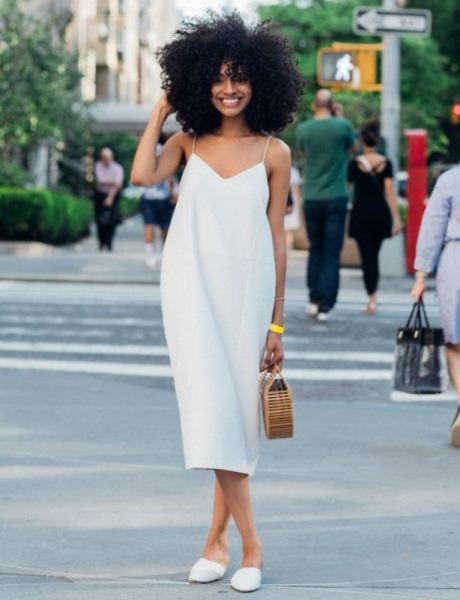 All-white attire is never outdated (and the same goes for other colors too). Nonetheless, while you can play mix-and-match without any strict rules here, it is essential to make sure your dress and your shoes share the same tone, for the difference is very noticeable.
Regardless of the design, a pair of white shoes will unavoidably give you a very formal look. Solemn events and important ceremonies are the most suitable.
Black Shoes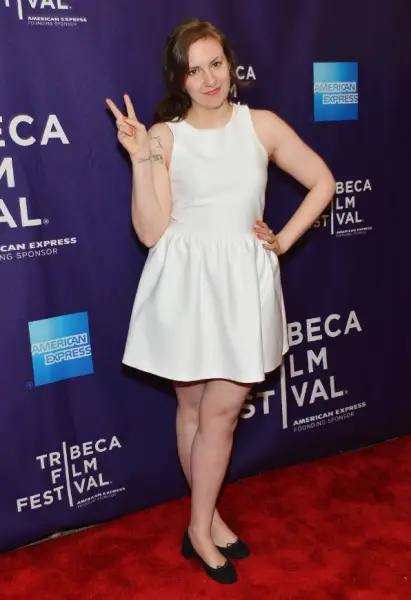 Don't be afraid of playing with the contrast between black and white! In fact, black shoes are safe choices when you adorn a white dress. The best shades in this case would be eggshell, cream, and even off-white.
Expert tip: Your clutch or purse should also be black, and feel free to play with accessories!
Nude Shoes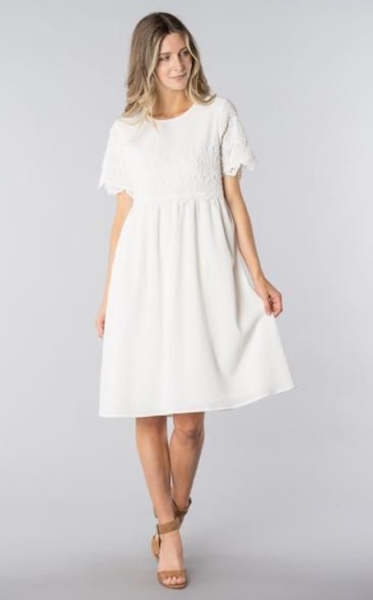 Less bold than black shoes but equally pleasant to look at, nude shoes add a sprinkle of femininity to your outfit. If you want an option without too much risk, nude shoes that suit your skin tone are the answer.
Nude color easily combines with cream or ivory dresses, even if these dresses have floral patterns or eye-catching details. You will most likely this combo in bridal sets or summer outfits.
Cream Shoes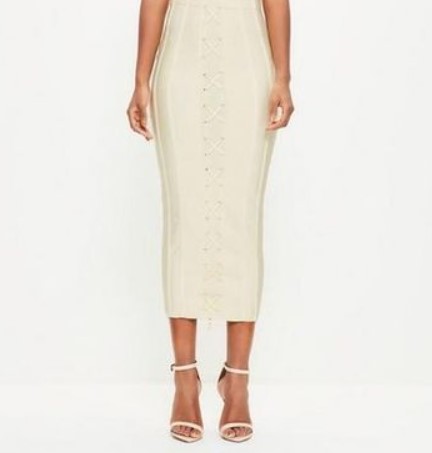 A gentle cousin of nude shades but cream shoes might be a little picky when it comes to white dresses. You should definitely be careful when shopping for this neutral shade, for it would be better with a similar hue.
Gold Shoes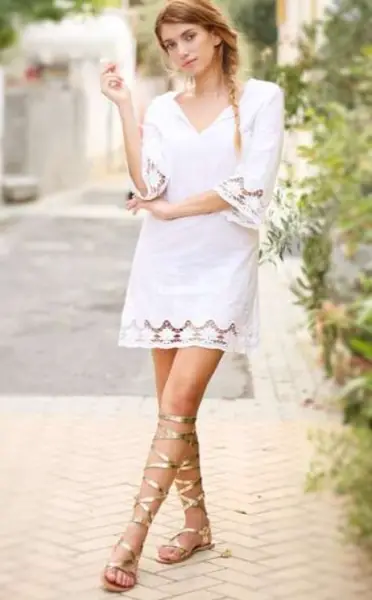 If your dress leans more to the creamy shades with a warm undertone, a tad of metallic glitters will do wonders to your appearance. It carries such grace for a sophisticated combo. A lot of folks will associate them with wedding shoes.
Also, they are amazing for people who crave a statement look but feel less than confident with bright colors.
Silver Barrette Shoes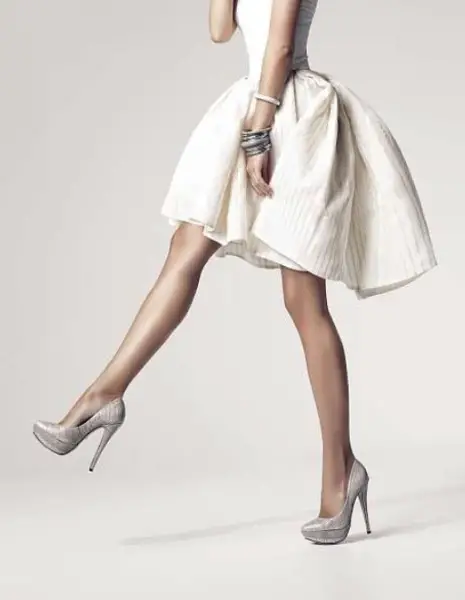 We can't forget about cool undertones, and silver shoes are the savior. They are glittery and dreamy at the same time, enough to impress but not too extreme. A little secret is silver suits brown or raven hair much better than gold.
You can consider this metallic hue as an accessory and mix your silver shoes with a classy leather jacket: they are an interesting addition to wear with a white dress in winter or autumn.
Red Shoes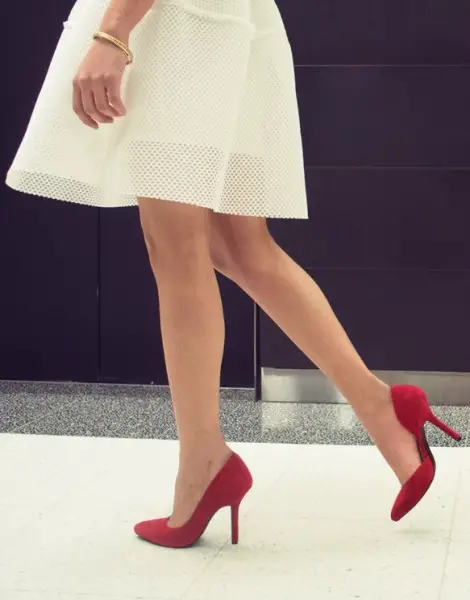 Eye-catching and characteristic, red shoes might be the source of your confidence when you go on a date. All shades of white can go with red, even the challenging off-white.
If the weather calls for a jacket and the radiant red unnerves you, maybe the burgundy cousin will keep you calm.
Pink Shoes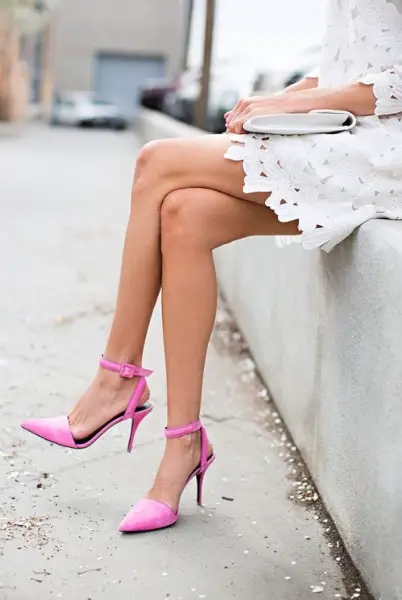 Hot pink shoes with a white dress are a barbie look that is sure to catch everyone's eyes all the time. Feel free to strengthen the contrast by choosing the purest shade of white you have!
However, you would need to be cautious with softer shades of pink shoes. They should have the same hue as your dress, which means the dress should be ivory or creamy. You can enhance the ethereal vibes with feminine prints and volumes.
Animal Print Shoes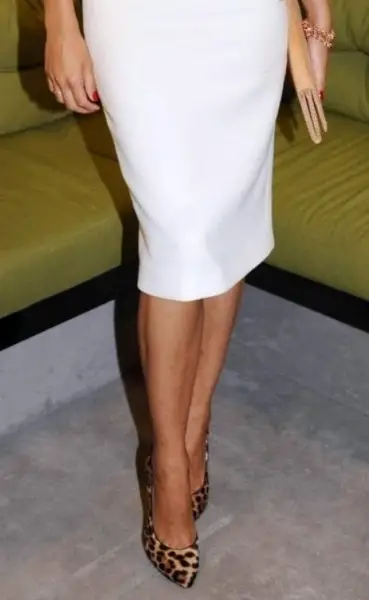 Animal prints are not new in the fashion industry, yet they never fail to amaze if you use them right. Should the white dress is not as outstanding as you want it to be, a unique print can make it more badass.
Brown Shoes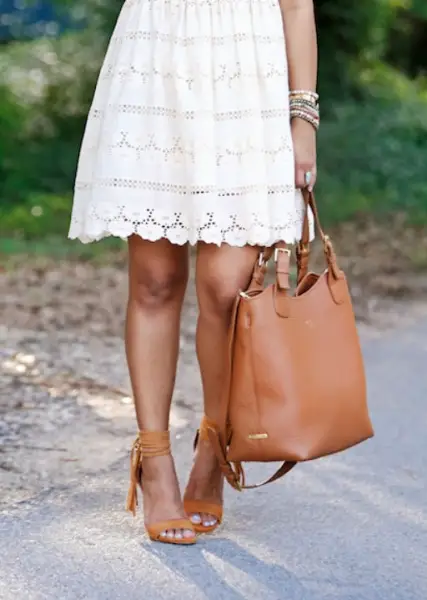 Like nude, brown is very compatible with white because of the gentle effect on the eyes. It also promotes an elegance that fits your office environment as well as your casual stroll.
Don't forget to give your costume some emphasis like a brown leather belt and a matching clutch!
Garnet Shoes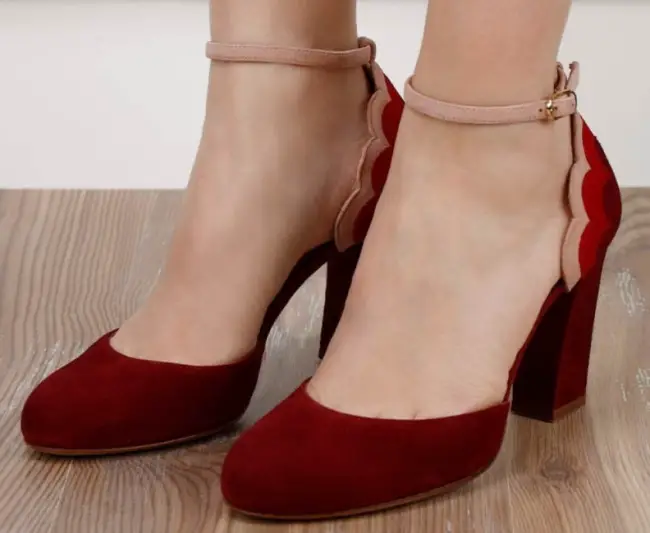 They are the best for a summertime hangout, whether you go for a strong color (flame red or hot pink) or a more tamed shade (purple). Whether you want to create an effect on the vision or mix the garnet hue with your accessories, it will be a win.
Denim Shoes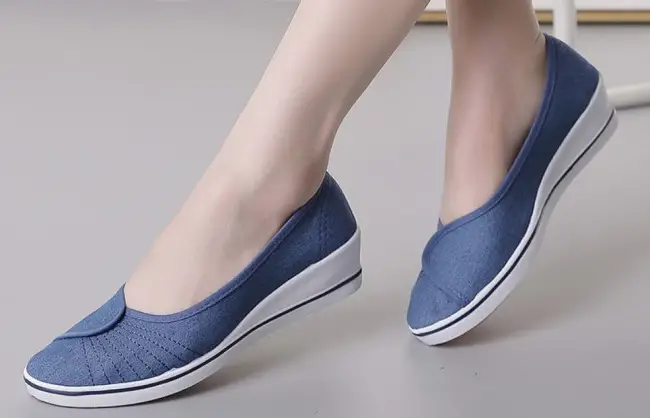 Not your ordinary option, though denim shoes won't disappoint. They can change the feminine look of your white dress into something completely different. Besides, denim and white don't clash, so you can put a denim jacket on for a complete set.
Turquoise Shoes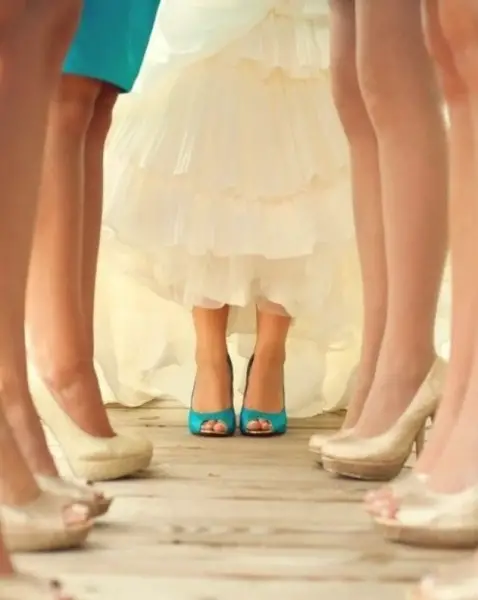 For a sporty-looking dress, turquoise shoes can be a strange but efficient addition. It's one of the colors you should only use if you are not afraid of attention. Turquoise is more suitable with cool undertones as well.
Teal Shoes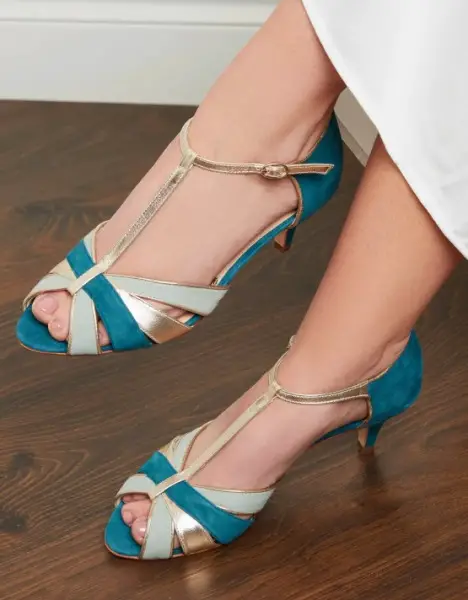 Is turquoise too radiant for you? This teal shade will surely please your eyes because it is subtle without being boring. If your white dress is plain with no detail, a pair of teal shoes might be exactly what you need for enhancement.
Tanned Leather Shoes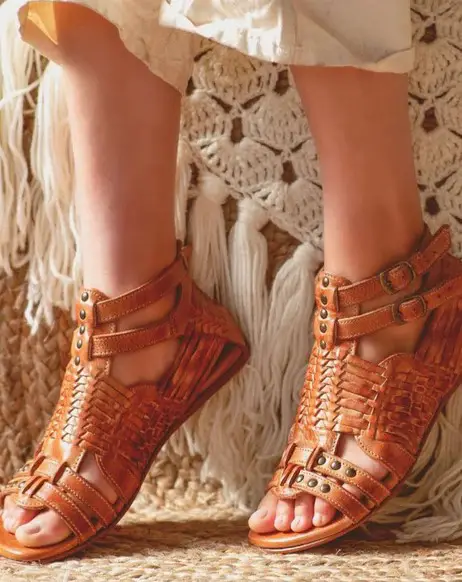 Despite being uncommon, tanned leather shoes are actually the edgy touch you need for a feminine dress. You can easily find accessories to match them.
The leather material also gives you the freedom to try unique shoe designs. Take the combat boots, for example, you will be the center of attention with them on!
Other colors
Green, gray, purple, and navy blue shoes are for cool undertones and boldness. They are not the most popular shoe colors that we see every day, because not all skin tones are compatible with them.
Orange, yellow, and beige shoes are on the other side of the spectrum, and they are the best fit for warm undertones. They are kind of risky to pair with white dresses unless you have the right accessories to match.
Types Of Shoes To Pair With A White Dress
Now that you have known what color shoes to wear with a white dress, it's time to consider the style. Some designs work for summer but look peculiar for winter, and the other way around.
Shoes Go With A White Dress In Summer
Sneakers
Again, sneakers are not risky for your summer outfit. Summer dresses and sneakers are actually a classic duo. It gives you a sporty and unique look when everyone mostly expects a feminine and romantic vibe from you.
Tennie shoes (also known as white sneakers): are undoubtedly compatible with outdoor strolls and sports events, with no limit for the dress. Depending on your style, the designs will vary with the chunky, classic, platform, and high-top models.
Classic sneakers or canvas sneakers: are widely available and affordable. The best match for them is casual and mini dresses.
Statement sneakers: are effective in helping you stand out if you are bold enough for the unlikely: unique patterns, color contrasts, and unseen prints. These shoes make an interesting pair with laid-back and simple dresses.
You won't see leather sneakers, knit sneakers, or GG sneakers all the time, but they are always trendy. Not only are they available in various colors and prints but they are also flexible with the occasions.
Sandals
With or without pretty dresses, sandals remain one of the most popular and desirable items for summer. Here comes a few suggestions for your closet!
Casual sandals: are no-brainers for summer, especially if you are looking for shoes to wear with a white lace dress. Since the sandals emphasize simplicity, you can try being more audacious with the dress.
Strappy sandals: have always been here regardless of how intricate or simple they are, and a sophisticated dress will need them for a final touch. Don't forget about metallic or colorful straps for a statement! They look exceptionally stylish with a matching purse.
Slides: Dainty and pretty, slides are sought-after items for summer. You can say they are the best choice for a casual look, no matter what style and material your dress has.
Espadrilles
These shoes are living proofs that you can adorn closed-toed sandals in summer without concerns. They cope well with long, flowy dresses, whether you are preparing for a formal event or going on a friendly date.
The most ideal espadrilles should share a neutral balance with your entire outfit, for prints and patterns might be tricky to play with.
Flirty flats
They hit the bull's eye every time you seek comfort. If you're above average height, you will look even better with them.
There are many types of flirty flats you can consider, but we will share a small tip about colors: for a statement dress with bold cuts, don't hesitate to give your footwear a vibrant pop because neutral tones seem so much better with a classic design.
Mules
Mules probably have little to no competition when it comes to versatility. They are available in both models: closed-toed and open-toed, thus every season is the season for them.
Your options for clothes are limitless with the mules. Leather mules for medium-length dresses and more patterns for chic mini skirts – you can even have fun with a sparkly anklet!
Shoes Go With A White Dress In Winter
Pumps
They remain as part of the trend perhaps because of how they adjust to the details. Block heels or stilettos with a pointy front will take you everywhere, be it casual or formal.
A pair of black or beige pumps is the necessary touch of elegance for your office attire. If you are willing to play with patterns and colors, a bold leopard design will complete a classy look for you.
Furthermore, pumps are decent for summer if you don't want to wear open-toed shoes!
Loafers
Many people favor loafers for the comfort they bring and the simplicity that keeps them trending. They are appropriate for work especially if you often need to move.
Loafers are very open to creative details. We have thousands of choices for the tassels and the socks peeking out, some might add to your sporty vibe while the others will make you look like a doll!
Oxfords
A tad of masculinity doesn't hurt anyone! It grants you the chance to come up with interesting combinations.
Since they are quite the opposite of ladylike dresses, we can utilize the contrast when styling our outfits. Pair your sleek black oxfords with a structured white dress and vice versa, printed oxfords with your white graduation dress.
Boots
Fashion designers have been letting their creativity run wild with boots. For the shades, you can go for brown or black for a safe choice. Add some texture and accessories if you feel like it, and your winter wardrobe is already one step closer to perfection.
Find a pair of ankle boots and your closet will thank you. You can combine these shoes with short or long dresses and play with bold colors to show off a bit.
If you would like to keep your legs warm while looking as stylish as ever, give knee-high boots a chance. They open up a chance for you to flaunt the gorgeous knit or sweater dresses.
To confidently adorn a statement look, you might also want to take a look at combat boots or tall boots. At first glance, they seem less feminine and somehow too extravagant for dresses, but there are times when we simply need that extra boldness.
Be Your Style!
We have numerous options for shoes to go with a white dress, regardless of the season. The appropriate choice of shoes will help you shape out the style and stay comfortable wherever and whenever. Have you already decided what your next shoes will be like?