The British shoe industry has a rich heritage of traditional production methods and a dedication to premium materials.
If you are about to find a pair of shoes from England, check out the 12 most essential British shoe brands for clues before making decisions.
12 British Shoe Brands That Stand Out Amongst Others
Barker Shoes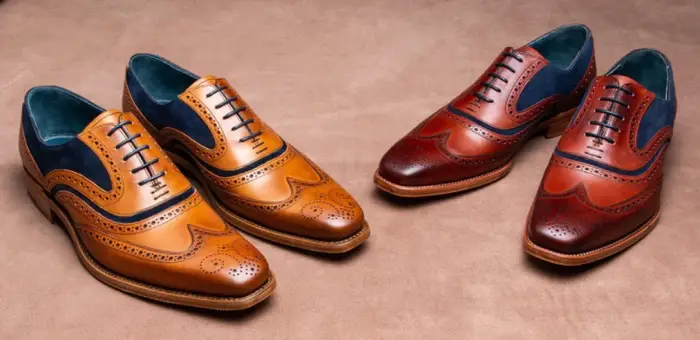 Barker Shoes is indispensable to the British shoe industry. The brand was founded in 1880 in the Northamptonshire village of Earls Barton. Its founder, Arthur Barker, was a skilled boot maker and a natural innovator.
The brand was proudly a boot supplier for the British army during World War I. In 2019, it won E-Commerce Business of the Year.
Having been in the shoe business for 140 years, Barker Shoes knows how to make the perfect shoe. The brand retains traditional leather methods, like slow natural drying and polishing, providing a unique look to the boots.
Hand-sewing is also applied to shoemaking, especially the shoe's uppers and soles. 200,000 pairs of shoes are hand-sewn annually in Great Britain, with no shortcuts.
Another notable highlight of Barker Shoes is that it provides various sole options to its customers. Full-leather sole is the classic option for formal footwear, made using the Goodyear welting method for excellent breathability, comfort, and durability.
This brand also offers rubber sole options to extend your underfoot function, better shock absorption, and water resistance.
Check more: 15 Famous Italian Shoe Brands You'd Love To Try
Barker Black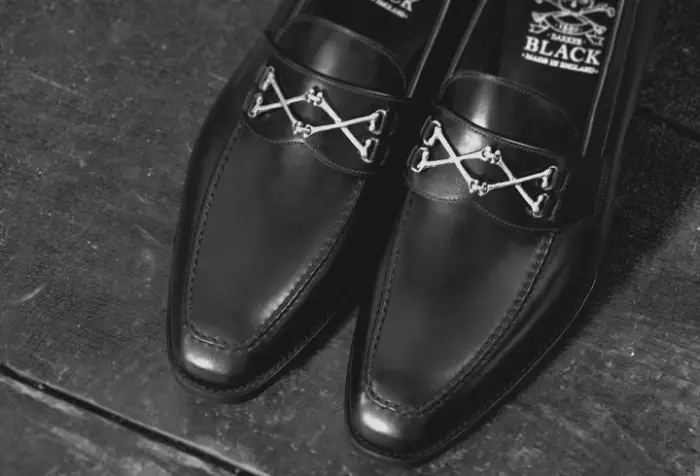 Barker Black is the new benchmark for other British men's shoe brands to follow. The brand was launched in 2005 in the village of Earls Barton by Derrick Miller, aiming to provide handmade luxury footwear for men.
Shortly, the brand gained the public's attention and appeared in fashion magazines for men, like Esquire, Details, and GQ.
Barker Black offers a wide array of modern and classic shoes for work or special occasions, including wingtips, loafers, boots with leather straps, and more. All products follow the brand's motto – always stay glorious.
All Barker Black shoes are handmade in England using the classic Goodyear welt construction.
Nonetheless, they include technique improvements, like toe punching, crossbones logo, or hand-sewn tacks on the shoe's waist. These sophisticated modern touches give the shoes unique characteristics.
Check more: 12 Best Dress Shoe Brands Highly Recommended!
Church's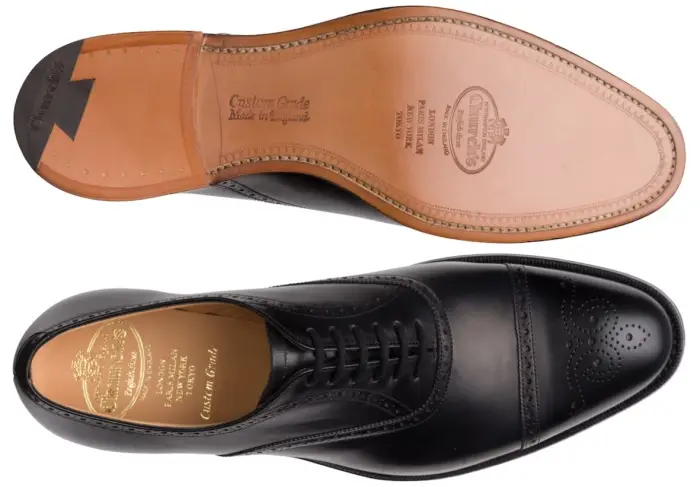 Church & Co Limited (or Church's) is a superstar among luxury British shoe brands. The story of Church's started in 1873 by Thomas Church in Northampton, England, the thriving land of leather tanning and footwear production.
With the rich foundation of the Church family from 1617, Thomas Church developed Church's to become a world-renowned footwear brand with a history of over two decades.
The brand was acquired by the Italian fashion house Prada in 1999.
Since its first days, many famous people have favored Church's shoes, including British Prime Minister Tony Blair, comedy actor Rowan Atkinson, actor Pierce Brosnan, and more.
In recent years, Church's has released shoe collaborations with other brands (Miu Miu) and influencers (Noir Kei Ninomiya) to capture the attention of fashion enthusiasts, especially GenZ.
The classic shoe brand Church's provides footwear options for all occasions for men and women. You can also explore some of its limited collections like the Shanghai, Icons (for women), Off-white C/O (collaborated with Virgil Abloh), etc.
Not only leaving a legacy of luxury shoes, Church also made remarkable contributions to the British shoe industry. He founded the British Boot, Shoe, and Allied Trades Research Association during the two World Wars in 1919.
Clarks

Clarks (C. & J. Clark International Ltd) is indispensable to the global fashion industry. It is also a remarkable name among popular British shoe brands and the 31st largest private company in the country as of 2013.
This international shoe manufacturer is also a subsidiary of Viva Goods (Hong Kong).
The story of Clarks began in 1825 by Cyrus Clark in the village of Street, Somerset, where it is headquartered today. Today, there are 1,400 franchises and stores of Clarks worldwide.
You can also get Clarks' footwear products via its third-party distribution.
Clarks is best known for its Dessert Boot, designed by Nathan Clarks in 1950. Yet, this timeless boot is only one among its massive collection of 22,000 styles for everyone — men, women, and kids.
Clarks has worked effortlessly with many product innovations, from its first foot-shaped shoe to GORE-TEX membrane for waterproofness, Contour Cushion, and ATL for foot comfort.
The brand also partnered with Ortholite, a leading open-cell foam technology, to roll out the Ortholine shoe line for men and women.
Check more: Where Are Clarks Shoes Made?
Crockett & Jones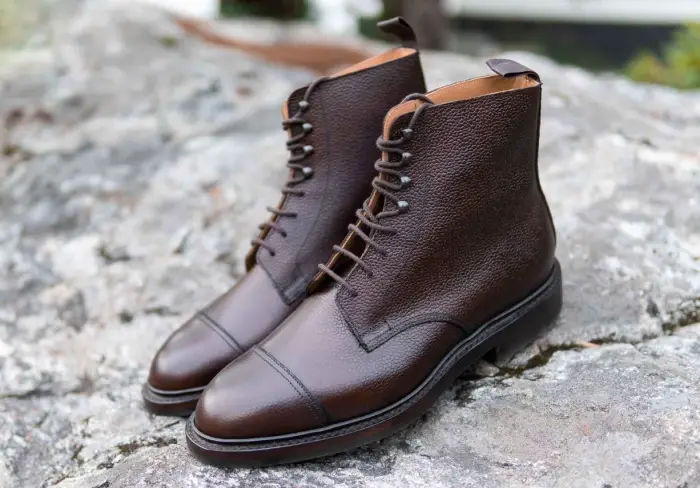 Crockett & Jones is another footwear business based in Northampton, the shoemaking center of England.
Founded in 1879 by Charles Jones and Sir James Crockett, the brand is famous in England and globally for making good quality shoes using the Goodyear welt technique. Until now, the brand is still operated by the founding family.
Leathers set Crockett & Jones apart from other regional leather shoe firms. Crockett & Jones has its leathers sourced from the most reputable tanneries. It primarily uses European calfskin on its shoes as this leather provides high softness and comfort to its customers' skin.
Crockett & Jones is also memorable for contributing to England's history, economic growth, and cinema.
It served as a footwear supplier for the British Army during World War I. The brand also received the Queen's Award for Export Achievement for its shoe exporting efforts to Europe, Japan, and the USA in the 1970s.
In 2022, this shoemaker released two special collections with EON Productions to celebrate the James Bond films – "No Time To Die" and "60th Anniversary of James Bond film".
George Cleverley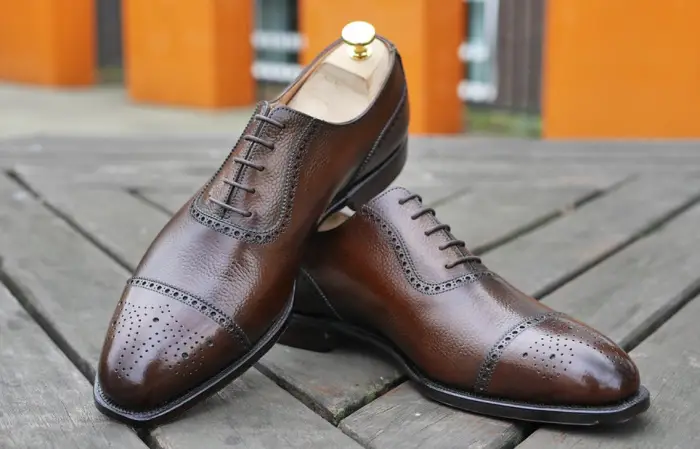 "The King's Man" is a shoe collaboration between the director Mr Matthew Vaughn, Mr. Porter, and the bespoke shoe brand George Cleverley before the film's release.
Aside from the King's Man, this brand is also the shoe designer for Hollywood movie stars, superheroes, and moguls. Jason Statham, Henry Cavill, David Beckham, and Colin Firth, to name a few.
George Cleverley is a ready-made shoe and leather goods manufacturer based in London. This brand was started in 1898 by George Cleverley, a soldier-turned-shoemaker specializing in making bespoke shoes for gentlemen.
As stated on its official website, a Cleverley pair undergoes 5 stages: measuring and making, pattern cutting and clicking, closing, making, and finishing.
Each stage involves the finest craftsmanship of skilled English shoe artisans. Most of the shoemaking procedure is done by hand since no machinery can accomplish much detailed work.
Cleverley expanded its product portfolio along with the bespoke men's footwear heritage. In March 2022, Cleverley released the Jack – its first sneaker made from eco-friendly materials, with initial pre-sales of 250 pairs in six hours.
With the release of this sneaker, Cleverley aims to gain a leading position among the British athletic shoe brands.
Grenson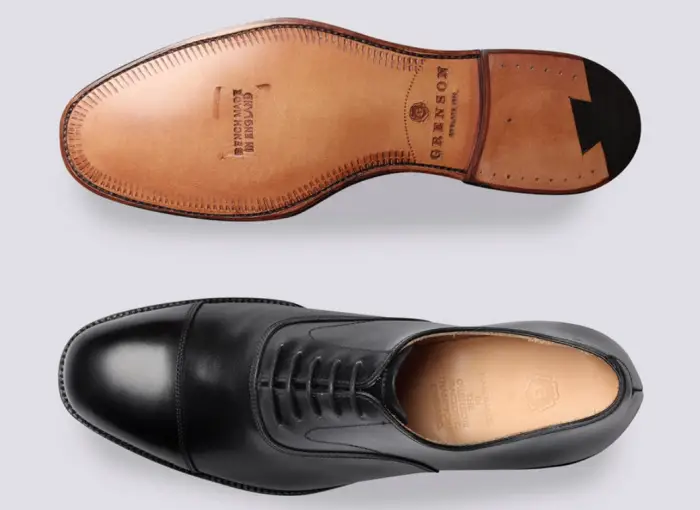 Grenson, previously known as Grenson & Son, is the favorite footwear brand of famous people like Keanu Reeves, Sir Elton John, rapper Labrinth, and Louis Theroux. The brand has its roots in 1966, with William Green as the founder.
While outsourcing its products overseas, the brand still keeps a small number of them in its British factory as a pride to the high-level shoe craftsmanship of this country.
If you prefer "made in the UK" ones, you can check out the G:One and G:Zero collections. The brand also has English-made sneakers crafted of high-quality leather (nubuck, suede, calf) and the soles assembled in Italy.
Aside from ready-made shoe options for men and women, Grenson also has a bespoke service in its Grenson: LAB. This service allows customers to have their boots customized based on their specifications. You can choose the shoe's colors, stitching, soles, eyelets, and laces.
All Greenson shoes, except the moccasins, are made using Goodyear Welted. This shoemaking technique was invented in the mid-1800s, with the key benefit of making its footwear products sturdy and durable.
John Lobb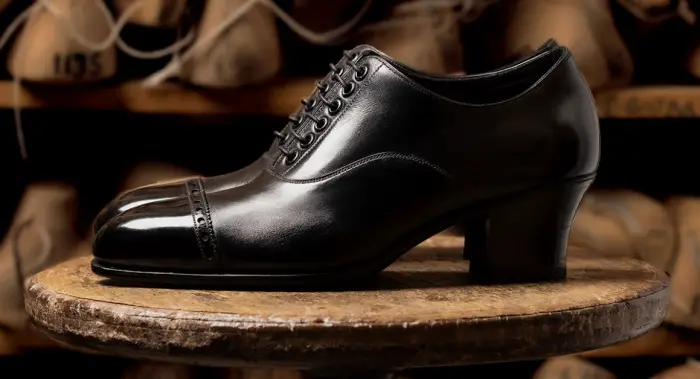 John Lobb is a private limited footwear company that manufactures and distributes luxury boots, shoes, leather goods, and shoe services for men. The brand was founded in London in 1829 and is headquartered in its bespoke workshop at 9 St James's Street, London.
Unlike other British shoe brands, John Lobb has distributed its products innovatively since its inception 150 years ago. It opened its reach to the global footwear market by bringing its first shoes across the coast to Australia, France, America, China, Japan, and more.
In its home country, the brand is proudly the bootmaker to the Prince of Wales.
In its Northampton workshop, every John Lobb shoe undergoes 190 steps with machinery and skilled shoemakers. Aside from the ready-to-wear collections, this brand offers bespoke shoemaking and shoe customization services.
Loake Shoes
Loake is another historic British brand for gentlemen in Northamptonshire. Three members of the Loake family, including Thomas, John, and William Loake, set up their first factory on Wood Street, Kettering, Northamptonshire, in 1880.
The family-owned brand has made 60 million pairs of shoes since then.
Loake provides a wide array of products for men, from formal to casual shoes, and classic to country shoes.
Alongside the traditional Goodyear welting technique, every pair of Loake undergoes a long process, which takes around 8 weeks to finish. 75 shoe components are assembled by 130 skilled craftsmen and 200 operations.
Like other local brands, Loake also served as a footwear supplier for the army during World War I. This brand received the Royal Warrants from the late Queen, King Charles III, and the Duke of Edinburgh for contributing to the country.
Norman Walsh – Famous British sneaker brand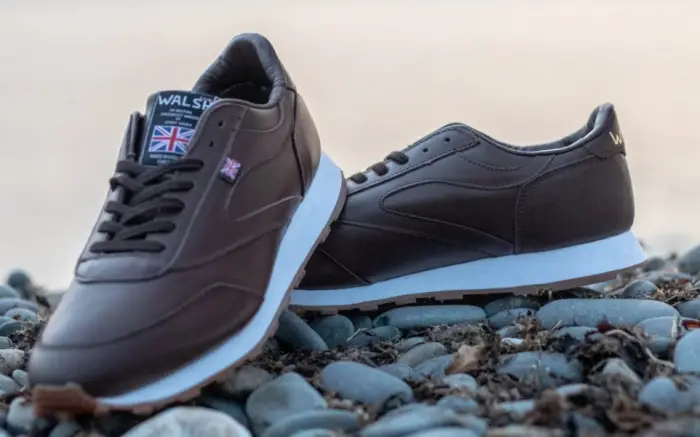 Norman Walsh is a notable name among British running shoe brands. While its business scale is smaller than multinational firms like Nike or Adidas, this local brand proudly distributes its lifestyle and performance sneakers handcrafted in Great Britain.
The brand was established in 1948 by Norman Walsh in Bolton, England. Today, it remains one of the most influential footwear firms in the country.
Customer reviews are the most trustworthy indication of the brand's product quality. For decades, the brand has been favored by professional athletes like Foster De Luxe and Roger Banister. The British Olympic team also used shoes of this brand in 1948.
Norman Walsh specializes in designing and constructing performance footwear for various sports, including football, rugby, track-and-field, boxing, wrestling, and fell-running.
The harsh environment in the North of England has encouraged the brand to manufacture shoes with the highest production values and the latest innovations in the industry.
The Walsh Trainer, an iconic model by this brand, is still handcrafted nowadays in its own factory in Bolton.
Russell And Bromley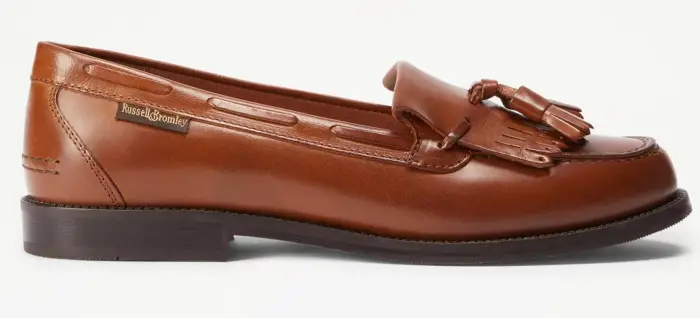 When mentioning the all-time best British women's shoe brands, Russell And Bromley is an option you should explore first. The brand was founded in 1873 in Lewes by the Bromley family and is now headquartered in Bromley, England.
From its first days till now, Russell And Bromley has remained synonymous with contemporary design and expert craftsmanship.
After flourishing in its home country, the brand expanded its reach with its first stores overseas in Dublin in 2022.
You can always be well-dressed when exploring a Russell And Bromley retailer. The brand mainly offers classic silhouettes but still has some modern models for the new generations.
All of these options come with luxury price ranges, unique characteristics, and ultimate comfort.
Tricker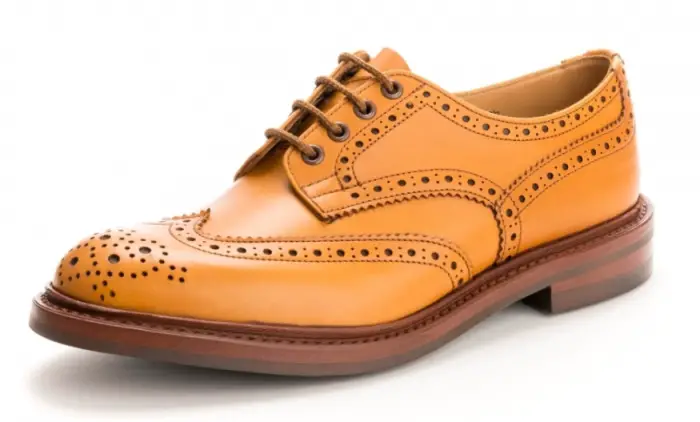 If you want to elevate your daily outfits, why not try some British-made shoes from Tricker?
Tricker was founded in 1829 by Joseph Tricker. From its founding days till now, the brand has been located and headquartered in Northampton – the golden land of British shoemaking tradition.
All Tricker shoes are handmade by the most talented British shoemakers. Shoes from this brand have two leather options – leather or suede.
Leathers is imported from the best resources in England and Europe. The materials are selected, clicked, closed, lasted, made, welted, and finished into the entire shoe in its own factory in Northamptonshire.
Beyond standard tanning, this brand also opened the doors to a new era of leather tanning in its latest collection, Tricker's Olivvia.
Tricker offers two product options – ready-made and bespoke. You can pick one based on your demands and budget.
Final Words
Whether made partly or entirely in Great Britain, these famous British shoe brands have a mutual statement – delivering the best footwear products to their customers.
Their shoes are crafted using traditional shoemaking techniques, the latest innovations, and the industry standards for the British marketplace.
After glancing at these brands, you have gained valuable information to pick up a new pair of shoes for your purposes.