For over two centuries, Clarks has been producing stylish and comfortable footwear. But where are Clarks shoes made? Are Clarks made in the UK like they used to be many years ago?
In this post, we'll look at the production network of Clarks shoes, briefly discussing the history of this quality shoe brand and answering some related questions.
Where Are Clarks Shoes Made?
More than 90% of original Clarks shoes are made in 6 countries in Asia (China, Cambodia, India, Vietnam, Bangladesh, and Mexico).
The rest 10% remaining are from Clarks shoe factories in 4 countries in Europe and Central America (Indonesia, Albania, Portugal, and Romania).
| | |
| --- | --- |
| Country | Production by % |
| China | 26.7% |
| Cambodia | 23.0% |
| India | 17.8% |
| Vietnam | 14.6% |
| Mexico | 6.3% |
| Bangladesh | 4.7% |
| Indonesia | 2.9% |
| Albania | 2.2% |
| Portugal | 1.7% |
| Romania | 0.1% |
China
In 2006, Clarks shifted its production to factories in China after closing its plants in England.
This move allowed the company to utilize modern technology and relatively inexpensive labor and resources in this Asian country.
China produces approximately 27% of all Clarks products (but not this fashion brand's top 3 production areas).
There was a boost in footwear production in China in 2021 after Clarks passed its 51% of shares to Li-Ning and LionRock Investment Fund.
Clarks has partnered with nearly 30 factories in China.
These manufacturing plants are in Zhongshan, Zhejiang, Shaoxing, Guangdong, Fujian, Jiangsu, Putian, Sichuan, Foshan City, and Shenzhen.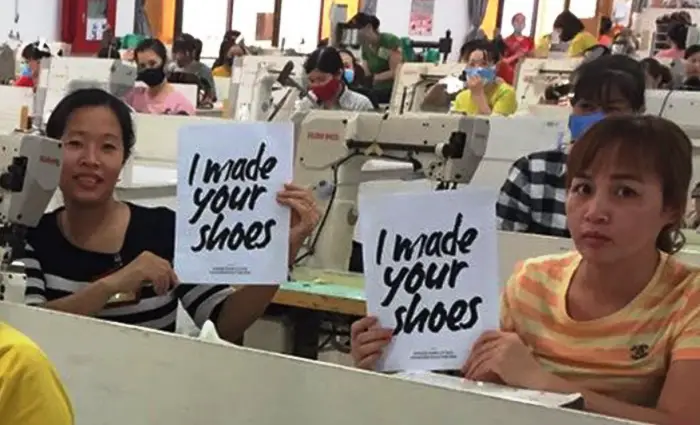 Check more: Clarks Shoe Size Chart For Men, Women & Kids
Cambodia
Cambodia is among the leading manufacturers of Clarks, ranking second only to China.
There are over 5 production plants of Clarks in Cambodia –  Phnom Penh, Kompong Chang Province, and Kampong Speu.
These plants comprise about 23% of Clarks' production and employ approximately 75% of female workers.
The shoes manufactured in Cambodia are exported to many countries around the world.
India
India is a big player in the global footwear market, with a sizable portion of the total production of Clarks.
Around 18% of Clarks shoes are manufactured in India, making it the third largest production house.
The company has partnered with prominent local footwear brands like Tata, Farida, Sara Soule, P. A Footwear, and Good Leather.
These companies have more than 20 factories spread across India producing Clarks products.
Farida and Tata's groups lead the production of Clarks shoes for the Indian market and have set up most of their factories in Tamil Nadu.
Clarks is rapidly scaling up its operations in India by taking advantage of its high population,  proximity to China and other Asian countries, and favorable support from the local government.
The company started introducing more types of shoes, especially working ones, to its larger customer base in this country in 2010. The Indian-made shoes are exported to neighboring countries.
Vietnam
Vietnam ranked as the 4th principal country for footwear production of  Clarks, thanks to its advantageous location and low production cost, especially since the beginning of the US-China Trade War.
Currently, 15% of the Clarks' footwear production is in Vietnam.
These shoes are made in over 15 factories across provinces – Long An, Binh Duong, Tuyen Quang, Vung Tau, etc.
Check more: Where Are Balenciaga Shoes Made?
Mexico
Clarks has established 3 factories in Mexico to produce some of its shoes – Blue Apple PR, Parauno, and Proveeduria.
These facilities are all located in the Guanajuato region and operated by independent suppliers. They account for 6.3% of Clarks' global production output.
The Mexican factories are vital to Clarks' global supply chain, providing superior quality and quantity control.
With these facilities, Clarks can ensure maximum efficiency and cost savings while ensuring its products meet world-class standards.
UK
Clarks was established and headquartered in Street, Somerset, 193 years ago. For decades, Clarks have been producing shoes in their English factories.
However, in 2006, it ended its UK production and moved to the Far East due to increased labor costs and taxes.
In 2018, Clarks opened a new plant next to its headquarters.
The new plant produced up to 300,000 pairs of Desert Boots annually. A few models, including the iconic Desert Boots or premium models, are made in these English factories.
In 2019, Clarks closed the manufacturing facility in Somerset due to its failure to meet its production and cost targets. The high labor costs in England pushed Clarks to produce more shoes overseas.
Clarks Desert Boots are now manufactured in Vietnam, India, and Cambodia. Some rare handmade versions of Desert Boots are only available in Italy with a higher price tag.
Bangladesh
Clarks have succeeded in Bangladesh, thanks to its favorable shoe market.
This country is responsible for 5% of the worldwide production of Clarks, with 2 independent factories in Dhaka and Ghaziabad – Farida and Greenland.
These factories have worked diligently to provide high-quality Clarks shoes for Bangladeshi customers.
Indonesia
Clarks has a strong presence in Indonesia, with 6 factories in Jawa Timur and East Jawa.
These factories account for less than 3% of the company's output, as primarily managed by Brand Collective, Clarks' primary agent.
This English brand is committed to improving working conditions, investing in local communities, and furthering sustainable production.
Others
Clarks has been expanding its production capabilities beyond the countries mentioned above. For instance, Albania (2.2%), Portugal (1.7%), and Romania (0.1%).
Clarks has trusted local manufacturers in these countries to assemble and produce different shoe types, particularly school shoes.
This clever strategy makes Clarks' products highly sought after in these markets. Thus, Clarks can rocket its production capacity and speed by collaborating with local factories.
Who Owns Clarks Shoes?

C&J Clark Limited is the manufacturer and distributor of Clarks.
The Clark family owns the company with a majority stake of 84%. Their related institutions and employees hold the remaining 16%.
As one of the world's largest footwear companies, C&J Clark has 1,400 stores and franchises spread across 21 different countries.
Under the leadership of CEO Jonathan Ram, C&J Clark Limited has achieved a total sales revenue of 1.53 billion Euros.
FAQs
1. Are Clarks Shoes Made In The USA?
No Clarks shoes are made in the USA because the local production costs are high. Only a small part of their shoe production comes from Mexico, a Central American country.
2. Where Are Clarks Wallabees Made?
Clarks Wallabees has a limited edition made in Italy.
There are 4 color choices, and only 356 individually numbered pairs available per color.
Clarks Wallabees also has a standard version made in Vietnam and India.
3. Where Are Clarks Desert Made?
Clarks Desert Boots were first crafted in the United Kingdom. Due to the high labor cost in England, the company moved the production overseas.
Today, Clarks Desert Boots are made in Vietnam, India, and Cambodia.
Clarks Desert Boots are available in 2 models: the mass version is made in Vietnam, and the limited version is crafted in Italy.
The Italian version usually costs around $200, while the Vietnamese variant is around $100. Despite the cost discrepancy, shoppers still get a quality boot with both models.
Those opting for the Italian-made version will get a boot constructed with premium material, including a genuine leather and textured sole.
Furthermore, the footbed is more comfortable than its cheaper counterpart. It also features a slimmer, more stylish silhouette.
The Vietnamese Desert Boots are affordable for those who spend less than $200 on boots or are shopping on a budget.
4. What Is The Difference Between Clarks And Clarks Originals?
Clarks and Clarks Originals are two distinct collections coming from 2 different places. They originate from Somerset, England, and Burma (or Myanmar).
The inspiration for the Clarks Originals comes from the original Clarks range, with iconic styles and modern designs.
The two main differences between these Clarks are their design and the material used for construction.
Clarks Originals showcase bold colors and patterns with unique styles to match. But Clarks shoes have a more subtle look, with classic cuts and contemporary designs.
Material-wise, Clarks are usually crafted from leather or suede, while the Originals versions use fabrics like corduroy or nubuck.
The Original Clarks feature natural crepe soles. Meanwhile, the Clarks have a selection of sole options.
Final Words
With their origin and headquarters in England, Clarks shoes are made in 10 countries in Asia, Europe, and Central America.
They are Vietnam, China, Cambodia, India, Vietnam, Bangladesh, Mexico, Indonesia, Albania, Portugal, and Romania.
Its global production network has greatly benefited Clarks in terms of cost savings.