Do New Balance run big or small?
As a popular sportswear brand in America as well as the whole world, you would think their sizing doesn't have any problem, but is it true?
Can they maintain the same fit across the numerous designs they have made over the years? We are about to find out right away with a full New Balance size chart for men & women!
New Balance Size Chart
NB Shoe Size Chart for Men
| | | | |
| --- | --- | --- | --- |
| UK | EU | US | Length |
| 6.5 | 40 | 7.5 | 25 cm |
| 7 | 40.5 | 8 | 25.5 cm |
| 7.5 | 41.5 | 8.5 | 26 cm |
| 8 | 42 | 9 | 26.5 cm |
| 8.5 | 42.5 | 9.5 | 27 cm |
| 9 | 43 | 10 | 27.5 cm |
| 9.5 | 44 | 10.5 | 28 cm |
| 10 | 44.5 | 11 | 28.5 cm |
| 10.5 | 45 | 11.5 | 29 cm |
| 11 | 45.5 | 12 | 29.5 cm |
| 11.5 | 46.5 | 12.5 | 30 cm |
| 12 | 47 | 13 | 30.5 cm |
| 12.5 | 47.5 | 13.5 | 31 cm |
NB Shoe Size Chart for Women
| | | | |
| --- | --- | --- | --- |
| UK | EU | US | Length |
| 4 | 36.5 | 6 | 23 cm |
| 4.5 | 37 | 6.5 | 23.5 cm |
| 5 | 37.5 | 7 | 24 cm |
| 5.5 | 38 | 7.5 | 24.5 cm |
| 6 | 39 | 8 | 25 cm |
| 6.5 | 40 | 8.5 | 25.5 cm |
| 7 | 40.5 | 9 | 26 cm |
| 7.5 | 41 | 9.5 | 26.5 cm |
| 8 | 41.5 | 10 | 27 cm |
| 8.5 | 42.5 | 10.5 | 27.5 cm |
| 9 | 43 | 11 | 28 cm |
| 9.5 | 43.5 | 11.5 | 28.5 cm |
| 10 | 44 | 12 | 29 cm |
Do New Balance Shoes Run Big or Small?
According to New Balance's official size guide, their shoes are true to size instantly. It means you can enjoy the utmost comfort immediately without breaking the fabrics in.
Apparently, most of New Balance's customers agree with the statement.
If the size is right, you should have enough room to stretch your toes and sufficient fit around your heel, the arch would also be supported and aligned properly.
If you don't know where to start, you can check on a few best-seller models from New Balance first!
Check more: Where Are New Balance Shoes Made?
Fitting Of Some New Balance Models
New Balance 990
New Balance 990 is a name you often see whenever people start talking about this brand.
Rather than casual footwear for running and activities, the 990 design looks very sporty with its firm and strong silhouette. However, fashion lovers still adore it endlessly.
Since it targets sports enthusiasts, the widths are available in a variety and the standard width runs slightly bigger than other New Balance products.
If you have wide feet, 2E would be a good choice!
New Balance 574
Among New Balance products, 574 is considered a legend.
Ever since its release three decades ago, 574 has appeared so frequently that everyone must have seen it at least once.
It fits comfortably due to the ENCAP technology for cushioning, and the standard width offered here is D.
You can indulge yourself in the luxurious support unless your feet need more or less room.
New Balance 550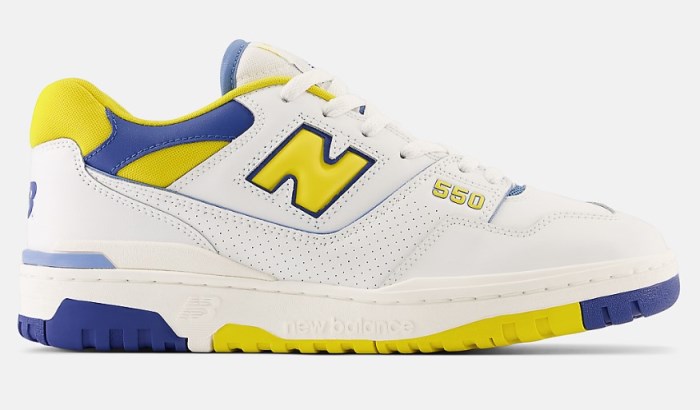 First introduced in 1989, the 550 is only a few years younger than the 990!
It is a unique basketball footwear with a leather upper and a retro vibe. When NB released it, they didn't exactly succeed, though the relaunch in 2020 was a bomb.
550 has a default D width, which suffices for normal feet.
As a sportswear, it fits a bit tighter than the regular product, so you should size up as soon as you feel any discomfort.
See more: New Balance 550 Size Chart
New Balance 1500
Continuing with the 30-year-old design, the 1500 series became one of the most popular products under the brand's name. Its production took part in England with high-quality features.
Most of the 1500 designs have a standard D size, and the NB community confirms how it runs true to size.
If your feet are narrower or wider than normal, it might be another story.
New Balance 2002R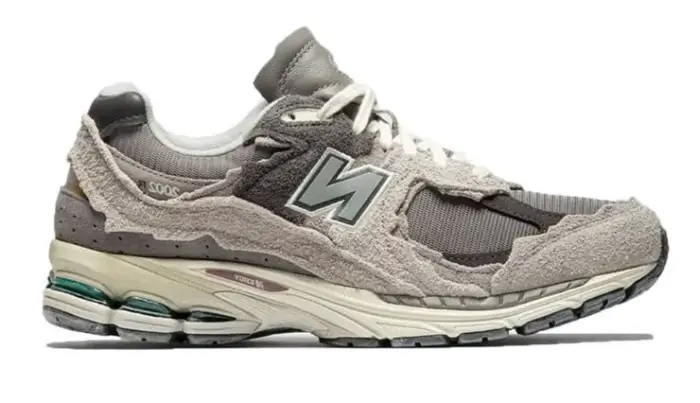 Standing for 2002 Retro, it took the form of the famous running shoes stirring a storm at the beginning of the century.
The upper is a combination of leather, suede, and mesh. Hence, it is simultaneously durable and breathable, matching the cushioned soles perfectly.
2002R runs true to size but only has a D width.
The brand recommends getting your exact size because leather and suede needs will stretch and accommodate your feet.
However, narrow feet might need to go down half a size.
New Balance 9060
These sleek running shoes have always charmed people with elegant gray or blue hues, which are great at making our feet seem more slender. They are versatile regarding outfit styles as well!
If you are a runner, 9060 would fit like a glove. Otherwise, it might feel a little tight because it is supposed to provide firm support as running shoes.
Check more: Do Doc Martens Run Big? Doc Martens Sizing Chart
New Balance Sizing Comparison
New Balance vs. Nike Shoes Fit
Both brands claim to run true to size. If you measure your feet and find the sizes precisely, your shoes should fit perfectly!
New Balance vs. Adidas Shoes Fit
Adidas has various designs that are slightly larger than they should be, which makes them a wider fit than New Balance in general.
It is possible to go down a size if you are switching from Adidas to New Balance, yet we still recommend measuring your feet and using the chart properly!
What Affects The Fit Of New Balance Shoes?
Style
It is no mystery that different designs will embrace our feet differently.
For example, casual shoes for daily errands might have a slightly loose fit and focus on comfort. But running shoes need to be tight and firm for support.
Our advice is never to forget your needs when you are shopping for shoes. Wearing heavy-duty for casual activities would be too much, while casual footwear won't be durable enough for heavy duties!
Material
If you have two shoes of the same size but different materials, the fit won't be the same!
Leather tends to feel tighter at first because it doesn't stretch as much as other fabrics, thus you should be as accurate about the size as possible.
For more flexibility, knit or mesh would be a better option.
Gender
The proportions of feet are not the same for men and women.
If you are a woman buying your size but from the men's category, it is likely to be wider than your actual size.
Socks
Wearing socks with shoes is beneficial in many ways, hence we would like to always consider socks when talking about how a shoe fits.
It is obvious that thin socks take up less space than thick socks.
Thick socks can provide some comfort for your feet but also make you sweat profusely. Meanwhile, thin socks might not be able to prevent blisters if you are engaging in highly energetic activities.
Foot Shape
Our feet are not the same!
Aside from the length and the width, we still have minor details such as the size of our toes, how high our arch is, or whether our feet are properly aligned.
New Balance tries its best to solve all these minor issues and provide the best fit for customers. So, you will always find something suitable if you are careful enough with your choices!
Size Conversion
New Balance has become international, so they have various standards for sizing depending on the countries they are selling in.
When you are conversing from one unit to another, there will always be minor errors in the values, not to mention the possible incorrect calculations.
Therefore, you should be very cautious with your maths!
Check more: 8 Best New Balance Shoes for Plantar Fasciitis
How To Find The Best Fit For New Balance Shoes?
Measure Your Feet
You can easily find the size of your feet with a pencil, a ruler, and pieces of paper large enough to fit your feet in.
Start taking the measurement after you have run a short route or done anything active enough. The heat from exertion will enlarge your feet a bit, and your new shoes need to be able to respond to it.
Wear the thickest socks you have to make sure you will feel comfortable even when you have to put extra layers of materials on.
Stand with your heel against the wall and use the pen to draw your feet on paper. If you have someone doing it for you, it will be easier and more accurate as well.
Mark the widest and longest parts of your feet before measuring them with the ruler.
Repeating the steps for both feet is necessary so you can find out if they are not of the same size. Always pick the larger measurement as the standard!
Use the New Balance size chart to find your suitable sizes and don't forget that different designs fit differently.
What If It Fits Bigger Or Smaller?
If you have done your best but the shoes still feel off, don't panic! We have several solutions, from simple to extreme:
Check the size chart and the label on your product, making sure you have ordered and received what you want.
Listen to your body! Do the shoes not fit the shape of your feet or do they not feel right at all? You need to figure out if the size is wrong or if you simply need another style.
Get the bigger shoes, try New Balance insoles to adjust the fit and give yourself more comfort at the same time.
Give them some time and take a walk inside your place! If they still feel wrong, it's time to consider a return or an exchange.
Don't be shy to contact NB customer service so they can give you advice and instruct you on how to send a request.
Final Words
Now you can rest assured that New Balance doesn't run big or small! They are true to size with most designs.
If you have normal feet and your shoes don't fit as expected, it is most likely the incompatible style and not the size anymore.
Knowing what you need and being accurate with numbers would go a long way!