Without the best shoes for Morton's neuroma, or intermetatarsal neuroma, people who suffer from this condition will encounter so much pain in simple activities.
While getting advice from doctors is the most important, we deem it necessary to introduce you to better choices than tennis shoes and trainer shoes.
Let's dive into the list!
5 Best Shoes for Morton's Neuroma
1. New Balance 990 Sneaker
The 990 line from New Balance comes with mindblowing value. It is an icon among sneakers with a classic combination of leather and mesh.
Many would say it is one of the best women's walking shoes with great shape. It shines whether you are on the runway or running errands.
990 V5 combines foam and ENCAP midsoles to provide your feet with maximum support and fit. They are also attentive enough to pack the rim with polyurethane, a durable synthesized material that leaves no impact on your feet.
Even though you have a wide range of colors to choose from, the rubber outsoles remain brown throughout.
We appreciate this detail, for it allows the user to comfortably join all activities without feeling worried about getting dirty. The rubber is also durable enough to withstand daily chores and keep your steps smooth.
Men highly prefer the V4 because of the original pigskin. This model is not diverse in color options, yet the basic colors assigned to it are enough to satisfy the customers!
Pros:
The fit is very secure
A roomy toe box for alleviation
Intricate details such as sock liners and heels are also well-designed
Cons:
Some people would find the design outdated
It feels tight for wide feet
Check more: 8 Best New Balance Shoes for Plantar Fasciitis
2. Brooks Ghost 14 Neutral Running Shoe
Brooks Ghost 14 is an interesting model because they have some differences between the men's and the women's versions other than sizes.
In the version for women, the brand promoted a special construction for the midsole. They simplified it and thus made the transitions of movement much more effortless.
With the nature of a woman's body, the seamless transition will be very valuable.
Meanwhile, the gentlemen get offered 12mm of differentiation on the outsoles. It boosts the smoothness of the moves and the flex grooves, so the forefoot won't ever be in a bad position.
What they have in common are the BioMoGo and LOFT cushioning technologies. It responds to your movements and embraces your feet with softness at the same time.
If you have been struggling with the fit, the lace closure will do you a favor. Not only it, but the upper structure is also cutting-edge with the 3D print to bring you a shoe that contours and shifts with you.
See more: Brooks Ghost 13 vs 14 Comparison
Pros:
The fit is very secure
Ample cushion
Protection for both the front and the heel of your feet
Cons:
They feel a little heavy if you are not used to chunky shoes
They wear out quickly if not handled with care
3. HOKA Bondi 7 Shoes
HOKA can give you various options with generous cushioning and wide toe boxes being signature traits for their shoes. However, the Bondi 7 still has some advantages over its brothers.
It inherits the puff design, which means it is much less heavy than it looks, while it still provides ample protection to your vulnerable feet.
Most of the shock and impact from your steps will be absorbed and reduced to the minimum. Even the motions of your ankles will be taken care of with their innovative sock liner.
As they look forward to helping customers with foot problems, they catch up with the technologies and use EVA foam for their midsoles.
It molds to the shape of your feet and gives them the cushioning they need, alleviating the pain and making the movements much easier.
A beneficial environment for an ill foot wouldn't be complete without freshness and dryness. HOKA features a mesh upper with many ventilation holes to release all the heat and avoid moisture accumulating.
Check more: Hoka Bondi vs Clifton Comparison
Pros:
Smart and minimalistic design
High-quality materials
Maximum support from the EVA midsole
A wide range of colors for option
Cons:
HOKA has higher prices than many brands in the same category
Their outsoles wear out more quickly
4. Salomon X Ultra 4 MID GTX W Hiking Boots
Salomon is a reputable brand for outdoor sportswear that has been around since 1947. Their products focus on hikers, trail runners, climbers, and more. They aim to serve all customers, regardless of age and gender.
First of all, the Salomon X Ultra 4 MID GTX W Boots are all-terrain hiking boots, which means they are ready for some heavy duties whether you go for a mountainous path or a route soaked with water.
The first impression we have of these shoes is how lightweight they are.
Besides the endurance for terrains, these shoes have the versatility of running shoes. They can provide your steps with grip and steadiness.
Your sensitive foot articulations can enjoy this comfort without sacrificing the range of movements.
The most noticeable thing about this Salomon footwear is the rubber soles with a low heel to not misposition your feet.
Furthermore, you can customize orthotics for your Salomon shoes in case you have more problems to worry about other than Morton's neuroma.
Pros:
Very durable
Compatible with different terrains
Rubber soles for stability and endurance
Cons:
There are only 2 colors to choose from
5. ASICS Gel-Cumulus 24 Running Shoe  – Best Asics Shoe For Morton's Neuroma
ASICS is very popular for its extra cushioning and roomy toe boxes, which come in handy as women's and men's walking shoes.
With the space they spare for your toes, you can comfortably stretch and curl them as you please. This privilege will alleviate the discomfort and pain of Morton's neuroma.
As you put the shoe on, you will immediately feel the cushioning molding to the front and the rear of your feet. The rubber sole underneath will make sure you don't feel any roughness from the ground.
Instead, each step you take will have a little bounce, thus your gait will also improve with time.
We want to spend a few seconds going over the midsole of this ASICS footwear. GEL is a science-based silicone formula arranged in multiple layers. Its main purpose is to offer extra cushioning and allow your movements to transit more smoothly.
Like many other shoes on the market, the ASICS Gel-Cumulus 24 Running Shoe features a mesh upper, which gives the user maximum breathability, especially on hot days.
When moisture and sweat don't build up inside your shoes, you will have a healthy environment for your feet.
Pros:
Durable and anti-abrasion outsole
GEL technology for an extra comfy midsole
Nicely designed for more cushioning
Breathable mesh upper
Multiple colors to choose from
Cons:
It might feel small for wide feet
Guide on Choosing the Best Shoes for Morton's Neuroma
If you have been suffering from Morton's neuroma, you know it's painful. With every step you take, you will feel the ball of your foot shrieking in pain.
Sometimes, the same spot is numb and swollen even when you haven't done anything to it.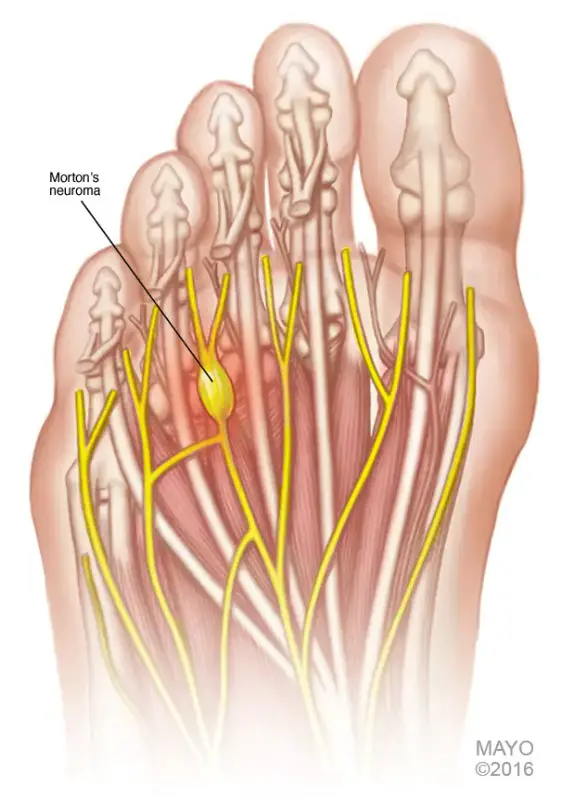 How frequent and severe these symptoms are depends greatly on your condition, but you will need to consult an expert either way.
Aside from the medical treatment assigned to you, appropriate footwear is equally important.
People with Morton's neuroma should avoid footwear that subjects their feet toes and balls. Consequently, ample support and cushion are what they need. With a healthy environment, your foot health will certainly improve.
However, we are aware that finding a fitting pair of shoes in a market swamped with similar-looking products might be overwhelming for first-time buyers. Therefore, here is a list of features you should look for in the best running shoes for Morton's neuroma.
Size
Undoubtedly, when we are choosing a new pair of shoes, the first information we pay attention to is the size.
Here is a fun fact: More than half of humankind doesn't have equal feet, and over ¾ of them have a smaller right foot.
You don't have to buy two pairs and separate them for use, being aware of the size and staying consistent would be enough!
However, when your feet are too different in size (more than one size, for example), we recommend getting two shoes from two pairs or requesting customized shoes.
If your bigger foot is stuck in a tiny shoe, it will suffer unwanted compression and pressure. Otherwise, should the shoe be too large, your foot will be swimming in it without a proper position.
Fit
The most crucial standard for all shoes is the fit, but you would need to be a bit more attentive.
The best moment for you to go shopping is the evening after your feet have gone through a day with various activities and become swollen.
You should choose shoes with a centimeter extra in the toe box compared to your standard size, so your toes won't be suppressed.
When you are trying the shoes on, don't forget to stand and walk around. Light activities will help you see clearly how comfortable the shoes are for your feet.
Big Toe Box
While a toe box is usually not the focus in other types of shoes, it's extremely important for Morton's neuroma footwear, for it lessens the pressure your forefoot has to endure.
As we have explained, your feet are swollen after a long day, and small toe boxes will cause your feet' bones to override and send you into the abyss of pain.
Support
The best kind of support will tend to the pressure points on your feet, especially the ball and the heel. In case you attempt any intense activities, this feature absorbs the shock as well.
More importantly, with the right amount of support for the arch of your foot, even your body weight will be distributed properly and thus enhance your balance.
Aside from granting your feet the appropriate movements, it also controls the compression put on your nerves.
Cushion
If your feet constantly endure the impact of the steps you take, rest assured that the issue will worsen. It's why you need a lot of cushioning in your shoes, and memory foam is one of the best materials.
Although the footbed matters the most, be sure to choose shoes with padding around your ankles since they will maintain a great alignment between your body and your feet.
Low Heels
For people with Morton's neuroma, flat shoes are the best. With no or very low drops, your feet won't be in an unnatural position and won't have to endure any pressure.
Last but not least, don't hesitate to put old shoes away.
If they are dear to you, store them for keepsakes rather than keep using them and damaging your feet. Old shoes are worn-out and lacking comfort, hence your conditions will only be exacerbated.
Avoid These Shoes if You Have Morton's Neuroma
Pediatrists strongly advise against tight shoes. These models put your lateral and metatarsal under stress and compression, which are the last thing you need for your conditions.
Never wear high heels when you are under treatment. They put so much pressure on the heels and the toes.
Leave your old shoes behind and move on. Worn-out shoes have little to no padding, and it will only add more to the pain.
Shoes with a small toe box won't give your toes enough room to flex and stretch. As a result, the ball and the arch will be strained as well.
Conclusion
There are so many choices if you want to find the best shoes for Morton's neuroma, and that was our selection.
However, we think New Balance 990 is a great candidate to consider, especially when an American pair of shoes is your priority. It has all the features you are looking for, such as a wide toebox, ample support, durable materials, and a perfect fit.
Should you prefer something more stylish and modern, other brands like Brooks and ASICS might be more suitable!