Brooks Ghosts are known for its two latest, best-selling training shoes – Ghost 13 and its updated version, Ghost 14. So, Brooks Ghost 13 vs 14, which is the better option for runners? Are they the same?
Let's take a look at these two shoes.
Brooks Ghost 13 vs 14: An overview
The Ghost series of Brooks Sports was first released in 2008 as daily neutral shoes. This series was named by the Product Management Director as his night running routine.
Compared to other series, like the Adrenaline GTS, Glycerin, or Glycerin GTS 19, the Brooks Ghosts are known for their balance and neutrality.
Here is some brief information on the two most well-known models.
Brooks Ghost 13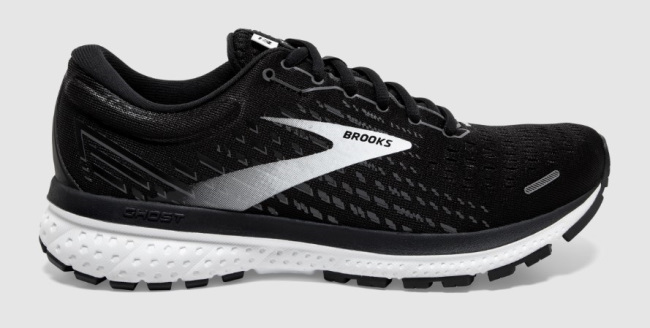 Release date: 8/2020
Category: Neutral shoes
Use: Daily training
Surfaces: Road, Track
Weight: 250 grams (W), 286 grams (M)
Heel drop: 12mm
Midsole: DNA Loft, BioMoGo DNA
Fit: true to size
Arch type: high arch
Forefoot height: 20mm
Heel height: 32mm
Brooks Ghost 14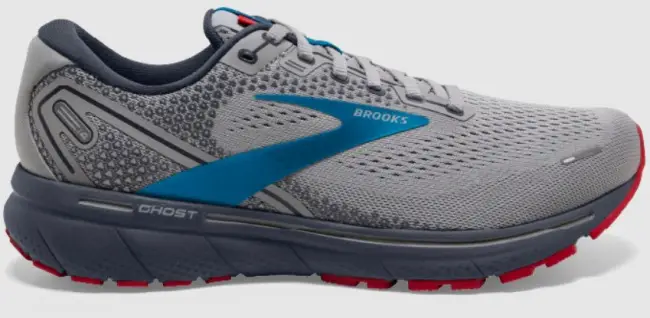 Release date: 7/2021
Category: Neutral shoes
Use: Daily running
Surfaces: Road
Weight: 255 grams (W), 280 grams (M)
Heel drop: 12mm
Arch type: high arch
Ghost Brooks 13 vs 14: Key Similarities
Same heel drop & stack height
Both the Ghost 13 and 14 are neutral shoes with a heel drop of 12mm, a stack height of 24mm in the forefoot area, and 36mm in the heel. If you don't need special motion control, these Ghost sneakers are applicable for daily running purposes.
Although these two sneakers don't leave a flush-like experience like the Hoka Bondi 7, they still provide a dependable feeling for runners with a well-padded heel counter and heel collar.
Same outsole configuration
These two Brooks shoes have a similar outsole configuration, including a thick rubber layer with deep grooves for added traction and durability on various terrains.
Besides, they incorporate a regular non-gusseted tongue. You can wear the shoes or take them off easily if you are in a hurry.
Good for daily walking
Both Ghost 13 and 14 are neither light nor heavy. They are also categorized as "lightweight running shoes", but still fairly enough for daily runners.
They provide a steady, easy, quiet, and comfortable experience for daily walking, jogging, or running. Yet, you won't feel so energetic, lively, or excited underfoot while exercising in those sneakers.
If you are looking for a pair of shoes for long-distance runs or marathons, the Brooks Ghosts are not good option. You should consider some alternatives, like the Saucony Endorphin Speed.
Brooks Ghost 13 vs 14: Main Differences
Carbon Neutral
A notable improvement of the Ghost 14 is that it is the first carbon-neutral shoe of the Brooks. In other words, the making of the Ghost 14 brings no harm to the environment. This is good news for runners that love sustainable products.
Weight
In terms of weight, Brooks Ghost 14 is slightly heavier than the 13. More specifically:
Brooks Ghost 13 weighs approximately 10.1oz (286g) for men and 8.8oz (250g) for women.
Brooks Ghost 14 weighs approximately 9.9oz (280g) for men and 9z (255g) for women.
This minor difference between Ghost 13 and Ghost 14 is small and doesn't affect your overall performance and speed in a short duration.
However, if you aim for long-distance running or need to improve your pace, you might need time to train these sneakers and tweak your running.
Widths
In terms of widths, these two Brooks Ghosts offer various width and length options that suit narrow to wide feet. However, there is an extra width in Ghost 14 for men.
The Ghost 13 comes with 3 widths for men and 3 widths for women:
Men: D (standard), 2E (wide), 4E (extra wide)
Women: 2A (narrow), B (standard), D (wide)
The Ghost 14 have 4 widths for men and 3 widths for women:
Men: B (narrow), D (standard), 2E (wide), 4E (extra wide)
Women: 2A (narrow), B (standard), D (wide)
Upper
Whether you wear the Ghost 13 and 14, you will feel instant comfort and fit in those sneakers. So, is there any improvement in the upper of Brooks Ghost 14?
Let's consider some parts, including the mesh, laces, heel, and printed patterns.
3D Fit Print Mesh: This feature is presented in both Ghost 13 and 14. However, this mesh on the Ghost 14 is upgraded to be more breathable with more ventilation holes in the toe box.
Shoe Laces: The laces on the Ghost 13 are circular, whereas that on the Ghost 14 are flat. These two lace styles are good and can't be loosened or undone while moving.
Heel: These two Brooks bring a stable, safe feeling at the heel, thanks to their heel counter system and the heel collar.
Print patterns: The patterns on the Ghost 13 are presented mainly at the front, while that on the Ghost 14 are smaller and placed at the back. This change makes the 14 version more elegant than the Ghost 13, even though it doesn't affect the sneaker's performance.
Midsole
DNA Loft Cushioning is the soft midsole cushioning technology of Brooks Footwear. This midsole consists of EVA foam, rubber, air, and nitrogen at a special proportion. It provides responsiveness, balance, and softness at a relatively low weight and superior durability.
Not only providing you with a trampoline effect, but it also protects your hard-working legs, feet, and body from dangerous running terrains (like small concretes, pavement cracks, or pesky pebbles).
Both the Brooks Ghost 13 and 14 offer the DNA Loft midsole. But there are a few differences between them.
The midsole of Ghost 13 is not evenly distributed. There is only 30% DNA Loft (mixed with BioMoGo DNA foam), and it stays only on the lateral side.
Meanwhile, the upgraded midsole of Ghost 14 contains 100% DNA Loft. The DNA Loft is evenly distributed from heel to toe, from the lateral to the medial side.
That improvement in the later version results in a smoother, better cushioned, and consistent experience for all runners. Many shoe experts said that this is a step-in comfort, a "more than luxurious" feeling among mid-range running shoes.
Outsole
Ghost 13 and 14 have the same outsole configuration. Still, there are some minor upgrades on the later Ghost.
First, there is more rubber at the midfoot section of the Ghost 14 to cover the area under the arch. This change helps improve the shoe's durability.
Second, there is more rubber to cover the grooves at the toe box area. On the Ghost 13, there are 3 full horizontal flex grooves to add traction while moving on various terrains.
Who Should Buy Brooks Ghost 13?
You should buy Brooks Ghost 13 if you need maximalist training footwear for road running, you are in the recovery period, or you aim for slow-paced runs.
Conversely, Ghost 13 is not suitable for those who prefer lightweight and fast pace. In this case, you can consider the New Balance Fresh Foam 1080 V10 or the Nike Zoom Fly 3.
These Brooks shoes are also not recommended for flat-foot runners due to their limited stability. In this case, Brooks Adrenaline GTS21 might be a better option.
Who Should Buy Brooks Ghost 14?
Brooks Ghost 14 is designed to work consistently on various terrains and distances. Thus, you should get these shoes if you are looking for the cushioning effect.
Ghost 14 shoes are not too soft or too stiff. You can use them on a treadmill, on pavement, or mild dirt trails. They are also durable, thus saving a lot of your budget for shoe replacement.
Similar to the Ghost 13, the 14 version is not an ideal choice for runners in recovery mode or those who want to improve their pace. Plus, this neutral shoe can't provide as much underfoot support as the Brooks Adrenaline.
Check more: Hoka Clifton 7 Vs Clifton 8 – Which Is Better For Runners?
FAQs
1. Can I wear Brooks Ghost 13 for walking?
You can wear Brooks Ghost 13 for walking or running. These shoes are designed to deliver a comfortable fit, a plush-like feeling, and consistent performance for 5K short runs to a marathon.
2. Are Brooks Ghost 13 good for runners with wide feet?
The standard width of Brooks Ghost 13 is suitable for runners with wide feet, since it has spacious room for their feet. But if you have narrow feet, you might choose the narrow option.
3. Are Brooks Ghost 14 suitable for people with high arches?
Yes, Brooks Ghost 14 provides good support and plush cushioning for runners with high arches because of the following reasons:
It has a generous toe box that can suit various foot sizes and shapes.
It has a spacious midfoot. And you can customize your fitting by loosening or tightening the laces.
Its engineered mesh upper is breathable and soft.
There is a heel counter inside the shoe, so your heel is locked securely and can't slip while running.
The 100% DNA Loft is evenly distributed in the midsole, from heel to toe, creating smooth movements.
4. Should I size up in Brooks Ghost 14?
Although Brooks Ghost 14 is true to size, you should size down 0.5 sizes because the foot lockdown is slightly loose.
So, Is Brooks Ghost 13 Or 14 Better?
After comparing the key similarities and differences between these two Brooks Ghosts, you understand that they are neutral shoes with not too much support. Yet, they provide you standard comfort and safety while maintaining their shape and performance for a long time.
So, Brooks Ghost 13 vs Brooks Ghost 14, which one should you choose for your daily running?
If you need a mid-priced pair of shoes to start your running routine, Ghost 13 is a great choice.
But if you prefer a softer, more stable experience, the Ghost 14 is worth your investment because of many improvements versus its predecessor – the Ghost 13. This model also leaves fewer carbon footprints on the environment, which is a notable advantage for modern products.