Taos is a prominent leading footwear brand for women, with an impressive revenue of $73 million as of 2023. All Taos shoes and sandals are designed with comfort in mind, especially in their exclusive orthopedic footbed.
Where are Taos shoes made? How can Taos maintain its ultimate comfort in all of its footwear products?
Where Are Taos Shoes Made?
Taos shoes are made in 3 countries – Spain, Portugal, and China. Yet, there is no detailed information on the manufacturing capacity of Taos in these countries.
While keeping its shoe production abroad, Taos maintains its shoe design works in Southern California.
Spain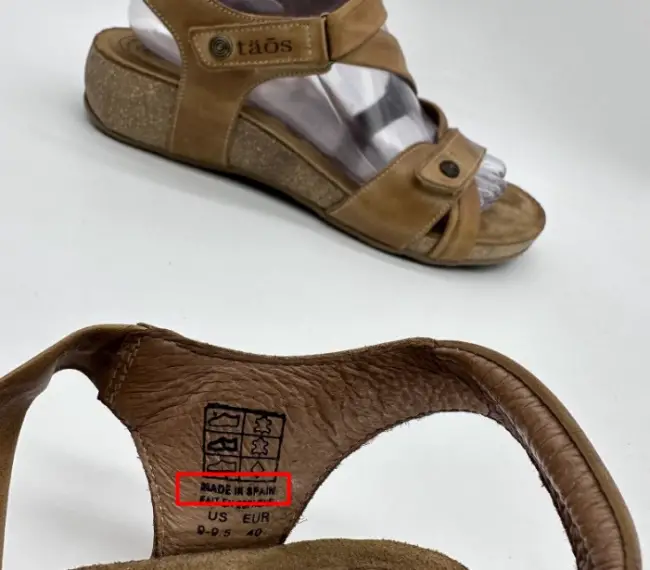 Taos made various shoes and sandals in Spain. However, no further information exists regarding its shoe production in this city.
Taos Trulie, a highlighted collection of Taos, is proudly made in Spain. The women's sandals in this collection are available in 9 vivid colors, reflecting 3 of the nature here – the Sea, the Sky, and the Earth.
These cork sandals are lightweight yet molded to your foot's shape to give you great summer days.
Check more: Where Are Kizik Shoes Made?
Portugal
After Spain, Portugal is also where Taos made the most of its shoes.
Despite the lack of information regarding its production in this country, there is an exact fact – Taos still maintains its production here until now.
Luckie is the best-selling wedge collection of Taos Footwear. This collection is made in Portugal using the finest raw materials.
These adjustable sandals are designed for active women who love the casual style while demanding support in every move.
Like other collections of this American shoemaker, the Luckies feature a supportive cork footbed. The orthopedic footbed and adjustable straps provide ultimate contentment on all life occasions.
China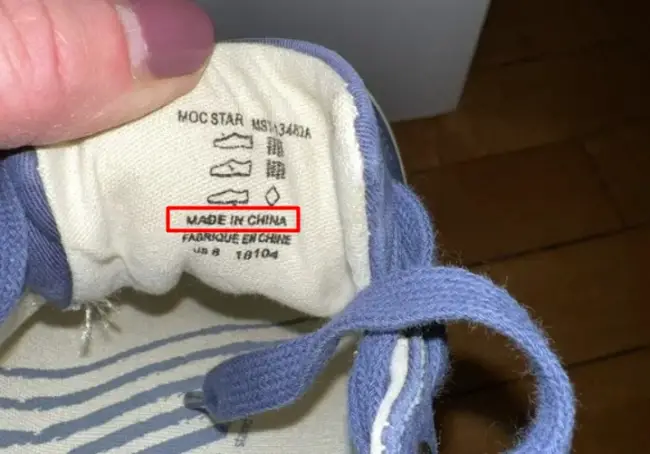 Aside from Portugal and Spain, Taos outsourced some of its shoes to China. The shoe production standards and process of this American brand in China stay the same as those in the two above European countries.
Who Owns Taos Footwear Now?
Glen Barad has been the president and founder of Taos Footwear until now. Before establishing Taos Footwear, he had been a skillful shoemaker in the footwear industry for decades.
He has created a legacy of comfort footwear with a product-first approach.
His sustainable approach has helped Taos Footwear achieve a steady annual sales volume of USD 8.8 million and earn a good reputation from the public.
More About Taos Footwear
Taos Footwear is an American footwear brand for women. It was founded in 2005 by Glen Barad. Nowadays, Taos shoe company is located in Gardena, Greater Los Angeles Area, United States.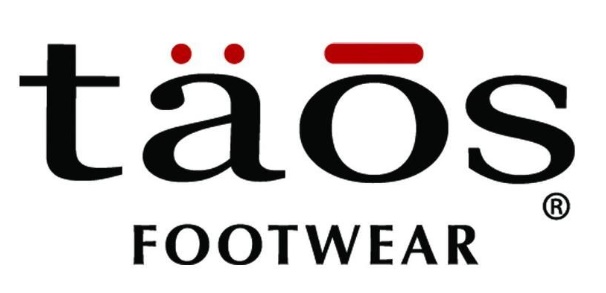 Taos was created with a simple idea – creating comfortable yet fashionable footwear for women. Or even those with foot-related issues like plantar fasciitis.
Its name, 'Taos,' is inspired by local people's casual lifestyle and nature's beauty in Taos, New Mexico. You can notice the artistic touches of this city via small delicate details on every shoe of Taos.
Taos focuses on designing and manufacturing shoes for women of all ages. 90% of Taos shoes are for women, and 10% are for men. It provides various options for footwear, including sneakers, sandals, boots, flats, and accessories.
Taos footwear products are popular worldwide, alongside its rivals like Birkenstocks, Superga, and Teva. If you see a backpacker walking in the old streets of Europe, maybe she is wearing a pair of Taos.
How Taos Shoes Are Made?
Tao shoes are pieces of memoir on the beautiful city of Taos, New Mexico.
Most Taos shoes include signature details like metal ornaments, natural stones, embroidery, and small decorations reflecting this area's nature and casual lifestyle.
These details are carefully put on the shoes by skillful cobbers in Portugal, Spain, and a few experienced Chinese workers recently.
While enhancing the final look for the shoes, these tiny details undoubtedly demonstrate the high craftsmanship of Taos Footwear.
But the values of Taos shoes go beyond the artisan heritage of Taos.
Every shoe from this American footwear brand is an excellent blend of sustainability, comfort, durability, and innovations.
Materials For Taos Shoes
Like other well-known footwear brands, Taos shoes are made of high-quality materials.
There are 3 types of leather for Taos, including leather, suede, and nubuck. Suede is soft and used for relaxed models.
On the other hand, nubuck provides a velvety surface yet stays durable in harsh weather.
Taos utilizes various types of cushioning foams for the midsoles and footbeds, from memory foam and EVA foam to propriety cushioning foam.
These materials offer great shock absorbance and support for your daily life.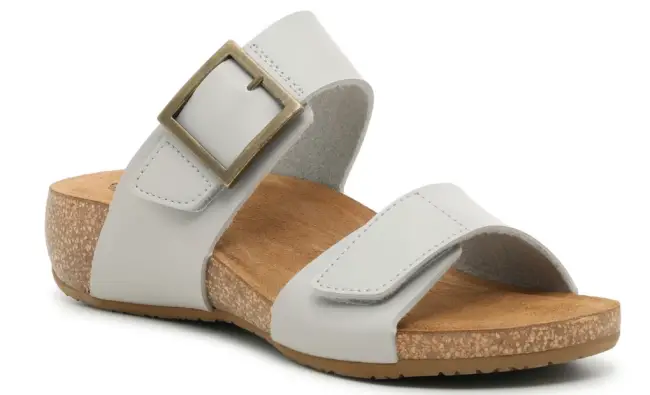 Woven, canvas, synthetic leather, microfibers, and other synthetic materials are applied onto Taos shoes. These materials offer extreme breathability, resistance, and durability to the shoes.
Aside from synthetic fabrics, Taos uses natural ones like cork, wool, hemp, and rubber in its shoe models.
These materials are from ethical sources, soft and flexible to your foot skin. They are also more affordable and easier to find locally.
You can check on some models like My Dear (using cork), Wollery (using wool), or Star (using hemp).
Taos Shoes Technologies
Furthermore, Taos features exclusive innovations to assist the foot health of its customers.
The multi-layered sole with anatomical curves hugs your foot tightly, providing overall support for your foot, from arch to metatarsal to heel.
Its multi-layered construction absorbs shock and outer forces while supporting you while walking on uneven terrains.
The top layer (the one closest to your foot skin) has a soft, sanitized wool lining or faux fur lining. The orthopedic footbed is a piece of dual-density polyurethane that can be removed for cleaning.
While looking like a memory foam footbed, this special foam has a proprietary gel to cool down your foot.
It is often placed in the forefoot area of the shoes. It is also covered with an antimicrobial shield for extra cleanliness and durability.
Sustainability In Taos Shoes' Production
Last but not least, Taos shoes are designed with sustainability in mind.
For example, the cork on its shoes is from natural cork oaks. These trees that can regrow fast without harm to the local ecosystem.
Wool, commonly found in the footwear and fashion industry, is a renewable, cruelty-free material imported from sheep in Italian farms.
The rubber on Taos shoes is recycled from rice husk, which is a better alternative to traditional rubber.
In the future, more Taos shoes use synthetic leather as an alternative to animal leather.
FAQs
1. Are Taos Shoes Sold In Stores?
Since Taos shoes are available worldwide online and offline, you can find Taos shoes in any retailer in your neighborhood. Check the Store Locator on TaosFootwear.com to locate the nearest store for Taos.
Depending on your location, it might be difficult to find all Taos footwear products in offline retailers. If you want to try on shoes before buying, you should contact the store ahead via phone to ask for their availability.
2. Where Are Taos Sandals Made?
Taos sandals are made in either Spain or Portugal, depending on the sandal's models. A small number of Taos sandals are also made in China.
3. Do Taos Shoes Have Arch Support?
All Taos shoes have support for your whole foot, from the forefoot (metatarsal) to the arch and heel. Thus, wearing Taos is highly recommended for hard-working people or even those with foot-related problems.
Final Words
Designed in California, Taos shoes are manufactured globally in 3 countries – Spain, Portugal, and China.
Despite their high price tags, Taos shoes are preferred in the orthopedic niche for their ultimate comfort, breathability, foot-related support, and durability.
We hope that Taos will roll out more shoes for men in the future.