Finding the right size for your footwear is important, especially when it comes to Nike Jordan – an iconic and expensive brand.
Instead of asking yourself "Do Jordan 11 run big" with no solid answer, you now have us to discuss the matter! It's time we put an end to the debate!
Do Jordan 11 Run Big, Small, or True To Size?
For a shoe model first released in 1996, Air Jordan 11 sizing is remarkably true to size and comfortable.
It won't be as mind-blowing as what we see from cutting-edge technologies but it supports you well through your errands and endures the pressure you might put it through.
If You Have Wide Feet
Then, you can naturally decide to go up to the next bigger size. However, it depends on your preference too!
For a snug fit, you might consider keeping the size. As a retro shoe for basketball players, the mid-foot and the toe areas are designed to give the user some space.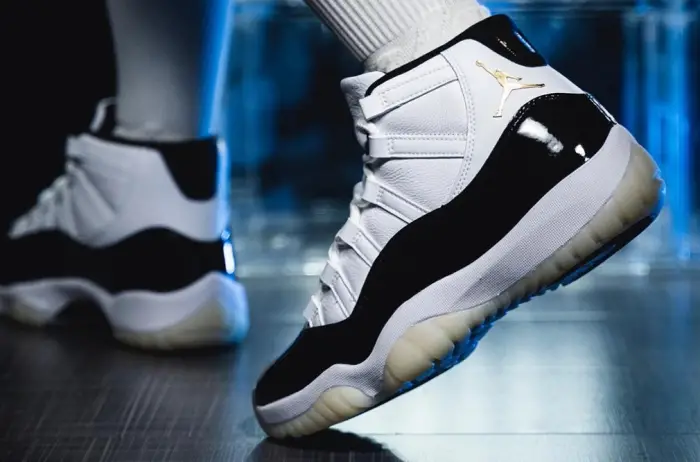 If You Have Narrow Feet
It's a common decision to go down half a size.
If the shoes feel a little tight, remember that leather needs time to warm up and stretch. Wearing thinner socks in the beginning would be a great temporary solution too.
Jordan 11 Size Chart
Jordan 11 Men's Size Chart
| | | |
| --- | --- | --- |
| Size | Euro size | Insole length (mm) |
| 3 | 35# | 224 |
| 4 | 36# | 231 |
| 5 | 37# | 238 |
| 5.5 | 38# | 245 |
| 6 | 39# | 252 |
| 7 | 40# | 259 |
| 8 | 41# | 265 |
| 8.5 | 42# | 270 |
| 9.5 | 43# | 278 |
| 10 | 44# | 283 |
| 11 | 45# | 290 |
| 12 | 46# | 296 |
| 12.5 | 47# | 303 |
| 13 | 48# | 308 |
Please allow an error of 0.3-0.5cm due to manual measurement.
Jordan 11 Women's Size Chart
| | | |
| --- | --- | --- |
| Size | Euro size | Insole length (mm) |
| 5 | 35# | 224 |
| 6 | 36# | 231 |
| 7 | 37# | 238 |
| 7.5 | 38# | 245 |
| 8 | 39# | 252 |
| 9 | 40# | 259 |
| 10 | 41# | 265 |
| 11 | 42# | 270 |
| 12 | 43# | 278 |
What Affects Jordan 11's Fit?
Foot Length
The most general factor in sizing is your foot length. If you are between two sizes, both the larger and smaller sizes are likely to not fit you completely even when we haven't considered other factors.
When stuck in that tricky situation, be sure to go for the larger size because it is much easier to deal with.
Check more: Do Nike Blazers Run Big Or Small?
Foot Width
Even when you get the length right, the width still has a tremendous effect on the sizing. Wider feet usually call for the closest bigger size so the feet won't be under too much pressure.
Meanwhile, you would want to size down if your feet are narrow so they won't slip out of position.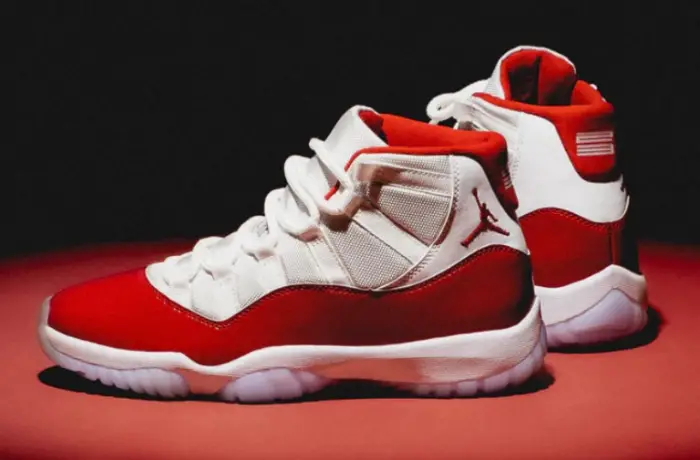 Materials
The materials also take part in how footwear fits.
In Jordan 11's case, the patent leather needs some break-in time because they are much stiffer than suede or mesh at first. It means you will need to be patient before the luxurious comfort comes.
Warming up the leather is a common technique to soften it, yet simply wearing your shoes and keeping your socks on would be enough too.
The Lacing System
People don't usually bring the lacing up as a reason your shoes fit tightly or loosely, yet it can change the fit significantly.
For example, a low instep can cause your feet to slide forth, and a high instep will demand more room, especially in the toe box.
How To Find Your Size For Jordan 11?
Determine Your Size
The first step to getting the perfect shoes for you is finding the right size, and the process is quite simple:
You can ask someone to help or draw your feet on paper. Use a ruler to measure the length and the width through the diagram.
We recommend measuring both feet because they might have slight but important differences.
After taking notes of your measurement, use Nike Jordan 11's size chart to find the most compatible size for you.
Don't assume your size, since even the products under the name Nike fit differently.
If your feet are narrow, the normal width might be a little loose. On the other hand, your wide feet will feel tight in the same shoes. Don't forget about the width while finding your fit!
Whether you shop offline or online, trying the shoes on is essential. However, remember to wear your socks for the most accurate judgment.
It is also advisable to not take your trial walks outdoors, or you might risk the warranties.
For Shopping Online
Shopping online is always more tricky than visiting a store, and here are the tips we get from our experiences.
Be careful with the size charts. You should find the specific chart for the brand and the model you want to buy.
Don't ignore the reviews of previous users. Their situations might be different from yours, though they will give you an inkling of what you are getting.
Jordan 11 is available in half sizes. Hence, you should take advantage of this! It allows you to size up or down just a little instead of risking something too small or too big.
If not the authentic website, make sure the sellers are reliable!
FAQs
1. How Do Jordan 11s Fit Compared To AF1?
Air Force 1 is well-known for its wide toe box and big midsole, which make the fit a little big for normal and small feet.
Since Jordan 11s run true to size with a firm leather upper at first, it is inevitably much tighter than AF1.
Check more: Nike Dunks vs. Air Force 1 Comparison: Which Is Better?
2. How Do Jordan 11 Lows Fit?
Like Jordan 11, the Lows also feature the Air technology and run true to size, giving their users ample comfort and support.
However, as they fit true to size, you should go down to the next smaller size if your foot width is narrow, for the shoes will stretch a bit with time.
For more toe space and wider feet, half a size up would be better for you. If you go any further, the shoes might become excessively large!
If you are in between sizes, we recommend half a size up rather than putting your feet in overly tight. You can fill in the gap with thicker socks.
Final Words
Knowing Jordan 11 runs true to size would be a relief for many sneakerheads because this design is one of Nike's best-sellers. You only need to measure your feet precisely and trust the size chart for a perfect fit!
The leather upper might indeed feel firm in the beginning, though it will mold and embrace your feet soon enough. For narrow or wide feet, size up or down accordingly!