Teva vs Birkenstock might kick off an intense battle in your mind if you have to choose either of them. To find out which you need more, there's no better way than a detailed comparison of their features as well as pros and cons.
An Overview Of Teva Shoes
Teva is a young brand born in 1984. In the beginning, the creator aspires to nothing more than freedom and connection. They consider the shoes they make a canvas and allow themselves to be as creative as ever.
Teva believes in the kind of business that does no harm to the environment and inspires the next generations to follow their steps. When you come to Teva, you are in for an adventure of many forms: from the journeys searching for materials to the endeavors conquering the world.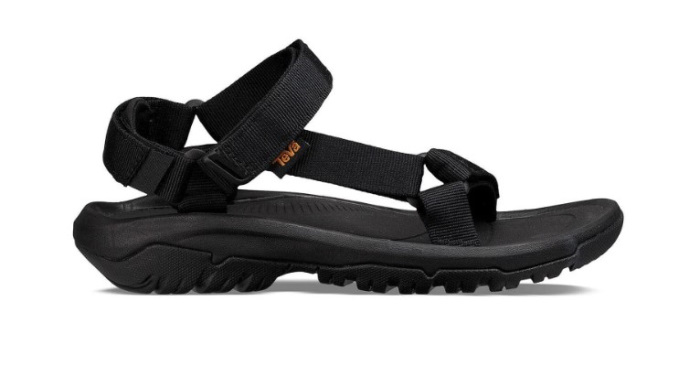 What is special about Teva?
Teva is a reliable brand for anyone who is looking for great quality without resorting to animal-related products or wasting precious resources. Ethical and sustainable materials are what they focus on.
Teva started by producing their footwear with recycled resources and tried to incorporate more package and water usage changes. After your sandals are ready for retirement, they will become something beyond imagination like playgrounds and running tracks.
An Overview Of Birkenstock Shoes
Birkenstock is a German brand, well-known as part of the top 5 footwear brands in the whole world. Established in 1774 and becoming international in the 1970s, the traditional powerhouse has reached over 90 countries and built numerous sales offices.
They are proud creators of the footbed, a concept that gives their footwear a revolution and paves the way for a new category of sandals and shoes. Although they constantly improve with the design, well-being and value remain the most important aspect for them.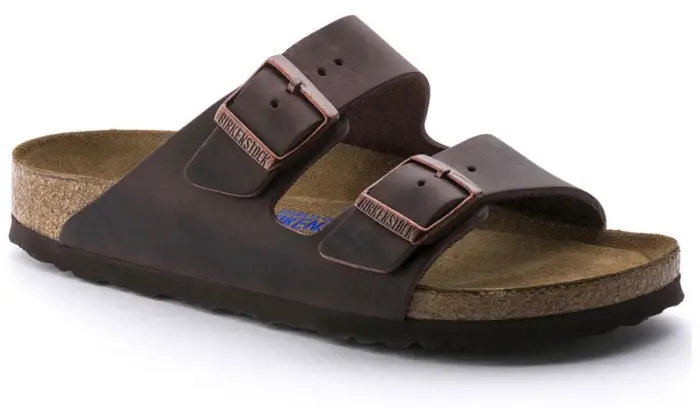 What makes Birkenstock popular?
When the name Birkenstock is mentioned, most people will think about the footbed of their sandals, and they have every reason to do so.
A regular footbed of Birkenstock includes 4 layers:
Foundation: A good layer of jute to stabilize the next tiers.
Center: The footbed with cork and latex. This layer is the most important because it endures shock and frees your feet from pressure.
Side: The second jute layer enhances flexibility as well as regulates moisture.
Top: High-quality suede lining to make sure your foot climate is pleasant and free from moisture.
For a soft footbed, you will have an extra foam layer shaping your feet and providing even more support.
Check more: Birkenstock Soft Footbed vs Regular: In-depth Comparison
Teva vs Birkenstock: 7 Main Differences
The most noticeable difference between Teva and Birkenstock is the materials. You won't encounter any difficulty to tell which is between Birkenstock's leather or Teva's synthetic fabrics.
| | | |
| --- | --- | --- |
| | Teva | Birkenstock |
| Footbed | Simpler | Many layers |
| Upper | Environment-friendly materials | Genuege leather |
| Sizing | Adjustable straps, fit narrow & wide feet | European size; men's shoes are wider fit |
| Weight | Lighter | Slightly heavier |
| Break-in | Already comfortable | Need time to break-in |
| Maintenance | Easy | Has exclusive cleaning kit |
| Price | More budget-friendly | More expensive |
Teva vs Birkenstock Footbed
With Teva vs Birkenstock flip flops, we're able to feel most of the difference in the footbed.
Birkenstock footbed is already extremely popular with many layers designed to hug the shape of your feet perfectly and reduce all unwanted impact.
Meanwhile, Teva's footbed is much simpler. It is not too different from all of the footbeds you might find on the market.
Both Birkenstock and Teva shoes are great for plantar fasciitis and common foot problems, as both brands are passionate about support and comfort.
Teva vs Birkenstock Upper
Birkenstock's signature Arizona leather makes a great upper for their sandals. The genuine leather is practically a contrast against the environment-friendly materials that Teva chooses.
Teva vs Birkenstock Sizing
Birkenstocks vs Tevas are known for their unisex designs. Both women and men will enjoy this versatility.
Teva fits both wide and narrow feet. The straps are available for adjustment, though you should keep them sufficiently secure. When the straps are too tight, they might rub against your feet and irritate you.
Birkenstock sandals are in European size. You won't have a clear differentiation, but personal experiences give us the impression that men's shoes might have a wider fit compared to women's. Be aware that the footwear feels roomy at first, hence the adjustable straps will come in handy.
Teva vs Birkenstock Weight
Putting two pairs of Teva vs Birkenstock boots or sandals in comparison, Teva products will always be lighter.
Teva vs Birkenstock Break-in Time
Both Teva and Birkenstock footwear need some time to break in. However, straight out of the box, Teva is already pretty comfortable to wear. Meanwhile, you will need to give your Birkenstock at least 2 weeks before you can feel the magic.
Teva vs Birkenstock Maintenance
Birkenstock has their exclusive cleaning kit, yet it isn't mandatory if you are careful enough to not make your shoes completely dirty or wet. Leather is comfy to wear and durable enough to withstand the test of time, but moisture is something you would want to avoid.
For Teva shoes, you can soak them in water for about an hour before scraping the dirt off with toothpicks or baking soda.
Teva vs Birkenstock Price
All sandal users know Birkenstock is on the expensive side of the spectrum. Moreover, their products are rarely on sale.
On the other side, Teva offers footwear at a more budget-friendly cost. The sale-off via e-mail signups and at stores, even when the least expensive product from them starts at $20 only.
Are Teva sandals of good quality though? And what does Birkenstock have to back up for their unnerving price? Let us proceed!
Pros & Cons Of Teva
Pros
Teva is made for breathability and support, hence you can move freely for hiking without feeling much weight from your footwear.
Aside from the neat and stable design, Teva sandals always have adjustable straps, so we can conveniently fix the fit for maximized comfort.
Teva footwear doesn't have bad odors thanks to anti-microbial and waterproof properties. Long-term Teva users know they can safely walk in and out of the water, and their sandals won't suffer unpleasant smells.
The cushioned sole allows us to take part in energetic activities, even ones that involve water won't be much of a problem for you.
When you buy from Teva, you're in for durability. With high-quality materials and smart designs, they can easily last for several years if you take good care of them.
Compared to Birkenstock, Teva is more affordable. They have many lines of products that fit an average budget and fulfill different needs such as traveling and hiking.
Everyone can wear Teva because they offer countless styles with stable quality. Combined with the friendly price, Teva sandals can easily approach a wide range of customers.
Cons
Although Break-in time is quite short for Teva footwear, you will still need to wear them several times before they become molded to your feet.
Flexibility remains a critical flaw. Teva has great support indeed, though the light weight means the materials are not thick enough to protect your feet from soreness or blister if you have to walk all day long on rough terrains.
Pros & Cons Of Birkenstock
Pros
Birkenstock is ready to challenge any sandal brand out there when it comes to comfort. The special footbed contours to the shape of your feet, and they serve as a solution for general foot problems. If the standard footbed is not enough, the soft version will put you at ease.
Made of the finest materials, Birkenstock footwear knows no degrading or chipping. It is bound to stay with you for years with no problem.
Comfortable and shock-absorbent, Birkenstock footwear might appear as something chunky in your mind, yet they are the exact opposite. You will feel no weight on your feet as the materials move with each step you take.
Cons
You need a wear-in time of at least two weeks for the design of the sandals to fully take effect. Until then, your feet will feel a tad uncomfortable, and unable to walk long distances.
The major reason why people look away from Birkenstock stores is the expensive price. With the cheapest products available at $140, this brand is certainly on the high-end side of the market.
Teva & Birkenstock: Which To Choose?
If you are not on a budget, then the features are all we care about.
Birkenstock has been leading in the sandal category with the multi-layered footbed and fine materials, although they need a wear-in period.
At a lower cost, Teva covers a wider range of buyers, especially those who want comfort immediately.
Now it's your turn: Birkenstock vs Teva, which side are you on?