ASICS was established in 1949 in Kobe, Japan, under the original name Onitsuka Tiger. Since then, ASICS shoes have become the first choice of sneakerheads due to their top-notch quality.
So, where are ASICS shoes made?
The following article will provide insights into ASICS shoe manufacturers worldwide and tips to legit check your ASICS shoes.
Where Are ASICS Shoes Made?
China and Vietnam are the two most extensive manufacturing countries for ASICS. ASICS's primary R&D facility and headquarters are in Kobe, Japan.
In addition, ASICS maintains factories in Indonesia, Cambodia, Brazil, Argentina, India, and the United States. These facilities are responsible for producing ASICS shoes sold in different parts of the world.
The reasons are reasonable labor costs, a vast population, and a large and young workforce.
Japan
ASICS has its official headquarters in Kobe, Japan. Yet, only 2 of the 25 shoe manufacturers are in Japan:
Sanin ASICS Industry Corporation in Sakaiminato, Tottori Prefecture;
Shiotani Industry Inc. in Himeji City, Hyogo Prefecture.
Although supply capacity varies, most ASICS shoes are produced elsewhere in Japan.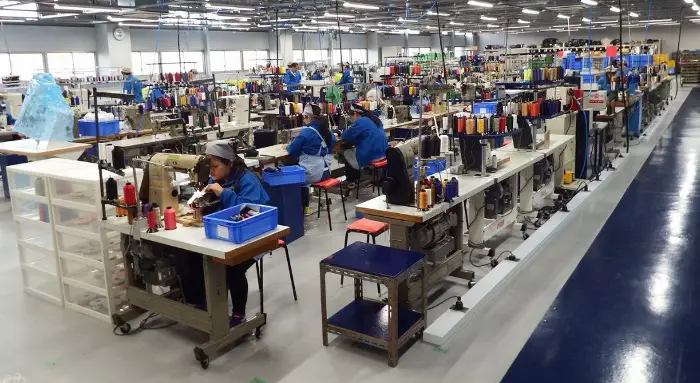 China
Most ASICS shoes are made in China, especially ASICS Trainers. Although they are cheaper in these nations, the raw materials from these nations are of better quality.
Because China is a country that supplies a large number of items, a lot of ground is needed for production and has cheap labor.
As a result, many big companies locate factories in this country of billions of people to save money.
In 2020, there was still one ASICS shoe factory in Huangshi, China. But in 2021, this manufacturer closed and relocated to Indonesia.
Up till now, there have been no ASICS footwear factories in China. There are two reasons for this transition.
First, it is due to the geopolitical environment, the rise in workers' salaries, and China's COVID-19 import/export lockdown.
Second, it proves that Indonesian-made footwear products can match the strict international quality standards.
Vietnam
Vietnam is the second largest footwear exporter, just behind China. The vast ASICS athletic shoes are designed and manufactured in 13 footwear factories in Vietnam.
The first one, ASICS Sourcing Company Ltd., was established in 2014 in Ho Chi Minh City.
Besides ASICS, Vietnam also produces and exports shoes from other famous brands, like Adidas, Brooks, Hoka, etc., with the most considerable annual output in the world after China.
100% of the most famous ASICS running sneakers on the market – ASICS Gel-Kayano 27, are made in Vietnam.
Plus, many other ASICS sneakers are produced in Vietnam. Such as GEL-Nimbus 25, Platinum, GELHOOP V14, LITE RACER 4, GELBURST 27, and FUJI LITE 3.
In 2020, the number of ASICS shoe factories in Vietnam was 13, reduced to 12 factories in 2021 due to Kingmaker (Vietnam) Footwear Co., Ltd. in Thuan An, Binh Duong closing this year.
From 2022 to now, the number of ASICS shoe factories in Vietnam has increased again, reaching 13 by 2023.
Check more: Where Are Dansko Shoes Made?
Cambodia and Argentina
Argentina and Cambodia are the two countries with the fewest factories used by ASICS to produce their shoes. There are only 2 factories in total, one in each of the two factories.
ASICS opened a production facility in Kampong Speu, Kong Pisey District of Kampong, in 2012. This factory is named Wing Star Company Limited., and it has been producing shoes since 2013.
Due to the 2013 roof collapse in this shoe plant, many believe ASICS should have been closed since then. But currently, this plant still produces ASICS.
Although there was a brief halt in production at the Cambodian factory, the company started back up within a few days.
Indonesia
Indonesia is the 5th shoe exporter in the world, producing about 660 million pairs per year. Besides ASICS, shoes from other brands, like Hey Dude, are also made in this country.
Indonesia accounts for most ASICS sports footwear exports, behind Vietnam.
There are 5 ASICS shoe factories in Indonesia as of 2022, an increase of 1 factory compared to 2020 and 2021.
ASICS selects Indonesia as one of its primary footwear production locations because of the low labor costs and high standards of Indonesian producers.
The ASICS Gel-Pulse 12s series is an exceptional Indonesian-made series popular in the market for its high level of craftsmanship.
America
Through a subsidiary, ASICS produces and sells shoes in the USA. 30 out of 1900 ASICS outlet stores are in the US.
ASICS Sports of America, Inc ended in 1981.
Around the same time, ASICS established another office, the Tiger Corporation, in Irvine, California. This is among the most important offices of ASICS, besides one in Europe and its headquarters in Japan. This office also marks an opening to its foundation activities in the United States.
The Tiger Corporation has a cutting-edge central command that cultivates inventiveness and planning.
It also has a gym where top coaches and athletes can exercise and test some of their advanced products. A small number of ASICS shoes are designed and manufactured there.
Due to refinement, reliability, and strength, ASICS shoes have gained great appeal to Americans. Thanks to high padding, a GEL-improved liquid ride padded sole, and a unique DuoMax supportive network.
Brazil
Brazil is the third largest manufacturer of ASICS shoes, with 3 Tier 1 factories. There were 2 ASICS factories in Brazil from 2020 to 2021. In 2022, this number was 3.
Brazil produces 900 million pairs of shoes annually for internal use and export.
According to Statista, the Brazilian footwear industry employs over 269K people despite low labor costs and abundant supply.
Brazil has long been the destination for factories of famous footwear giants like ASICS, Adidas, Nike, etc.
India
There are 81 ASICS stores in India; most are located in the North, South, and Western, with a smaller number in the East.
This Japanese footwear brand is also featured at 700 points of sale in multi-brand stores. It also has a substantial internet presence because the items are sold in India's Tier 2, Tier 3, and Level 4 cities.
Why does ASICS focus on shoe production in India?
There are over 100 million runners in India, equaling the population of Japan. With such an impressive number of customers, Hirota believes India will soon become an emerging market for footwear products in Southeast Asia.
As confirmed by Yasuhito Hirota, President/CEO of ASICS Corp., on Financial Express, this brand aims to become the 3rd footwear producer in India by 2026.
Apart from running shoes, ASICS also plans to make shoes for tennis and cricket.
There was an ASICS shoe factory in India in 2021. However, since 2021, there has been no ASICS footwear facility in India because the ASICS shoe factory in Haryana, India, closed that year.
How To Check Original ASICS Shoes?
Assume you want to tell the difference between counterfeit and genuine ASICS shoes. This section will compile all the essential information you need to know before purchasing ASICS sneakers.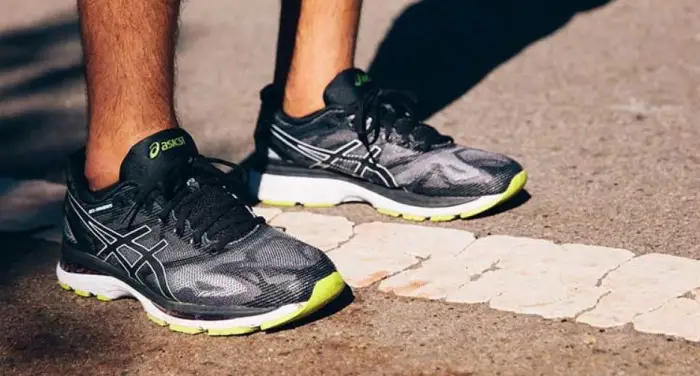 Box Packing
Every pair of ASICS is shipped in a sturdy retail box, with the top and side covers of the shoe overlapping in the box for extra protection.
ASICS always puts their shoes in a canvas-like bag as their primary packaging.
The box must have the ASICS logo on the top and sides and be printed with high-quality ink. Packaging should be clean and tidy without any signs of wear and tear.
The top of the cap on genuine shoes is square rather than curved. Find the two tabs that push through the holes in the foldable box's top part.
Also, when viewed from inside the box, notice how the edges have a glue-free locking mechanism. The tabs of the side panels slide easily into the gaps created by the sidewalls.
As soon as you open the box, you will find various pamphlets from ASICS. The return form is one example of such paperwork.
The label on the box should also be examined. It must include the shoe's model number, size, and color. The barcode on the label must match the barcode on the shoe. If there is any difference, it is a sign of fake ASICS shoes.
Check more: Do Asics Run Small, True To Size, Or Big?
There are minimal labels on any authentic ASICS shoe. These labels include the product's brand name and other information like model number, color, and size. You can carefully read them to spot any changes.
When checking the shoe tag, you should also see the product barcode. The barcode on the shoe tag must be the same as on the shoe. Otherwise, it could be fake.
Lace goodness
Many genuine ASICS include an extra pair of laces for future usage.
An additional set of premium elastic laces is provided with each pair of ASICS sneakers. The lanyards in the original ASICS were knitted evenly and firmly.
Meanwhile, many counterfeit manufacturers ignore this because it costs them more.
ASICS GEL Technology
ASICS is famous for its GEL technology, which supports foot and cushioning. The shoe's center, visible from the outside, shows that this shoe contains GEL technology.
GEL technology must be transparent and obvious and cannot be covered or hidden. ASICS shoes are phony if the GEL technology is invisible.
Padding
Every ASICS shoe has padding to maximize comfort and protection. This padding is exclusively made with secret propriety for ASICS and is hard to be copied.
If your ASICS has uniform padding, it could be fake.
Inner socks
Additionally, the ASICS sock liners will be removable. Scrutinize the shoes, and you may notice a stamp on the sock liners.
Look for the ASICS mark stamped behind the wheel arch, and make sure the writing is correct and the stamping is clear and sharp.
The original logo
The ASICS shoes have the company's emblem imprinted onto the material that covers the soles. Each character in the font has a little dot in the middle and slightly curved edges.
Ensure the rubber has a small, verified "R" embossed in addition to the trademark. The logo might only be an authentic ASICS shoe if it is printed.
Price
ASICS shoes are delivered with top-notch design, comfort, and performance. If they are too cheap, they might not be the original ones.
FAQs
1. Who Owns ASICS?
ASICS is a publicly traded business owned by Mr. Kihachiro Onitsuka.
The company launched its footwear division as Onitsuka Company Limited in 1949. It rapidly gained enormous popularity in the shoe market within a few years.
2. How Can ASICS Guarantee Its Overseas Manufacturing?
According to the ASICS Sustainability Report 2020, it only works with suppliers and manufacturers that adhere to strict standards and promise ongoing development.
ASICS pays notice and conducts a semi-noticed site assessment of the actual manufacturing plant once a year after the agreement is made to assist it in tracking manufacturer sustainability performance.
Even though there are just 17 requirements, the institution that meets them will receive an A–E grade.
The business invested significantly in R&D at the ASICS Institute of Sports Science to guarantee that these shoes are made for long-term comfort.
Experts are closely collaborating with factories, labor unions, and industry organizations to make improvements to match the manufacturer's shoes for performance.
Final Words
Most ASICS shoes are made in China and Vietnam, while others are made in countries like Indonesia, Cambodia, Brazil, Argentina, India, Japan, and America.
From 2021, its shoe manufacturing in China relocated to Indonesia.
No matter where ASICS shoes are made, they adhere to stringent standards. Using some techniques mentioned above, you can easily check the originality of ASICS sneakers.