What shoes to wear with a maxi dress? If you are currently in dilemma, let us help you find the best match for your attire with a few tips and suggestions. Soon, you won't feel hesitant to add these gorgeous dresses to your wardrobe!
Best Shoes To Wear With A Maxi Dress
Boots
Originally viewed as an uncommon match for maxi dresses, boots have eventually become an option when you want to deliver a statement and draw all the attraction towards yourself.
Ankle Boots
You don't have to put your favorite dresses away when winter comes, because ankle boots can give them an incredible enhancement. You can pair white ankle boots with a flower-printed or red maxi dress and enjoy the nice contrast. If you have a cowboy hat to add, an off-shoulder dress might be better.
Ankle boots are usually very comfy to walk with, but a graceful A-line dress might give you extra convenience and an additional bit to your height.
Combat Boots
Remarkably taller than ankle boots, combat boots are undoubtedly footwear of statement for you. An interesting combo for you to try is a flowy black maxi dress with flower prints and rugged boots. The leopard pattern is amazing as well!
Heels
Maxi dresses can be a challenge for ladies with a below-average height, and heels step in to save the day. Among countless styles of heels, these stand out!
Minimal Heels
We are delighted when we picture a long, graceful navy blue maxi dress with a pair of white minimal heels. You have the freedom over the height of these heels: short heels for confident and comfortable steps or high heels for that queen bee vibe.
Block Heels
These chunky heels are the best friend for fans of simplicity who don't want to deal with stilettos. Pair a white maxi dress (preferably cream shades) with nude heels, you will be ready for that elegant look with minimal makeup.
Stilettos
Some people fear long gowns because their height is not ideal, but stilettos are the perfect solution. They are not your go-to choice if you need to move around frequently, so only grab a pair of stilettos when you know you won't be taking part in many activities.
If you are ready for it, however, try a ton-sur-ton set with a glamorous bodycon maxi dress and stilettos! Don't be afraid of going for a bold cut and showing off your slender legs!
Flat Sandals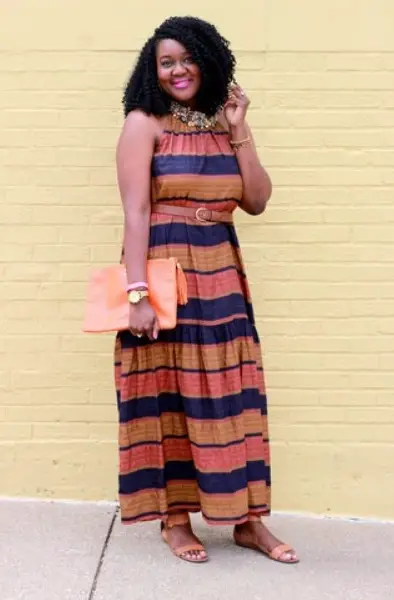 During summer, flat sandals are certainly the best choice for a lovely boho maxi dress. Of course, something fancy and sophisticated like gladiator sandals is possible, but why make it complicated when simplicity can also be as impactful?
Sandals are various in styles, though you can reduce the number of choices by going for open-toed footwear only. Aside from making you seem taller, they are suitable for many types of events.
A tip that works most of the time is playing with contrast. Choose a pair of sandals without patterns and embellishments if you have a printed or lace maxi dress. On the other hand, a plain dress would look nicer when the sandals are bold enough.
Sneakers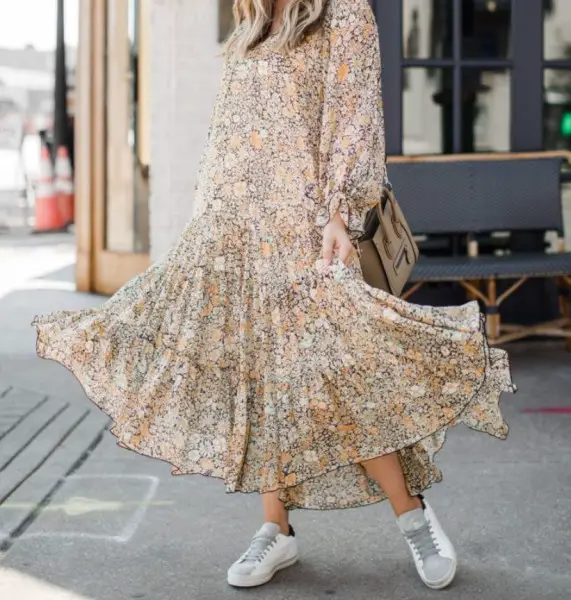 Sneakers are the solution when you are out of ideas for what to pair with your maxi piece. For example, mixing a set with a navy maxi dress can be difficult, but classic white or black sneakers can do the trick and simultaneously give you all the comfort you need.
Sneakers also look fabulous when you have a denim jacket to match your plain dress. This set works even when the weather turns a bit colder.
Furthermore, as sneakers are the epitome of activeness and sportiness, you can have some fun with a dress of many layers. We can't help but fall in love with such an interesting contrast.
Mary Janes
Look at them! If you own a vintage attire such as a slip dress, it will go exceptionally well with the retro Mary Janes. These shoes are also great with cute socks, hence it is also a winter addiction.
Mules/Loafers/Flats
They are honestly not a popular choice because they have a very characteristic look, the quirky vibe doesn't seem like a compatible addition for a maxi dress. But we love unique things!
Mules of black or white colors are obviously the easiest way to go because every maxi dress can combine them. However, we recommend mules for summer dresses. Nude mules with burgundy maxi dress make an uncommon but effective combo.
Loafers are so good when it comes to comfort. Even though they look funny in a positive sense, they can handle colorful dresses with stripes, polka dots, and prints! It has the slightly formal look of heels and the convenience of sneakers.
Flats, especially ballet flats, are available in all sorts of styles and colors, so you don't have to worry about them not matching your dress. They don't have heels, thus you can be as active as you want all day long.
Wedges
Like slippers with chunky heels, wedges are extremely comfortable to wear while maintaining an elegant look for formal events. You can pair nude wedges with a dainty white dress for a wedding, or mix espadrilles with a simple long dress.
Magically, if you feel confident enough to stand on high-heeled wedges, they will bring a whole new vibe to you: audacious and impressive. In this case, glamorous dresses with eye-catching patterns are better!
Check more: Best Shoes to Wear with White Dress
Peep-toe Shoes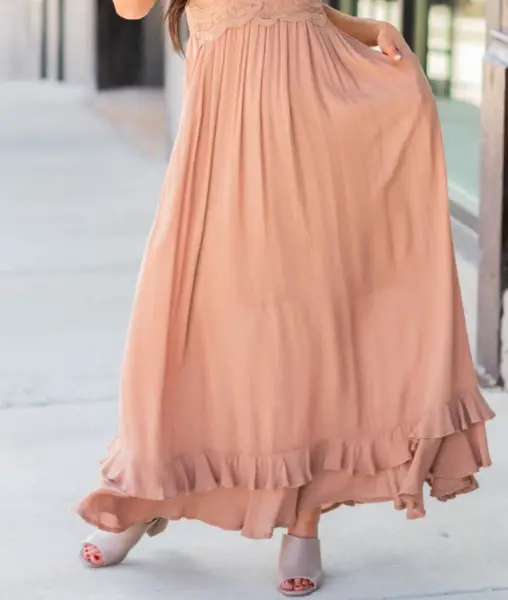 During transitions between two seasons, peep-toe shoes become a new addiction. Not too formal or casual, they can turn your maxi dress into something comfortable or dressy, depending on your preference!
Pumps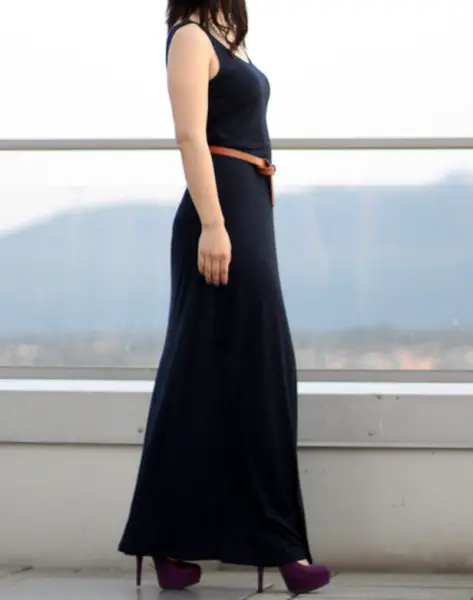 Pumps never fail to give you a professional look, and it does the same thing to your maxi dresses. If you are looking for something extremely formal, go for the high heels and metallic colors. Of course, matte shades and low heels will have the opposite effect.
Flip Flops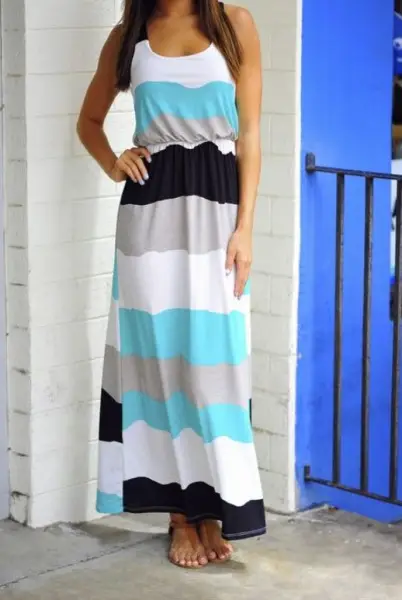 Flip-flops are one of the most popular items for summer fashion, and they surely can make an explosive combo with maxi dresses. However, we believe you shouldn't overuse flip-flops unless you are at the beach.
Platform Shoes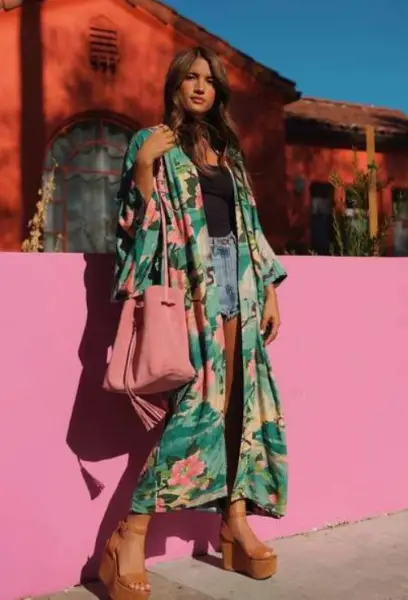 What do we have when we combine wedges with traditional heels? Platforms have the comfort of wedges and look like heels. As a result, it can be mixed with a graceful, soft-colored maxi dress for a formal ceremony or simply a casual date.
Some Tips When Choosing Shoes To Pair With A Maxi Dress
Shoe Height
A smart choice with the shoe height could visually add a few centimeters to your height. Never exclude these factors when you are considering a pair of shoes for your maxi dress:
Heels are necessary most of the time. A long dress can increase your width and decrease your height, and suitable heels will conquer this flaw for you.
Know the occasion. High heels make your outfit look more formal, and flats are the most common option for a casual appearance.
The length of the dress should be sufficient, not dragging on the floor or ending too high above your ankles.
Formal or Informal Occasion
A maxi dress can be appropriate for most occasions. Not only the styles and the colors can determine the vibe of the outfit, but also the shoes and the accessories you choose. With the right mix-and-match, you can successfully alternate between formal and casual looks.
However, whether you are dressing up for a wedding, a party, or a red carpet event, the best option is usually simplicity. Maxi dresses are not meant to be a highlight, and you don't want to overdress.
In a wedding or a solemn ceremony, a pair of pencil heels or stilettos of the same color as your dress would do the trick, for it adds to your height and gives the dress a natural flow. However, ballet shoes and flats are more graceful if you are already tall, but remember that they are better without too many embellishments.
For casual occasions, you will make the most out of your maxi dress if you pair it with simple footwear such as sneakers, flats, or sandals for a comfortable feel. Combat or cowboy boots are possible picks as well if you want to try something different!
Dress Color & Dress Pattern
Pairing your dress with shoes of a related color is usually a safe bet, but what matters more is the design of your shoes. Maxi dresses are glamorous with a summer vibe, hence it is most compatible with similar footwear. When you don't want to go for a ton-sur-ton attire, metallic colors are another easy choice!
Furthermore, if your dress has a pattern, you can try mirroring it on your shoes! It can be the feminine strings and tassels attached to the outfit or the printed embellishment. Never overcomplicate the footwear though!
Winter or Summer Outfit
In Winter
Maxi dresses are not a summer-only addiction! You can style it (and keep yourself warm) with a jumper or a jacket, and the outcome might surprise you. There are long-sleeved maxi dresses ready for the taking too!
Here are the best shoes to wear with a maxi dress in winter that you can try:
Ankle Boots: As expected, boots are great in winter. They are warm and stylish enough to rock your dress regardless of their height.
Sneakers: Besides being warm, sneakers are meant to give you a casual yet chic vibe. People who think sneakers are not suitable for maxi dresses have been proven wrong.
Pumps: They look a tad more formal than ankle boots and sneakers, but open-toed shoes can lead to extra coldness for your feet.
In Summer
Somehow, many people find it easier to choose a pair of shoes to wear with a summer maxi dress, probably due to the natural glamor of these gorgeous long dresses. Our choice is pretty much anything except for closed-toe shoes because we need breathability to avoid fungus and bad smells.
Sandals: It is a classic match for maxi dresses, especially when you are going to the beach. Also, sandals are available in various styles and colors. If you are indecisive, pick flats for comfort and convenience!
Gladiators: Are you confident with your height? The complex form of these gladiator footwears will be gorgeous on you.
Wedges: A perfect balance between formal and casual, thus you can put them on anytime you want to!
Barefoot: No, it is not a new type of footwear, nor are we out of our mind! When you are only a few meters away from the beach, you can definitely flaunt your bare feet as long as you pay attention to your steps!
Final Words
We have numerous options for shoes to go with a maxi dress, regardless of the season. The appropriate choice of shoes will help you shape out the style and stay comfortable wherever and whenever. Have you already decided what your next shoes will be like?