You might have heard good things about chinos and thus you want to add them to your collection, but what shoes to wear with chinos now? The good news is chinos are not difficult to style, and we are here with all the tips you will need!
What Shoes To Wear With Chinos?
Let us confirm it once more: chinos are compatible with a wide range of shoes and styles. Men and women can both rock these trousers, but here comes the dilemma. You will have so many choices of shoes to pair with your chinos that you might get confused.
Sneakers – A cool casual look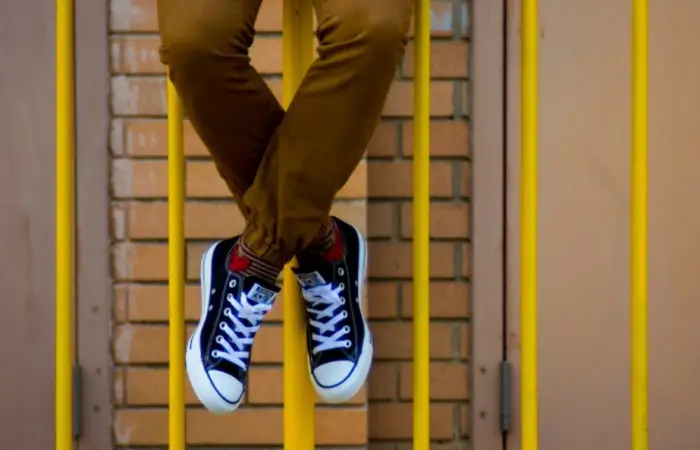 Sneakers don't depend on gender. Regardless of what you are looking for – comfort or look – sneakers go well with your chinos.
For starters, we can combine navy blue chinos with white sneakers for a classic look. We love white sneakers for their versatility, you can play with the patterns and the colors of your top as much as you want to.
However, be cautious with the style of your shoes. Plain running shoes might look off for chinos, smart trainers will be better. If possible, choose sneakers with some details that match your shirt.
Boots – A fresh, masculine, and fashionable look
Boots definitely remind us of winter and snow but, fortunately, they are compatible for all seasons. What you need to do is get the appropriate kind of boots. They highlight masculinity for gentlemen and give the ladies a refreshing vibe.
Chukka boots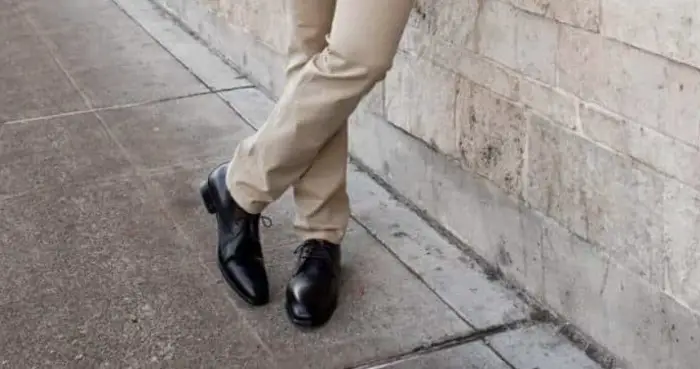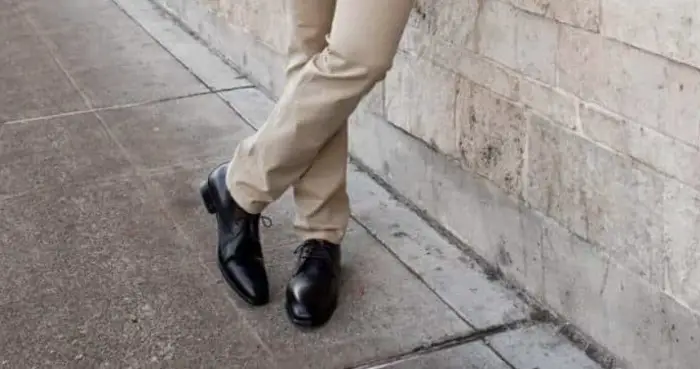 Timeless and elegant, Chukka boots are something you need if you want to dress up. Semi-formal and smart casual occasions are where they shine. If you feel like trainers and sneakers are too youthful, you can put your faith in a nice pair of Chukka boots.
Since black Chukkas somehow seem too formal for most colors of chinos, we might want to soften them up and choose a brown suede pair. It would match black chinos effortlessly and spare room for your creativity to come up with a nice top.
Ankle Chukka boots can stay with you throughout the year, except for extremely hot summer days where you will crave coolness all the time.
Chelsea boots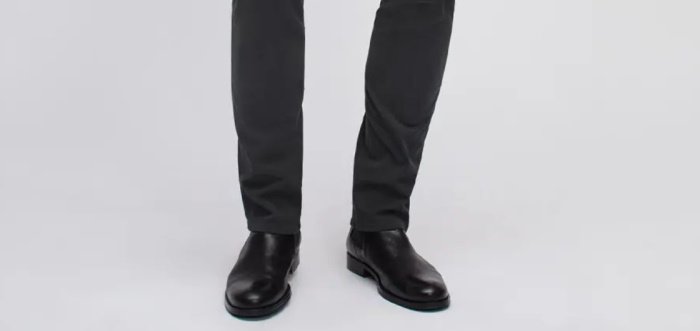 Fashionable and sleek, though Chelseas maintain a casual vibe because they are laceless. Therefore, despite the possible impression of sophistication, you might not want to pair these boots with suits and ties, even if they are black.
We can pick brown or beige chinos, but the colors don't matter as much as the length. Your chinos should fall into the Chelsea boots in an easy and not forced fashion. If the chinos are too short, the top of your shoes will show, and it is not a pleasant sight. Likewise, if they are too long, the footwear will be covered up with no chance to show itself.
The colors are important too. When you keep your chinos and your shoes in similar colors, they will elongate your legs and make you appear taller. But should you need attention rather than height, play with nice contrast.
Military boots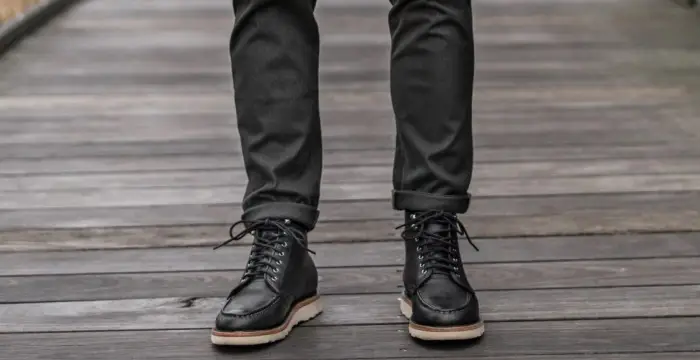 When we mention boots, it's normal for us to relate it to something formal, yet the military might be an exception. They are comfortable and practical enough to get themselves a spot in the casual category, though the high tops surely seem more suitable for autumn and winter.
Furthermore, you don't need to wear black boots for that edgy and strong appearance, whether you are a lady or a gentleman. When it comes to chinos, brown boots are more versatile and relaxed.
Loafers – A sharp yet versatile look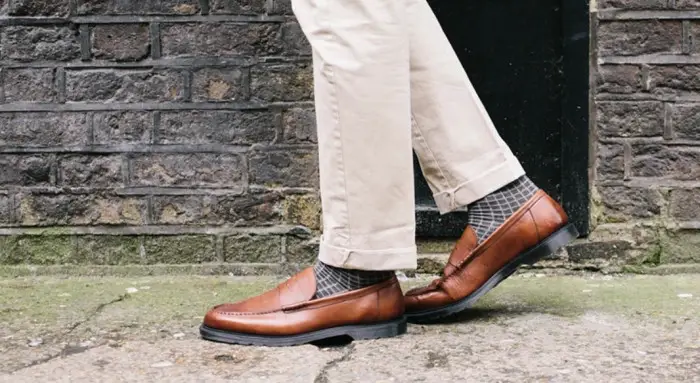 Not picky with weather or gender, loafers with chinos is the way to go for both men and women when they are not sure about what to pair with their chinos. The general rule here is to use tapered trousers that leave your ankles exposed but don't go higher than your ankles.
For summer attire, discreet socks and suede loafers look casual and fashionable without trying. If you need something more formal, try regular socks with loafers and brown chinos. Loafers might not be for everyone, yet everyone can look pretty decent with them.
Boat shoes – A more fashion-forward look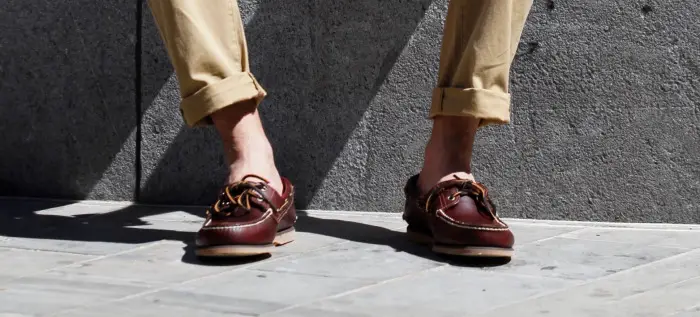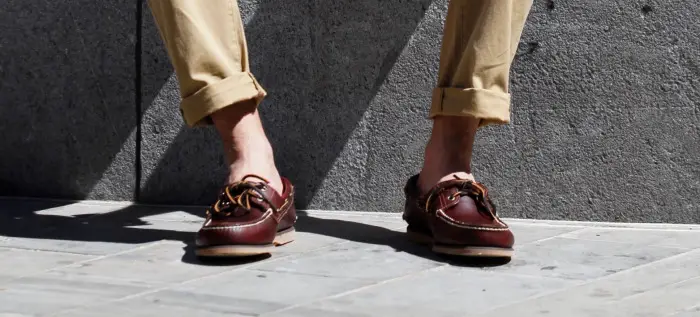 Although boat shoes are not as versatile as loafers, you can't talk about casual combos with chinos without them. They might not be the most appropriate for buyers with a preference for classic styles, yet the smart casual trends give them a popularity boost.
At first glance, they resemble sneakers but look sharper due to the leather being their material, this unique look allows them to pair well with many styles such as a casual button-up or a polo shirt.
We recommend rolling and cuffing the chinos to show the top of the shoes since they might look off with long trousers falling over them.
Lace-up shoes – A smart casual look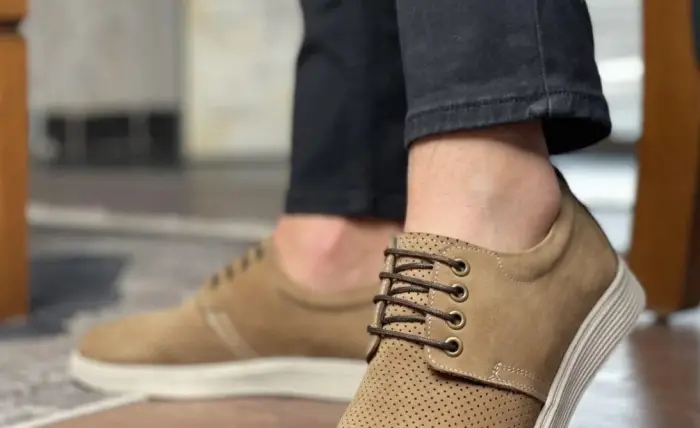 Nothing beats lace-ups like derby or oxford shoes with chinos if we want a game changer and turn the casual chinos into something elegant. Gentlemen would want to have a pair of these shoes in their wardrobe.
The range of light colors feels more relaxed and compatible with casual or semi-casual events. Meanwhile, darker colors are almost a no-brainer when you prepare for a formal occasion, though don't forget to go for minimum brogueing.
Leather and suede are two popular materials for lace-up shoes, but the former will look more formal and solemn compared to the latter. Consider the essence of your event carefully before making a decision!
Tips When Choosing Shoes To Pair With Chinos
Which occasion?
Chinos are not picky when it comes to the occasion to wear them, hence you can put on your favorite chinos for work, for hangout, or for any sort of event. However, the choice of shoes might completely change how your chinos look.
Casual events
Chinos come with a relaxed but still sophisticated vibe that you can rely on for a casual outfit that doesn't look like you are underdressing. Put your jeans away and slip into a pair of burgundy chinos, you can't make a wrong decision with comfy sneakers and a matching tee.
If not sneakers, loafers, and boat shoes are great alternatives. Remember that you don't want anything too formal when you join a casual event. It looks off, and you will feel uncomfortable as well.
Unexpectedly, boots are great with chinos too! Be sure not to pick boots with high heels or intricate details. Low heels or platform boots will give you the comfort you need for a fun time.
Semi-formal events
It will require some effort to turn these comfortable pants into something more formal. Specifically, you will need to focus on the sophisticated side of your chinos, which means to commend them with dress footwear such as Oxford leather shoes.
It's quite obvious that button-down shirts with suits and blazers are what you need for the top piece. If the event calls for it, ties might be a valuable touchup. You might also play with the colors and let the accessories stand out.
Formal Events
Once again, we need to work a bit to bring the elegance out of chinos. They can give you a sophisticated look in their unique way. In a crowd of formally dressed people with suits and ties, a pair of chinos will be an interesting change.
Cocktail events call for loafers, both leather and suede provide a confident but not too stoic appearance. Finely polished Derby shoes definitely work as well.
Pick something along the line of sharp blazers and crisp white blouses for your top. Since we want to be as formal as possible, your best friend will be belts and tucked-in shirts.
Last but not least, formal events are an opportunity to express your style and personality, which means you should mix and match colors as you please, as long as they don't end up in a comical contrast.
What kind of weather?
Chinos are available in both thick and thin fabrics, and they can determine the kind of weather compatible with your trousers. Furthermore, the season will change your choice of what shoes go best with chinos.
Monsoon
For every type of shoe, monsoon is fairly tricky to deal with because of the irregular winds and rainfalls. Winter shoes might be a little too much, hence summer shoes will suit the season better. However, make sure you have your footwear with great weather resistance in case you have to go outside during the rain.
If you happen to own no such shoes, you can try one of the waterproof shoes on the market. Nonetheless, excessive soaking will wash these sprays off easily.
Spring & Summer
Chinos are meant to look relaxed, hence they strangely suit our summer footwear. Their combination is breathable and comfortable. We can start with half-sleeved tees or button-ups and loafers without socks.
Aside from loafers, we should appreciate boat shoes or sneakers with chinos for busy occasions. If you need a tad of formalness, brogues will do the trick!
Fall & Winter
You can still dress up with your chinos during cold months, as long as you choose thick fabrics to keep the warmth. For the footwear, boots can never go wrong in winter, especially smart styles such as Chelsea, chukka, suede, and dress boots.
Don't forget to pair your boots with appropriate clothes for the cold season. Wool blazers or denim jackets certainly provide enough warmth while still looking fashionable. You can even throw an additional coat over the outfit if necessary, it won't ruin the overall appearance.
What colors?
In general, all shades of brown would be nice for your chinos, but they might be too casual-looking to venture into the suit category. We would only go for black shoes with chinos if the rest of the outfit is also dark-colored and the event to attend is super formal.
Shoes To Avoid With Chinos
Chinos have a lot of best friends, but not these guys. You should keep them away and save yourself an awkward look.
Sandals seem sloppy with these kinds of pants, even the high-heeled version of the ladies. Let them have a peaceful life with shorts and dresses.
Sports shoes like running shoes or trainers shouldn't go with chinos. Ever. Chinos are casual and not sporty, and these two vibes have a borderline in between.
The Bottom Line
Knowing which shoes look good with chinos is utterly important if you are going to try these chic trousers. You have two questions to answer now: (1) how formal you want it to be, and (2) what the weather is like. And you're completely to rock some pretty chinos!