Hoka, fully named "Hoka One One", is a French running shoe manufacturer, worldwide known for the best-engineered, supportive footwear for tough terrains and foot-related problems. So, what does Hoka One One mean, and why are these shoes favored?
Let's investigate the origin of the brand name "Hoka One One" and the reason behind its popularity.
What Does Hoka One One Mean?
Hoka One One is a phrase originating from Maori, an island or island group in Eastern Polynesia, South Pacific Ocean. Hoka One One stands for "the freedom to fly", "time to fly", or "fly over the Earth".
This phrase is often misspelled as "Hoka 1 1", "Hoka Eleven", etc. So, how to pronounce Hoka One One correctly? Since both Maori and Hawaiian are in the Polynesian language group, you can pronounce it in Hawaiian as /Hoka Onei Onei/ or Hoka /Oh-nay Oh-nay/.
Why Hoka is seen more often than Hoka One One?
Although we have seen the Hoka more often than the "Hoka One One", it doesn't mean that the company has totally retired the "One One". The brand hasn't made any official announcement about this change yet, hence, you shouldn't have any fear about any change in the inner brand aside from the name.
According to Norma Delaney, VP of global brand marketing at Hoka, the brand name is still Hoka One One. And you will still see it on shoe boxes, hangtags, and on the company's website and other access points on market. The reason why customers see Hoka everywhere nowadays is that this is their familiar name, it's short and memorable.
"Hoka is not just a clean and simple name, but it's a strong name", "We are using Hoka on more consumer touchpoints to more readily connect with how our consumers speak about the brand" – Delaney said.
But, it did have modifications to its website, logo, and social account.

A Brief History Of The Hoka Shoe Brand
Hoka was founded in 2009 in Annecy, France by Nicolas Mermoud and Jean-Luc Diard, two former Salomon employees. From Europe, this brand entered the U.S market in 2010 in Richmond, California. Up till now, it has headquarters in Goleta, California.
At first, Hoka designed running shoes that can perform well in downhill races. Unlike regular sneakers or traditional running shoes, Hoka shoes have maximum cushioning and oversized outsoles that can protect runners' feet while helping them reach their performance peak.
From the top favorite choice of ultra-marathon runners, these shoes have been becoming popular worldwide among triathlon/ road-running athletes and running addicts for their maximum cushion and minimum weight.
Moreover, Hoka also provides sponsorship for various professional training groups (Northern Arizona Elite, the California-based Aggies Running Club, the New Jersey New York Track Club (former sponsor), etc.
In April 2013, Hoka was purchased by Decker Brands, a brand house of many footwear brands like UGG, Sanuk, Teva, etc.
Where are Hoka shoes made? Almost all Hoka shoes are made in China and Vietnam. Besides, Hoka also has factories in Cambodia, the Philippines, and the Dominican Republic. Those factories account for 10% of Hoka's products worldwide.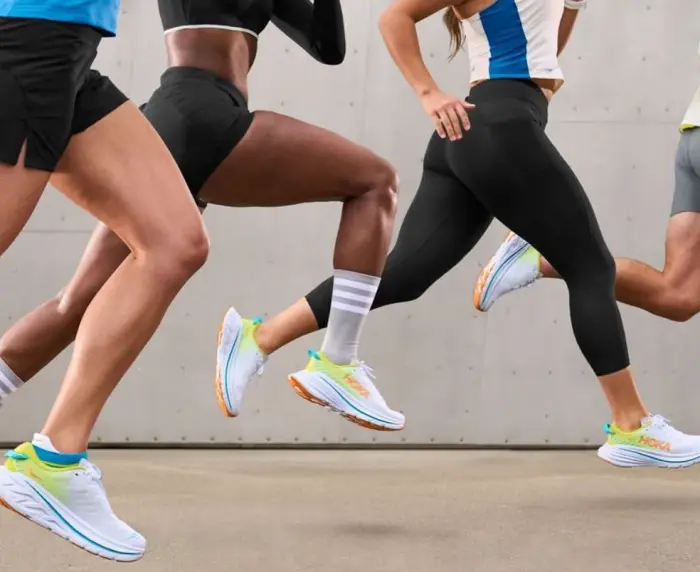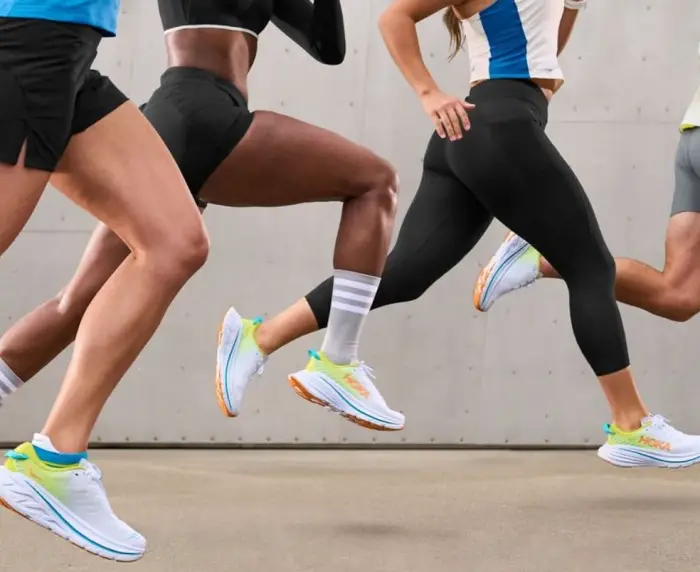 Check more: Do Hokas Run Big, True To Size, Or Small?
Why Hoka Shoes Are Favored?
Meta-Rocker – wheels for your feet
The midsole geometry's design is the most highlighted competitive advantage of Hoka shoes. This signature design is called Meta-Rocker (or "wheels for your feet"), a wheel with a low heel-toe and a sculpted outsole radius in the forefoot and heel area. A Meta-Rocker wheel drives the walker/runner toward, thus lessening the height between the heel and the toe.
This feature helps you move forward with fewer bends, and is great for runners with toe stiffness or joint arthritis.
J-Frame – superior support for heels
Hoka shoes feature J-Frame technology, an innovation that delivers superior support for your heels with a firmer, denser foam inside (on the heel's medial side and midfoot) and outside (on the lateral rearfoot) of the shoes. It also tapers off to add more flexibility to your forefoot.
A noticeable point of this technology is that it doesn't add extra weight to your feet.
Upper uses no-sew SpeedFrame construction
The upper of Hoka One One shoes uses no-sew SpeedFrame construction for extreme comfort and fit. Besides, they include a breathable and soft mesh and a layer of EVA foam near the foot to absorb shocks better. Besides, many best-selling Hokas, Like Bondi and Clifton, have a wide toe box to allow runners with wide feet to enjoy an accommodating fit.
Hoka continuously innovate its products in the future. In other words, there will be new Hokas with new materials, new constructions, new technology, and new geometry. These improvements ensure to bring the signature Hoka experience to millions of athletes and runners worldwide.
Lightweight Marshmallow Cushioned Midsole
The lightweight cushioned midsole of Hoka shoes is good for arch support since it absorbs shocks and minimizes injuries while running on uneven terrains. This midsole is perfect for runners or walkers with foot-related problems, or anyone whose jobs require standing or walking for a long period.
FAQs
1. What does Hoka One One mean in Hawaiian?
In Hawaiian, Hoka One One means 'flying over the Earth'.
2. Are Hoka shoes made in China?
90% of Hoka shoes are made in Vietnam and China, while the remaining 10% are made in Hoka's factories in Cambodia, the Philippines, and the Dominican Republic.
3. Are Hokaood One One shoes useful for plantar fasciitis?
Hoka One One shoes are ideal for runners suffering from plantar fasciitis. Their thick EVA foam lessens the impact on your feet but is still firm enough to hug your feet and provide adequate support. The wide, soft, durable sole help maintain your natural posture, which is great for walking or running.
4. Is the Hoka still 'Hoka One One' until now?
In December 2021, Hoka dropped the 'One One' and shortened its brand name to 'Hoka' only. Its domain name is also changed from hokaoneone.com to simply hoka.com. There is no information mentioning 'One One'.
As mentioned above, there's no official announcement of this change. And the shortened name is used to more readily connect with their consumers. Only the name change, but the inner brand.
Final Words
After understanding what Hoka One One means and why they are so popular. Hoka has redefined the standard of running shoes by using premium fabrics and applying runner-centric design. If you are serious about running or walking, Hoka is a brand you can trust.