Oofos vs Hoka shoes, which is the best brand for you if you are in search of recovery footwear for your daily comfort? The products seem similar at first, but they differ quite strongly.
Oofos vs Hoka: Brand Overview
Oofos shoe brand


Compared to the most well-known names in the fashion industry, Oofos is very young. Established in 2011 by 4 experts in the footwear field, Oofos has been improving consistently and providing the best products for professionals and amateurs who suffer pain in their joints.
The key to success is their independently developed foam called OofoamTM. Compared to the foam we have had in our shoes, this innovative material can absorb 30 – 37% impact from our activities. But it's not everything yet.
Oofos also further completed their dream shoes by using a smart design for the footbed. As a result, their footwear gave the feet a lift and significantly reduced the impact on the lower body. From hips to knees, ankles to feet, you will feel less pressured and demanded when you put on these recovery shoes.
The most popular product line of Oofos is recovery sandals in thong and slide styles. They both are supportive of the feet, but the thongs undoubtedly earn more aesthetic points.
Recovery shoes of Oofos have a decent appearance even for work, aside from being the perfect cushioned footwear for you.
For slipper fans, Oofos recovery clogs are a gift with multiple colors to choose from and utmost comfort.
The slogan Oofos goes by is "Feel the OOO", and they truly live up to the confidence. The comfort you feel when you slip their shoes on is definitely enough for you to let out the OOOOOOO sound. You might even think these shoes feel weird, though it's like to be in a positive manner.
Hoka shoe brand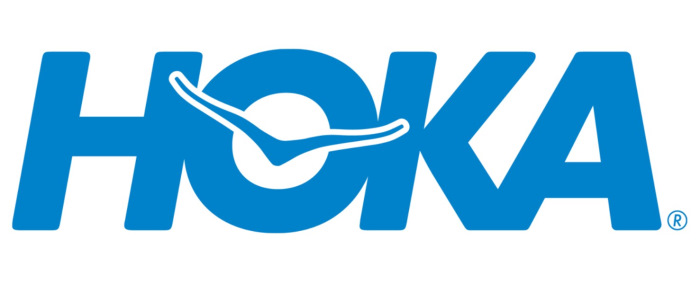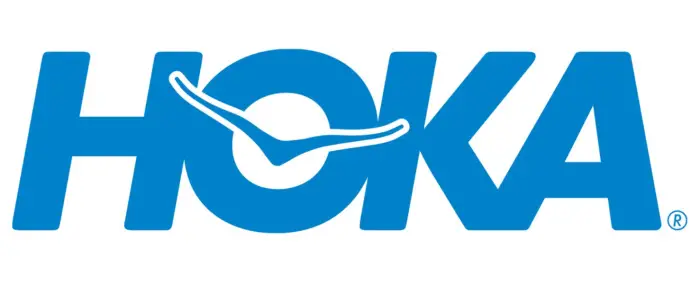 Rather than shoemakers, Hoka was bred and born by two French runners in 2009. In the past decade, they have diligently improved and utilized high technologies and clever designs such as cushioned midsoles PROFLY for joint protection, J-Frame for the structure, plates with carbon fiber, and many more.
With advanced technologies in hand, Hoka confidently released max-cushion and low-profile shoes for all kinds of terrain, and the lightweight is certainly another bonus point for runners.
Hoka gains most recognition with their maximum comfort but minimum weight running shoes. They are trusted by many athletes and they also sponsor a good number of pro runners in return.
Their recovery sandals are a newer attraction on the market, with smart designs and sturdy but not heavy materials.
Hoka's tagline is "Time To Fly", which indicates that their shoes are feather-light, and indeed they weren't boasting. The design is also fashionable enough to take you everywhere and anywhere.
Oofos Vs Hoka: Overall Comparison
Now we can break down Oofos vs Hoka differences in product lines with a neat table. With details compiled in columns and rows, you will quickly narrow down a few options.
Oofos
Hoka
Founded
2011, USA
2009, France
Men's products 
Oomg Fibre, Ooriginal, Ooahh, Oocloog
Clifton 8, Mach 4, Hoka Ora, Kawana, Bondi 7, Carbon X 3, Challenger ATR 6, Mafate Speed 3, Ora Recovery Slide
Women's Products
Oolala Luxe, Ooahh, Ooriginal, Oocloog
Arahi 6, Hopara, Clifton 8, Speedgoat 5, Ora Recovery Slide
Size range
3 – 16 for men

5 – 16 for women

4 – 14 for men

5 – 11 for women

Types of recovery shoes
Sandals, Shoes, Clogs, Boots
Shoes, Sandals
Special tech
OOfoam to reduce pressure and exertion.
PROFLY with extra protection for the feet, J-Frame for activeness.
Iconic product
OOfoamTM is the icon and spine of Oofos products.
Meta-Rocker design provides a smooth ride with propulsion.
Oofos vs Hoka: Sandal & Slides Comparison
Both Oofos and Hoka are popular for recovery sandals and slides. However, they utilize different main materials for their footwear and also walk on their own path when it comes to technology and design. Let's get down to a comparison chart between Oofos vs Hoka Sandals.
Oofos slides & sandals
Hoka slides & sandals
Material
OOfoam
EVA foam
Style
More style
Weight
Not much difference
Design
– OOcando is a united mass;

– Slides also look like a united mass.

– Hopara comes with laces;

– Slides divide into parts visually.

Color
A bit more colors
Comfort
A bit better
Maintenance
Both are low-maintenance
Durability
More potential to survive tear and pressure
Price
A bit less expensive (but not much)
Material
Oofos uses OOfoam for all of their sandals and shoes. Aside from the well-known effect of reducing impact and pain, Oofos sandals are also lightweight and bacteria-resistant.
Hoka, however, puts its faith in EVA foam and continuously develops formulations revolving around this material. It is elastic, lightweight, and very durable. Recently, they combine their traditional material with carbon fiber plates and new synthetic components for better cushioning.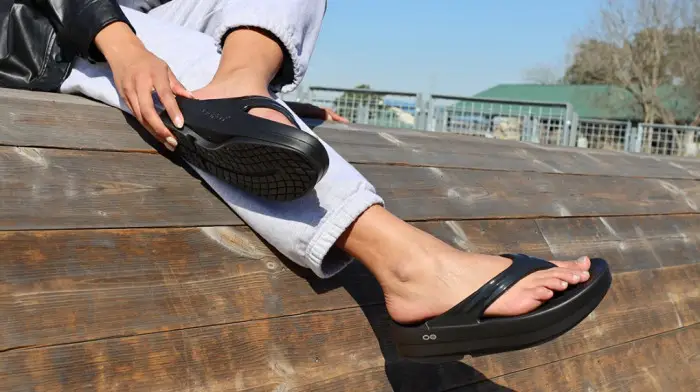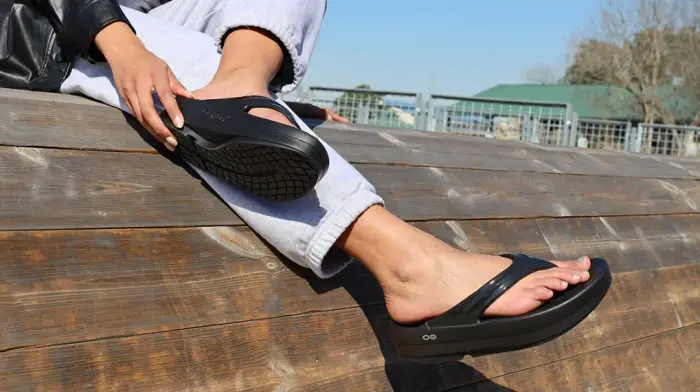 Style
Oofos gives their attention to all genders, hence they have several styles in each category.
For women, you will have Oolala Sandals, Oocandoo Sandals, and Ooahh Sport Flex Sandals to choose from. The lowest cost is $54.95, and the highest goes up to $79.95.
For men, you will have Ooahh Slide Sandals, Ooriginal Sport Sandals, and Ooahh Sport Flex Sandals (male version) to consider. They will charge your wallet from $49.95 to $80 at most.
With Hoka, the choices are a bit limited.
You will have the Ora Recovery Slide for all genders (plain colors or prints), Ora Recovery Flip, and Hopara for women. Fortunately, they have a fair color range to serve your preference better.
Weight
Both of these brands concentrate on recovery, hence they are never too heavy to wear. Oofos Ooaah Sandals for 6-sized men weigh about 130 grams, while Hoka One-one size 6 weighs 180 grams. The difference is surely not much.
Of course, when you increase the size, the weight will go up a bit, though it's nothing too much to handle.
Design
If you hold a pair of Oofos sandals in your hands, you will have the impression of a united mass. From the traditional style Oolala to the sporty design OOcando, they embrace your feet as a whole and still give you enough room for breathability.
Meanwhile, Hoka sandals come with laces and ties. It makes them appear more sporty and active. Like Oofos, they have gaps on the sides to circulate the air and prevent sweat built-in.
We have mentioned Oofos footwear being a mass with no separated part, and it applies to their slides too. Even the upper patch and the toe post are connected to rest and made of the same material.
On the other hand, Hoka products are made of several parts such as sole, footbed, strap, and toe post. Furthermore, straps and toe posts are always cloth.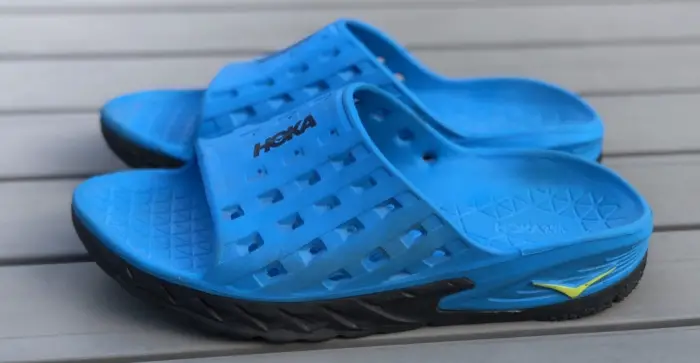 Color
Both of these brands offer multiple colors for their customers to choose from, but Oofos might be a little ahead. Their colors range from cold and deep shades like black, grey, and deep blue, to bright, summer-like hues of red, orange, and yellow. Meanwhile, Hoka leans more toward dark colors.
Upper
In their two new products, Oofos Ooaah Sandals and Hoka One-One ORA Recovery Slides 2, the uppers are joined in a single piece with the identical material to the sole. Oofos promotes a two-strap look while Hoka uses seven of them. Many Hoka has this feature, therefore you might feel Hoka fits better.
Midsole
The biomechanical design of Oofos Ooaah Sandals gives you the arch support your feet need. Its midsole embraces and molds to the feet in an almost natural arch. The surface has a mild texture to prevent unwanted slip. The toe box is also pretty comfortable with spare room for foot protectors.
The downside mostly depends on what you are expecting from Oofos. If you have a high arch on your feet, the arch fit will not fully reach you. Or if you need something firm under your steps, the foam might not meet the requirements.
The most noticeable difference between Hoka is the EVA material and a cup shape to hug the heels of your feet more thoroughly.
As if the cupped heel is not secure enough for them, Hoka decides to give the top of the midsole a prominent pattern with ridges. You won't ever feel the slide sandals slip off with your steps.
Outsole
For the Oofos outsole, you need to put the sandals on to really sense the slight curve in the front. This detail adds a bit of a bounce to your movements and assists you to walk comfortably. You might need some time to adjust if it's your first time trying such properties.
By touching and trying, you can feel the way Hoka's outsole is seemingly separated from the midsole, with a more durable and dense feel. The wide platform guarantees more stability than what Oofos offers, thus the forefoot rocker will be less sensible.
Maintenance
With research projects proving they can absorb up to 40% of the pressure on your hips and legs, OOfoam seems quite formidable! Surprisingly, it is low-maintenance, unlike what people might assume. Since it is resistant to water, odor, and bacteria, you have an easy time keeping it squeaky clean with washing.
EVA foam makes a big part of Hoka footwear. It doesn't get dirty or tear easily, yet here are several methods you can use to keep it free from built-up dirt: baby wipes, baking soda, lemon juice, cold wash, and more.
Durability
When we purchase Oofos sandals and slides made of foam, we probably are looking to visit places such as the beach, the gym's bathroom, and the like. With anti-bacterial and odor-reduction properties, you can enjoy your activity without concerns. If the room suddenly reeks of an unpleasant smell, it's certainly not from you.
Due to the aforementioned design, it has more potential to survive tear and pressure compared to Hoka and their multiple-part form. However, once the united structure is ripped apart, there's no redemption.
Price
Recovery sandals are the most inexpensive product line from Oofos. With $60 – $85 in your budget, you can have any pair of sandals you want from this brand. However, the price is still higher than most sandals you can find in retail stores. They prioritize shipping in the US and have a point system for regular customers!
Hoka is only a bit less expensive than Oofos. For most people, the difference is not big enough to be a problem.
Check more: Kuru vs Hoka Shoes In-depth Comparison
Who Is The Winner?
So, the battle between Oofos vs Hoka slides ends in a tie, generally speaking, and your preferences will decide the winner. If you want a thick midsole and an embrace around your feet, Hoka is your buddy.
On another hand, Oofos is ready to offer more softness in the midsole as well as the surface. Either way, Oofos vs Hoka recovery flip-flops are something you won't regret buying.
Hopefully, this article has brought to you more information on the differences between Oofos vs Hoka recovery footwear. The similarities will help to shape your imaginary dream shoes, and the differences will help you decide.