Once a fashion icon in the late 1990s and the early 2000s, the good old slim bootcut jeans are finally on-trend again in 2022! Unlike our grandmother's version, the modern bootcut version is more sexy and feminine with a high waist and smaller flare. Knowing what shoes to wear with bootcut jeans, you will have more ideas to refresh your daily outfits.
This article will give you some useful suggestions on shoes that you can pair with this timeless denim.
About Bootcut Jeans
Bootcut jeans are denim pants that slightly flare out at the ankle. They are more casual than flared jeans or bell bottoms. They offer a spacious opening at the bottom. In the fashion world, bootcut jeans are an all-time classic item, all-purpose jeans that can be paired with many items, for many occasions, and in all seasons.
There are many types of bootcut jeans. In terms of flares, there are extra flares, distressed knees, and ankle-length hems. These multipurpose jeans are also available in various colors, washes (dark wash, light wash), lengths (floor, ankle, and cropped bootcut jeans), and rises (low rise, medium rise, high rise).
Bootcut jeans are a staple for everyone of all body shapes.
First, they look great for people with a pear body as the denim hugs their thighs while allowing more space below for a wider hip.
Second, hourglass-shaped women with full hips or curvy women can go for high-waist bootcut jeans for a classic look.
Third, plus size bootcut jeans can also be a great item for an apple-shaped body.
Shoes To Wear With Bootcut Jeans
Summer shoes to wear with bootcut jeans
Heels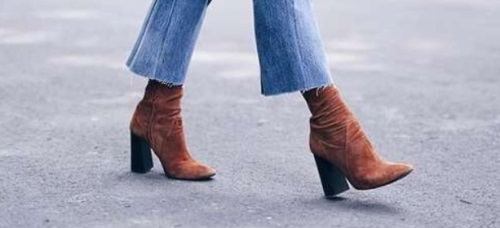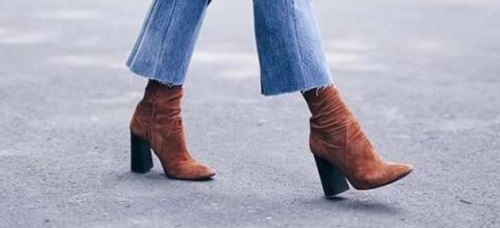 Nearly all fashionistas have at least a pair of heels and bootcut jeans in their wardrobe. This outfit idea gives you a casual yet trendy look for this summer.
If you are a petite person with shorter legs, high-heeled shoes with long pointed-toes will make your legs look longer. You can complete this look with a tucked-in top or a button-down shirt.
Heeled shoes are great for bootcut jeans, but they are also uncomfortable if you stand on them for a long time. If you often suffer from persistent pain, you can wear chunky heels to have a firmer balance on the ground.
Platform sandals/shoes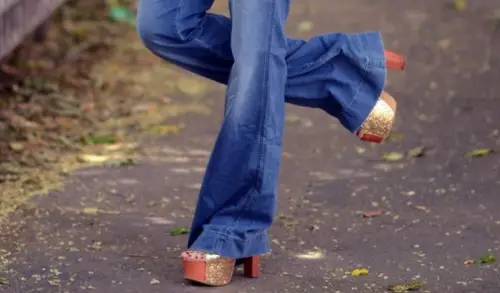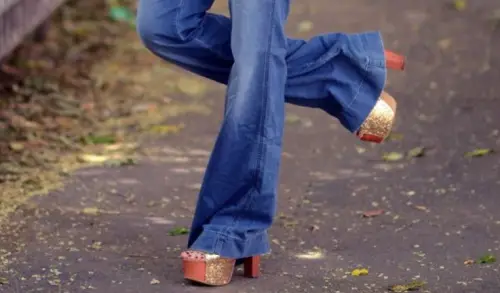 If you hate dealing with thin high heels, you can try mixing platform shoes or sandals with bootcut jeans. Although this type of shoe is not attractive for bootcut denim, they still have heels that are higher than flats.
For platform sandals, you should choose the ones that fit the color and the length of your jeans. Beige is a great color option for sandals, as they blend the difference between your feet and your shoes, making you look taller.
Wedges/Flatforms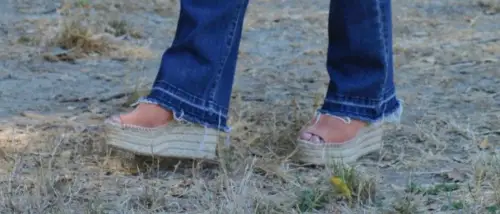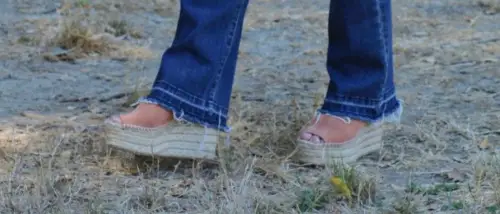 If you follow the vintage fashion style, wedges and flatforms are two types of shoes to wear with bootcut jeans in summer. The construction of these shoes allows air to circulate freely, giving your feet a fresh feeling on sunny days.
The main difference between these shoe options is that the sole of a flatform has the same thickness in front and back, while that of a wedge has an elevated heel height. Thus, flatforms look more classy than wedges.
The choice of flatforms or wedges depends on what's the best fit for you. In short, they don't cause pain or discomfort if you have to walk a lot on your feet.
Sneakers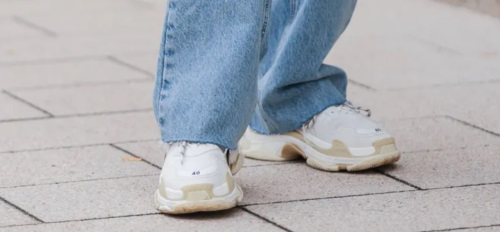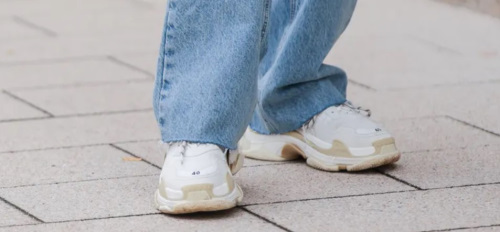 Sneakers (or platform sneakers) are a versatile item that can be worn with bootcut jeans, as they make your legs look longer and support your feet and maintain a healthy posture all day long. You can pair long, ankle-length, or cropped bootcut jeans with sneakers.
Your choice of sneakers depends on your preferences and sneaker type.
Your preferences: If you aim for a casual outfit, you can mix your jeans with a plain tee or tank. On the other hand, a silky or button-down shirt is a great dress for special occasions. Moreover, sneakers are diverse in many colors and patterns.
Sneaker type: You can pick up either tennis shoes or canvas slip-on sneakers.
Clogs


While wooden clogs appear to be antique, they can complete your classic look when paired with bootcut jeans. Another reason why some people prefer clogs over boots or heels is that they keep your feet comfortable in hot weather.
When picking up clogs, make sure that your clogs hug around your ankles and toes. High-quality clogs remain their original shape over time against wear and tear. Depending on your style, you can pick up different clog styles, including pull-ons, slip-ons, derby shoes, and Chelsea shoes.
There are several tips to pick up a cool pair of clogs:
Choose neutral colors because they will look great with all kinds of clothes. Dark blue is a versatile choice for denim.
High-heeled clogs of at least 3 inches are always better than flat ones.
Loafers


A pair of loafers is also a great substitution for heels that you can wear with your bootcut denim. The flared bottom of the jeans balances the roundness of a fashionable loafer and elevates your outfit.
For longer/ankle bootcut jeans: Choose lug-sole loafers like Prada Spazzolato.
For cropped/ankle bootcut jeans: Choose finer loafers or mule loafers.
Check more: What Shoes To Wear With Chinos?
Winter shoes to wear with bootcut jeans
 Ankle boots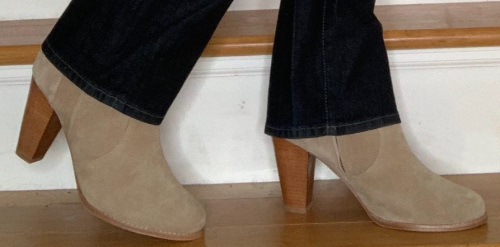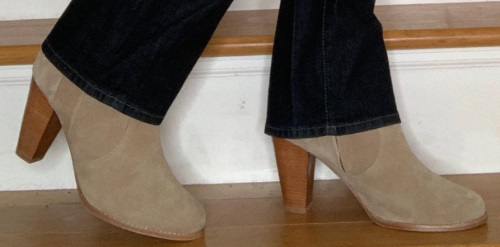 A pair of ankle boots with bootcut jeans is a perfect combination for all working days or a cold Sunday brunch. It's always best to choose ankle boots with heels, as flat ones usually are hidden by the jeans and make you look shorter.
Depending on your style choice, you can choose between the two following ankle boot types:
Point-toe ankle boots: ankle boots with pointy toes make your legs longer, especially if you pair them with dark-washed bootcut jeans. They are a safe choice for your office look.
Square-toe ankle boots: make fun with denim by mixing them with. For a casual look, choose boots with neutral colors (brown, bridge, tan) with lower-chunky heels.
When pairing ankle boots with bootcut jeans, you should choose medium or light wash. And ensure that the hem of the jeans stays at least one inch above the ground. Helena provides the world's most comfortable ankle boots for women.
Cowboy boots


If you are a rancher, a farmer, or someone that has to work outdoors under the snow, you need cowboy boots as work boots. You can pair cowboy boots with bootcut jeans as these two essential items keep you active yet comfortable for hours. As they are sturdy and easy to clean, you can use them as your daily working outfit for years.
Gomez Western is a great choice of cowboy boots. This brand offers a wide range of high-quality leather cowboy boots and all the Western wear for workers.
You'll love: What Shoes To Wear With Mom Jeans?
Mid-calf boots
A pair of mid-calf boots keep you fashionable and comfortable if you have to stand on your feet all day long. They prevent your legs from injuries and support your ankles. As they have a heel,  they can strengthen your glutes, core, and legs simultaneously.
When wearing bootcut denim with mid-calf boots, the boots should be hidden under the pants, and only the heels and the toes should be shown.
Combat boots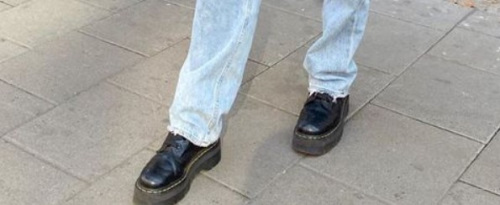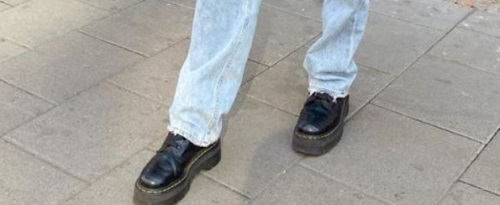 Combat boots are one of the most popular shoes to wear with bootcut jeans. They keep your feet warm and protected and give you a classic look as well. Mix your boots with a Hollister T-shirt, golden earrings, and a tailored black jacket or blazer to complete the look.
Remember to choose boots that are ankle-length or taller to show off the laces.
Some Useful Tips When Pairing Bootcut Jeans With Shoes
Neutral is always the first in mind: nude and neutral colors always make your legs look longer than they are. These color choices are also safe on any occasion.
Pumps, pointy toes, and heels are always the perfect shoes to wear with bootcut jeans: as long as you pick the correct size.
Avoid super high or thin-soled shoes: because they can embolden sagging. Try wedged heels or flats with arch support.
Avoid wearing dark shoes with bootcut jeans: because they make your legs look shorter. Choose light colors like light beige, cream, or taupe. These colors add an illusion of longer legs.
Skip shoes that are tight or too tight for your feet. Such shoes make your toes feel painful and hot. Moreover, the leg's width and the ankle area are stretched and creased, thus giving you an unattractive look.
FAQs
1. Can you wear tennis shoes with bootcut jeans?
You can wear bootcut jeans with classic tennis shoes. The colorful flat gum sole of tennis shoes and the light-washed jeans with rips or shredding can refresh your casual look.
2. Can you wear bootcut jeans with flat shoes?
Yes, you can if you experience pain when wearing heels. Remember to aim for high-waisted jeans as they make your feet look longer when wearing heels.
3. How do you wear bootcut jeans with heels?
The choice of heels depends on your fashion preferences. For example, retro girls love mixing bootcut jeans with strappy heels or chunky heels in a metallic color.
Remember to choose heels that have a height of 1 to 3 inches (2.5 to 7.6 cm) to show your feet and make them look longer.
Final Words
Bootcut jeans may seem old-schooled, but they will be versatile if you know how to dress properly. After knowing the best shoes to wear with bootcut jeans, you are more confident to refresh your look. A rule of thumb is that you should choose shoes with heels, as they will lengthen your legs and make you look taller.