If you are a fan of 70s and 80s movies, you might have seen these high-waisted jeans with loose thighs a lot of times. In contrast with the relaxed upper part, the legs of mom jeans hold a tapered shape that is very appealing.
With many celebrities putting them on and confidently walking down the streets, mom jeans have officially made a grandiose comeback. Whether you are a fashion enthusiast or a comfort addict, mom jeans can be a big hit if styled appropriately.
So, embark on the journey and search for the best shoes to wear with mom jeans with Chooze Shoes in this article.
Best Shoes to Wear with Mom Jeans
With an appropriate pair of shoes, you can turn this comfort item into something versatile: chic or simple. When you know how to handle the loose fit and the length, these jeans can truly be a blessing.
Shoes to Pair with Mom Jeans in Summer
Sneakers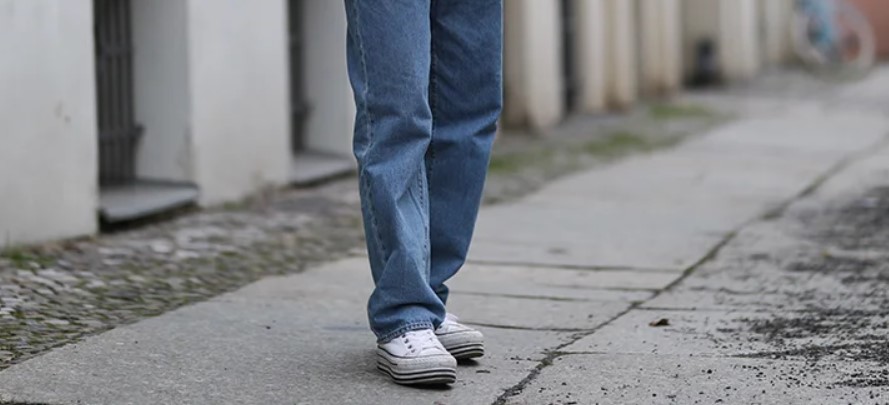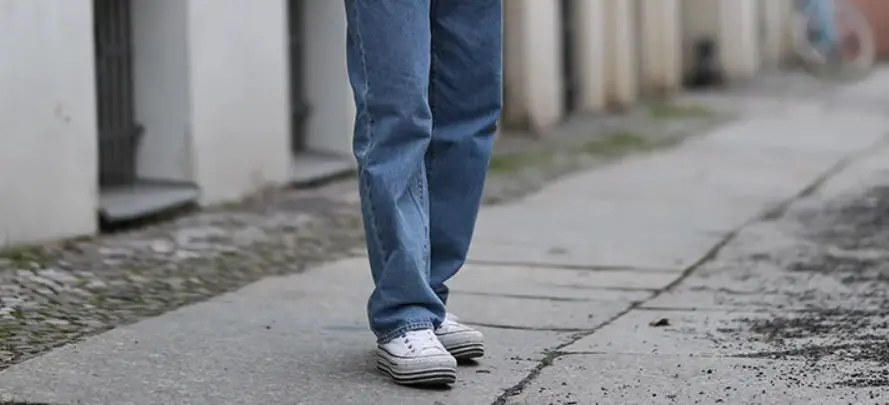 Both sneakers and mom jeans promise so much comfort, so why don't we put them together for a combo?
Casual sneakers, especially white sneakers, seem like they belong to mom jeans. The best item to complete this simple set is a white T-shirt, no need for an extravagant set of accessories.
Try running sneakers with a striped top and a simple bag if you are going to run errands and be active all day long.
Reunite with every girl's best friend: platform sneakers. They are the savior for short people as they can add more length to the legs and make the figure more petite. Pair your platform shoes with straight or long-leg mom jeans to appear slim and tall!
If mom jeans can make a comeback, nothing can stop us from combining them with a 90s trend – chunky sneakers. It is exceptionally great for a street style, in case you want to look a bit edgy!
Baggy mom jeans are not easy to style, though you can't go wrong if you fold the hems up a little and put on your high-top sneakers. These shoes are timeless, available in various styles, and extremely comfortable.
Vans sneakers seem to be the solution for everything! If it can match summer dresses, it surely can do something nice to mom jeans. As Vans shoes are for sporty people, colorful shirts will work best with them.
Sandals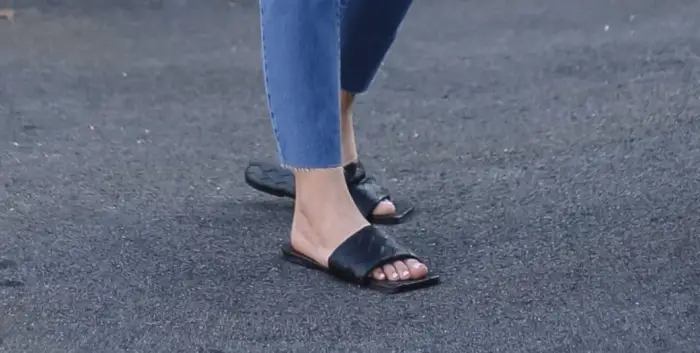 Unless the weather is extremely cold, you can't possibly go wrong with sandals. This type of shoe easily completes your outfit and gives it the desired summer vibes. It's also very comfortable to wear.
Flat sandals work smoothly for all of us, and people who often need to be on their feet consider them a blessing. As plain as they are, their best match might be ripped mom jeans with tank tops or tucked-in shirts.
Strappy sandals are fun to look at and flattering to wear. They are simple but chic in the way your mom jeans would love to be, and they hold a sufficient feminine vibe.
If you are not confident about your height, fret not! Platform sandals exist to make you look taller. They might also be the most versatile style in the sandal category, hence you can mix them with T-shirts for a casual look and blouses for something dressy.
Espadrilles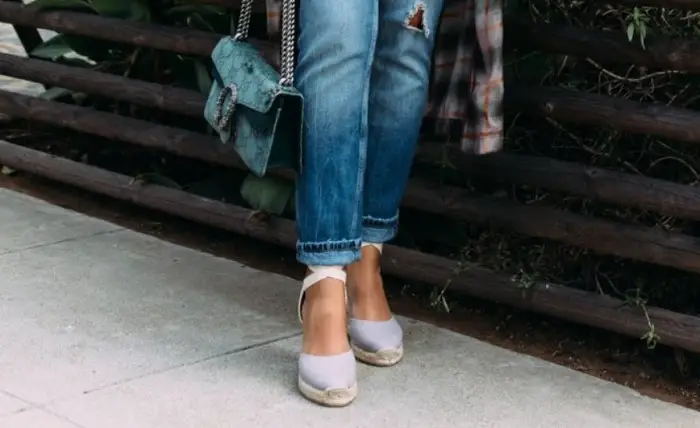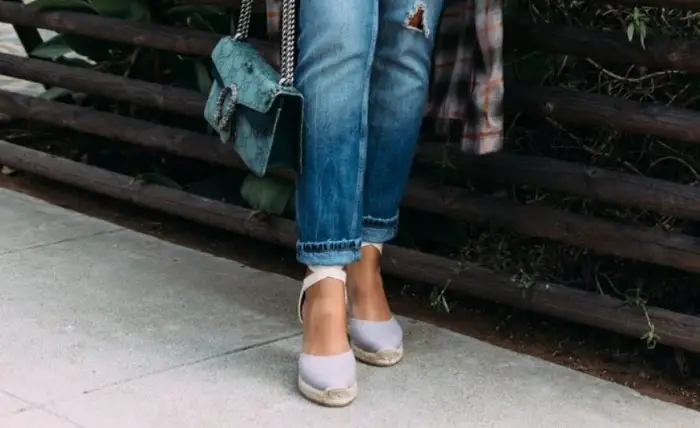 We can't leave espadrilles out of the equation if we are talking about summer wear. They are ready in many styles that you love to put on: wedges, mules, lace-ups, platforms, ballet flats, and more.
Lace-up and wedge espadrilles look sophisticated and gorgeous, yet they are not as popular as platform styles simply because they lack comfort in comparison.
Ballet Flats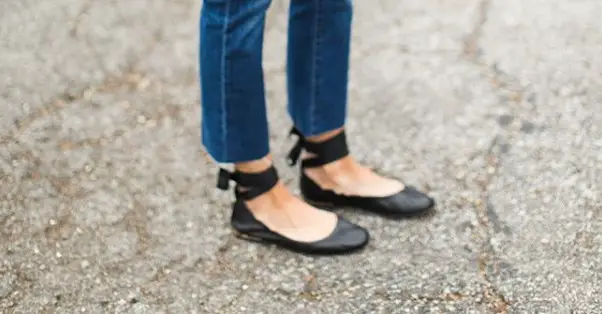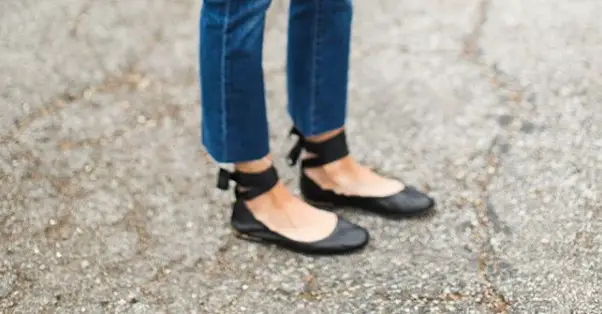 Ballet flats are incredibly simple and elegant at the same time! They leave the ankles uncovered and enhance the comfort you are looking for. Whether you are outdoor running errands all day or going on a date, these light and dainty shoes won't disappoint.
Mules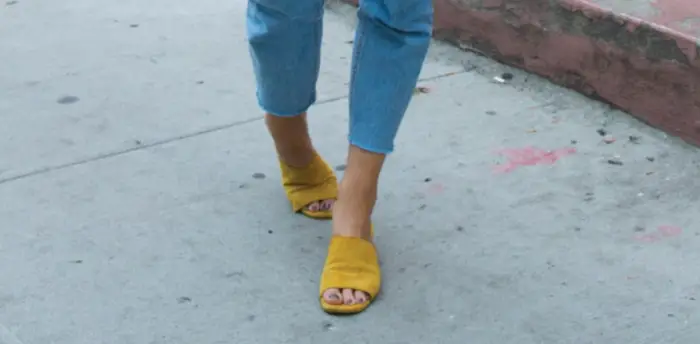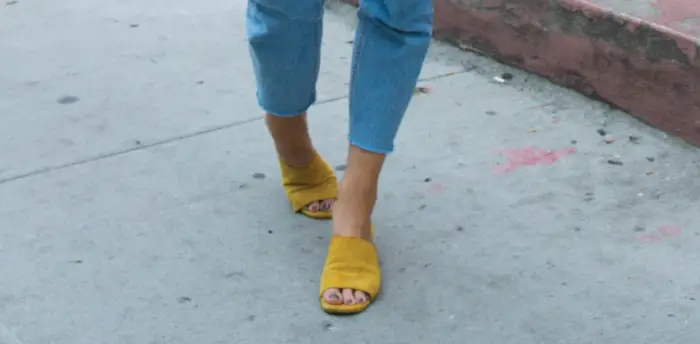 Some people might argue that mules are not comfortable enough for daily wear like mom jeans, though it depends on how high the heels are. If you plan to move around continuously, the lower the heels, the better. But if you want to look dressy for a night out, it's alright to add a few centimeters to your footwear!
Check more: What Shoes To Wear With A Maxi Dress?
Slides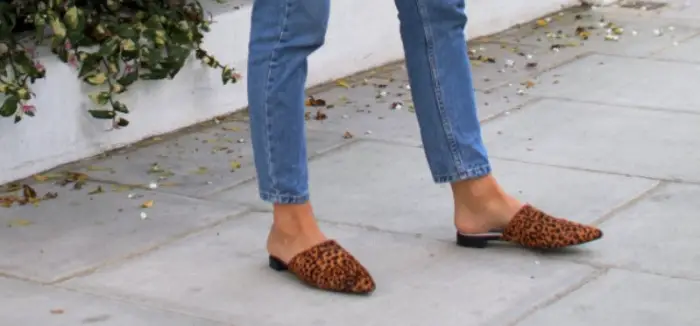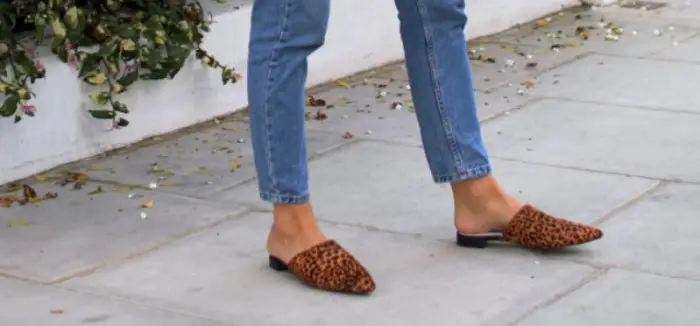 Are slides too plain? Not at all, if you have seen beautiful slides made of sleek leather. You will always look trendy with a matching jacket. The best thing about leather clothing is you can make them formal or casual with a few adjustments in accessories.
You might also want to make a statement by pairing your ankle mom jeans with furry slides. These two items look effortlessly comfortable and relaxed.
Heels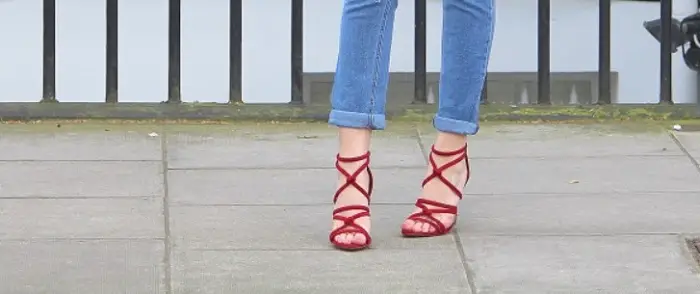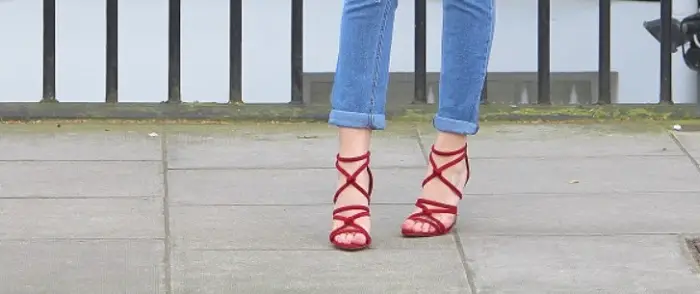 Heels might not be the first thing that comes to your mind when you are searching for shoes to pair with mom jeans, for heels seem a little too formal. However, you can get a few nice combinations from them.
Not many types of heels can send such a strong statement, but kitten heels are amazing. They are feminine and powerful as well, whether they have slingbacks or slip-on.
Clear heels are so ethereal and pretty! Also, the fact that they are nearly invisible makes your legs look naturally longer. These shoes often come with clear straps, which means you have the freedom of the colors of your clothes.
Stiletto pumps are strictly for dressy looks. Put on your best tee and find a suitable jacket, you're ready for events, movie nights, and dates. Moreover, you will never run out of choices with stiletto pumps simply because they vary in design and colors.
Mom jeans will look so much more fashionable with court heels of vibrant colors, especially black mom jeans, as their contrast is so much fun.
Shoes to Pair with Mom Jeans in Winter
When it comes to winter shoes, your choices are limited because you will need to prioritize keeping yourself warm.
Boots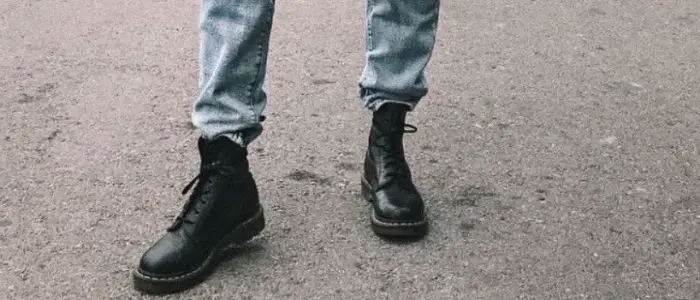 Boots are the most popular item to wear in winter and, fortunately, they work well with mom jeans most of the time.
Combat boots should be your first option, always. You can walk and even run with them, especially with the trendy chunky outsoles. A pair of high-waisted mom jeans with tapered legs will give you more height.
You don't have to be afraid of long hems since they are so fabulous with ankle boots. The boots will peek out from the hems of the jeans and grant you a graceful look. You can rely on accessories to dress down or up.
Mom jeans are casual, though it doesn't mean they can't go well with edgy chunky boots. In fact, any color or style of jeans can be the perfect match for these boots.
Loafers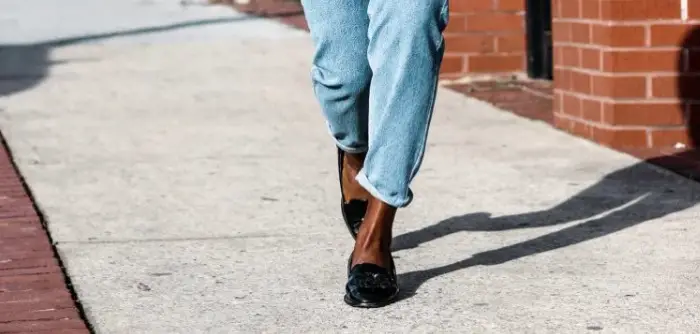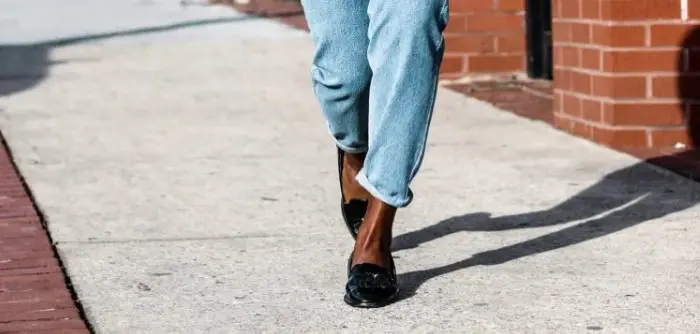 Wide-leg mom jeans are not terrifying! You can try cropped legs or rolled cuffs to show off your ankles and put your loafers on display. Thick socks or no-show socks will be sufficient to keep you warm. Furthermore, mom jeans can form an interesting bond with trend coats, hence the cold won't bother you at all.
Simple loafers are good enough for a stylish look, but the choices remain open. Nowadays, these comfortable shoes are available with chains, tassels, and buckles as statement details.
Oxfords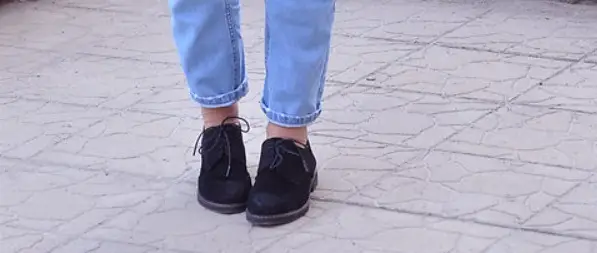 You can go from "mom" to "youth" with this collegiate look of Oxford shoes. They look so relaxed and chill without trying too hard. You can complete your set with sweaters and wool coats of neutral colors.
Extra Tips When Choosing Shoes to Pair with Mom Jeans
We have been discussing the best shoes to wear with mom jeans, but knowing which shoes to avoid is just as important. It saves you time and money when you go shopping, as you have known what to ignore.
Knee-high boots are pretty but for skinny jeans only. The loose fit of mom jeans doesn't suit these boots at all. There will be excessive fabrics when you try to tuck your long mom jeans in the boots, which makes your legs seem bigger and shorter than they are.
As a result, any footwear that requires you to tuck your jeans in should be a hard no. They are unflattering for the jeans and of course your silhouette.
Final Words
Now that you have got a whole list of shoes to go with mom jeans, your next challenge is to choose from countless styles and colors. Don't forget that in the end, your comfort matters the most, and you should only pick something that gives you such feelings.