Danner vs Thorogood boots is not a competition about fashion, but work boots that serve environments with unfavorable conditions.
They have always provided high-performance products and constantly improved to satisfy their customers. If you are torn between two choices, let's take a more insightful look at their differences.
Danner Overview
Danner took after the name of its founder, Charles Danner, and officially began its business in 1932.
However, the origin of Danner can trace as far back as 1897 with the establishment of its mother company, LaCrosse Footwear.
What they aim to produce at first are Danner work boots that are worth the money for loggers. And, their Quarry boots were a success. The later products mostly involve full-grain and oil-tanned leather – the very first layer of the hide.
It lacks the shine you would find in dressy footwear and the thickness in most work boots, yet the bright side is how soft and easy it hugs your feet immediately.
Aside from the materials, the design of Danner is meant to conquer every kind of terrain and weather you want to put your boots through. They have good traction and shock absorption on the outsoles without sacrificing flexibility and comfort.
Nowadays, you will find their products in several versions depending on your needs: plain-toe, safety-toe, and insulated. Furthermore, you can choose between light and heavy duties for your boots.
Thorogood Overview
Thorogood also branched from a larger brand named Weinbrenner Shoe Company. The USA shoemaker developed and manufactured Thorogood in both world wars for the Army, and their modern products still carry the same pride.
To serve the Army, the first Thorogood boots were fully heavy-duty with great resistance against wetness and unevenness. To achieve it, the manufacturer didn't hesitate to use the best leather for the upper and wedge soles to contribute more to the comfort.
If we are talking about Danner vs Thorogood moc toe, Thorogood would claim the win. They have made a good reputation with their moc toes, plain toes, round toes, safety, and insulation versions.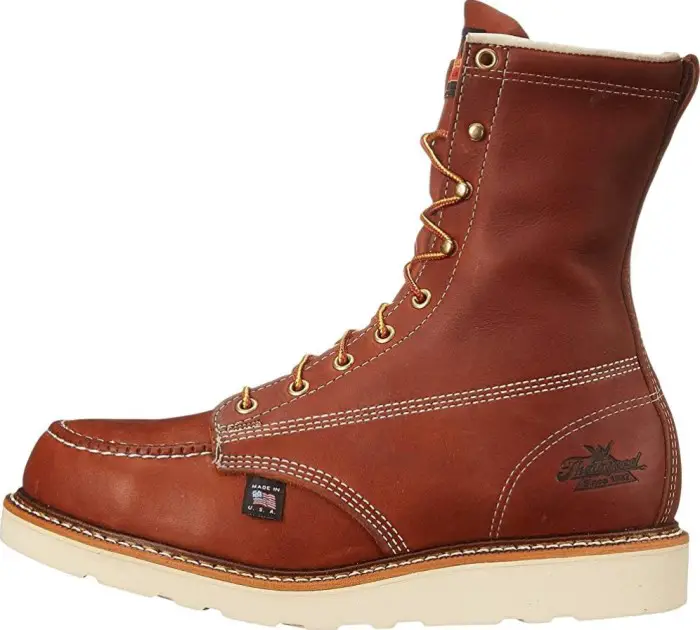 Danner vs Thorogood Comparison
Danner and Thorogood are USA-based brands, mostly known for using durable materials to create long-lasting uppers. At first sight, it's rather difficult to distinguish them.
Danner Vs Thorogood Sizing
Both of these brands offer a generous range of widths and sizes with their shoes for the sake of convenience for their customers.
As long as you get the measurements right, you are sure to find what you need at one of these stores.
Danner Vs Thorogood Material
Like most boots, Danner work boots vs Thorogood work boots is a fair fight in terms of materials.
They look forward to keeping your feet healthy and comfortable even after extended work hours.
The difference lies in the choice of leather. While Thorogood puts their faith in premium leather only, Danner makes the best of full-grain hide instead.
Danner vs Thorogood Design
For outsoles, Danner chose wedges for softness and lightness even though durability isn't present. They make up for it with a special footbed for shock reduction.
You will find the outsole of Thorogood a little heavier than Danner, yet they are incredibly durable. The ample support is further enhanced with the insoles made thick like cushions.
Danner vs Thorogood Comfort
There is not so much difference in comfort between Thororgood vs Danner work boots. They offer generous stability to keep you safe even in staggering positions.
However, you might find Danner a bit stiff around your feet at first. It might not be the best choice if you need a pair of shoes for immediate comfort.
Danner vs Thorogood Outsole & Insole
They both use wedge outsoles, which are soft and comfy enough for the feet no matter how long you stay within an industrial working environment.
Nonetheless, the Ortho-Life insole of Danner makes it hard to re-sole if you are not somewhat experienced with the task. Meanwhile, Thorogood is more open to replacement.
Danner vs Thorogood Price
The price range for Danner is from $180 to $200. The difference between their most inexpensive and expensive products is not too big.
On the other hand, you can get the cheapest Thorogood footwear at $160, but the peak of their price tags can go up to $290 and more.
Check more: Tecovas Vs Lucchese Boots: Which Is Better For You?
Pros & Cons Of Danner Boots
Danner has several advantages that contribute to its stable foothold in the market:
Danner boots are quite affordable in comparison with most boot brands. It allows them to reach more customers.
These boots are lightweight and thus very versatile in applications.
They have amazing arch support for the proper position of your feet.
Danner has some chronic issues, and it's only fair if you are aware of them:
They are made of leather, yet the leather is a little thin.
The sole makes you feel unstable at times.
If you need to re-sole your Danner boots, it might be challenging.
You need to break them in after unboxing.
Check Danner Boots on Amazon.com
Pros & Cons Of Thorogood Boots
You have many reasons to place your faith in Thorogood and their boots. Here they are:
Although boots are rarely cheap, Thorogood makes it worth every of your penny. Their footwear is made with high-quality materials so they can last long instead of leaving you after one season.
Even heavy-duty workers such as firefighters and welders can confidently put these boots on at work.
Safety is a key element for Thorogood. You be safe from chemicals, abrasion, and most environmental hazards.
The shoes are very stable and comfortable even if you wear them for an extended period.
Don't ignore the drawbacks if don't want to end up spending money on something not suitable for you:
They are not cheap. They surely live up to the price but you might not need them.
They perform well in harsh conditions, but it doesn't mean they are stylish and cool.
Check Thorogood Boots on Amazon.com
So, Danner Boots vs Thorogood Boots, Which To Choose?
Through this Thorogood vs Danner Boots comparison, it's easy to see both these brands are not too different from each other.
They specialize in harsh terrains and construction sites. The most noticeable distinctive trait between them is perhaps how Danner is not comfortable out of the box.
As for the appearance, it depends on nothing other than your preference, yet Danner is generally more stylish. If you want to stick to a traditional look, Thorogood will take the cake.