Coming from the same brand doesn't mean all products are equal. Hence, we are having a showdown of Air Jordan 1 vs Air Force 1.
They both are well recognized and respected among sneakerheads for quality and reputation. So, what will be the factor that sets them apart from each other? Let's keep reading!
Similarities of Jordan 1 and Air Force 1
At first sight, you will find these two designs very pleasant on the eyes with a prominently energetic vibe that sportswear should have.
As sporty footwear, they both seem bulkier than other casual shoes, but this similarity isn't everything they have in common.
Materials
Upon closer inspection, the materials used for them will unfold. The leather and canvas used here are of premium quality. It is layered and stitched into such fine structures that we can't find in average brands.
Air Technology
Utilizing the Nike Air technology, both Jordan 1 and AF1 adorn thick and durable soles, which ensure your all-day comfort although their respective purposes vary quite widely.
Check more: Nike Dunks vs. Air Force 1 Comparison
Differences Between Jordan 1 and Air Force 1
Air Jordan 1 vs Air Force 1 height of the top can be a trademark for you to differentiate them.
Most Jordan 1 versions have middle to high tops for the crucial ankle support that the athletes need, while Air Force 1 has low tops most of the time.
Nonetheless, both of them have exclusive traits.
Sizing & Fit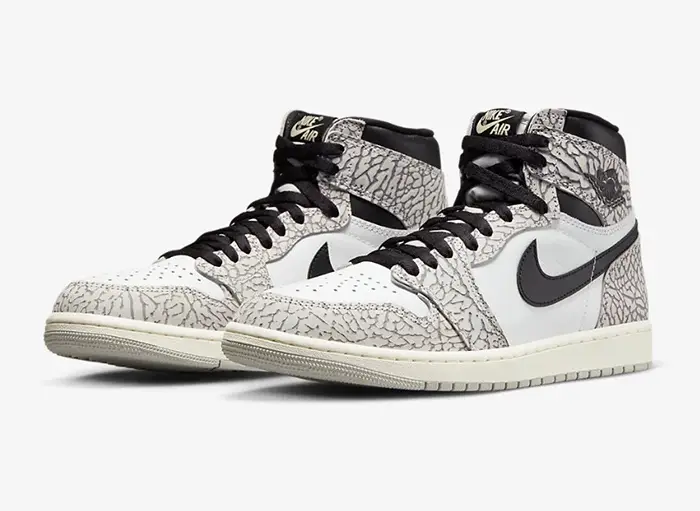 Jordan 1 and Air Force 1 are of the same sizes according to Nike's size chart, and they both can target a wide range of customers. Nevertheless, the different structure changes how they fit for users.
Regarding Air Jordan 1 vs Air Force 1 fit, AF 1 generally has more space for the toes with a good grip on your feet overall. It means the shoes will stay fixed when you walk and even run instead of rubbing against your skin and causing blisters.
This feature also makes AF1 an amazing option for people who have wide feet.
Meanwhile, Air Jordan 1 focuses on the ankle, hence you might feel some rubbing during your activity.
The toe box also feels quite tight if you are not familiar with Jordan shoes. But once you engage in sports and intense duties, the supreme support of Jordan 1 will shine.
Because of the tightness, Jordan 1 is known as true to size.
Check more: Do Jordan 4 Run Big Or Small?
Air Jordan 1 Vs Air Force 1 Comfort
Once you get the sizing right, the next thing to care about in a new pair of shoes is how much comfort they can offer. Both Jordan 1 and AF1 are quite the powerhouses in this aspect, thanks to the Nike Air technology.
In detail, Jordan 1 doesn't have as much room as Air Force 1 does, so they might feel a bit small for bigger feet. Nike has produced wider design versions for Jordans, yet the improvement is still not that remarkable.
Meanwhile, Air Force 1 has more room on the sides and the front, hence it is never a concern for wide feet. The downside of this construction is that AF1 shoes tend to make your feet seem bigger than their actual size.
Price
If you are determined to purchase either of these two iconic designs, the next understandable step would be checking on the price.
We need to put two comparable models on the scale here. In terms of popularity, "Bred" Jordan 1 Retro and "White" 07 Air Force 1 are pretty equal, though the former is more valuable on resale markets.
However, many colorways of Jordan 1 are in the same price range as Air Force 1's low tops and are not more expensive. This makes the difference between them not too remarkable, even though Air Force 1 pairs are still the cheaper choices.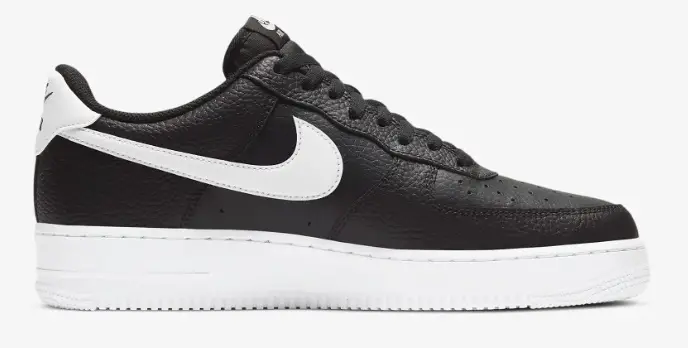 Design
The original purpose for Air Jordan 1 and Air Force 1 is the same, so they had high tops when they were released for the first time.
Along with the change of uses, more low-top silhouettes were added to the Air Force 1 line. No longer a brilliant choice for basketball professionals, AF1 is more well-known as a sporty-looking footwear for casual uses.
AF1's younger brother Jordan 1 sticks to its orientation and keeps piling up its collection of mid-top and high-top variations. The loyalty to design has made Jordan 1 an iconic sneaker with timeless value.
Performance
Every feature mentioned above contributes to Air Jordan 1's performance as athletic footwear: flexibility in the right spots, circular patterns, and amazing traction for your movements. Moreover, the ankle support is irresistible to basketball players.
On the other side, the Air Force certainly cannot perform as well on the court but they are much more enjoyable as casual and fashionable footwear for daily routines.
Your errands will be done in nothing less than ample comfort with the rich cushioning incorporated into these sneakers.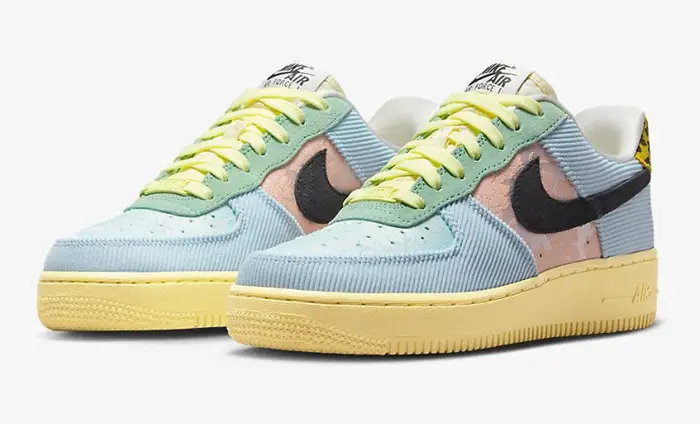 More About Air Jordan 1
The first time we heard about Air Jordan 1 was back in 1985. The unique design immediately made fashionistas and athletes fall in love.
Its popularity hasn't faded even today, with colorways and variations being thrown into the mix.
Originally designed to meet the requirements of basketball, durability, and comfort are two priorities for Nike. Aside from the basic Jordans, exclusive versions also exist with much more luxurious materials.
With various top heights and colorways available, Jordan 1 will never put you through a dilemma to express your character and style. As for their performance, we will get into the details soon!
Pros & Cons of Air Jordan 1
When we are discussing popularity, Jordan 1 wins by a landslide due to the timeless design and the influence Michael Jordan brought to it.
Furthermore, with their significance in the history and culture of sneakers, their value for collectors never decreases. Hence, the resale price is always high.
Jordan 1 is known for running true to size, so customers with smaller or bigger feet will have to size up or down accordingly for a good fit.
The high-top and mid-top versions dominating the low-top might be a minus for some users. Yet, professional or semi-professional basketball players tend to enjoy that ankle protection rather than change to something more relaxing.
If you own a Jordan pair, you will have to be very caring and diligent with your maintenance so it retains high-quality features such as the stable shape and the infamous ankle support.
More About Air Force 1
Surprisingly enough, Air Force 1 has a longer history than Jordan 1. Like Jordan 1, it became a phenomenon as soon as it appeared on the market.
Compared to Jordan 1, Air Force 1 combined more materials than leather as well as a signature lightweight, which makes them extremely convenient and stylish for daily errands.
Pros & Cons of Air Force 1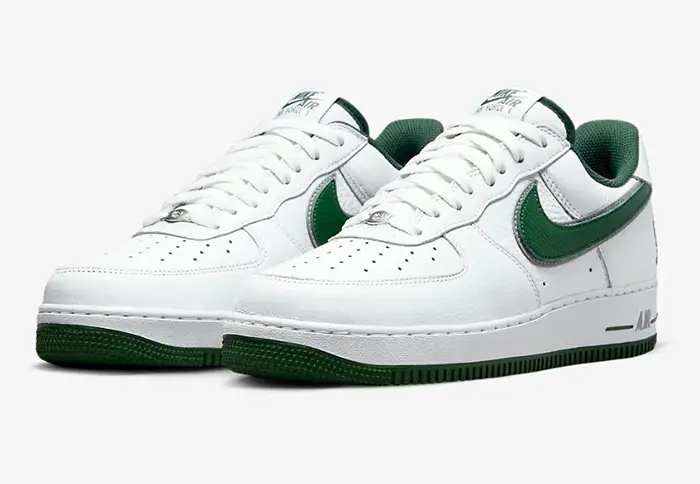 With both the Air technology and the wide toe-box, Air Force 1 will make you feel more comfortable than Jordan 1.
Even with a larger foot width, you will find these sneakers easily embracing your feet with plenty of room for the toes.
While it can't compete with Jordan 1 when it comes to cultural and historical values, its design is unarguably more appealing due to the variety of styles and colorways.
Be it casual or sporty purposes, Air Force 1 can tend to your needs to a good extent.
Most Air Force 1 variations stick to the low-top look that has made its name known in the industry. However, the construction of AF1 isn't shaped for breathability.
Last but not least, Air Force 1 might have lower resale prices than Jordan 1 in general, though the limited or collaborated editions are still very hard to find.
Which Is Better, Air Force 1 Or Air Jordan 1?
As always, choosing between two best-sellers from the same brand would rely so much on your preference.
Regarding Air Jordan 1 vs Air Force 1, Jordan 1 is the product line more specialized for basketball and thus more suitable for people who want to get serious with their gameplay.
On the other hand, the simplicity of Air Force 1 is versatile and compatible with daily uses.
The decision is yours as these sneakers will benefit you greatly either way!