Nike Court Vision vs Air Force 1 is a great example of how two seemingly similar shoe designs from the same company can be so different from each other when we take a closer look.
A detailed comparison between them will go a long way if you can only purchase one and need to decide.
How Are Court Vision And Air Force 1 Similar?
At first glance, these two models are astonishingly similar, and you won't find much of a difference between them unless you observe them closely and read the information tag carefully.
Some Nike veterans claim that Court Vision is probably a chance for people to own something looking like Air Force 1 at a lower cost.
Another similarity here is that they need time to break in. The comfort they bring before and after is the same, hence you will find them identical if comfort is all that matters to you. For activities like running or hiking, they will not fail you.
Both of them are popular enough to always have customers asking for them, but not to the extent of limited editions that are sold out within minutes. Even if you find them out of stock at a store, they are likely to be available again soon enough.
Nike Court Vision vs Air Force 1 Differences
If you take a quick look, Court Vision and Air Force 1 are surprisingly alike. However, Court Vision tends to feature a low top, while Air Force 1 is almost always recognized for its high top. The differences between them go deeper than their appearances.
Material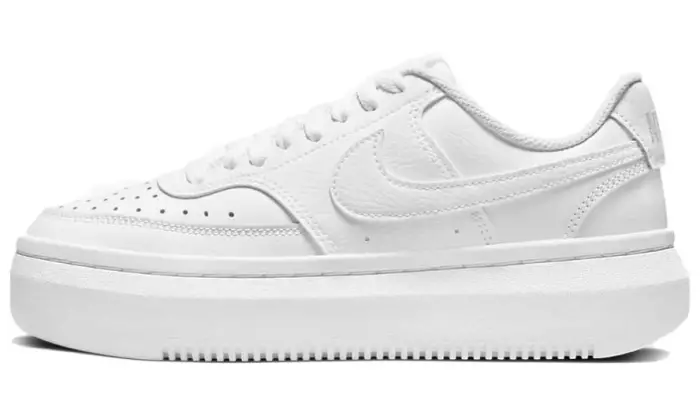 Air Force 1 uses the finest leather for its upper, while Court Vision features a mix of leather and mesh. Therefore, the AF1 might feel a bit firmer at first, yet it is utterly comfortable once the leather breaks in.
On the other hand, the blended synthetic materials reduced the overall weight of Court Vision a tad.
The sole of the AF1 uses the popular Nike Zoom Air technology with a rubber outsole ensuring its endurance even for heavy duties. Meanwhile, Court Vision does a fine job as well with the EVA foam technology for the vulcanized sole.
While leather and mesh are both breathable materials, the Air Force 1 has removable insoles and mesh tongues, thus its ventilation is significantly enhanced.
Design
Based on the year Air Force 1 was released, they certainly have a more classic design. Being a basketball footwear, the AF1 has high tops and roomy spaces for the toes, giving the players sufficient comfort and stability.
Compared to that 80s design, Court Vision promotes a more modern look, even though the inspiration taken from AF1 is very evident. Made for tennis lovers, CV has low tops for more versatility in movements.
With a rugged look and rubber soles, the Air Force 1 is your classic casual sneakers. But if you want to stand out from the crowd, the sleek shape of the Court Vision will do a better job.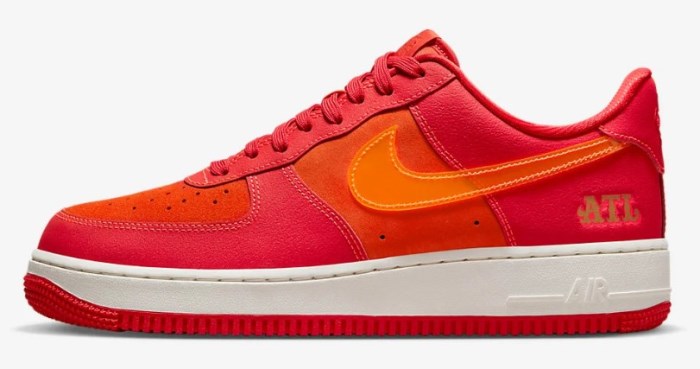 Check more: Jordan 1 vs Air Force 1: In-Depth Comparison
Size & Fit
Court Vision offers sizes 5 to 12 for women and 6 to 15 for men. It is respectively 5 – 16.5 and 3.5 – 18 with Air Force 1.
However, not all of these variations have the full range of sizes, hence you should double-check before deciding on a product to buy.
Nike doesn't come in various widths, so you might want to choose the next bigger size if your feet are wider than normal.
In the beginning, the AF1 might feel less comfortable due to the leather in need of breaking in, yet it will mold to your feet once given enough time.
Comfort
Court Vision is lightweight and still properly cushioned with a combination of foam midsoles and mesh uppers. The low top looks neat and feels more comfortable to wear, though it might be lacking for people who want a thick midsole.
In that aspect, Air Force 1 is undoubtedly the winner with the infamous Nike Air Technology. Its high silhouette contributes to the extra cushioned sole and provides exceptional ankle support.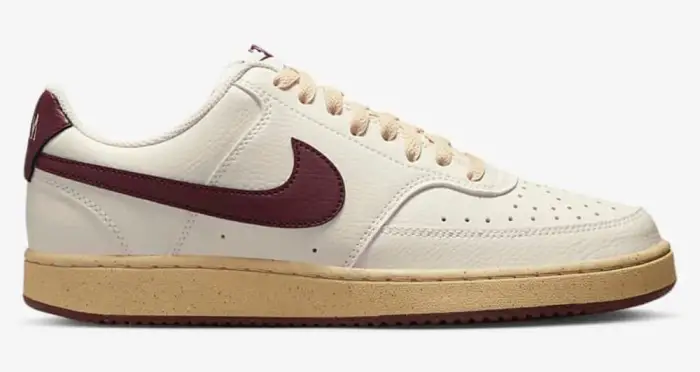 Performance
With a lightweight mesh upper, a foamy sole, and a low-cut ankle, Court Vision is evidently targeting customers who want some steadiness while not compromising weight. The traction of Court Vision is quite decent, too.
Air Force 1 is nearly the opposite with high tops and leather uppers, yet its midsoles are also made of foam. It offers more than the Court Vision does regarding stability and traction, hence sports enthusiasts tend to enjoy it so much more.
Durability
With the similar foam midsoles out of the way, we only need to consider the upper of each design. The mesh upper of Court Vision allows it to be flexible and lightweight, though it cannot compete with AF1's leather upper in the long run.
The durability might have some impact on the price differences and the user's decision, because we all want to stick to our favorite shoes for a long time.
Variations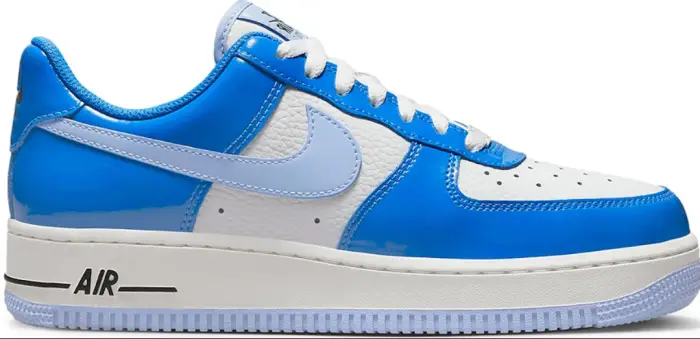 Court Vision is only available in 9 variations. If you are a quick buyer with no actual preference for the theme, this is more than sufficient. However, that amount is far too humble for shoe lovers.
Meanwhile, the number is 118 for Air Force 1. Even a sneakerhead would have a hard time choosing from such a whopping bunch of options! AF1 also offers customizations for customers who love to personalize their shoes.
Price
Sometimes, the price is such a huge factor in shopping that it can completely change your mind. Not many people want to grab the more expensive product immediately.
You can find Court Vision pairs at $70 – 80. Depending on where you purchase from, you might get coupons or discount codes, and the cost will become much more pleasant.
On the other hand, the price range for Air Force 1 is $100 – 180, which is remarkably higher than Court Vision. If you love customized shoes, your budget should be $120 – 140.
More About Court Vision
While we have Jordans as the iconic basketball shoe, Court Vision can be considered Jordan's equivalent in tennis. Before getting the name Nike Court and the necessary changes in design, it was known as Nike Tennis.
The wide soles of the Nike Tennis are still part of the design we have today, yet it also adopts features of other shoes. For example, they remind customers of Air Force 1 for no reason other than the blocky and thick construction.
Court Vision comes in nine variations, even though the white aesthetic is still the standard here.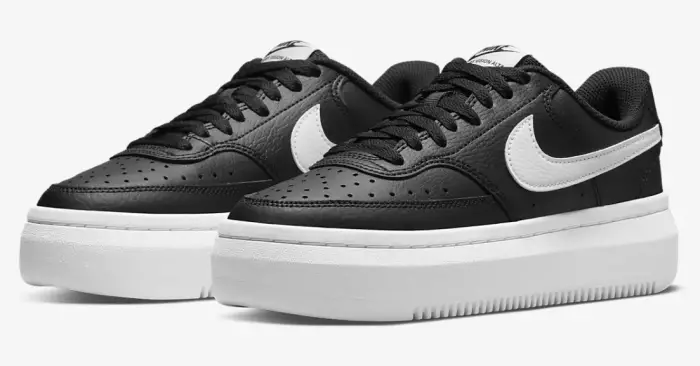 Nike Court Vision Pros
First of all, when buying from a brand like Nike, you don't need to worry about the quality of the materials or the structure of the shoes. Lightweight with enough support, the Court Vision is good for running and activities that are not too intense.
Court Vision has fewer variations, but looks very fashionable. The low-top design is easy to wear and good for styling at the same time.
Although Court Vision has its flaws, price is not one of them. The sum you need to pay to own Court Vision is within the affordable category.
Nike Court Vision Cons
We will say what needs to be said here: Court Vision might not be the best choice if you are practicing highly intensive sports because the low top lacks ankle support. The softness of the foamy midsole doesn't provide enough cushioning either.
Since the product line is still new, the variations are not much of a diversity. Sneakerheads who love to express themselves through their footwear will be displeased!
More About Air Force 1
The Air Force name comes from the plane for the United States Presidents, indicating the ambition to carry a timeless and classic design among basketball shoes.
Believe it or not, Nike originally pushed Air Force 1 out of the way two years after its initial release.
Years later, Air Force 1 returned as mandatory footwear for city children with significant modifications. Afterward, no remarkable changes were made in the next three decades, unless Nike feels like some tweaks will benefit the customers.
Even though Air Force 1 stays loyal to its original design, it still has over a hundred colorways and variations, making it an amazing option for people who prioritize style as much as comfort.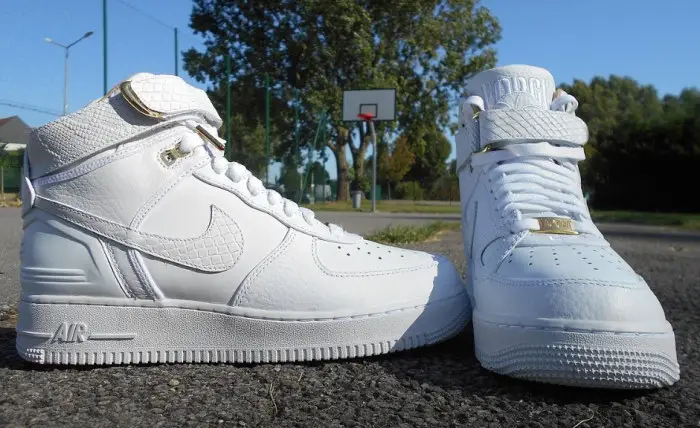 Nike Air Force 1 Pros
Being one of the classic Nike shoes, Air Force 1 has made a name for itself with its simple yet sporty appearance. It is as stable, strong, and durable as it looks, hence quality and performance are never a concern for its users.
Air Force 1 stands out when it comes to ankle support and cushioning thanks to the high top and the Nike Zoom Air technology for the midsole. It will hold up well, even when you practice sports on a professional level.
With so many variations and colorways from its collaborations, Air Force 1 offers plenty of chances for the user to show off their style.
Nike Air Force 1 Cons
However, the most visible downside of Air Force 1 is the expensive price range. Even the most affordable variation of AF1 is costlier than the Court Vision.
Secondly, Air Force 1 needs to break in before reaching its full potential and giving you the perfect fit you desire.
So, Court Vision Is Not The Same As Air Force 1!
One thing that is worth emphasizing in this Nike Court Vision vs Nike Air Force 1 showdown is that Court Vision is different from Air Force 1 and certainly not fake Air Force 1s either.
They might share things in common, such as appearance and availability, yet they are still very distinctive in the end.
With a memorable history and fine craftsmanship, every collaboration between Air Force 1 and a new partner is a pleasant surprise for its fans.
Nonetheless, the discrepancy in price tags gives Court Vision a fair chance to compete with AF1 because you can get all the comfort and support you need from Nike CV at a friendlier cost.