The Clifton was rated as one of the most beloved, best-selling series of Hoka. Since the first Clifton 6 in 2014, Hoka has been continuously improving its product quality. So, Hoka Clifton 7 vs Clifton 8, the two latest models of Hoka, which option is better for you?
This article will give you a detailed comparison between these two superstars of Hoka Clifton, including their pros and cons, and how they can improve your running performance.
About Hoka Clifton 7
Clifton 7 is first rolled out in August 2020. The Clifton 7 are neutral shoes with a heel drop of 5mm, providing you with a smooth running experience with minimum weight on your feet. Hoka Clifton 7 is suitable for running and walking daily.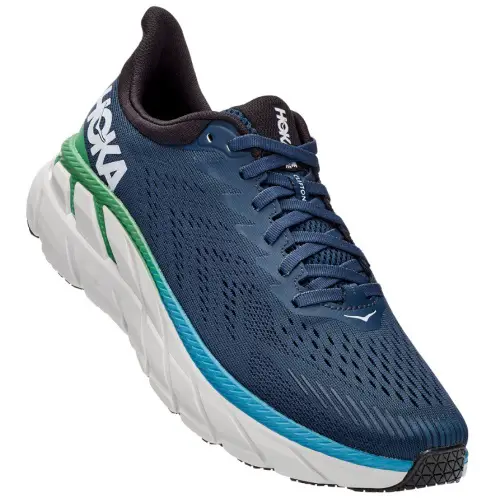 Key specs
Shoe type: neutral
Weight: 9.1 oz
Heel-to-toe drop: 5mm
Stack height: 29mm/24mm
Running surface: firm (road, trail, gravel)
About Hoka Clifton 8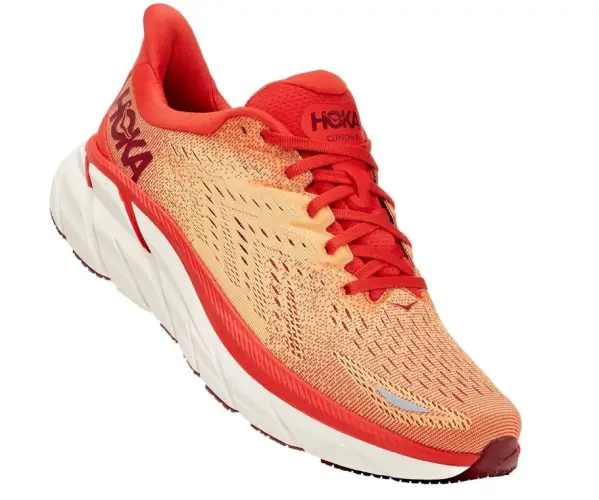 Clifton 8 is by far the latest member of the Hoka Clifton family. Released on June 2021, Clifton 8 has some improvements over its previous iteration Clifton 7, like a 15% lighter, longer pull tab, and lighter midsole with EVA foam.
Still, it inherits the signature characteristics of the Clifton, including the Meta-Rocker midsole, lacing system, gusseted tongue, etc. Clifton 8 is an ideal choice for both regular trainers to hardcore runners.
Key specs:
Weight: 7.5oz/shoe (for men), 8oz/shoe (for women)
Heel-to-toe drop: 5mm
Lighter EVA foam midsole
Breathable mesh; TPU upper
Hoka Clifton 7 vs Clifton 8: Detailed Comparison
Weight and width
Weight and width are two first and foremost differences when making a comparison of Hoka Clifton 7 vs Clifton 8.
The Clifton 7 weighs 9.1 oz (approximately 256 grams), while the Clifton 8 weighs 7.5 oz (approximately 252 grams). Thus, the Clifton 7 is slightly heavier than the Clifton 8. This weight difference is small and brings little to no change for occasional runners. But if you have to wear your shoes every day, or you aim for improving your pace, the Clifton 8 is a better choice.
Both Clifton 7 and Clifton 8 offer normal and wide widths. These two available options allow you to pick up a pair of shoes that has the perfect fit, function, and performance toward your exercise goal.
The 'wide' option of these two Hoka One One products is great for plantar fasciitis patients. Since there is always enough inner space for your heel and your toes, they can maintain a balanced, healthy position and lessen the pressure on the plantar fascia.
Whether it's the Clifton 7 or Clifton 8, make sure that there is a thumb's width of room between your shoe's end and your toe. Also, you should have a snug fit at the heel and the midfoot area.
Breathability
Running shoes with high breathability guarantees maximum airflow, and comfort, and minimizes chafing. Luckily, both the Clifton 7 and the Clifton 8 offers a high level of this. Their shoe's uppers have open-engineered sandwich mesh, keeping your feet always dry and odor-free.
But the Clifton 8 is more excelled at this point. It has more mesh venting at the shoe's upper on two sides of the shoe. If you have sweaty feet, you should go for the Clifton 8.
There is a similarity in Hoka Clifton 7 vs Clifton 8 application. These two Cliftons are suitable for daily running, a long-distance race, or a marathon in all kinds of weather. Its excellent mesh design maintains an airy feeling inside the shoe. Thus, you can confident to reach and maintain your performance peak.
Shoe's Upper
There are a few differences in the upper of Hoka Clifton 7 vs Clifton 8.
On the Clifton 7, the perforations are too big and wide, ranging from the midsection to the heel counter. Thus, you might find it hard to maintain a lockdown feeling at the midfoot section. Plus, although both the Clifton 7 and 8 feature a lightweight mesh upper, Hoka One One has done a few improvements in the upper section of the Clifton 8.
First, its perforation has become smaller. There is also a quilted lining on the shoe's side, allowing this area to stretch out and hug your midfoot section securely. Nonetheless, the engineered mesh on the Clifton 8 is softer and more breathable, allowing you to have a comfortable feeling.
Tongue
Both the two Hoka Cliftons have a semi-gusseted tongue, with some differences in its material, placement, and density.
On the Clifton 7, the tongue's padding has big perforations. Thus, it is soft and pliable, allowing adequate airflow inside the shoes. This tongue's design is ideal for outdoor exercise, especially on hot summer days when your feet tend to sweat more.
On the other hand, the padding on the Clifton 8 is denser and a little bit warmer. This extra padding acts as a supportive layer to protect your feet and help maintain your peak performance. However, this padding might lose its breathability.
Eyelet chains
There hasn't been much change in the eyelet chains of these two Hoka Clifton shoes. On the Clifton 7, there is a loop to secure the upper in your toe box. There are also some plastic overlays covering the eyelet chains and extra material inside the cage area to keep them from ripping through.
On the Clifton 8, Hoka changed the upper's material and added some stretchy quilt areas. This small improvement helps you get in the shoes easier, and feel more secure and locked when on the road.
Toe box
The toe box in the Clifton 7 and the Clifton 8 allows you to have a lot of space to move your toes without hassle.
The plastic overlay in the toe box (which once appeared on the Clifton 7) has disappeared in the Clifton 8. This small change brings no difference to your experience, but it helps maintain the shoes' durability and appearance.
Sole
Outsole
The outsole of the Clifton 7 has a lot of blown rubber, running from the heel as the high-abrasion area to the forefoot. This rubber protected the soft EVA foam in the midsection of the shoe. Thus, you won't be worried that the foam can be degraded quickly over time.
Midsole
Whether you consider getting Clifton 7 or 8, you will know for sure that their midsole is max-cushioned. Their stack height remains the same, with 29mm on the heel, 24mm on the forefoot, and 5mm as the heel-to-toe drop.
These two Hoka shoes use the compression-molded EVA foam, but that on the Clifton 8 is lighter, softer, and more responsive than that on the Clifton 7.
Cushioning
About the cushioning's geometry, both the Clifton 7 and Clifton 8 have a heel bevel and inherit the signature early-stage Meta-Rocker of Hoka. But their cushioning level is not the same.
To test the cushioning level of Hoka Clifton 7 vs Clifton 8, you can use your thumb to press on the same spot on their midsole. The answer is that while the Clifton 7 provides a fair amount of resistance, the Clifton 8 is softer. It contacts the ground faster, giving you a more cushioned feeling.
Heel
When talking about Hoka Clifton 7 vs Clifton 8 arch support, we need to consider 3 small parts of their shoe's heel – the heel collar, heel tab, and heel counter.
Heel collar: both the Clifton 7 and the Clifton 8 have lots of padding and the same Achilles heel flare. This padding hugs your Achilles and keeps them in one place. Thus, it helps lessen the discomfort of some foot-related diseases like plantar fasciitis.
Heel tab: there is no pull tab on both of these two Cliftons, but you can use the heel collar to get your feet on the shoes easily.
Heel counter: on the Clifton 7 and Clifton 8, there is a high overlay to hug around your heel. This overlay is made of Hoka's signature EVA foam, a special material that provides added stability while maintaining a healthy posture on all terrains. This overlay on the Clifton 8 is slightly softer than on the Clifton 7.
Landing platform
On Clifton 7, the landing platform stays wide from the forefoot, midsection, to the heel area. But on the Clifton 8, this landing platform becomes narrower in the midsection and the heel area. This design change makes the shoes hold our feet better and help us feel more confident while running a marathon.
Rubber grooves
The high-abrasion rubber grooves appear on the Clifton 7 and 8, running across the shoe's platform. These grooves produce a trampoline effect whenever your feet meet the ground. But these strips on the Clifton 8 are much more user-friendly and durable.
On the Clifton 8, the EVA foam is placed lower in the midsection. There is also less exposed EVA foam, and the foam is protected by the rubber outsole. Plus, the flex grooves on the Clifton 8 run diagonally instead of horizontally, providing added stability and propulsion to the forefoot area.
Can these rubber grooves suitable for hiking? Not really, since the hiking-specific shoes have a rugged, grippy outsole to give you more traction while walking on a wet, steep, or slick trail.
Check more: In-depth Hoka Bondi vs Clifton Comparison
FAQs
1. Is the Hoka Clifton 7 good for walking?
The Hoka Clifton 7 is a great pick for walking or jogging. It is lightweight, supportive, and long-lasting. If you seek a pair of shoes for all exercise demands, including daily walking/running and marathon competitions, the Clifton 7 won't disappoint you!
2. Is the Hoka Clifton 8 ideal for plantar fasciitis?
Hoka Clifton 8 is highly recommended for runners suffering from plantar fasciitis. Its supportive cushioning and deep heel counters act like a firm platform to hug your plantar fascia. Thus, you don't have to feel pain while on the move.
3. Is Hoka Clifton 8 a stable pair of shoes?
Hoka Clifton 8 provides high stability and support for walking, training, or running. While it looks so bulky at first (due to its thick foam and cushioning), it is pretty lightweight with a weight of 9.1 oz in a men's US size 9.5.
So, Should You Get The Clifton 7 Or 8?
In sum, both the Clifton 7 and Clifton 8 are great running shoes and highly recommended for various purposes, from regular training to professional races. The key difference between Hoka Clifton 7 and 8 is that the Clifton 8 is more responsive, softer, and provides better ground contact thanks to its upgraded sole and upper.
So which option is better?
If you want to get a high-quality pair of shoes for daily walking or running, Clifton 7 is already good enough for you. But if you love the improvements of the Clifton 8, you want to upgrade from Clifton 7 to Clifton 8 for your upcoming races, or you just want to get the latest model of Hoka Clifton, the Clifton 8 is the best choice up till now.