Birkenstock vs Chacos is a competition worthy of our time and attention whenever a cold season is about to end.
Both these brands have always been so famous for sandal lovers, and we can't help but put them in comparison.
Between the sporty Chacos and the hippie Birkenstock, who is the winner?
Why Choose Birkenstock Sandals?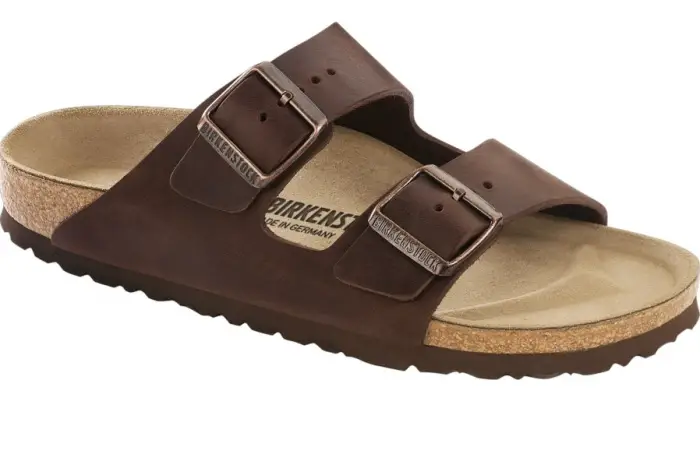 Over the years, the footbed remains the backbone of every Birkenstock design. All features of this special footbed are created to give your feet the best care:
The footbed made of cork and latex is the heart of the iconic Birkenstock designs. They are flexible and shock-absorbing materials that are essential for pressure relief.
Natural materials like them also insulate against both cold and hot weather.
The foundation and the frame of the footbed are premium jute. It is very durable and thus necessary for a stable footbed. Jute also has the property of controlling moisture.
The Suede is responsible for the lining. It absorbs moisture and makes sure your foot climate is always pleasant.
If you observe carefully, you will notice Birkenstock sandals are slips-on. Only a small number of their shoes have back straps. As a result, they are not ideal for intensive duties like hiking.
Check more: Teva Vs Birkenstock Comparison
Why Choose Chacos Sandals?
Chacos said their footwear was made to last, and they were 100% serious about it.
They have a repair team who can solve your footwear problems such as replacing buckles, customizing strap lengths, or fixing outsoles. Sustainable and repairable products check a lot of boxes for customers.
The second factor that buyers favor in Chacos is how versatile they are.
Their shoes are not something you put on and cover your feet with, but a friend supporting you wherever you go, even if the route is rough or slippery.
Birkenstock vs Chacos: Key Differences
You can tell Chacos from Birkenstocks by looking at the straps. They always have only one strap with no extravagant details, hence the user can customize the fit easily.
Material
Birkenstock's greatness lies in the iconic footbed made of jute, suede, and cork.
These materials have beneficial properties such as regulating moisture and absorbing impact from movement. Not only that, but they also raise the toe bar and deepen the heel cup to completely embrace your feet with utmost comfort.
It's why doctors recommend Birkenstocks for plantar fasciitis and foot health in general.
That's not to say Chacos are bad for your feet. As the brand focuses on outdoor activities, they prioritize the outsole and use rubber to create something with endurance.
Design
Even though it heavily depends on personal preference, Birkenstocks wins if we are talking about the elegance of designs. They stay true to a very simple look, and you can pair their sandals with almost every occasion you can think of.
Nevertheless, under the minimalistic design is the thorough calculation. With a tiny detail like the lifted toe bar, Birkenstock has improved blood circulation and created more room for you to move your toes.
Aside from a healthy environment, it allows the feel to be in an appropriate position.
Chacos is also intricately designed and trendy, with different product lines such as sandals, shoes, boots, and even flip-flops. The drawback of Chacos is how clunky and clumsy they look when combined with something like a casual T-shirt or a formal blouse.
What makes Chacos shine is the thorough straps that can be adjusted 360 degrees.
Despite not having a unique design like Birkenstock's footbed, Chacos' Luvseat footbed still keeps your feet in a natural position and provides ample arch support.
Purpose
If you foresee wet conditions in your plans, Chacos should be your immediate choice.
Once you get out of the wetness, it takes only 1 – 2 hours for this footwear to dry up. For long hikes or heavy-duty activities, Chacos' durability would come in handy.
But if you stay away from rain and wetness, Birkenstock is likely to be better for you. They look stylish enough to be part of your outfit when you are at the office or running errands.
Durability
With the quality of the materials and the designs, neither Birkenstock nor Chacos is going to disappoint you when it comes to durability. Nonetheless, Chacos will take the point in this aspect.
You can use their sandals for camping and hiking, or put them through mud and dirt. They might look stained, yet the straps and the soles are good as new.
From the appearance, you will find Birkenstock less heavy-duty, and it's indeed better for streetwear.
If you use it for challenging terrains, the soles will wear out faster compared to Chacos.
Traction
Chacos have a rubber compound named after them. It is non-marking and greatly resistant to slip. You can confidently wear your favorite Chacos even on the most slippery surfaces.
Meanwhile, Birkenstock might not be a wise choice if you have to walk on slick surfaces. Even new Birkenstock outsoles don't have as much traction as you would like them to.
Comfort
They both need a break-in period. even though Birkenstock needs a longer time to mold to your feet. After overcoming the rough start, you will find these shoes hugging your feet perfectly.
There are myths about speeding up this initial phase by exposing the footwear to heat and moisture, but we wouldn't recommend soaking your new Birkenstocks.
Wet cork typically cracks too early to your liking, and it also leaves an ugly brown stain on your feet.
Chaco vs Birkenstock Sizing
Should you buy a Chacos pair for the first time, it's not a surprise if you have the feeling that you have got the wrong size. Because they are a little stiff.
The straps also take a while for your feet to get used to, especially when Chacos footwear doesn't come in half sizes.
Birkenstocks, on the other side, follow a standard European sizing, thus you will need to be careful when purchasing online.
The adjustable fit comes in the form of buckles, and sometimes you won't fit them where you need them to be.
Price
Chacos are more costly than average sandals, though you can say the money pays off with how durable and versatile they are. When a pair of sandals can stay by your side for years, you know you have made a purchase with great value.
Birkenstock is also on the expensive level in the price range. And they certainly do more than cheap and average footwear. But, they lose to Chacos on this side.
Birkenstock Pros and Cons
Many customers would agree that Birkenstock excels in comfort so much that their shoes might be the most comfortable footwear they have ever purchased.
Belonging to the high-end side in their category, Birkenstock commits to quality and durability to an extent you wouldn't have anything to complain about.
They are well-known for maintaining a great performance after years of use.
If anything is acting as a hindrance between Birkenstocks and the majority of customers, it is none other than the price.
However, with what Birkenstock offers, many buyers agree that the money spent is worth it.
Check more: Why Are Birkenstocks So Expensive?
Chacos Pros and Cons
While Chacos receives an acknowledgment for comfort as well, we need to note that this kind of comfort is better for outdoor activities or extremely long and intense sessions.
When we say 'outdoor', we mean it. Chacos are incredibly versatile when it comes to terrains and environments.
You can put them on for a walk along a sandy and wet beach as well as a pebbled and rough mountainous path.
Though before you get to enjoy the luxurious comfort, you need to give Chacos shoes some time to break out of their initial stiff state.
Conclusion: Are Chacos or Birkenstocks Better?
Whether you choose Birkenstock or Chacos, it is a guarantee that you will have a high-quality addition to your closet. Because they both shine in necessary aspects such as performance, purpose, and quality.
Birkenstock has an iconic design that has been favored by both men and women aside from their undeniable comfort.
On the other hand, Chacos focuses on trendy looks and targets customers who spend more time outdoors. It depends on what you are planning to use them for!