Nike Alphafly vs Vaporfly is a persistent contest between the best running shoes on the market. But how do you decide which is the best for you?
They both have broken world records and made their names known for quality. Let's not delay and get to know our candidates better!
Nike Alphafly vs Vaporfly: An Overview
No matter what little importance fashion has in your life, you surely have heard of Nike at least once.
Founded in 1964, the name was inspired by a goddess of victory in Greek mythology. Co-founders Phil Knight and Bill Bowerman liked how short but powerful this single syllable was and believed it would stick to customers easily.
Secondly, the iconic tagline of the brand. "Just Do It!!", originated from a prisoner's last words for the executioner squad.
Dan Wieden confessed that he loved how motivating these simple words were in empowering athletes. Less thinking, more working – it was the original idea behind the brand's motto.
After many successful (sometimes controversial) campaigns, Nike fostered the ambition to produce the fastest shoes in the world, which resulted in the cutting-edge ZoomX product line.
Nike Vaporfly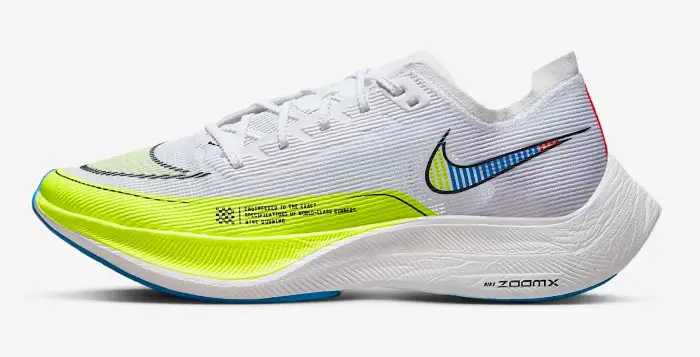 The Nike Vaporfly officially became a hit in 2018, when Ellud Kipchoge set a world record in the Berlin Marathon while wearing the Vaporfly 4%.
One year later, Brigid Kosgei had the same achievement with the Vaporfly Next%.
When talking about Vaporfly, no one could ever overlook the carbon fiber plate and the ZoomX foam. These two features turn Vaporfly into dreamy racing shoes.
They have the speed and the bounce that you need when you want to accelerate and break your own best.
Nike Alphafly
In 2019, Eliud Kipchoge once again made Nike's popularity skyrocket with the incredible Vienna marathon. He was wearing a prototype of the Next % in the Alphafly line.
Enthusiasts were waiting for the shoes to be released. And once they were, they instantly became the most wanted racing shoes.
Runners had to be on a waiting list at first. But now that the shoes have been around for quite some time, we wouldn't have a hard time finding a nice deal.
Check more: Nike Pegasus 37 vs 38 – Which Is Better?
Difference Between Nike Vaporfly and Alphafly
Vaporfly vs Alphafly Upper Design
Vaporfly has a mesh upper for breathability, and the material itself isn't vulnerable to moisture. Your experience is also enhanced greatly with the padded tongue and the anti-slippage in the heels.
On the other hand, Alphafly uses Atomknit 2.0, an excellent material if you want something more porous. Nonetheless, the tongue is fixed with the upper and not separatable, and you won't get much foot-lockdown from it.
Soles
Both of them are amazing for marathon enthusiasts due to the ZoomX foam used for the midsoles. In fact, we can hardly find any shoes as lightweight and simultaneously bouncy as they are.
The first difference in Vaporfly is the forefoot with a carbon plate. It has an upward direction enough to make your feet feel like they are being lifted without putting them in an uncomfortable position.
Every single toe of yours will experience the sensation only Vaporfly can provide.
While Alphafly also has that plate, the plate is rounded at the front and serves as a transition rocker.
Furthermore, Alphafly is equipped with forefoot Zoom Air pods for more cushioning. It's why you can do a full marathon on Alphafly shoes without any concern.
Meanwhile, Vaporfly shines in shorter races, for the absence of cushion results in lightweights.
With Vaporfly, your feet will have full contact with the ground you walk on. But the Alphafly has its midfoot raised from the surface, so the transition won't be as smooth.
Last but not least, the outsole of Vaporfly leans more toward durability with the rubber forefoot, yet rubber has little to no friction when the surface is slippery.
Alphafly does better with wet surfaces, though the thinner and softer rubber makes its outsole less durable.
Heels
Both Alphafly and Vaporfly have no blister issues thanks to the padded heels. The padding also ensures the fit when you put the shoes on.
So, where do they differ?
If you look closely, you will find the Alphafly's heels more square because of the heel loop, yet the Vaporfly has no loop and remains fairly pointy.
We are very curious to see whether the next Vaporfly will follow the interesting square heels or not.
Weight
When measuring the two at the same size 9, we notice a difference of 38 grams.
Some people might argue that this weight difference means a lot in sports, yet the extra cushion in the Alphafly might be a precious trait that many runners are willing to trade for.
Performance
Coming from the same high-quality brand, both Vaporfly and Alphafly are expected to perform equally well. And, they didn't disappoint.
Vaporfly is lightweight, bouncy, and simply excellent for fast runners in short distances.
It makes Alphafly seem too chunky at first. But when you get into intense marathon running, the Air Zoom pods in it begin to make a difference.
It feels firmer and steadier than the bouncy feeling the Vaporfly might have given you.
We wouldn't recommend lifting any kind of weights with these shoes.
Maybe they have enough padding for running, though that sort of cushion is still too little when your body is going to endure much heavier weights than itself.
It's normal to assume that a pair of shoes good for running would also be great for casual purposes, but it is not true.
While we agree that Nikey footwear would always look good, we must admit that there are better options for a comfortable outfit.
Comfort & Support
They both can provide more support and comfort than your regular sneakers. They have different materials for the upper, but the breathability is equally amazing.
You don't have to suffer any unwanted moisture or suffocation, which is very important when you want to practice something.
The heel pocket is another small detail that might surprise you. It holds our ankles and contours the shape of our feet thoroughly. Thus, we will gain a sense of secureness in the much-needed comfort.
When we discuss support, Alphafly would claim victory with the cushioning pods. It indeed can be a bit heavy, but you will see the value of it when you put your feet through some formidable and challenging races.
Price
After knowing what they are capable of, can you estimate the price range?
Nike is generally more pricey than many sportswear brands. But between the two of them, Alphafly is always a little more expensive than Vaporfly when we compare two products released at the same time.
So, Which Is Better: Nike Alphafly Or Vaporfly?
These shoes are innovative and leading in the market of racing shoes, hence you will never have to worry about quality.
The differences they have will help you decide whether Nike Alphafly is worth it, or whether Nike Vaporfly is a more beneficial choice:
Weight: Vaporfly is lighter, but it has less cushioning.
Durability: Alphafly can endure marathon runs.
Cushion: Alphafly has remarkably more cushioning.
Bounce: Vaporfly is built to add momentum to your steps and increase your velocity.
Stability: Alphafly is better because of the larger width, yet it can't be as aggressive as Vaporfly when it comes to cornering.
So, which to choose?
Nike Alphafly vs Vaporfly is but a battle of purpose and cushion.
If you are a marathon runner, you will be facing a lot of long runs. Then, your feet will be thankful if you choose Alphafly and give them an extra cushion.
But for shorter or speedier tracks, you will need the effortless transitions and the forward tipping of the Vaporfly.
Other than that, in common practices, both of these shoes will be more than enough to accommodate.