A pair of Birkenstocks can cost around $100-$125, considered expensive for many people. So, why are Birkenstocks so expensive? Is it because of its origin in Germany or its premium fabrics?
Let's learn about the top reasons behind the premium price tag of these German shoes and sandals.
11 Reasons Why Are Birkenstocks So Expensive?
1. Birkenstocks Has Earned A Lot Of Reputation

Birkenstock has had a long history of making orthopedic footwear products since 1774 in Langen-Bergheim, Germany. When a fashion brand has over 250 years of history with a great loyal customer base but no scandal or controversy, it's a well-established one.
Moreover, Birkenstocks is listed among the top five well-known shoe brands in the world.
From its very first day till now, Birkenstock still strives to make innovations and improvements to bring more orthopedic shoes and sandals to the high-end footwear industry.
With such a great history of reputation, it is undeniable that Birkenstocks are so expensive.
2. Birkenstocks Made The First Orthopedic Shoes
Birkenstocks pioneered the orthopedic footwear industry. In other words, it made the first orthopedic shoes that are good for your feet and foot-related issues like plantar fasciitis or overpronation.
Birken invented the term 'footbed' – a solid foundation that is comprised of multiple layers of jute, cork, and suede. This foundation promises to support your feet from toe to heel, preparing them for pain-free moves.
Plus, it is non-toxic and breathable, which made it the first go-to choice of podiatrists.
Check more: 8 Best Birkenstocks For Plantar Fasciitis
3. Birkenstocks Are Made Of First-Class Materials And Fabrics
Birkenstocks are made from the finest materials and fabrics from sustainable resources since their very first days in 1774.
In other words, you pay for their high price tag to get shoes that aren't only comfortable and supportive, but also durable, and most importantly, environment-friendly.
Some popular materials to make Birks are natural latex, suede, jute, natural cork, Birko-Flor leather, and felt. Among those materials, leather is the most notable one.
Birkenstocks are made of true leather, a soft rubber sole, and an orthopedic cork footbed with a leather cover to hug your foot tightly yet let them breathe with every move.
All the materials to make Birkenstocks are either high-quality, raw or from sustainable resources with little to no extra processing, to reduce the footprints on Earth.
This effort strictly follows the brand's mission for sustainability but also makes Birkenstocks cost so much. For example:
First-class types of real leather: suede, wool felt, nubuck, etc.
Jute from wasted fibers that have been peeled, toasted, furnished, and cleaned.
Eco-friendly inks for tagging/labeling.
EVA for polymer.
Recycled cork from wine bottles and old paper for footbed and packaging.
Latex from trees for cork sealants and adhesives.
4. Every Birken Takes 17 Steps To Finish
It takes 17 steps to finish a pair of regular Birkenstocks (around 6 weeks).
Some time-consuming steps are extracting latex from trees, removing water in the latex to enhance its rubber content, making jute fabric, grinding corks from old glass bottles, etc.
This detailed, effortful process sets Birkenstocks apart from other shoes on the market.
5. Birkens Are Trendy, Unisex, And Fashionable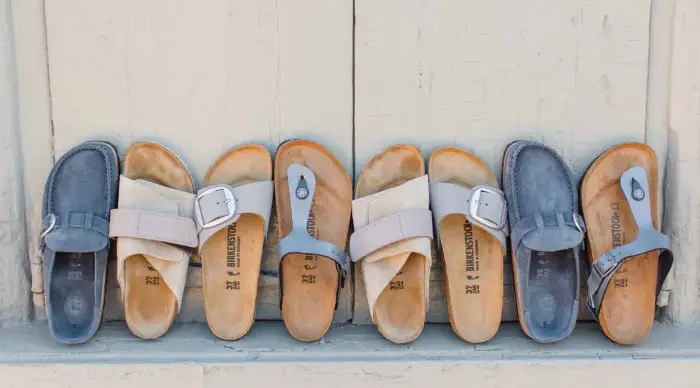 Birkens stay true to themselves and set a new definition for being beautiful and fashionable among too many high heels, cowboy boots, and so on.
Wearing Birkens means you care for your wellness and are more responsible for the environment, which is a new trend in today's fashion and beauty.
Birkenstock has a solid mission – to create shoes for podiatry health and wellness. In other words, choosing Birken means that you are seriously investing in your health and your well-being.
Apart from adapting to the future's sustainable trends, Birken invents new shoe designs that are unisex and appealing to a large audience beyond the youth.
Everyone can wear Birkenstocks. For this reason, everyone wants to have at least a pair of Birkenstock in their wardrobe despite its high price tags, which makes Birken more trendy.
6. There Is A Wide Variety Of Styles For Birkenstocks
Unlike other orthopedic shoe brands, Birkenstock offers a wide variety of styles, each of which is unique.
1774 Birkenstocks are the most well-known products of this orthopedic footwear brand. They are named after the founding year of Birkenstork, 1774, and also an exclusive line of creative collaborations.
The 1774 shoes and sandals are made with top-notch craftsmanship, the latest techniques, and innovations from the German workshops of Birken.
1774 is also a key product that represents the brand mission of Birkenstock and its high passion for fashion and fashion production.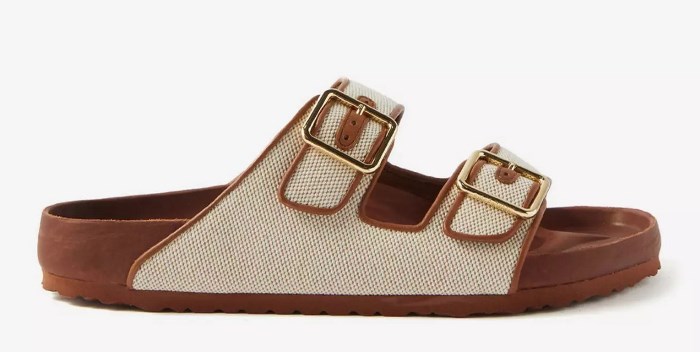 7. Birkenstocks Are Among The Most Recommended Shoes For People With Foot-Related Problems
Birkenstocks are beneficial for everyone, especially people with issues related to the foot and spine (for example, flat feet or plantar fasciitis), diabetic patients, or people who have overcome surgery.
Aside from its long break-in period, the footbed of Birken will be molded to your unique foot's shape. Beyond that, Birkens also help prevent further posture and foot issues in the future.
Still, these German-made shoes can't replace specialized insoles or serious medical treatment. You should contact your doctor for a more personalized approach to your problem.
8. The Footbed Of Birkenstock Is So Special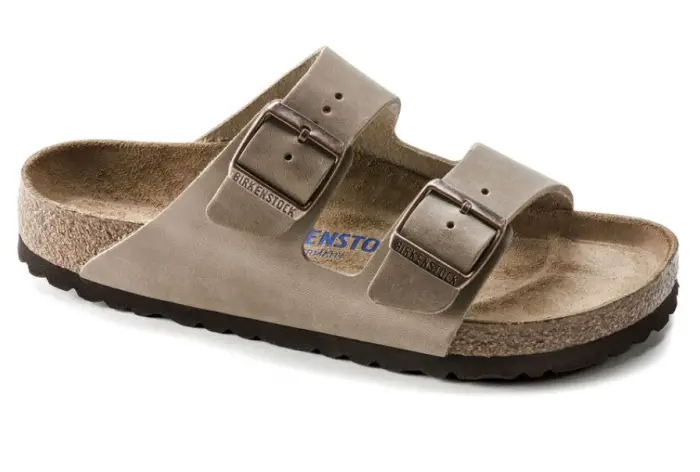 The original footbed is the heart of all shoes and sandals of Birkenstock. This footbed first appeared in the 1930s aiming to support the unique foot shape of its single customers.
Walking with Birken seems like walking on sand – your feet stay comfortable for hours, thanks to the following features:
It holds your heel bone firmly in its natural position while supporting your foot tissues.
Beyond the deep heel cup, Birkens have heel mold to stabilize your body and activate your calf muscles. Thanks to the heel mold, your natural gait cycle and foot-body coordination can be enhanced gradually.
Birkens support your arch at every angle – from the two sides of the footbed to the two transverse sides – inside and outside.
This feature helps stabilize your feet on every step while maintaining your body's natural gait cycle.
The toe grip keeps the toes in their natural, relaxed position while supporting their natural rolling motion.
The orthopedic footbed of Birkenstock comprises 4 layers: jute, cork/latex base, jute, and suede lining. There are 2 types of footbeds – classic and soft.
Beyond the 4 layers as in the classic footbed, the soft footbed has an extra layer of foam insert that is anatomically shaped to your foot's shape.
This layer contains countless small air bubbles to protect your feet and bring an 'on-cloud' experience.
Check more: Birkenstock Soft Footbed vs Regular: In-depth Comparison
9. Every Layer Of Birken's Footbed Has A Special Feature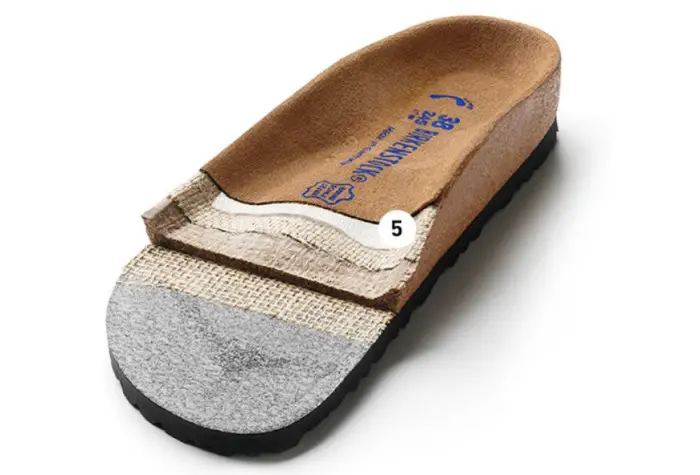 A classic footbed of Birkenstock is made of 4 layers, each of which serves a typical feature:
Natural latex: This natural latex ensures ultimate cushioning to your feet, thanks to its soft and coarse cork grains.
Natural cork: This cork layer has great insulation and elasticity, hugging your feet on cold days, and keeping your feet moisture-free and odor-free on hot summer days.
Jute: The two layers of jute protect your feet from outer forces while maintaining a healthy level of moisture.
Premium suede leather: Serving as the layer that directly contacts your skin, this layer is soft and flexible. It maintains your comfort while allowing your feet to breathe in all weather conditions.
10. A Pair Of Birken Can Last For 30 Years
Every pair of Birken is so expensive but worth your investment. With proper care and cleaning, it can last for 30 years or more, which is a considerable period for shoes.
11. Birkenstocks Has Collab With Many Top Luxury Brands And Celebrities
To approach the high-end marketplace, Birkenstock has collaborated with many well-known luxury fashion brands like Toogood, Staud, Dior, Valentino, Proenza Schouler, Rick Owens, and more.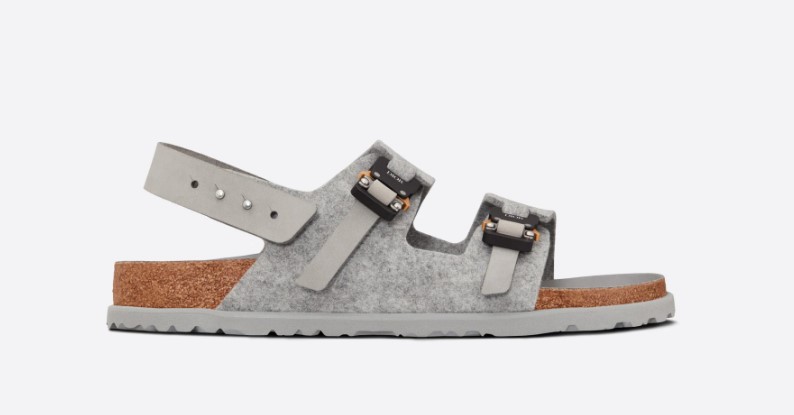 This German footwear brand made its first fashion shoes in 2013 and 2014. Some celebrities who have worn Birkenstocks are Rihanna, Chloe Sevigny, and Kate Moss.
Its shoes became fashionable and made their way to the fashion catwalk of some models like Marni, Giambattista Valli, Celine, and Isabel Marant.
Nonetheless, this brand also reaches influencers on social media channels (Facebook, Tiktok, Twitter, etc.) to embrace its brand awareness to Gen Z customers.
While aiming for the wellness and health of its customers, Birkenstock is also eager to bring perfect blends of function, comfort, and fashion. For this reason, Birkenstocks are more pricey than other orthopedic shoes.
FAQs
1. What Are Popular Styles of Birkenstock?
Apart from 1774, there are some other popular Birken styles.
The Birkenstock Amsterdam is a perfect indoor slip-on shoe for winter. This shoe is available in two width options (regular and narrow) and has the upper made of either Birko-Felt or nubuck leather.
Whoever you are, you can always find your favorite color in this shoe collection.
However, you can't adjust the size for this Birken, so make sure that you pick up the right size and width for your feet!
Arizona is among the best-selling styles of Birken. Unlike Amsterdam, you can customize your shoe size with its two adjustable straps.
This sandal is available in two widths (regular and narrow), with various color choices.
Another notable point of this unisex sandal is that you can pick up your favorite leather type – suede, smooth leather, oiled leather, or the lightweight EVA.
Boston is a classic slip-on clog that is made of leather (smooth leather, suede, and oiled leather). With Boston, you can make your custom fit with a strap on the instep.
Like Amsterdam, you can choose either a regular or narrow fit for this style.
Gizeh is a 'thong' for women's feet with a deep orthopedic footbed surrounding the toes.
Like other shoe models of Birken, Gizeh offers a wide selection of materials for the upper, including smooth leather, oiled leather, metallic, and EVA plastic).
You can choose the regular or narrow widths, and make further size customizations using its adjustable strap.
The Birkenstock London is among the first closed-toe shoes of this German orthopedic footwear brand. This shoe is made from the finest, high-grade leather with a thickness of 2.8 to 3mm.
Wearing London means that you can stay classic with its closed-toe area while not having to sacrifice your comfortable fit with its adjustable buckle strap.
London is available in two fit options (narrow or regular) but only has one leather choice – black oiled leather.
Mayari promises to keep your feet refreshed yet protected in hot summer thanks to its smooth leather/oiled leather upper.
This Birken offers easy size customization with two adjustable straps, two fit options (narrow/regular), an extra security cross-strap, and a toe loop.
Profi Birki is the first in the mind of those who work in restaurants and kitchens. Some advantages of this shoe are a raised heel section, and a smooth upper with good resistance to water, oil, grease, and dirt.
However, Profi Birki is only available in classic black color and has one width – regular width.
Like the Profi Birki, the Super Birki is a slip-on clog providing a similar smooth footbed.
However, its footbed isn't as deep as the Profi Birki. Similarly, its back isn't as high as the Profi one, its sole is more slippery than the Profi one.
Thus, Super Birki isn't recommended for professional use (like doctors or nurses), but only for home use (for example, gardening work).
Birki Yara is named after Yara Shahidi, an Iranian-American actress.
This sandal is also favored by many celebrities for its bohemian Byron Bay fit, an adjustable wrap-around ankle strap, a secure looped toe strap, and an instep buckle.
Yara is available in two fits – narrow and regular.
Zermatt isn't just an ideal slipper for your home, but also comfortable footwear after a hard-working day of yours. The upper of Zermatt is made from 100% wool felt.
Plus, it has a removable footbed for easy cleaning and care.
And if you care about stability and support, this slipper has a longitudinal arch support along its two sides and a transverse arch support in the middle of its footbed for a solid stance and proper alignment.
This Birk is available in two colors – dark and light grey but only has a single narrow width.
2. How Can I Break In My New Birkens Faster?
Birkenstocks are gradually molded to your foot shape. Yet, you can break into these new shoes faster by:
Lightly tapping the areas where you feel pain.
Wearing them after taking a shower.
Making extra holes on their adjustable straps with a needle or a sharp object to make size customization easier.
Wearing shoes with thick socks to avoid direct contact with your skin.
3. What Are Some Benefits Of Wearing Birkens?
There are some benefits of wearing a pair of Birkenstock:
Adding more comfort, support, and stability to your feet on every move
Reducing pressure on the foot results in fewer risks of foot-related problems or health problems in the future.
Lessening pains for people with foot-related issues (for example, ingrown toenails, calluses, bunions).
Lessening pains in other parts of your body, like muscles, joints, and back.
Final Words
In short, what makes Birkenstocks so expensive isn't only their high-quality materials and fabrics but also their short-term recovery and long-term health benefits, the ultimate comfort and safety they provide on your movement.
Moreover, Birkens are also as fashionable, unisex, and trendy as other designer shoes in your wardrobe.
In other words, Birkenstocks aren't overrated at all. They are worth your investment in high-quality, durable, and key fashion items.