We NEED to know what shoes to wear with ankle pants because these pants are such a staple of style in our wardrobe. They can be casual or elegant with a few minimum changes of footwear, and our mission is to find the best fit for them!
What Shoes To Wear With Ankle Pants
As the name indicates, ankle pants stop a little bit above or precisely on the ankle level, cleverly showing off the top of your shoes and giving your attire a soft, feminine look. They also have quite a few designs to make themselves even more chic and unique.
These trousers are incredibly cool and comfortable – the vibes we always look for whether we are at work or on a date. However, your footwear choice can help you dress down or up, and some shoes are incredibly better than others during a certain season.
Best shoes with ankle pants in summer
You would want a kind of shoes that gives you foot comfort and air in summer. In general, shoes with a bit of gap in the hem of your pants are more pleasant on the eyes.
Block Heels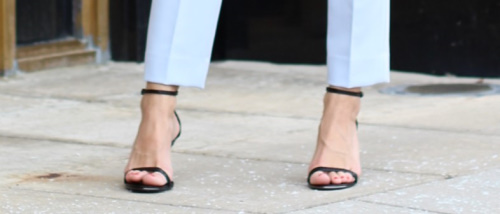 Although these heels might seem chunky, it's still exceptionally good at elongating your legs and adding a few centimeters to your height, physically and optically! Furthermore, the choices of colors and styles are unlimited.
Elegant and chic at the same time, block heels can make a decent combo for work attires or night-out costumes. In the office, white high heels pair well with brownish wide-leg ankle pants and white button-ups (just an example!). But black heels bring a whole different vibe to you.
Sneakers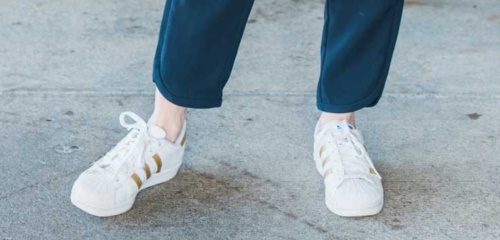 Navy ankle pants and white sneakers are the perfect combinations when you want to look fashionable without sacrificing your comfort. Besides, the market is never short of sneakers.
Although white sneakers are a no-brainer, you can try playing with the colors and patterns of your shoes, depending on the design of your ankle pants. Sneakers with prints might give plain pants a nice boost.
Flip Flops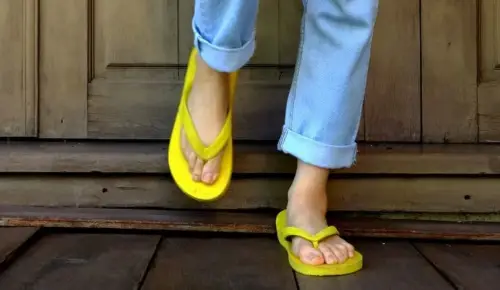 We hardly see ankle pants in formal events because they have a naturally casual vibe. Therefore, you should pay attention to the occasion and the possible dress code in advance. If you find it appropriate, feel free to grant yourself even more comfort by putting on your flip-flops.
Since this set is incredibly casual, we don't exactly need to be cautious with the colors. There's no limit for genders and ages either.
Platform Shoes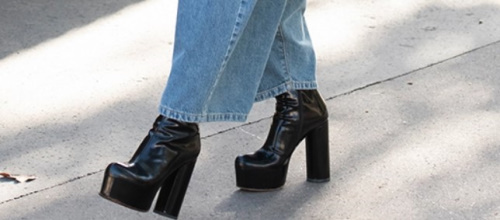 Chic and flattering in almost every kind of outfit, platforms have a solid position in the current fashion trends. Famous names such as Valentino or Versace have presented exclusive and unique designs based on the basic platform shoes, hence you can be sure more brands will follow them and even come up with affordable prices.
On a fine day, why not try cropped ankle pants and Mary Jane platforms? We recommend playing with neutral colors for the perfect balance between fashion and elegance.
Loafers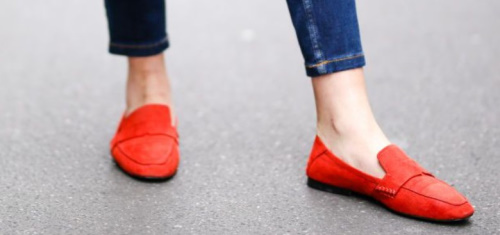 Stylish with a nice cut that shows off the ankles, it's no doubt that loafers are one of the most compatible footwear for ankle pants. Although loafers look slightly masculine, ladies have been rocking this kind of shoes like never before. Furthermore, loafers are available as flat or heeled nowadays, which gives you even more options.
The way loafers expose your feet, however, is both suitable for summer and amazing at enhancing your femininity. Their relaxed vibe matches flare ankle pants so effortlessly and form the best combo for comfort.
Flats
Never underestimate the impact these seemingly plain flats might bring. Made of numerous materials and designed in many styles, you have plenty of choices. If you are indecisive, ballerina flats are the safest bet for you on casual attire.
Another great pick is flat sandals, as long as they don't have way too many straps like gladiator sandals. Skinny or tight ankle pants look extremely pleasant with flats, and the best part about it is this style can extend to autumn if you have a sweater or a thin coat to preserve the warmth.
Stiletto Heels
Stiletto heels are the solution to almost every outfit you can come up with. Be careful with the pointed toe, for it has always been a classic adoration on formal occasions. Kitten heels are more wearable if you are not a fan of high heels.
You can use elastic ankle pants with these sophisticated heels for a nice change, as long as the top piece matches your shoes and perhaps some accessories.
Check more: Pumps vs Stilettos Comparison
Best shoes with ankle pants in winter
Now, what shoes to wear with ankle pants in the winter? Ankle pants are not exactly what most of us will pick for warmth, hence our footwear must be capable of fulfilling this requirement.
Ankle boots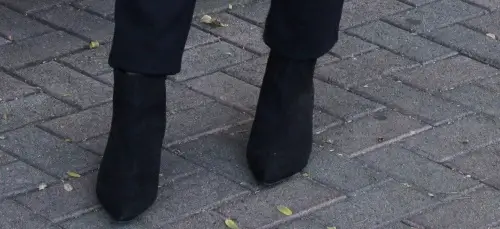 It's in their name! Ankle boots are meant for ankle pants because they fit under the hems of your trousers. You don't have to choose super skinny pants and tuck them in your boots.
However, due to the hems of the pants and the shoes effortlessly blending, you might think twice about a ton-sur-ton set, for it would be difficult to tell where the pants end and the shoes begin. Sprinkle some colors into your costume, you won't regret it!
Sock boots

There are shoes that can change the practicality of your outfit 180 degrees, and sock boots are an example. It reaches up and past your ankles, hence coldness is the very last thing you should worry about.
High heels and box heels are both available, and your preference will decide. High heels for a slightly formal look, and box heels for maximum comfort. Aside from ankle pants, they suit a wide range of trousers as well.
Oxfords

Not only are Oxfords decent in winter, but they are also quite good in fall when a sneak peek of the ankles won't expose you to the cold. During this cool season, you can always rock a lovely flowy sweater with beige or grey ankle pants. For a slim figure, we prefer skinny over baggy pants.
Tips For Choosing Shoes To Pair With Ankle Pants
Now, you have known several chic styles to try, but how to choose the best shoes with ankle pants? The right choice of footwear can enhance your look drastically, and a missed step will have an equally strong but negative effect.
Heel height
Ankle pants are not the most common or flattering kind of trousers to wear, and the height of a traditional pump is usually what we aim for. Nonetheless, overly high heels might not be what you want for these half preppy, half casual pants.
When you keep the heel height somewhere in the average range, you have the best of both worlds: a pair of shoes that lengthen your legs and demand minimum efforts in return, befitting for a date as well as an office.
Shoe color
Black ankle pants are a safe bet, especially for semi-formal events, but they might be a little dull sometimes. Colorful pants are not easy to wear, and surprisingly, colorful shoes commend them fairly well.
Do you think dark green pants are difficult to wear? You would be surprised to see how impressive they look when paired with pink shoes. If not such bold colors, leopard prints, and the likes also do the trick. However, be sure to keep your shirts simple for a nice balance.
Opt for Almond or Pointed toe
If you want to have some additional height without wearing cuffed ankle pants with heels, pointed-toe and almond vamps can give you the same effect. For weekdays, blouses and sweaters look chic and comfortable at the same time. Meanwhile, cardigans and plain tops guarantee weekend vibes.
Clothes tips
When wearing ankle pants, you would want to keep your shirt at the hips or higher, so your silhouette is in a smooth shape. If the shirt is longer than how it should be, you can tuck in the hems and put on a cardigan, the length will give you coverage and comfort without dividing your figure into several segments.
Last Words
You might not know what shoes to wear with ankle pants before, but the table has been turned! We hope you have found your ideal footwear among these suggestions and are ready to give these interesting pants more spotlight!