Not your daddy's gardening shoes anymore, Crocs is #2 in the "Fastest Growing Brands of 2022" report by Morning Consult. Crocs are breathable, lightweight, waterproof, and can be used for your all-day comfort.
Still, are Crocs good for plantar fasciitis? Can you use Crocs to support your recovery period for foot-related problems?
Let's find the answer by discovering the health benefits of Crocs shoes and sandals.
Are Crocs Good For Plantar Fasciitis?
Crocs shoes and sandals are great supporters for treating plantar fasciitis.
In their first days, Crocs are designed for people who often have to work on their feet (workers, nurses, doctors). These Dutch-style shoes are also in the doctor's treatment for patients with plantar fasciitis.
Why Do Crocs Help Plantar Fasciitis?
Crocs are excellent choices for preventing and treating plantar fasciitis. These shoes have excellent support overall, are breathable, and have reinforced heels.
All Croc Shoes Have A Thick, Supportive Sole
Shoes with a thick, firm sole like Crocs are great for people with plantar fasciitis.
Unlike cushioned shoes, the rigid, cushioning footbed of Crocs keeps your feet while standing or walking with no twist or bend.
Also, the cushioning in the midfoot area of Crocs helps lessen the impact on your feet, while protecting them from future injuries.
Try on a pair of Crocs LiteRide and you will see how Crocs set them apart from other normal foam shoes!
Croc Shoes Have Excellent Support From Arch To Toes
Crocs offer ultimate comfort from arch to toes while minimizing chronic pain of plantar fasciitis.
In compensation to modern life, human arch-shaped feet have to contact hard surfaces. Therefore, we should choose shoes with arch support like Crocs to walk smoothly and safely.
Moreover, clogs like Crocs have plenty of room in the forefoot area to maintain your natural gait and to let your toes rest freely.
Crocs Are Made Of Shock-Absorbant And Breathable Material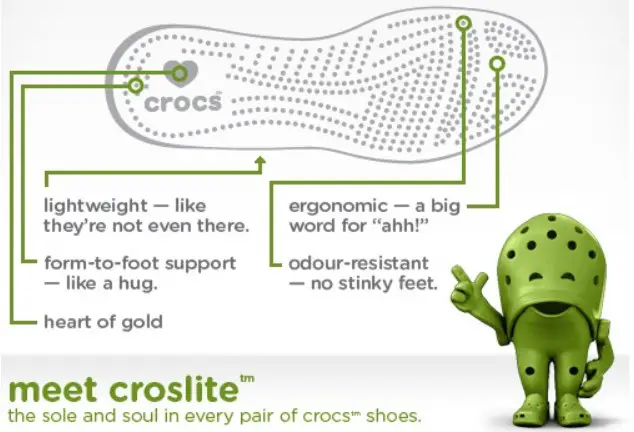 Crocs are made of Croslite – a proprietary closed-cell resin made from crude oil and polymer.
This special material is durable and lightweight. It's also soft to your feet. It can absorb shock 40% better than normal shoes.
Plus, it helps evenly level the body pressure on your feet from heel to toe.
Reinforced Heels
Some Crocs models (like The Neria Pro) with reinforced heels are preferable to the classic lines. They help your plantar fascia ligament relax, thus lessening the excessive pull of your ligament.
Check more: 8 Best Birkenstocks For Plantar Fasciitis
The Limits Of Crocs For Plantar Fasciitis And Foot-Related Problems
Despite their advantages, Crocs are not orthopedic shoes or running shoes. Thus, they do have some drawbacks or even cause other severe problems if you wear them for long hours.
There are some Crocs with a thin, hard sole (like fashion Crocs) that shouldn't be used for plantar fasciitis. You should choose eCrocs with a thick, cushioned sole, a supportive heel cup, and great arch support.
The shoes should also fit perfectly and let your body maintain a natural, healthy gait while on the move.
For your safety, you should never use Crocs if you have to stand or walk for a long period. Instead of them, choose running shoes with orthotic insoles for better cushioning, protection, and arch support.
If you are experiencing serious foot issues, you should ask your doctor for authentic orthopedic shoes. For plantar fasciitis patients, they will have to have medical treatment like night splints, shock therapy, or even surgery.
4 Best Crocs Shoes For Plantar Fasciitis
After all, Crocs are not bad and can be used to elevate a foot-related treatment (plantar fasciitis or something similar), provided that you choose the right Crocs.
Crocs Rx – The Best Crocs For Plantar Fasciitis
The Crocs Rx line (including Rx Ultimate Cloud and Rx Relief) are a more recommended choice for people with back/foot problems or poor foot circulation. Those who have to stand on their feet all day also benefit.
Even if you don't have any problem with your feet, the Crocs Rx will provide a more comfortable feeling on your feet than the retail one.
Unlike the retail version, the Rx has some outstanding points, including:
They have a low profile with softened nubs to absorb shock better with no irritation.
They have a lighter, more flexible upper with airflow side portals and cushioned bottom soles. This makes them ideal for arthritic, podiatric, or any post-operative conditions.
They have a protective toe cap to let your toes relax while protecting them from any hard-falling objects.
They have an elevated heel rim to keep your heel from sliding back and forth while moving.
Classic Croc Clogs – Unisex Crocs For Everyone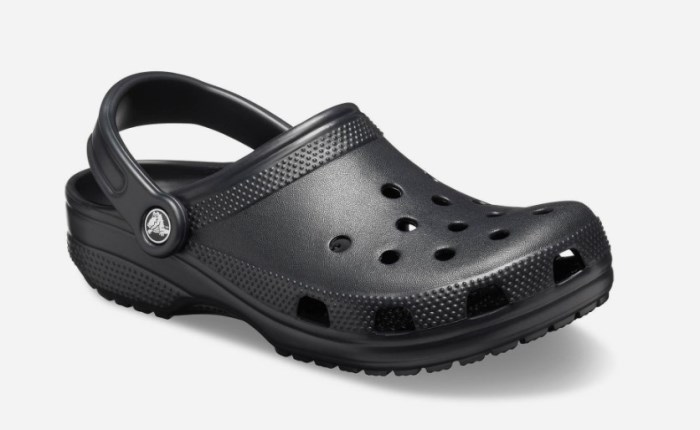 Although classic Crocs aren't specially designed for medical treatments, they can be used as daily shoes for everyone.
These best-selling shoes are made of 100% Croslite – a trademarked material from Crocs, Inc. Thus, they are lightweight, non-slip, comfortable, waterproof, and easy to clean.
You can wear these Dutch-style clogs in your garden, in the kitchen, around your house, etc.
Crocs LiteRide – The Best Women's And Men's Crocs For Plantar Fasciitis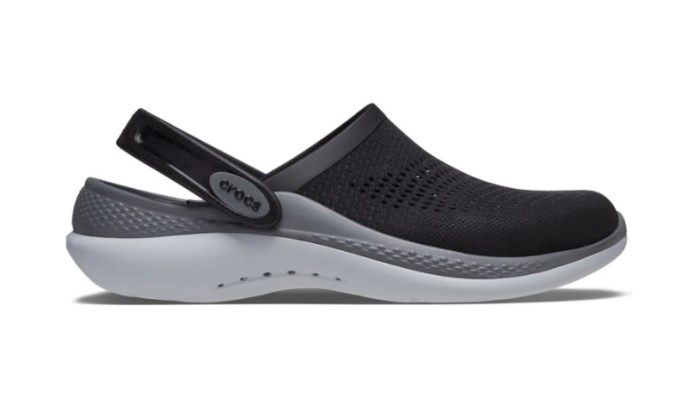 Another product line of Crocs for people with foot-related problems is Crocs LiteRide.
Pacers are the 'sneakers' for your post-recovery stage.
While looking like a normal pair of shoes, these Crocs protect your foot's upper while creating firm yet soft footbeds for your feet. It's all thanks to its LiteRide foam.
Crocs Unisex LiteRide 360 Clogs
These clogs are resilient, stable, and flexible. They provide a secure heel cup and minimize slides while walking.
They are designed for active people and for your active lifestyle.
The LiteRide Slides are not just for your fashionable look, but also for the health of your feet.
These slides provide a supportive experience with the foam insoles that hug around your arch. Meanwhile, they remain waterproof and lightweight. They are easy to clean and can dry quickly.
Apart from these highlighted items, you can also check some others in the LiteRide series, like the Neria Pro II LiteRide or the Bistro Pro LiteRide.
Crocs Baya Flip Flop
While most flip-flops on the market are unsupportive, the Baya is the best Crocs flip flops for those who are experiencing plantar fasciitis.
These flip-flops are made of 100% Croslite. So, you can fully experience the very best characteristics of this special material.
Nonetheless, they have a thick, supportive insole that is molded to heal your feet as you walk.
Final Words
Although Crocs are not orthopedic shoes, they can be used under supervision as a side product in treating plantar fasciitis. In other words, Crocs are good for plantar fasciitis when used properly.
For your safety, you should choose the Crocs with thick arch and adequate cushioning like Crocs Rx.
Lastly, always ask your doctor's advice before using these Dutch clogs. For you might have to use orthopedic shoes to get the best treatment result.