If you dig a little deeper into cowboy boots, Tecovas vs Lucchese boots must be some of the names that appear frequently.
Both of them have a stable position among fine footwear, but have you ever wondered what makes them popular and well-received? Do they have any advantage over one another?
This quick and easy reading with give you the answer you need!
Tecovas Overview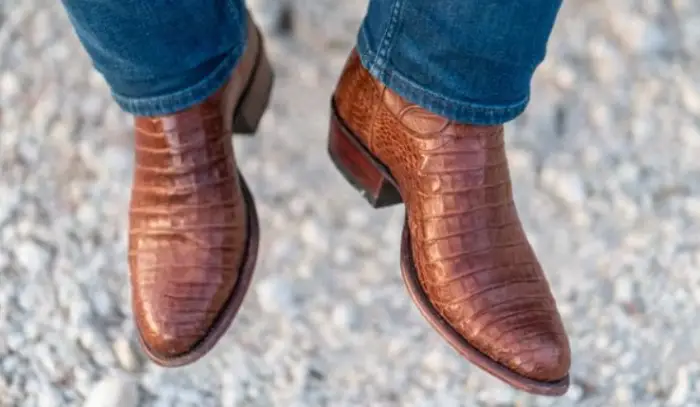 Tecovas doesn't have an interesting and inspiring history, yet it starts with a good purpose.
The founder Pual Hedrick didn't want to spend such a large sum for one pair of boots, and he wished everyone else would get to enjoy the quality.
Within 16 months in Mexico, Hedrick researched and accumulated experiences before launching his online business. Due to decent materials, comfort, and affordable prices, Tecovas boots soon made a statement and an impact in the industry.
Tecovas stand by some attractive virtues:
Quality over everything else: Tecovas promise to double the benefits you might get from another brand at the same price.
Strictly handmade boots with a process of more than 200 steps: The manufacturing is time-consuming, but Tecovas boots are durable enough to withstand all tests.
Classic and timeless design: You can confidently adorn their boots one or two decades later, and you will look as stylish as ever.
Lucchese Overview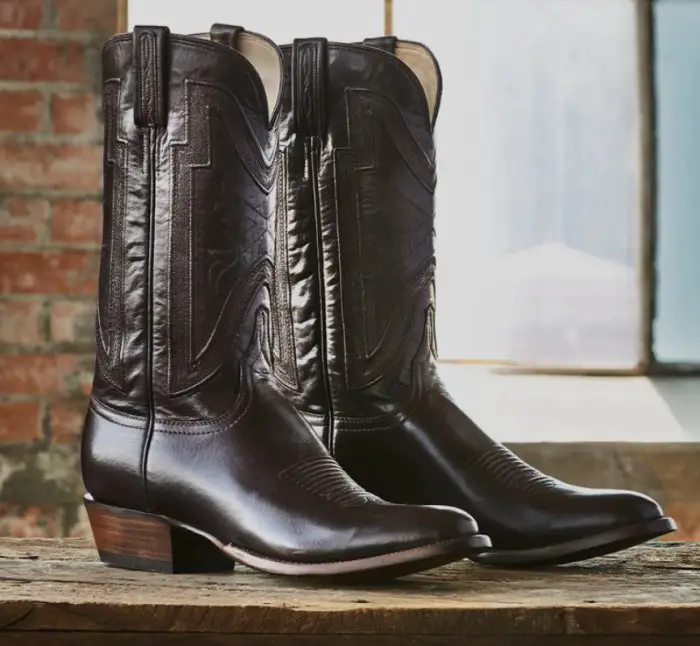 Lucchese is a veteran in the industry. The very foundation was established in 1883 when Salvatore & Joseph Lucchese set up a workshop in San Antonio.
The quality of their boots soon made a reputation among wealthy farm owners and cowboy-style enthusiasts.
Even celebrities became their customers! We can easily recognize names such as former UK Prime Minister Tony Blair, Arnold Schwarzenegger, Sandra Dee, and more.
In some ways, these figures enrich the brand's history and act as an assurance of its quality.
The ownership of the company remained within the Lucchese family for almost a century before potential businessmen took over and kept it alive. At the moment, John Muse is Lucchese is the chairman.
Check more: Are Doc Martens Good For Snow, Ice, And Rain?
Tecovas vs Lucchese: Comparison
The biggest difference you can notice about them is the price tag.
No Tecovas pair ever reaches beyond $1,000. $300 is the common range for them.
On the other hand, there are only a few Lucchese models at that price. Meanwhile, several thousand bucks for a pair of boots is nothing shocking in Lucchese.
Tecovas vs Lucchese Quality
Tecovas is very favored for the great value they provide at such an economical price range:
Even in the most inexpensive Tecovas boots, you will have the finest leather that doesn't require a long break-in period. Customers can customize the colors as well.
Tecovas handcrafted their boots using special molds with the shape of the final product and sewing machines operated by skilled artisans.
Aside from materials, the key to their durability is a method called Goodyear Welt, which means they will secure the footbed with a leather strip before the outsole.
This technique allows you to re-sole whenever you need without putting the whole boot under rebuild.
You can expect the same level of intricacy from Lucchese. And they have secret processes to enhance their products even further.
Only the best cuts of skin are chosen for Lucchese boots. The cutters might spend days picking different skins to ensure the colors match perfectly.
They use lemonwood pegs instead of brass nails to keep the outsole attached to the insole. Lemonwood is certainly more compliant than brass, hence it can adapt to moist conditions.
They handle the hide by hand and manual tools. The sewing step also involves antique machines.
Customers will be completely satisfied with what they receive from Lucchese's burnishing service. The signature compounds developed by Lucchese are compatible with different tones and textures.
Tecovas offers the best they can at their price range. But if we are only talking about quality, Lucchese is undoubtedly the winner.
Tecovas vs Lucchese Price
Cowboy boots tend to be more expensive, and the reason is quite obvious. The main material for them is real leather, hence the boots require experience in manufacture and maintenance.
Among boot brands, Lucchese is undeniably up there along with other luxury names. You will mostly find their products much more expensive than usual.
They sometimes offer a fine pair of boots at $300, yet the highest price tag of them can surpass $12,000.
Meanwhile, Tecovas is remarkably more affordable. You can own decent suede and calfskin at Tecovas for only $200 – 300. Even the most expensive boots from them only cost $700.
You'll love: How To Stretch Cowboy Boots At Home Quickly?
Tecovas vs Lucchese Comfort
Made of premium fabrics and amazing handcraftsmanship, Tecovas and Lucchese both have a lot to say about comfort and quality.
Lucchese has a reputation for luxurious feelings out of the box. Meanwhile, you need to break Tecovas in a bit before it molds to your feet and grants you access to feather-light strides.
Tecovas vs Lucchese Sizing
Tecovas is a good brand that aims to please the majority of customers, hence they also try to make it easy by running true to US sizes.
Nonetheless, the size of footwear is dependent on how wide or thick our feet are.
To be specific, you might not feel Tecovas boots hugging your feet perfectly at first despite getting the right size. But it will be better once the boots have been broken in.
Pros & Cons Of Lucchese Boots
Lucchese can proudly compete with any brand in the industry in terms of quality and legacy. Not only are their boots handmade, but they are made with meticulousness and extreme expertise.
They have a great balance between men and women models. Coupled with their commitment to customization, it's safe to say everyone will find something perfect for them in Lucchese.
Nevertheless, the price tags of Lucchese are something common customers hesitate to approach. Especially when they don't have the best reputation for their customer care services.
What can we say? As a brand with a rich heritage, they might get a bit of attitude.
Pros & Cons of Tecovas Boots
The biggest advantage Tecovas has over Lucchese is the price. Tecovas has access to a bigger group of customers, especially people who are conscious about budget and still looking for good quality.
Using fine materials and exceptional craftsmanship, Tecovas are high-quality and fashionable at the same time for their price.
Therefore, not a lot of customers get to enjoy their passionate and earnest service!
The downside of Tecovas is that they still rely more on US online markets with very few retail stores in the making. They also have more models for men, while women typically care more about fashion.
Final Verdict: Choose Lucchese Or Tecovas?
Tecovas boots vs Lucchese boots might be a tough decision for everyone, yet you will have an easier time when you know what you are looking for.
Both of them guarantee higher quality than many average brands on the market, even though Tecovas is not better than Lucchese if you want the finest boots made with the most clever hands.
However, with a limited budget, you would find more value in Tecovas.